COVID-19: Vietnam gifts USD250,000 medical equipment to five African countries
Medical equipment worth USD250,000 presented by the Vietnamese government to a number of African countries to help them combat the COVID-19 pandemic.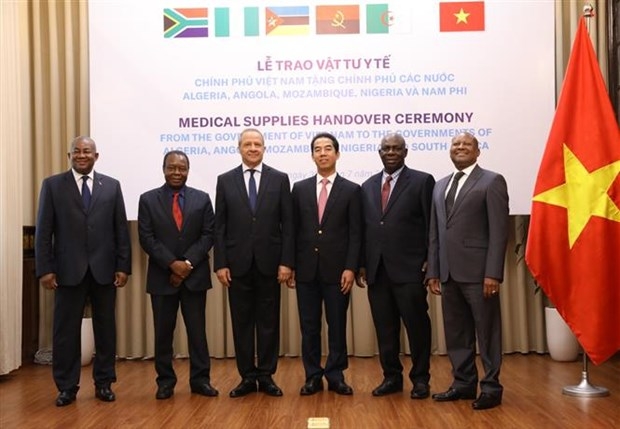 Deputy Foreign Minister To Anh Dung (fourth from left) and Ambassadors from recipient countries pose for a group photo. Photo: VNA
In a ceremony on July 30 in Hanoi, Deputy Foreign Minister To Anh Dung symbolically presented medical supplies, comprises made-in-Vietnam anti-microbial, medical masks and test kits, from the Vietnamese Government to the five African countries of Algeria, Angola, Mozambique, Nigeria, and South Africa.
Speaking at the event, Dung underlined that the pandemic has spread all over the world with complex and unpredictable developments.
As Vietnam and African countries have nurtured traditional friendships, the Vietnamese Government decided to offer part of its resources to support the governments and people of these countries.
The beneficiaries supported Vietnam during the country's struggle for reunification in the past and development and integration in the present, Dung added.
He also spoke highly of the stringent and effective measures adopted by the governments as well as the determination of the people in the African countries in battling COVID-19, affirming that Vietnam is ready to share experience in pandemic prevention and combat with African nations and international friends.
Ambassadors from recipient countries thanked the Vietnamese Government and people for the valuable assistance, describing it as proof of the traditional friendship between the countries and Vietnam.
They also spoke highly of Vietnam's achievements in fighting the pandemic over the past time, considering the country as a role model in COVID-19 prevention.
They affirmed that their countries will strengthen cooperation with Vietnam in mitigating the socio-economic impact of COVID-19 and enhancing recovery in the post-pandemic period.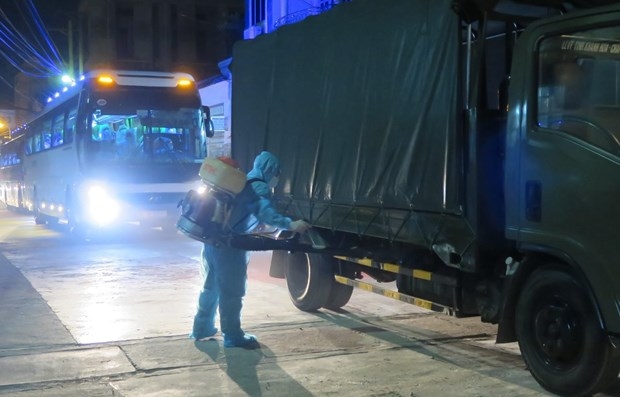 A Vietnamese worker sprays disinfectant on a vehicle entering a concentrated quarantine facility. Photo: VNA
According to the latest figures published by Johns Hopkins University, 17,067,754 cases have been detected worldwide, with 667,935 deaths and 9,995,277 people recovered.
There are now 891,199 confirmed cases of coronavirus and 540,872 recoveries across Africa, a continent of 1.2 billion people, according to the Africa Centres for Disease Control and Prevention.
As of July 30, the confirmed coronavirus death toll on the continent stood at 18,884.
Experts warn fragile healthcare systems in many African countries could be overwhelmed in the face of a severe outbreak of COVID-19, the highly infectious respiratory disease caused by the new coronavirus.
Meanwhile, the Vietnam's Ministry of Health on July 30 afternoon confirmed five more coronavirus cases in Quang Nam province, taking the country's tally of COVID-19 infections to 464.
Vietnam has confirmed 48 locally transmitted cases in six localities across the country since the first such case was detected in Da Nang five days ago.
Da Nang has now recorded 34 cases, topping the list, followed by Quang Nam (8), Hanoi (2), Ho Chi Minh City (2), Quang Ngai (1) and Dak Lak (1).
The Ministry of Health on July 30 decided to dispatch additional specialists to Da Nang to help the city deal with the outbreak.
As of 6pm July 30, as many as 464 coronavirus cases have been confirmed in Vietnam, with 369 of them having fully recovered from the disease. The remaining 95 patients are receiving treatment at healthcare facilities across the country. No deaths have been reported so far.
While countries around the world face severe mask shortages, Vietnam's governments, businesses, and people have been began to support and provide material assistance to nations struggling to equip frontline medical workers.
The aid illustrates Vietnam's continued willingness to assist other countries on a bilateral and multilateral basis to the best of its abilities even as it continues to remain cautious about managing its own coronavirus challenge at home./.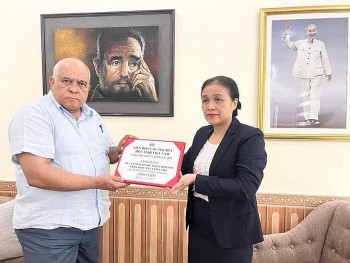 Focus
According to Cuba's News Agency Prensa Latina, on August 16, President of Vietnam Union of Friendship Organizations Nguyen Phuong Nga said that Vietnamese people will always stand by and support Cuba no matter what difficulties our friend is facing.