Japan supports Vietnam Coast Guard to build six patrol vessels
The Japan International Cooperation Agency (JICA) recently signed with Vietnam Government an agreement to provide Japanese ODA loans of 36,6 billion yen (USD 347 million) for the project to help Vietnam increase maritime security and safety capacity.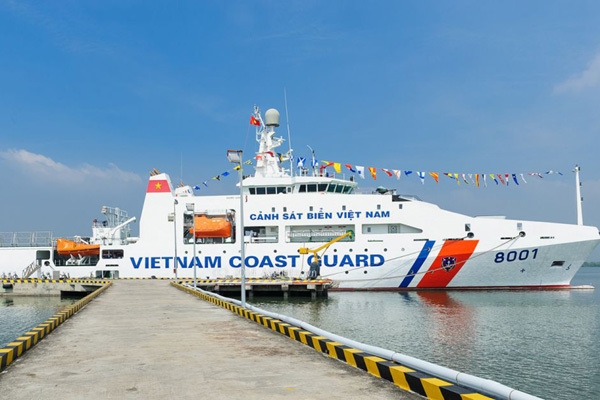 JICA helps Vietam strengthen maritime security and safety capability.
Within the framework of the project, the Vietnam Coast Guard will be financially supported to build 6 patrol vessels to strengthen law enforcement and maritime rescue operations, ensuring security, maritime safety and freedom of navigation in Vietnam, Vietnamnet newspaper reported.
The vessels, to be delivered to the Vietnam coast guard by October 2025, JICA said in a statement.
The 40-year loan has a grace period of 10 years, the statement said, adding that the vessels would be built by a Japanese contractor.
The South China Sea, known as Bien Dong Sea in Vietnam, is severely affected by natural disasters, which pose a high risk of maritime accidents, JICA said.
Vietnam has a coastline stretching from north to south, and in recent years smuggling, illegal fishing and the risk of terrorism have increased, and so strengthening maritime capability and safety is one of Vietnam's key tasks.
The project contributes to Goals 14 and 16 of the Sustainable Development Goals (SDGs), and contributes to the implementation of the free and open Indo-Pacific Strategy.
The project applies a Special Terms for Economic Partnership (STEP), using advanced Japanese shipbuilding technologies.
STEP stands for "Special Terms for Economic Partnership" which was introduced in July 2002, with a view to raising the visibility of Japanese ODA among citizens in both recipient countries and Japan through best use of advanced technologies and know-how of Japanese firms.
Upon completion of the contract the Vietnam Coast Guard will be the largest operator of the vessels within Southeast Asia. In comparison the Philippines Coast Guard ordered two similar patrol vessels from Japan while the Malaysian Maritime Enforcement Agency currently operates three similar ships.
China has been ramping up its aggressive behavior in the waters since the start of this year while other countries have been focused on combating the COVID-19 outbreak.
The US earlier this month released statements supporting Southeast Asian nations including Vietnam in their disputes with China at sea.
The statement rejected China's claims to most of the waterway, including waters surrounding Vietnam's Vanguard Bank, Luconia Shoals off Malaysia, waters in Brunei's Exclusive Economic Zone, and Natuna Besar off Indonesia.
Australia last week joined the United States in stating that China's claims in the South China Sea do not comply with international law.
Last year the US announced it would provide Vietnam with another coast guard cutter for its growing fleet, in addition to at least 18 "Metal Shark" patrol boats it provided to Vietnam in the last three years to boost its ability to patrol its waters.
Bien Dong Sea (or East Sea) borders Vietnam in the east and the south. Vietnamese people have long called this body of water "Bien Dong" because it is east of the country.
Japan's Maritime Self-Defense Force training vessels Kashima and Shimayuki conduct an exercise with the USS Ronald Reagan aircraft carrier in the South China Sea on July 7. Source: US NAVY / VIA REUTERS
Unlawful territorial claims
This month, Japan 's annual defence review also said China was pushing its unlawful territorial claims amid the COVID-19 pandemic.
China "is continuing to attempt to alter the status quo in the East China Sea and the South China Sea", Japan said in the defence white paper approved by Prime Minister Shinzo Abe's government on July 14.
The white paper described "relentless" intrusions in waters around a group of islets claimed by both nations in the East China Sea, known as the Senkaku in Japan and the Diaoyu in China.
In the South China Sea, it said Beijing was asserting territorial claims by establishing administrative districts around disputed islands, that forced countries distracted by the coronavirus outbreak to respond.
Japan's criticism of China echoes similar comments made by the US, and comes as tension in the region increases as Beijing and Washington conduct separate military drills in the South China Sea and as relations between the world's two largest economies deteriorated.
According to Reuters, Japan sees China as a longer-term and more serious threat than nuclear-armed North Korea. Beijing now spends four times as much as Tokyo on defence as it builds a large modern military.
Japan's defence review also claimed China appeared to be responsible for "propaganda" and "disinformation" amid "social uncertainties and confusion" caused by the coronavirus outbreak.
Such disinformation included online claims that the coronavirus was brought to China by a US military member, or that Chinese herbal remedies could treat COVID-19, a defence ministry official said at a briefing./.