Criminals hand out anesthesia-laden masks, rob civilians
Criminals reportedly handed out anesthetic-doused masks to commit robbery during the Covid-19 scare.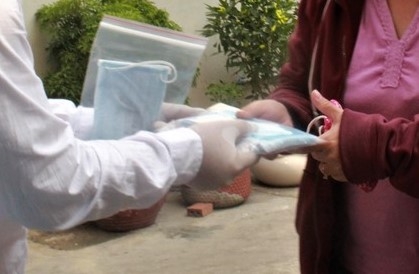 Illustrative image. Source: Kinhtedothi
Thieves are exploiting the coronavirus pandemic by dousing masks in chemicals that render people unconscious and then robbing them, local media reported on June 10.
On June 9, police of Rach Gia city in Kien Giang province warned about a number of people pretending to be medical officers and workers, distributing free masks impregnated with anesthetic to appropriate people's property.
According to Kinhtedothi, taking advantage of the complicated situation of the Covid-19 pandemic, a group of 3-5 subjects are reportedly pretending to be officials and health workers to distribute anesthesia-laden face masks to unsuspecting civilians and then rob them as the users are knocked unconscious.
The subjects are going door to door handing out masks, during the time of absence of adult members, with only the elderly and children stay at home. They wore uniforms like civil servants, covered masks or protective clothing, and then claimed to be members of the local steering committee for Covid-19 Prevention and Control or medical staff come to investigate the health situation and distribute free masks to people.
Similarly, in some localities such as Ho Chi Minh City, Hai Phong, and Bac Ninh province, subjects also pretend to be officials and health workers giving free masks to people. In fact, these masks have been doused with chemicals which render people unconscious, and once you're knocked out they proceed to rob you.
They always say it's an initiative from local government to prevent Covid-19 community transmission.
To avoid these scams, police is advising the public to be vigilant around potential scams and absolutely do not open the door for strangers. When detecting suspicious or unusual things, quickly report to the nearest police stations.
The Ministry of Health on June 10 reported 70 new Covid-19 cases, including 66 domestically-transmitted infections and four imported cases that were quarantined right upon their arrival in An Giang province.
According to VNA, of the local cases, 16 were found in Bac Giang, 23 in Bac Ninh, 26 in HCM City, and one in Ha Tinh. As many as 50 cases were detected in quarantine or locked-down areas.
As of 6am on the day, the domestic tally stood at 8,020, of which 6,450 were recorded since the new wave started on April 27.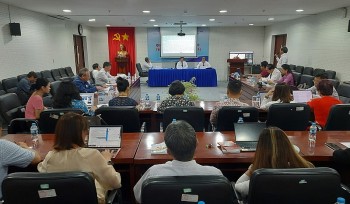 Friendship
The Vietnam - India Friendship Association's Ho Chi Minh City branch, the Ho Chi Minh City Union of Friendship Organizations (HUFO) and the Southern Institute of Social Sciences on March 21 held a scientific seminar themed "Vietnam - India relationship: tradition and present".