Da Nang boosting tourism promotion during New Year holiday
In light of globally raging COVID-19 crisis hampering the rebound in tourism industry around the world, Da Nang city's tourism is recovering from the effects of COVID-19, with the number of tourists visiting the city expected to increase sharply during the Christmas and New year holidays.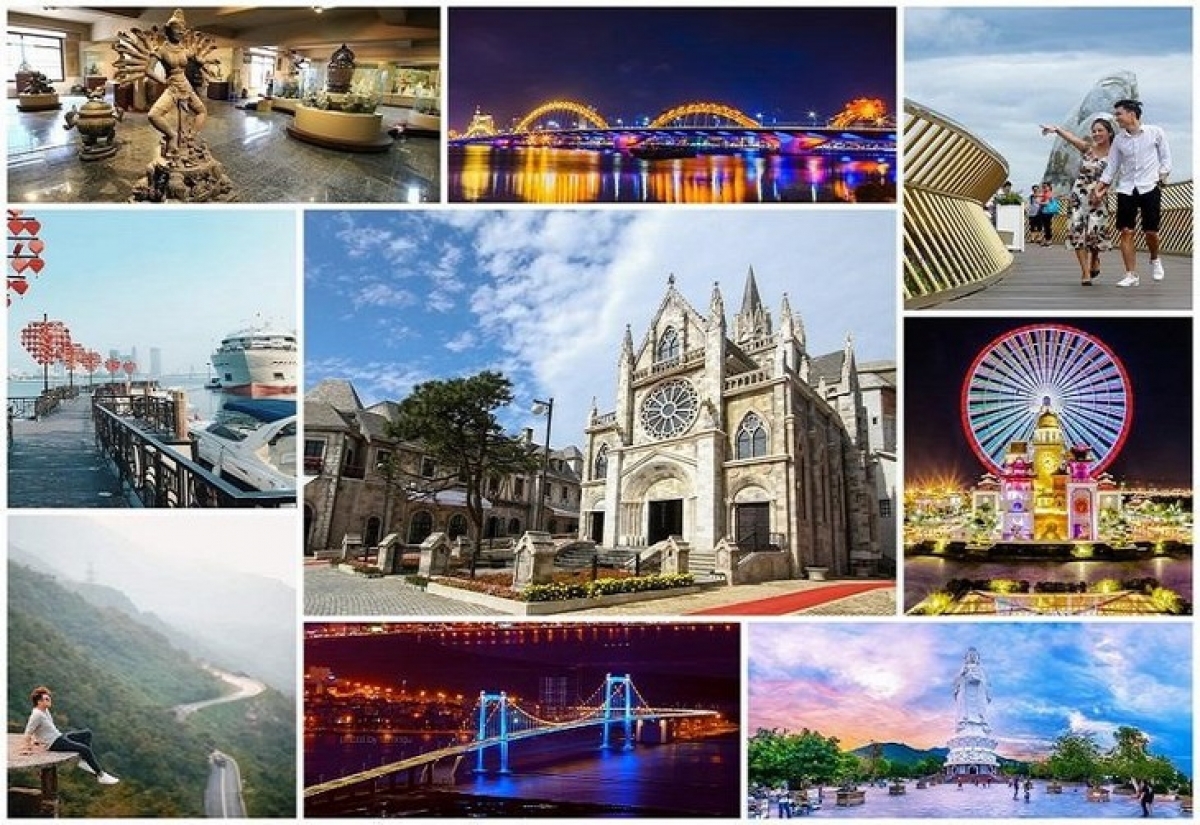 Da Nang has launched a series of promotional programs to attract visitors, including the "Da Nang - Welcome New Year 2021" programme, art performances by the Han river, and Christmas and New Year celebration activities at tourism sites, hotels, and resorts.
Pandemic-induced challenges, pur Vietnamese localities to struggle in their own way to revitalise their local tourism industry, and Da Nang is no exception.
According to Da Nang Today, a large number of travel-themed webinars have been held by Da Nang tourism industry in an effort to market the city's tourism to such key potential international markets as Singapore, India, Malaysia, Thailand, South Korea and Japan.
Also noticeably, June saw a Da Nang and the British Broadcasting Corporation (BBC)-signed bilateral agreement under which, a 30-second video highlighting the beauty of the city is shown on BBC's Asia-Pacific channel daily at intervals of peak hours during the month. The intention was to promote Da Nang as a dynamic, friendly and safe destination for international tourists with its rich traditional culture and unique and diverse cuisines.
Vietnam Airlines, Bamboo Airways, and Vietjet Air are offering 40-50% discounts on air tickets to Da Nang. Travel companies have booked many group tours to Da Nang.
Da Nang is enjoying more signs of rebound in its tourism industry. Domestic airlines are seeing higher ticket booker volumes on flights bounding for Da Nang.
Also vibrantly, Da Nang-based tour operators like BenThanh Tourist, Vietravel, Vitours and Sun Travel have been arranging tours for large groups of tourists flocking to this central Vietnamese city in November and December.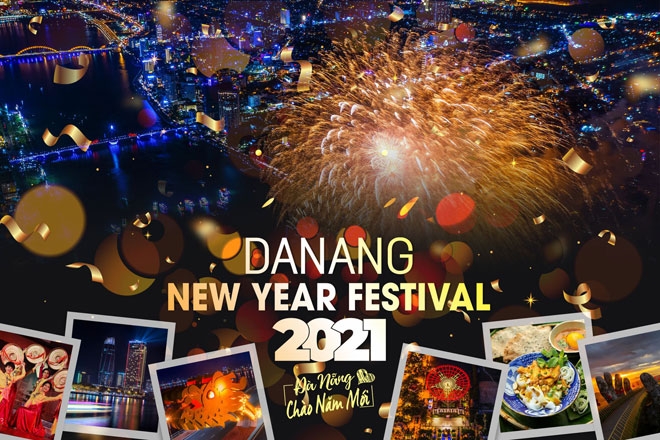 The 'Da Nang Welcomes in New Year 2021' Festival banner.
This month the Ben Thanh tourism company will bring 655 tourists to Da Nang, Viettravel 250 tourists, Vitours 135 tourists, and SunTravel 340 tourists. Tourists have taken advantage of tourism stimulus programs offering great promotions on hotels, air tickets, transportation services, and group tours, reported VOV5.
Da Nang has also received large business groups coming to the city for year-end meetings. More than 5,000 people will come to Da Nang for a conference organized by the Hoa Binh Events Company.
Da Nang has cooperated with Thua Thien-Hue and Quang Nam province to launch promotional packages offering discounts of 20-50% on high-end resorts, photo services, and wedding venues.
Besides, under the recently-announced 'Da Nang Welcomes in New Year 2021' Festival, a dazzling array of cultural events are to be promised for the public across the city over the upcoming three-day New Year holiday break from January 1 - 3, 2021.
Many special tours are on offer, including tours of local cuisine, river tours, and cultural tours.
Ho Thanh Tu, Secretary General of the Da Nang Tourism Association, said, "Da Nang city has launched a series of events, including "Lovely Winter" and "2021 Countdown" to celebrate Christmas and New Year. We have also organized culinary festivals, street music festivals, and the Da Nang Beauty Contest 2021. We hope to give tourists some interesting experiences."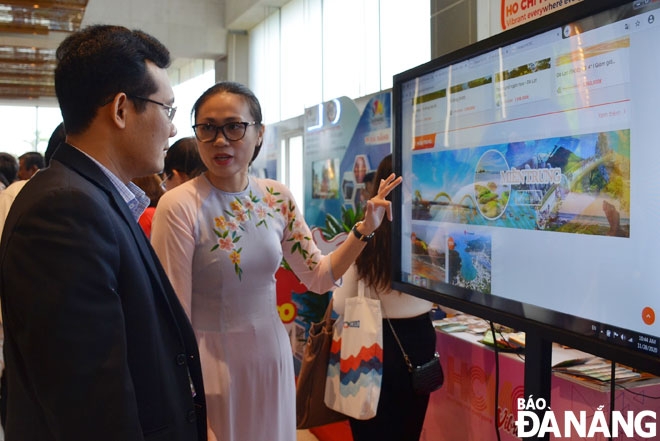 Digital transformation plays an important role in tourism promotion schemes. A representative from a Da Nang tourism business is pictured introducing products through tech apps at the recent 2020 National Conference on Tourism. Source: Da Nang Newspaper
Included will be a parade of 80 well-decorated cyclos along such main streets as Phan Dang Luu, 2 September, Bach Dang, Tran Phu and Trung Nu Vuong, free-of-charge night-time sightseeing boat tours, street arts performances on Bach Dang Street riverside pavement, and nightly arts shows at the main stage of Asia Park.
Danang Fantasticity, the official channel of Da Nang tourism industry, managed by Da Nang Tourism Promotion Centre, also has released a new video entitled 'Da Nang miss you'.
The much-hailed move served as an attempt to attract holidaymakers, hopefully including foreigners, after Vietnam opens its borders and resumes all international flights following successful containment of the global COVID-19 pandemic in the near future.
The new video features a sweeping shots of the surrounding landscape and Da Nang's iconic landmarks with a song called 'Da Nang miss you' which was exclusively composed and performed by Da Nang-born musician cum singer Le Cat Trong Ly.
Of special note, the simple yet fully emotional lyrics perfectively mingling with heartwarming scenes are dubbed as a fervent call to holidaymakers near and far from the bottom of the hearts of all Da Nang people. "When we see you, we'll sing and dance. Da Nang miss you, forever friends", for instance, clearly conveys such a profoundly meaningful message./.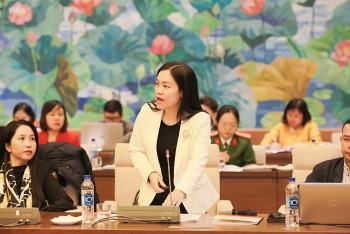 Friendship
Doan Thu Huyen, Vietnam Country Director for Campaign for Tobacco-Free Kids, made the statement at the "Child Downing Prevention" seminar.