Quang Ngai province, Da Nang city receive medical supplies from RoK
Chung Ang University (CAU)'s Hospital, in collaboration with Doosan Vina Heavy Industry (DoosanVina) of the Republic of Korea, on December 16 presented two packages of medical equipment to the central province of Quang Ngai.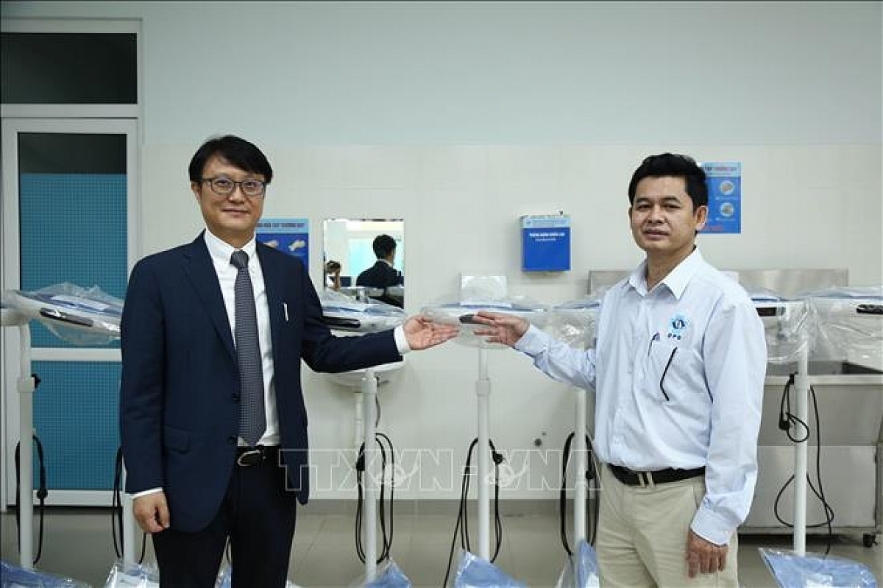 Doosan Vina General Director Jeong Young Chil (left) presents 10 sets of phototherapy for jaundice to Quang Ngai Pediatrics and Obstetrics Hospital. Source: VNA
According to VOV, both of packages, which are valued at approximately VND 1.8 billion (equivalent to over USD 77,359) were presented to Quang Ngai Provincial General Hospital and Quang Ngai Pediatrics and Obstetrics Hospital.
As part of the donation, Quang Ngai General Hospital received a set of Esco Airstream Class III Biological Safety Cabinets imported from Indonesia, in addition to 10 sets of endotracheal intubation equipment from Infinium of the United States.
Furthermore, Quang Ngai Pediatrics and Obstetrics Hospital was presented with a set of fluid warming cabinets, in addition to three sets of SP02 device measures, and 10 sets of phototherapy for jaundice.
A range of essential equipment for medical doctors and patients during the examination and treatment process has also been donated as a means of improving the overall quality of medical facilities in Quang Ngai province.
Previously, Doosan Vina and CAU had handed over 58 pieces of medical equipment worth USD 271,370 to Quang Ngai General Hospital. An ultrasound machine worth VND 520 million (USD 22,446) was awarded to Quang Ngai Pediatrics and Obstetrics Hospital in 2019.
Moreover, the two hospitals have also been sponsoring training programmes for medical teams which are set to be held in both the RoK and Vietnam for a period of nine years, running from 2017 to 2025.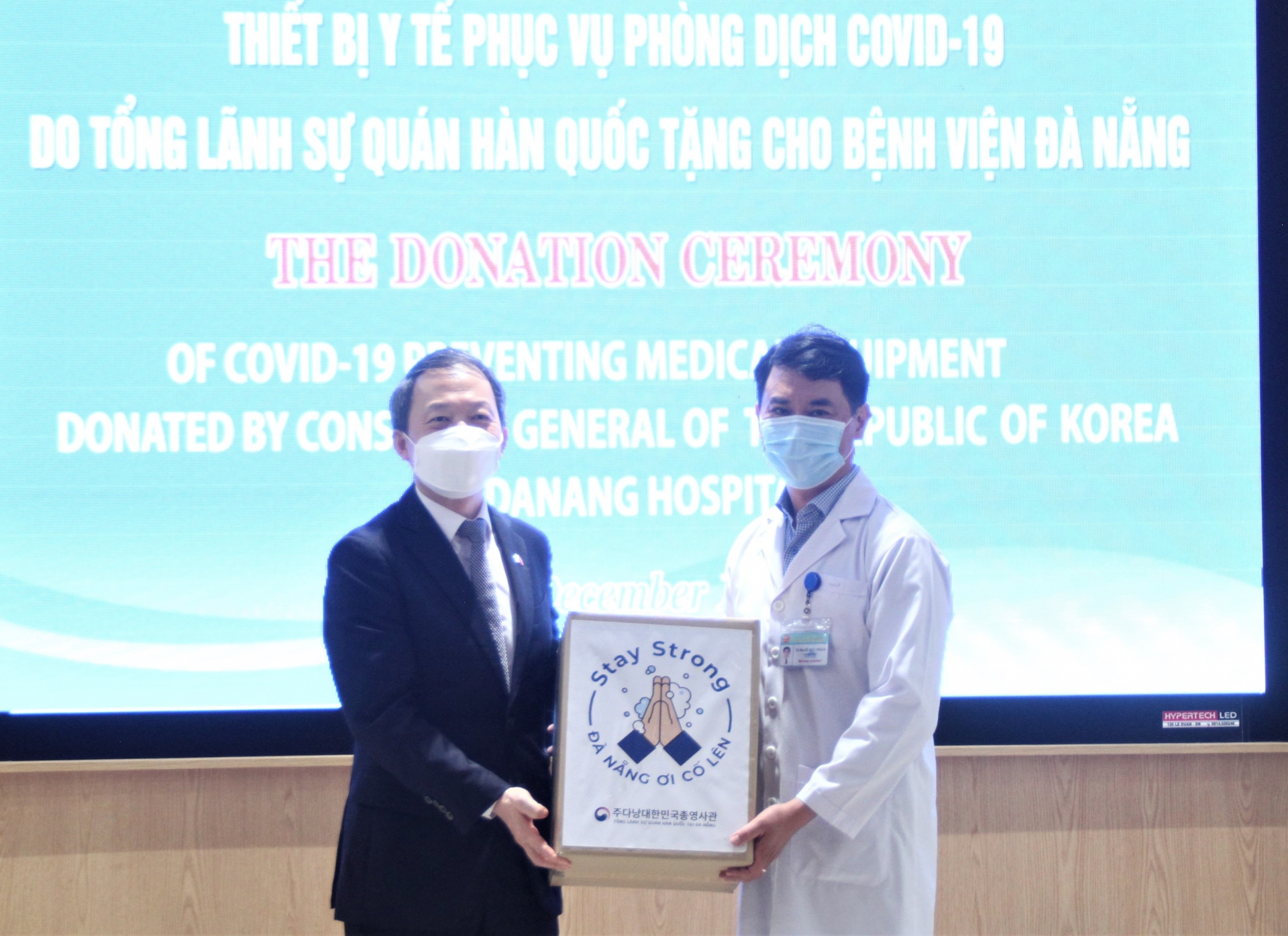 Dr Le Duc Nhan, Director of the Da Nang General Hospital, (right) receiving in-kind support from the RoK's Consulate General in Da Nang Ahn Min Sik. Source: Da Nang Today
On December 15, the RoK's Consulate General in Da Nang Ahn Min Sik handed over donations of medical supplies, totalling VND 115 million (around USD 5,000), donated by the South Korean government, to support the Da Nang General Hospital's effort to tackle COVID-19 resurgence.
The donations comprised 32 blood oxygen saturation monitors (SpO2) and heart rate monitors (PO60), plus 46 Berrcom non-contact infrared forehead thermometers JXB-178.
Addressing the donation handover ceremony, Director of the Da Nang General Hospital Dr. Le Duc Nhan thanked the Consulate General in Da Nang, and the RoK's government, for their generosity and support to help the city combat the pandemic.
He highlighted the importance of such medical supplies to help the city effectively take infection prevention and control measures for COVID-19.
The Consulate General of the RoK was officially opened in central Da Nang city on November 6.
The Consulate General in Da Nang, which fully started work in July, has postponed its opening ceremony in consideration of the local COVID-19 situation.
The RoK remains the largest among the 136 countries and territories investing in Vietnam, with nearly 9,000 valid projects worth USD 70.2 billion. It currently ranks second in ODA provision for, trade with, and reception of workers from Vietnam. It is also one of the key sources of foreign tourists to Vietnam.
The number of RoK people visiting the central region, including Da Nang, doubled each year between 2015 and 2018, and stood at about 1.8 million last year, or nearly half of the total.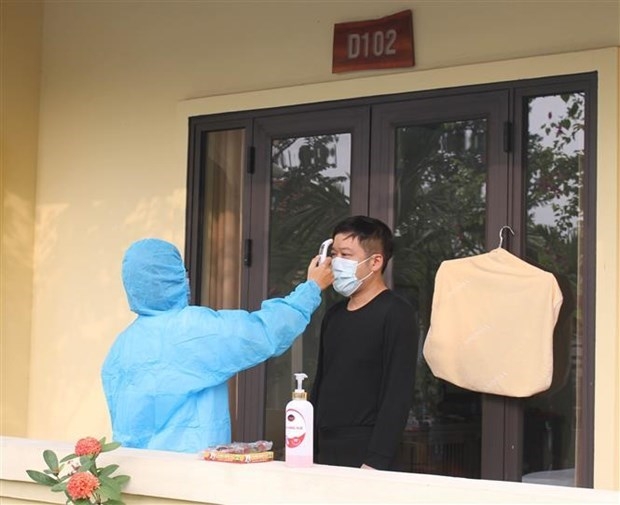 Measuring body temperature of a man at a concentrated quarantine facility. Source: VNA
Vietnam reported no new COVID-19 infections on December 16, with the tally standing at 1,405, according to the National Steering Committee for COVID-19 Prevention and Control.
Of the total, 693 cases were transmitted domestically. December 16 marked the 15th consecutive day without community-transmitted infections in the country.
As of December 16 afternoon, 1,252 patients had been given the all-clear. The fatalities remain at 35.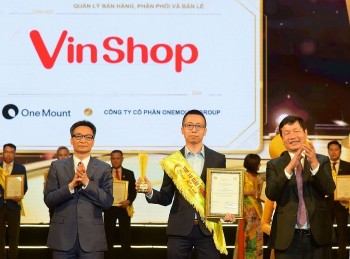 Viet's Home
The One Mount Group was recently been honored by Google as the industry's best practice in digitally transforming logistics and supply chains in 2021 at the Google Cloud Customer Award. This is also the only business in Southeast Asia to receive this award.