Marking the 25th anniversary of Vietnam-US diplomatic ties in Da Nang
The Da Nang city Union of Friendship Organisations and the city's Vietnam-US Friendship Association, along with the University of Foreign Language Studies - University of Da Nang jointly held a ceremony on November 24 to mark the 25th anniversary of Vietnam-US diplomatic ties.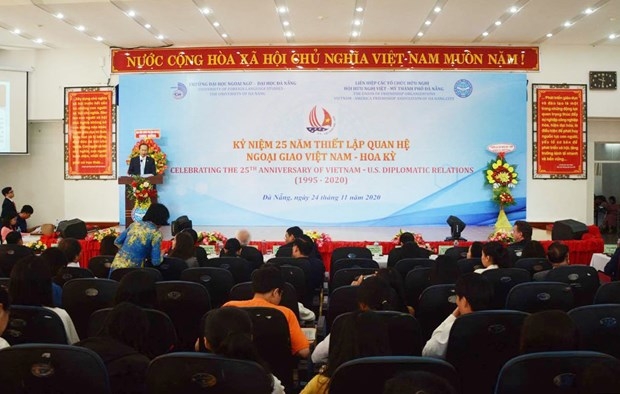 At the ceremony. Source: danang.gov.vn
Speaking at the event, Nguyen Ngoc Binh, President of the Da Nang city Union of Friendship Organisations, recalled the establishment of bilateral diplomatic ties 25 years ago as well as the birth of the Vietnam-US Friendship Association - the first bilateral friendship association between Vietnamese people and foreign friends - in 1945.
Vietnam and the US have overcome difficulties and differences to keep the relationship strong in all spheres and at all levels, he said.
Vice Chairman of the municipal People's Committee Ho Ky Minh said Da Nang has set up friendly and cooperative ties with three US localities including Oakland (California), Pittsburgh (Pennsylvania), and Houston (Texas).
Da Nang has been a destination for many high-ranking US delegations, he said, citing visits by Senator Patrick Leahy and President Donald Trump in 2017.
He also highlighted the regular exchange of high-ranking delegations between Da Nang and US localities, which contribute to consolidating and enhancing mutual understanding and trust.
Musical performance at the ceremony.
Da Nang has also witnessed cooperative activities between the naval forces of the two countries during annual visits by US vessels such as the USS Carl Vinson in 2018 and the USS Theodore Roosevelt in 2020.
In addition to political ties, economic and trade links between Da Nang and US partners have also made great strides forward, he said, noting that the US is one of the largest import-export markets of businesses in Da Nang.
One of the highlights of the cooperation between Da Nang and the US is humanitarian and development aid provided by US non-governmental organisations (NGOs).
As of 2020, Da Nang had set up relations with 105 US NGOs, including the East Meets West Foundation, World Vision International, and Children of Vietnam, which have provided material support, shared experience, transferred technologies, and helped improve healthcare and education quality in the locality.
Minh said Da Nang and the US have great potential for further cooperation, and pledged that the city will create optimal conditions for US investors in tourism, high-quality services, seaports, aviation, logistics, and high-technology.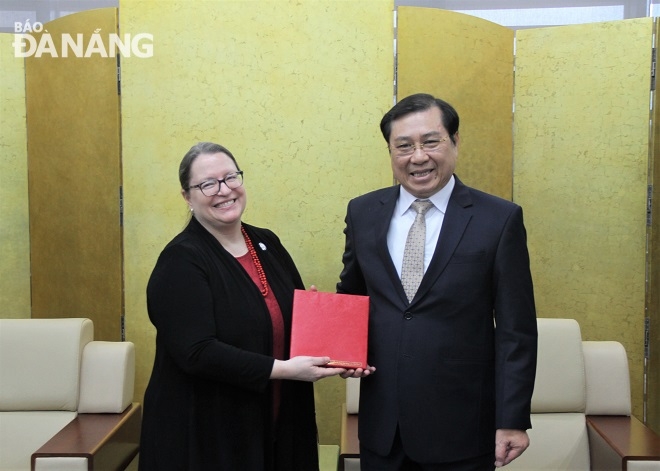 Da Nang People's Committee Chairman Huynh Duc Tho (right) expressed his belief that the bilateral relations with the USA would be lifted to a new height in the years to come. Source: Da Nang Today
On November 23, US Consul General in Ho Chi Minh City Marie C.Damour has met Da Nang Party Committee Secretary Nguyen Van Quang and Da Nang People's Committee Chairman Huynh Duc Tho.
Da Nang government is always willing to create the most favourable conditions for US businesses to invest into such the city's priority sectors as tourism, hi-tech and information technology, said Da Nang Party Committee Secretary Nguyen Van Quang during his reception for the US Consul General.
During his meeting with Damour on the same day, Da Nang People's Committee Chairman Huynh Duc Tho also expressed his excitement about seeing a growing number of US businesses showing their keen interest in investing into Da Nang in recent years. Most notably, the opening of the Da Nang Chapter of AmCham Vietnam played an important role in supporting US businesses operating in the city and attracting new US-invested projects into the city./.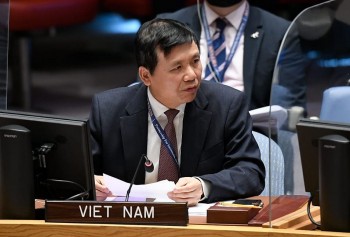 National
Vietnam welcomed the declaration of a unilateral ceasefire by the Central African Republic government at the United Nations Security Council (UNSC) meeting on October 18 on the situation in the Central African Republic.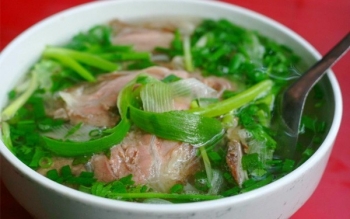 Handbook
A winter chill settles over Hanoi. Sitting in a small corner in the chilling weather, there is nothing better than enjoying a bowl of hot dish to beat the cold and warm up your body.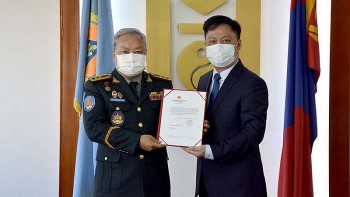 Friendship
The Vietnamese Government has donated 50,000 USD to Mongolia to assist the country in responding to the Covid-19 pandemic.