Da Nang to fine up to $43.5 those causing loud karaoke noise pollution
Those who cause loud karaoke noise pollution, affecting the life of people surrounding will be fined up to VND 1 million ($43.5), said Da Nang City Department of Justice.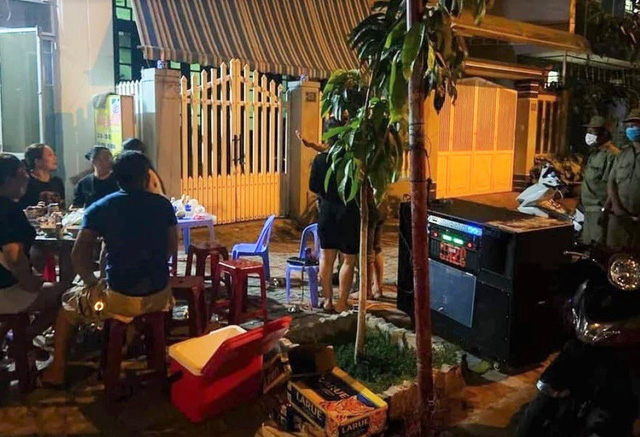 Da Nang will fine up to $43.5 those causing loud karaoke noise pollution. Photo: Toquoc
Da Nang Department of Justice on April 2 sent a document to the municipal Police, the Department of Natural Resources and Environment and the People's Committee of districts on administrative violations towards cases causing noise pollution including playing music or singing karaoke loudly in residential areas, etc, Nguoi Lao Dong reported.
Depending on the noise level, violators will be fined from VND 100000 ($4.35) to VND 1 million ($43.5).
Earlier, the Da Nang People's Committee issued a document requiring to strengthen inspection and handling those causing loud noise at residential and urban areas from 1 June.
In addition, functional forces collect citizens' feedback and complaints on noise pollution in their neighborhoods in all-out efforts to stamp out deeply concerning phenomenon.
Chairpersons of the district and commune-level governments and relevant agencies must take accountability for such noise pollution cases occurring in their locales, said Danangtoday.
According to scientific experts, noise pollution can have long-term impacts, such as loss of hearing. It can also lead to sleeping disorders and high blood pressure, while children can suffer cognitive impairment.
Previously, three Ho Chi Minh City restaurants were fined up to VND300,000 ($13) for playing loud music to attract customers.
The three restaurants on Pham Van Dong Street, namely Cali Beer, Havana and Xing Fu, played excessively loud music to attract patrons. As such, authorities fined them between VND100,000 ($4.35) and 300,000 ($13) for causing noise pollution and neighborhood disruption after 10 p.m., said Dinh Khac Huy, chairman of Binh Thanh District People's Committee.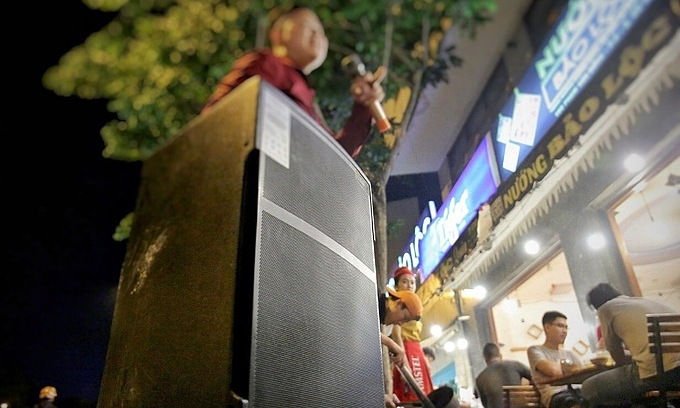 A man sings karaoke via a portable set at a street-side restaurant in Ho Chi Minh City's Go Vap District in 2020. Photo by VnExpress/Ngoc Binh.
Huy said Binh Thanh authorities would continue punishing those who violate noise pollution standards across 20 wards. National environmental standards allow a maximum noise threshold in normal areas like apartments, houses, offices, and hotels of 70 dBA from 6 a.m. to 9 p.m., and 55 dBA from 9 p.m. to 6 a.m. the following day, Vnexpress reported.
Noise pollution has been a long-standing issue in the southern metropolis. Nguyen Thanh Phong, chairman of the city's People's Committee, said he has received frequent complaints about noise pollution from karaoke services, especially after 10 p.m.
As such, the committee requested the Department of Natural Resources and the Environment to tackle noise pollution in the city, and that the proposal be sent to Phong within this month.
The prestigious South China Morning Post (SCMP) has recently also run an article detailing the so-called "karaoke torture" in Vietnam and other Asian countries, saying loud karaoke parties have led to certain "violent reactions".
The reporter from SCMP has interviewed Nguyen Minh Giang, a 33-year-old Vietnamese resident in Ho Chi Minh city on the karaoke situation in her neighborhood.
''When people sing on the other side of the river at night, people in my apartment building on this side curse,'' said the footwear company employee, adding that the karaoke singing in her own neighborhood is so frequent she now knows her neighbors' favorite songs and musical genres.
SCMP said while Vietnam has achieved success in containing the COVID-19 pandemic, it has been plagued by another pandemic for years: excessively loud karaoke singers.
"If motorbike honking is the anthem of Vietnam's everyday life, the sound of karaoke singing is the chorus - disorderly and repetitive, and grating on the nerves of those who are forced to listen to it", the news outlet comments.
But many times the karaoke parties become acoustic attacks on others, provoking them to violent extremes in some cases. And now, academics and politicians have joined regular citizens in calling for action - not only in Vietnam but throughout Southeast Asia.
Last November, social media users expressed sympathy instead of derision for a man in the capital, Hanoi when he was arrested for throwing petrol bombs at his neighbors who continued blasting karaoke tunes in spite of his complaints. In October 2019, a man in the central city of Hue stabbed his neighbors, with the help of two friends, after they failed to get them to turn down the volume on their karaoke session. Another stabbing over loud karaoke occurred in Ben Tre province in the Mekong Delta in March of the same year.