Daily Health Horoscope for July 7: Astrological Prediction for Zodiac Signs
July 7th
Horoscope
: Today, the Moon is warning in Aquarius, prepare yourself for all the goodies coming your way today, and also brace up for the not-so-good things. Find out what's in store for you today!
Arie
The first sign of the Zodiac, Aries are the trailblazers. Passionate and independent, Aries will never do something just because everyone else is doing it—a Ram needs to be 100 percent committed to the task at hand.
Today's health horoscope: There is power in knowing what you want, but it's not always easy! Ever spend too long looking at the menu in a restaurant? The waiter keeps coming, and pretty soon you order something just to get it over with? Now pretend you're the waiter. The best way to find what you want is to know what you need. If you know you need nutritious root vegetables into your diet, your want list instantly becomes more manageable and the power is in your hands to decide.
Taurus
Smart, ambitious, and trustworthy, Taurus is the anchor of the Zodiac. Amazing friends, colleagues, and partners, Taureans value honesty above all else and are proud that their personal relationships tend to be drama free.
Today's health horoscope: Whatever your definition of power, there is a lot of it in the air right now. The current planetary configuration is like having Arnold Schwarzenegger and Michael Jordan on the same team! Raw strength and bright intelligence join forces. You may use this power to improve what you know to be your weak spot. If this has something to do with food, try shopping for meals in advance instead of eating out this week. Set up the breakfast table at bedtime and enjoy the benefits of having a "real" breakfast!
Daily-Health-Horoscope-for-7th-July:-Astrological-Prediction-for-Zodiac-Signs
Gemini
Smart, passionate, and dynamic, Gemini is characterized by the Twins, Castor and Pollux, and is known for having two different sides they can display to the world. Expert communicators, Gemini is the chameleon of the Zodiac, adept at blending into different groups based on the vibe and energy they perceive.
Today's health horoscope: For a creature who enjoys the light, today's aspect at play presents you with a variety of options for shedding and spreading a little. If you have had misunderstandings with those you love, this may be the day you can finally see that person's point of view. Similarly, if you've been feeling misunderstood, this a good day to communicate your feelings. If you have a lover, maybe you should leave the light on, when normally you would turn it off - have a little fun with this one!
Cancer
Emotional, intuitive, and practically psychic; ruled by the moon and characterized by the crab, Cancer has so much going on in its watery depths. Cancers may seem prickly and standoffish at first meeting, once they make the decision to become friends with someone, that person has a friend for life.
Today's health horoscope: You are known among your friends for your reasonable judgment. However, place no judgment on your personal needs this month. If you need more sleep, do not waste time justifying the extra hours or trying to understand what "reason" there is for this change. The body dictates what it needs in very simple terms. If you are sleeping well, enjoy the knowledge that you are growing in some way - if not physically, then emotionally - and that is why you are sleeping more.
Leo
Bold, intelligent, warm, and courageous, fire sign Leo is a natural leader of the Zodiac, ready to blaze a trail, vanquish injustice, and make a name for themselves along the way. Blessed with high self-esteem, Lions know that they possess enviable traits—and they're proud of them.
Today's health horoscope: Power can be beneficial in many forms. Natural power, stamina, and endurance are traits common to many in leadership positions, be they on sports teams, in classrooms or corporations. The heavenly bodies are now exerting a power that is most beneficial when used on your health. This powerful energy will protect you from interruption and the distraction of competition while keeping you focused and motivated on your chosen goal. Use it to your advantage!
Virgo
Smart, sophisticated, and kind, Virgo gets the job done without complaining. Virgos are amazing friends, always there to lend a hand and also lend advice. Practical Virgos are incredibly adept at big picture thinking, and planning out their life, their vacations, and what they're going to do today isn't a drag it makes them feel in control and secure.
Today's health horoscope: You are enjoying a pleasant time of recognition right now, as the cosmic climate heightens all of your senses. Under the influence of this special energy, your intuition is honed, and you may begin to receive messages on a paranormal level. Remember to not only be concerned with doing good in the world, but you also have to pay attention to your own well-being. You must listen to your body and take orders from your higher self.
Libra
Intelligent, kind, and always willing to put others before themselves, Libras value harmony in all forms. Ruled by Venus, the planet of beauty, Libra adores a life that looks good. As the master of compromise and diplomacy, Libra is adept at seeing all points of view and excels at crafting compromises and effecting mediation between others.
Today's health horoscope: You can be quite withdrawn at times, with a dual nature that sometimes throws people off. Sometimes it even throws you off! You have such basic needs, but yet you feel inexplicably lonely at times. To tune into those needs that aren't so grounded, try engaging in some kind of water therapy. Start by making your bathtub your shrine. This means special soaps, nice towels, fun bath toys, and some good reading material. Swimming, steam bath, and sauna are also good practices.
Scorpio
Passionate, independent, and unafraid to blaze their own trail no matter what others think, Scorpios make a statement wherever they go. They love debates, aren't afraid of controversy, and won't back down from a debate.
Today's health horoscope: Your adventurous spirit likes to explore, especially as today your mind could be buzzing with new ideas. Thinking, talking, evaluating, dreaming - this is what you love doing, and these tendencies help you determine how to ease the suffering of others. However, in order to really know what others are feeling, you need to observe more than speculate. To not become overwhelmed with the issues and challenges others bring to your door, pursuing an art project or engaging in a music group can keep you balanced and grounded.
Sagittarius
Independent and strong-willed, Sagittarius personalities are all about going off the beaten path. Sagittarius isn't afraid to step away from the pack and is a natural-born leader who goes after what he or she wants, regardless of what other people think.
Today's health horoscope: You are generally no stranger to suffering. Your quiet, internal world is constantly interrupted and disturbed by the goings-on of the human race. In order to keep your equilibrium, you must have one or two hobbies that strengthen your inner world. Painting comes to mind or playing some kind of music. Knowing the kind of atmosphere you thrive in is paramount. Give yourself what you need in order to feel secure in your environment.
Capricorn
Smart, hardworking, and fully in control of their destiny, a Capricorn will always get what they set their mind to, in both personal and professional life—no excuses. Capricorns may get a reputation as stubborn, but they simply know what they want, and also know how they wish other people would behave.
Today's health horoscope: The planets are giving you lots of fresh energy to play with! The energy is fanciful and light, yet significant. This is not a time to enjoy the silly things in life and forget the rest, but rather to expand your horizons and invite the new into your life. Give up the habits that have kept you in "stuck" positions. Change does not have to be intense and traumatic - but it does take work. Drink Red Clover tea to help your blood break down those stuck places.
Aquarius
Independent and enigmatical, Aquarians are unique. There is no one quite like an Aquarius, and because each is so incredibly individual, it can be tough to describe them as a group. Aquarians don't like labels, and may shy away from any adjective—even the good ones you might bestow upon them.
Today's health horoscope: For you, the energy emanating from the planets is crying out: "look up!" Look up from the comfort zone of your preferred pasture and check out what's happening in the heavens above. There is a possibility for a new direction now. Increase your flexibility: either at the gym, if possible, or in your working life. Go places you normally don't go. Wake up earlier and take invigorating walks to better acquaint yourself with the sunrise, when dark turns to light. Your job is to be open.
Pisces
Smart, creative, and deeply intuitive, Pisces can be close to psychic. Pisces feel things deeply and have incredibly strong gut reactions. A Pisces "knows" things from deep within, and can often judge whether a person or situation is good or bad.
Today's health horoscope: Doubt or second-guessing can be a challenge for you. Doubt is a lot like panic - if you get excited it tends to get worse, not better. And you usually don't realize what triggers the excitement. It is important, therefore, to continue practicing a schedule that keeps your body and minds healthy and balanced. If you can manage to do this, it will help you withstand doubt and, eventually, to really know your own mind.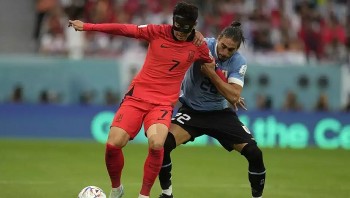 World
Both South Korea and Ghana are searching for their first wins at this year's World Cup. Ghana are facing the prospect of an early elimination from World Cup 2022 Group H when they travel to the Education City Stadium to face South Korea on Monday.