Daily Horoscope for July 6: Astrological Prediction for Zodiac Signs
July 6th
Horoscope
: The moon is now waning in Aquarius, which means creative problem solving should be a breeze for the most part. This is useful to you because there's a heaviness in the early morning when the moon conjoins Saturn, likely leading you to worry about matters in the home. Keep in mind that there is strength in vulnerability, so don't be afraid to communicate the issues.
Arie
The first sign of the Zodiac, Aries are the trailblazers. Passionate and independent, Aries will never do something just because everyone else is doing it—a Ram needs to be 100 percent committed to the task at hand.
Today's horoscope: Your Florence Nightingale side might make an appearance today, Aries. Your default defense is to take care of yourself and others. That's fine, but make sure you do it in a way that doesn't deplete your vital life force. The key is to offer advice and then leave the situation. You aren't responsible for others' actions. Offer information but leave the final decision up to the person you're trying to help.
Taurus
Smart, ambitious, and trustworthy, Taurus is the anchor of the Zodiac. Amazing friends, colleagues, and partners, Taureans value honesty above all else and are proud that their personal relationships tend to be drama free.
Today's horoscope: Today is a terrific day for you, Taurus. You'll find that you can get quite a bit done using your quick mind and sharp wit. Information is flying fast and furious. Grab hold of what resonates with you and discard what doesn't. The more informed you are, the better equipped you'll be to handle the decisions of the day. Make sure you have all the facts before you proceed.
Gemini
Smart, passionate, and dynamic, Gemini is characterized by the Twins, Castor and Pollux, and is known for having two different sides they can display to the world. Expert communicators, Gemini is the chameleon of the Zodiac, adept at blending into different groups based on the vibe and energy they perceive.
Today's horoscope: Often, we ask ourselves, "Why me?" You might feel like you ask yourself this question more than anyone else, Gemini. Your life probably seems at times like a roller-coaster ride that never ends. Deep down, you realize that you'd have it no other way. Take a break from things today if you can. Communicate your thoughts and feelings to others. By talking it out, you'll feel much better about the situation.
Cancer
Emotional, intuitive, and practically psychic; ruled by the moon and characterized by the crab, Cancer has so much going on in its watery depths. Cancers may seem prickly and standoffish at first meeting, once they make the decision to become friends with someone, that person has a friend for life.
Today's horoscope: You may find your brain buzzing around like a bee today, Cancer. This is good. There's a great deal of information that you need to process now. Have you been thinking about buying some new electronic equipment or small appliances for your home? Now is a great time to do some research on this project before you pull out your wallet. Use this day to gather facts.
Leo
Bold, intelligent, warm, and courageous, fire sign Leo is a natural leader of the Zodiac, ready to blaze a trail, vanquish injustice, and make a name for themselves along the way. Blessed with high self-esteem, Lions know that they possess enviable traits—and they're proud of them.
Today's horoscope: Don't automatically assume that you can work out all your problems by yourself, Leo. Just the act of talking things over with others can help shed light on a situation that was baffling you earlier. Enlist the help of others in areas where you need help. Don't be ashamed to ask for assistance. We all have problems and issues to deal with. You aren't alone.
Virgo
Smart, sophisticated, and kind, Virgo gets the job done without complaining. Virgos are amazing friends, always there to lend a hand and also lend advice. Practical Virgos are incredibly adept at big picture thinking, and planning out their life, their vacations, and what they're going to do today isn't a drag it makes them feel in control and secure.
Today's horoscope: Get up early and get working, Virgo. You have a lot of emotional and physical energy that should help you accomplish whatever you need to do. The planetary energy is on your side. Take advantage of it to say what's on your mind and get closer to wherever you need to be. Your active and receptive sides are in agreement today. You should be able to find a healthy balance between giving and receiving.
Libra
Intelligent, kind, and always willing to put others before themselves, Libras value harmony in all forms. Ruled by Venus, the planet of beauty, Libra adores a life that looks good. As the master of compromise and diplomacy, Libra is adept at seeing all points of view and excels at crafting compromises and effecting mediation between others.
Today's horoscope: Feel free to speak up today, Libra. Perhaps no one has heard your point of view in a while. It's probably important for them to hear it. Just because people don't ask for your opinion, that doesn't mean it isn't valid. You have incredible intuitive insight that others fail to see. Don't assume they know what you're thinking - even though you probably know what they're thinking.
Scorpio
Passionate, independent, and unafraid to blaze their own trail no matter what others think, Scorpios make a statement wherever they go. They love debates, aren't afraid of controversy, and won't back down from a debate.
Today's horoscope: Someone has turned on the fan and papers are flying everywhere, Scorpio. The pace of things is picking up and you're scrambling to pick up the pieces. Stay in close communication with others today. This will be your saving grace. You may require others' help to fetch the stack of important documents that have blown across the room. Keep a close eye on things so you don't lose your place in the game.
Sagittarius
Independent and strong-willed, Sagittarius personalities are all about going off the beaten path. Sagittarius isn't afraid to step away from the pack and is a natural-born leader who goes after what he or she wants, regardless of what other people think.
Today's horoscope: No one is going to be catering to your needs today, Sagittarius, so get up and do things on your own. You'll find that there is little sympathy from others, and strong opinions are a dime a dozen. There's a great deal of gossip buzzing around that you may be tempted to join in on. Don't be an enabler of this sort of behavior. It's only going to alienate you from others in the long run.
Capricorn
Smart, hardworking, and fully in control of their destiny, a Capricorn will always get what they set their mind to, in both personal and professional life—no excuses. Capricorns may get a reputation as stubborn, but they simply know what they want, and also know how they wish other people would behave.
Today's horoscope: Listen closely to the wind, for the answers are blowing around right in front of you today, Capricorn. Contact people, you haven't heard from in a while. You'll find that you can be quite productive where you least expect it. Ironically, the less you plan, the more you'll get done. Be spontaneous in your actions. Revelations will come to you like lightning.
Aquarius
Independent and enigmatical, Aquarians are unique. There is no one quite like an Aquarius, and because each is so incredibly individual, it can be tough to describe them as a group. Aquarians don't like labels, and may shy away from any adjective—even the good ones you might bestow upon them.
Today's horoscope: You might find yourself sidestepping in order to avoid a commitment today, Aquarius. Don't keep giving someone the runaround. Be strong and let people know your thoughts even if you think their feelings will be hurt. Your job is to protect your emotions. Other people can handle their own. Be aggressive if you have to be. Your own sanity depends on you being true to yourself.
Pisces
Smart, creative, and deeply intuitive, Pisces can be close to psychic. Pisces feel things deeply and have incredibly strong gut reactions. A Pisces "knows" things from deep within, and can often judge whether a person or situation is good or bad.
Today's horoscope: You're at a dramatic climax in your monthly emotional cycle today, Pisces. It's possible that you'll erupt like a volcano. Don't be ashamed of releasing these emotions. Your feminine and masculine natures are quite connected and they're working harmoniously in order to express themselves to the fullest. Open the gates of communication and let the stampede charge through.
Daily Planetary Overview
Jul 6, 2020 - The moon is now waning in Aquarius, which means creative problem solving should be a breeze for the most part. This is useful to you because there's a heaviness in the early morning when the moon conjoins Saturn, likely leading you to worry about matters in the home. Keep in mind that there is strength in vulnerability, so don't be afraid to communicate the issues.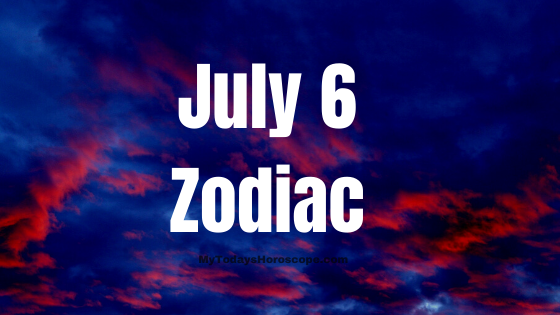 Daily-Horoscope-for-6th-July:-Astrological-Prediction-for-Zodiac-Signs
Another helpful transit is when the moon sextiles Mars this afternoon, giving you much more playful energy for dealing with things and the confidence to tackle any task. The warm determination you exude will attract people to your left and right.
This continues as the moon trines Venus this evening. People find you appealing right now, and it will be very difficult for anyone to tell you no. This is a great day to ask for something special from someone.
However, don't let your competitiveness get the better of you when Mars is quintile Jupiter. You may think you have a very strong opinion in the latter half of the day, but your temper could easily blow things out of proportion, especially when the moon squares Uranus later tonight.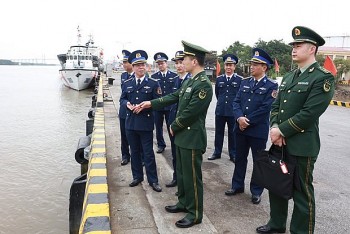 Focus
Vietnam Coast Guard exchanges with other countries