Daily Horoscope for July 12: Astrological Prediction of Love and Finance for Zodiac Signs
Daily Horoscope for July 12: Every zodiac signs are forecasted today with Aries needing to grow up, Taurus has a certain sense of humor. 
Daily Planetary Overview on July 12
There was a Venus-Uranus semi-sextile while you were sleeping, so you're very likely to start the day focused on nesting. You might be coming up with ways to make your physical space more habitable and deciding how to show off your personality there. Mercury goes direct early this morning, bringing some relief to hang-ups and clarity to pending decisions.
The sun trines Neptune this afternoon, and you'll want to channel all of your energy into a creative project. It's likely one you started the day thinking about. Even if it's only in the planning phase, this is a great place to put your energy today!
When the moon squares Jupiter tonight, you'll feel sensible and balanced for the most part, but you should watch out for any urge to overdo it. If your creative project has been occupying your mind since you woke up, this is a good time to take a little break to decompress.
The moon squares Pluto late tonight, and you may confront some bad habits even if you feel like you had a great day. Assess things in the morning.
Aries
There will be a lot of inefficiency in your group today -- everybody is following their own whims and losing focus on what would be best for everyone. You see this, so you have an obligation to help others see it, too. Step up and take control. Point people in the right direction, give them an objective, and delegate responsibilities. Being a leader is something you are quite skilled at, even though it isn't always your favorite thing. But being the grownup is necessary sometimes.
Finance Horoscope: You already know how to count your blessings, especially if there's someone worse off than you in view. Of course, today there is, but with a twist. You have no idea who is who. Regard everyone with interest.
Love Forecast: Be careful in arguments with your partner. It will be way too easy for you to jump on small slipups in a misguided attempt to win. If you try to come to a mutual understanding, things will be fine.
Taurus
Expect a strange day, when the world refuses to follow any preconceived ideas. But talking about it with your certain someone can give you a sense of perspective -- and a sense of humor -- about it.
Finance Horoscope: How can you turn desperation into excitement? There is a way, and it doesn't involve a top hat or a magic wand. Putting things into perspective should be the first step in your new routine.
Love Forecast: You're feeling good about your position and even better about your relationship. Your good sense is strong now, so if you partner is troubled, you're the ideal person to comfort them.
Gemini
You should share your open-mindedness and new point of view with someone who thinks the way you thought, in the past. Spread the enlightenment around. At first they might think you are being a know it all and talking down to them, but keep at it -- soon enough, they will see that you have their best interests at heart. They are smart enough to get it eventually, so don't give up hope that they will come around to your way of thinking. Just keep talking and making suggestions.
Finance Horoscope: You're getting dangerously close to being too overwhelmed to function. Get a grip on yourself. Imagining someone else finishing all of your pet projects should be sobering enough for you. Then get a move on.
Love Forecast: You've definitely got the kind of brainpower now that can take your heart in a whole new direction. In fact, a whole new perspective on the two of you -- and your future -- is possible.
Cancer
When you can learn to be flexible with an obstinate person, you can learn to do just about anything! A touchy and stubborn person will cross your path today, and they will tell you that it's their way or the highway -- despite the fact that the ideas you have (that they don't want to hear) will make their life easier. Never mind -- laugh it off and do what they say. Go along to get along, and be amused by the fact that they are so short-sighted. Do not follow their example.
Finance Horoscope: You like to stay active, so sitting back, watching and waiting are real work for you. But that's what the times call for. Be extra careful about starting any new projects.
Love Forecast: Save your energy. If something's stuck in your love life, putting forth more effort won't help it, and might actually frustrate you further. Just sit back and let nature take its course. It'll work itself out in due time.
Leo
You might think that negative comments or power plays by other people have nothing to do with you, but their dramas have been holding you back whether you realize it or not. It could be a case of guilt by association, so take a good long look at who you're hanging out with right now. Are they acting in a way that makes you proud -- or makes you cringe? If you feel the need to get some distance, do it sooner rather than later. Stand on your own, and protect your reputation.
Finance Horoscope: Don't count on getting your financial needs met by others. Friends can only do so much. But don't give up just yet on taking care of yourself, either. Caution and confidence are a good combination.
Love Forecast: Physical activities always bring you back to your true self. Take a hike and allow yourself plenty of time to think about recent romantic matters. You'll find some answers that you didn't even know you were seeking.
Virgo
The cast of characters in your life will start changing significantly today, and your regular way of doing things will have to be different in order to accommodate all of these new faces and energies. While for some people this could create some feelings of resentment, you're going to enjoy the unpredictability of the day. You can easily embrace what's going on and see that after the initial turmoil is over, things are only going to get even better.
Financial Horoscope: Go ahead, play mind games with yourself, as long as you're realistic when it comes to the numbers. Tell yourself this is but a minor set back if that's what helps you continue trying.
Love Forecast: You mean it in the best, most constructive way possible, but it could be that all they're hearing is that they're not doing it right. Let them know what you love about them -- and maybe let them do it their way for now.
Libra
You have always had a strong curiosity for things that are outside of your own experience, but today that curiosity is driving you to distraction! You need to get involved in something from a different culture today -- watch a foreign sports event, listen to some ethnic music, or dine out at a restaurant that makes you feel like you're in a different country. Feed yourself figuratively and literally on the expressions, ideas and food of other cultures, and you will be extremely satisfied.
Finance Horoscope: What passes for a super day changes all the time. Flirting with disaster has a way of altering your perspective a bit. You'll be happy with the way things unfold, even if it's as simple as balancing your checkbook.
Love Forecast: You can pretty much understand your sweetheart without them saying a word now, whether it's because you know them so well or because your guessing's spot on. Wouldn't they be impressed with an on-target surprise?
Scorpio
Someone who you don't usually see eye to eye with has important things to teach you, whether you like it or not. Right now, you need to give them some time and try really hard to respect their right to speak -- even if you hate what they are saying! This will set the tone for an honest dialogue, and you'll be the one to get all the credit in the end when the two of you start improving your communication skills and relationship. Harmony is easy to achieve when you think the best of someone.
Financial Horoscope: At least you're not unconsciously shooting yourself in the foot. This time the problem is bigger than you and your subliminal sidearm. In fact, the world economy is your new perfect excuse.
Love Forecast: No one likes their ideas to be taken less-than-seriously or dismissed -- so even if your honey's making little sense, listen up. Asking a few questions may reveal that there's something to it you wouldn't expect.
Sagittarius

Nothing will be more fun for you today than interacting with strangers! You are going to be giving off some powerfully flirtatious energy, and people won't be able to resist chatting you up and getting to know you. They'll make sure that you always have a smile on your face. So don't be surprised if someone gives you some eye contact that lingers just a bit longer than it needs to -- they're hooked! If you are single, this could be a life-changing day for you.
Finance Horoscope: You can't help but be tuned in to the big picture now, if you weren't in the past. Even so, decisions involving money and investing are as difficult as ever. Make sure you think through all aspects.
Love Forecast: A vision of what romance could be in your life almost knocks you off your feet. But there are many possibilities out there. You don't have to tie yourself to this one if you think that a better one is out there waiting.
Capricorn
Your analytic skills are sharp right now, so using them to make choices about the health of your finances is smart. But don't go trying to use them on your personal relationships! People are not bank accounts, and they don't have expected rates of return. Talk to your friends and ask them what they need from you -- that's the best way to ensure that you are doing your part in keeping the relationship thriving. Think with your heart and be honest about what you feel, too.
Finance Horoscope: If you thrive on challenges, then you couldn't be living through a better time. Keep focusing all of your energy on work, even if it feels like you're not getting anywhere. Oh, and enjoy.
Love Forecast: You've got stars in your eyes when it comes to romance, but that's actually a nice change of pace. After all, you can't be practical and down to earth all the time. Enjoy this interlude in fantasyland.
Aquarius
Your insight and energy will lay the groundwork for an especially productive day. You are all fired up, totally on the ball and making people drop their jaws in awe today! At least one powerful person is going to take notice of your rock star ways, and don't be too surprised if they offer you a chance to display some of your abilities on a much larger stage. It is a great time for you to let your ambition take over and lead you to a success you have deserved for a long time.
Finance Horoscope: No matter how intellectual you are, it takes time to process the changes you've been through. You won't feel like a new person overnight, but you will feel good soon. In fact, expect a bit of the better emotions today.
Love Forecast: You've gotten a reputation for being slightly aloof but being all the more appealing because of it. Now it's time to let the romantic, dreamy side of your nature come out. You're multilayered; let someone see that.
Pisces
There can be real value in your daydreams -- so feel free to let your mind wander all over the place today. Having fantasies during your waking hours actually provides a great practice round for whatever new plans you want to pursue. So explore a new path today. Shoot for new heights and visualize how things would go if you ran the world, were a rock star, or just managed to get a promotion at work. Imagining it to be so is the first step in making it so.
Finance Horoscope: You may think you've picked the wrong path, but that is foolish. You're simply stuck in a patch of thickets. Did I mention the thorns? You'll make your way out the other side, a few scrapes and scratches notwithstanding.
Love Forecast: Are you the last of your group to join a new dating site? What are you waiting for? If it's working for them, it could work for you, too. Try it out. There's nothing to lose.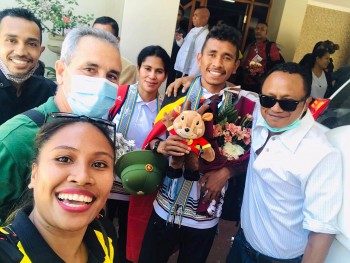 Viet's Home
Along with a Vietnamese flag, the foreign athlete also brought many souvenirs representing the love from his Vietnamese fans, like the signature Vietnam pith helmet.