Daily Horoscope for October 20: Astrological Prediction for Zodiac Signs
Daily Horoscope for October 20: There is plenty to process on an emotional scale at this time. Make sure you are honoring your time and giving yourself plenty of space to stretch out.
Daily Planetary Overview
The overall energy rating is 2. It's going to be a rocky day, but you have the goods to be aware of your part in the process!
The waxing crescent moon cycles through the generous sign of Sagittarius until late this evening. This can mean that people aren't honoring their boundaries and overlapping with your auric field throughout the day.
Although the lunar vibes make it easier to let things bounce off you, there is a darker element to this as well. This can especially be true with certain family members, such as siblings or even neighbors, as Mercury's retrograde through the detective sign of Scorpio is kicking up past arguments left and right. You must honor yourself and let the toxic connections take care of themselves. For those who are in family disputes, this is a really good time to armor up on a psychological scale and be very honest with yourself about your personal space and needs.
The presence of Mercury in Scorpio opposing Uranus in Taurus has not cleared from the skies, and it does add dramatic undertones to people's unconscious behaviors. Let someone show you who they are even if it really hurts to see it. This is a spiritual lesson, and it can even mean you're feeling a telepathic connection to someone at this time. It doesn't mean they're not violating your need for space either, and this can go both ways. Be very mindful of this because your mind is going through a process of merging right now.
Aries
The first sign of the Zodiac, Aries are the trailblazers. Passionate and independent, Aries will never do something just because everyone else is doing it—a Ram needs to be 100 percent committed to the task at hand.
Oct 20, 2020 - There should be no doubt in your mind about which way to proceed, Aries. Don't let self-doubt sneak into the picture. Your mind is sensitive and alert, so trust it. Take the lead when you feel confident about a situation. Make sure to eat plenty of protein-rich foods. They'll help stabilize and bring you another step closer to the realization of your dreams.
Taurus
Smart, ambitious, and trustworthy, Taurus is the anchor of the Zodiac. Amazing friends, colleagues, and partners, Taureans value honesty above all else and are proud that their personal relationships tend to be drama free.
Oct 20, 2020 - Your rock-star attitude may be getting a bit old now, Taurus. People aren't going to continue to listen to your demands for attention. Every person in the world is special, so try not to act as if you're the only one who is. Help a child assemble a new toy today or help a friend pick out a new shirt. Do something for others instead of always expecting things for yourself.
Gemini
Smart, passionate, and dynamic, Gemini is characterized by the Twins, Castor and Pollux, and is known for having two different sides they can display to the world. Expert communicators, Gemini is the chameleon of the Zodiac, adept at blending into different groups based on the vibe and energy they perceive.
Oct 20, 2020 - Your ship is finally coming into port after being out in rough seas for so long, Gemini. It's time to dock the boat for a while. Relax and explore the area. There is nothing wrong with getting off your vessel for a while. You may not even realize how much you've missed solid ground until now. Remember what it's like to be stable again.
Cancer
Emotional, intuitive, and practically psychic; ruled by the moon and characterized by the crab, Cancer has so much going on in its watery depths. Cancers may seem prickly and standoffish at the first meeting, once they make the decision to become friends with someone, that person has a friend for life.
Oct 20, 2020 - You may still be on something of a high from the last couple weeks. You will definitely be tempted to let the good times continue to roll, Cancer. Think about ways you can keep them rolling while still maintaining good judgment. Don't let things get too out of control today. It's important that you maintain a bit of stability at all times.
Leo
Bold, intelligent, warm, and courageous, fire sign Leo is a natural leader of the Zodiac, ready to blaze a trail, vanquish injustice, and make a name for themselves along the way. Blessed with high self-esteem, Lions know that they possess enviable traits—and they're proud of them.
Oct 20, 2020 - Communicate from a centered space today, Leo. Fortunately, the nature of the day caters to your needs and desires. You shouldn't have to work too hard to get what you want. Things should come to you naturally. You may wonder why you got stressed out before over what now seem to be small issues. Consciously release the worry and concern that are still stored in your body.
Virgo
You can reform yourself as the energy coincides with your self-realization, getting you in touch with your root chakra. Today's lunar transit includes a very sobering reflection courtesy of opposition to Saturn in mighty Capricorn emphasizing the value of finding balance through rebuilding your internal stability.
Smart, sophisticated, and kind, Virgo gets the job done without complaining. Virgos are amazing friends, always there to lend a hand and also lend advice. Practical Virgos are incredibly adept at big picture thinking, and planning out their life, their vacations, and what they're going to do today isn't a drag it makes them feel in control and secure.
Oct 20, 2020 - Work toward achieving a better unity between you and the people around you, Virgo. It could be that certain people in your circle of friends somehow feel alienated in one way or another. Perhaps they don't feel like they fit in with the rest of the group. Remind yourself and others that everyone is unique and that all should be equally accepted despite individual differences.
Libra
Intelligent, kind, and always willing to put others before themselves, Libras value harmony in all forms. Ruled by Venus, the planet of beauty, Libra adores a life that looks good. As the master of compromise and diplomacy, Libra is adept at seeing all points of view and excels at crafting compromises and effecting mediation between others.
Oct 20, 2020 - You will feel much better about yourself if you get things done today, Libra. Like a meal that tastes good but isn't necessarily good for you, you might enjoy this day by being lazy, but you won't feel so good when night comes and you realize that you haven't accomplished anything. Use the day productively so you have a sense of fulfillment by tonight.
Scorpio
Passionate, independent, and unafraid to blaze their own trail no matter what others think, Scorpios make a statement wherever they go. They love debates, aren't afraid of controversy, and won't back down from a debate.
Oct 20, 2020 - You might consider taking a rest today, Scorpio. Like a sailboat on the ocean, you've been taxed lately by all the turbulence. The pressure on you has been tremendous. Think about pulling your sails to half-mast in order to take a break. You may not be going as quickly as before, but you will find that this is exactly the rest you need in order to complete the voyage.
Sagittarius
Independent and strong-willed, Sagittarius personalities are all about going off the beaten path. Sagittarius isn't afraid to step away from the pack and is a natural-born leader who goes after what he or she wants, regardless of what other people think.
Oct 20, 2020 - Your thinking is apt to be quite clear and rational today, Sagittarius. This is especially important since others will be looking for your thoughts and opinions on a certain matter. People will know that they can get a straight and honest answer from you, so don't disappoint them. Think through each situation clearly before you offer your advice. You will find that it's worth the effort.
Capricorn
Smart, hardworking, and fully in control of their destiny, a Capricorn will always get what they set their mind to, in both personal and professional life—no excuses. Capricorns may get a reputation as stubborn, but they simply know what they want, and also know how they wish other people would behave.
Oct 20, 2020 - By being around negative and flip people, you might inadvertently pick up these habits. Be careful about your associates, Capricorn, because you will find that others judge you according to the company you keep, especially if you start talking like them. Make sure to maintain a respectful attitude and proper manners no matter who your company is.
Aquarius
Independent and enigmatical, Aquarians are unique. There is no one quite like an Aquarius, and because each is so incredibly individual, it can be tough to describe them as a group. Aquarians don't like labels, and may shy away from any adjective—even the good ones you might bestow upon them.

Oct 20, 2020 - You may feel like the world is caving in on you in many ways today, Aquarius. It could be that you've recently dug your own little cave to crawl into and be safe from the outside world. Realize that the deeper you dig in unstable terrain, the more unsteady the walls. If you aren't careful, it's likely to come crashing down on top of you.
Pisces
Smart, creative, and deeply intuitive, Pisces can be close to psychic. Pisces feel things deeply and have incredibly strong gut reactions. A Pisces "knows" things from deep within, and can often judge whether a person or situation is good or bad.
Oct 20, 2020 - Remember that you can only remain in charge as long as the others around you support your personality and leadership abilities, Pisces. Avoid mutiny by taking care of the people in your world instead of simply trying to run their lives. Gain respect with kind words and a sensitive attitude rather than by enforcing harsh rules and regulations that restrict and aggravate.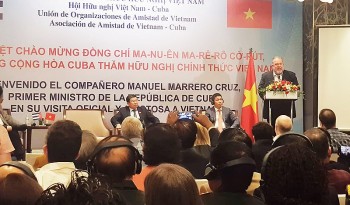 Friendship
Cuban Prime Minister Manuel Marrero Cruz met representatives from the Vietnam-Cuba Friendship Association in Hanoi on September 30, as part of his visit to Vietnam from September 28 to October 2.