Daily Horoscope for September 26: Astrological Prediction for Zodiac Signs
Daily Horoscope for September 26: The day begins with the waxing gibbous moon entering innovative Aquarius. This is a beautiful energy to start the day and lift your spirits. You might be able to step back from your problems and see them from a more investigative perspective.
Daily Planetary Overview
There's a strong feeling of harmony, with a gorgeous trine from the sun in Libra and the Aquarius moon bringing many gifts of happiness and community. You might even be able to express the things you've been holding back over the last few days. There's an ease of mind that's quite refreshing. You're now able to work around your problems and see the loftier side of the lesson.
Remember that everything represents duality in some way. You have much to appreciate right now, whether you're taking the good with the bad, or understanding that the shadow side also has its lessons.
You might even strengthen your sense of connection to a wider group of like-minded individuals who also see the world through a more spiritual perspective, so be open to the people you meet online or through messages. Under these transits, secret admirers can come out of the woodwork with little or no warning!
Aries
The first sign of the Zodiac, Aries are the trailblazers. Passionate and independent, Aries will never do something just because everyone else is doing it—a Ram needs to be 100 percent committed to the task at hand.

Sep 26, 2020 - Have you been considering working more at home, Aries? If so, today you might decide to do just that. An opportunity could pave the way for new jobs you could do at home, in your own space, among your own belongings. This could add to your sense of security. The only downside could be if you don't make the effort, you might never leave the house. Be sure to get your workout in!
Taurus
Smart, ambitious, and trustworthy, Taurus is the anchor of the Zodiac. Amazing friends, colleagues, and partners, Taureans value honesty above all else and are proud that their personal relationships tend to be drama free.

Sep 26, 2020 - A conversation with a sibling or neighbor could lead to you making a new friend today, Taurus, probably someone who works in a creative profession. If you're currently romantically involved, this person could become your best friend. If you're unattached, sparks could fly between you and him or her. You could talk for hours and part unwillingly. Exchange contact information. You'll be glad you did!
Gemini

Smart, passionate, and dynamic, Gemini is characterized by the Twins, Castor and Pollux, and is known for having two different sides they can display to the world. Expert communicators, Gemini is the chameleon of the Zodiac, adept at blending into different groups based on the vibe and energy they perceive.
Sep 26, 2020 - Changes taking place at home could lead to more income, Gemini. Perhaps a new housemate moves in, reducing your housing costs. Or you might even consider moving to a new place, perhaps one that's closer to where family members live or work. Whatever it is, it may not seem like much, but it should make a difference in your financial situation in the long run. Go for it!
Cancer
Emotional, intuitive, and practically psychic; ruled by the moon and characterized by the crab, Cancer has so much going on in its watery depths. Cancers may seem prickly and standoffish at the first meeting, once they make the decision to become friends with someone, that person has a friend for life.

Sep 26, 2020 - A walk through your neighborhood could put you in the middle of an unexpected, interesting event, Cancer. It may be a small public gathering or an impromptu get-together, like a protest. Whatever it is, you could be transfixed by it. Make mental notes and then write down your impressions later.
Leo
Bold, intelligent, warm, and courageous, fire sign Leo is a natural leader of the Zodiac, ready to blaze a trail, vanquish injustice, and make a name for themselves along the way. Blessed with high self-esteem, Lions know that they possess enviable traits—and they're proud of them.
Sep 26, 2020 - Some books you've been reading lately might excite your desire to study astrology, numerology, alchemy, or some other occult science, Leo. This may not be something that you'd normally consider, but don't let that hold you back. Your values have been shaken up lately anyway, so make the most of the impulse now. It could transform you in a subtle way. Go for it!
Virgo
You can reform yourself as the energy coincides with your self-realization, getting you in touch with your root chakra. Today's lunar transit includes a very sobering reflection courtesy of opposition to Saturn in mighty Capricorn emphasizing the value of finding balance through rebuilding your internal stability.
Smart, sophisticated, and kind, Virgo gets the job done without complaining. Virgos are amazing friends, always there to lend a hand and also lend advice. Practical Virgos are incredibly adept at big picture thinking, and planning out their life, their vacations, and what they're going to do today isn't a drag it makes them feel in control and secure.
Sep 26, 2020 - Boredom might stimulate your rebellious streak today, Virgo. You could decide to forego your usual tasks and do something unusual or unexpected, such as skydiving or horseback riding. Don't feel guilty if you decide to do this. We all need to throw caution to the wind and go for some excitement occasionally. Follow your instincts and have fun!
Libra
Intelligent, kind, and always willing to put others before themselves, Libras value harmony in all forms. Ruled by Venus, the planet of beauty, Libra adores a life that looks good. As the master of compromise and diplomacy, Libra is adept at seeing all points of view and excels at crafting compromises and effecting mediation between others.
Sep 26, 2020 - A virtual class or lecture of some kind could bring you exciting new information today, Libra. This could keep your mind buzzing for hours, particularly since you may also communicate with some interesting people with whom you can discuss this subject for hours. Make the effort to take a walk and clear your head at some point during the day or else you might be too mentally charged up to sleep.
Scorpio
Passionate, independent, and unafraid to blaze their own trail no matter what others think, Scorpios make a statement wherever they go. They love debates, aren't afraid of controversy, and won't back down from a debate.

Sep 26, 2020 - A future journey may be in the works right now, Scorpio. Many changes have been occurring in your life for a long time, and they continue today. They might involve group events or educational activities. This may be something you've anticipated for a long time. Your energy, enthusiasm, and excitement are high. You may be too restless to sit still. Try to get some exercise at some point.
Sagittarius
Independent and strong-willed, Sagittarius personalities are all about going off the beaten path. Sagittarius isn't afraid to step away from the pack and is a natural-born leader who goes after what he or she wants, regardless of what other people think.

Sep 26, 2020 - A change in career could be in the works for you, Sagittarius. It might be within the scope of your current job or an entirely new one. It's definitely a change for the better. Don't let insecurity or an attachment to your current circumstances hold you back. Whatever opportunities appear at this time may not come around again for a long while. Think about it carefully and then follow your heart.
Capricorn
Smart, hardworking, and fully in control of their destiny, a Capricorn will always get what they set their mind to, in both personal and professional life—no excuses. Capricorns may get a reputation as stubborn, but they simply know what they want, and also know how they wish other people would behave.

Sep 26, 2020 - An unexpected opportunity to go on a long journey, perhaps business-related, could come to you soon, Capricorn. A partner might be involved. Your enthusiasm may be almost boundless but remember that your physical energy isn't. If you choose to travel right now, make sure you take necessary precautions. Otherwise, have fun!
Aquarius

Independent and enigmatical, Aquarians are unique. There is no one quite like an Aquarius, and because each is so incredibly individual, it can be tough to describe them as a group. Aquarians don't like labels, and may shy away from any adjective—even the good ones you might bestow upon them.
Sep 26, 2020 - Too much hard work and stress could be taking a physical toll on you today, Aquarius. But it isn't likely to stop you from working intently and energetically on a project that fascinates you. This enterprise could be personal or job related, but whatever it is, the turn it takes is apt to surprise you. It might not be anything like what you'd planned! Go to it!
Pisces
Smart, creative, and deeply intuitive, Pisces can be close to psychic. Pisces feel things deeply and have incredibly strong gut reactions. A Pisces "knows" things from deep within, and can often judge whether a person or situation is good or bad.
Sep 26, 2020 - If you're single, Pisces, today you could fall in love at first sight. A friend could send you someone's contact information who shares your interests and with whom you'll talk for hours. This could make you feel happy. You'll certainly enjoy your day. If you want to stay in touch, don't be afraid to say so. Otherwise, you might lose track of your new friend.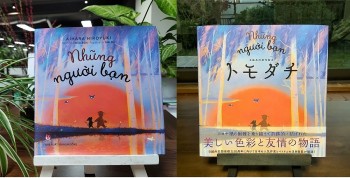 Viet's Home
The comic book Ehon "Friends" illustrated by local female artist Dom Dom has just been published by Japan's Sunny Side Publishing House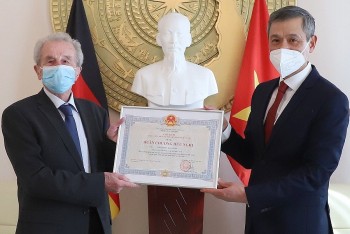 Friendship
The Vietnam-Germany relationship goes from strength to strength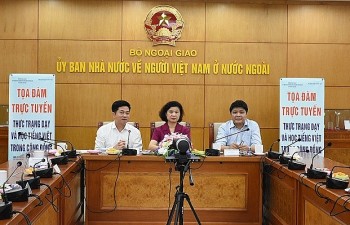 Overseas Vietnamese
The teaching of Vietnamese abroad continues to be strengthened despite the Covid-19 pandemic.