Daily Horoscope June 6: Astrological Prediction for Zodiac Sign with Love, Money, Career and Health
Daily Horoscope for Sunday, June 6: After yesterday's chaos, it's great to have a moment in the week in which we can take a step back and relax. We're still reeling from the events and emotions that came to light yesterday, which is why we appreciate today's lovely celestial energy.
Daily Planetary Overview
The moon is in Taurus all day, adding a touch of romanticism, pleasure, and beauty to the overall vibe. The Taurus moon urges us to take care of ourselves and be mindful of our emotional limits. Don't take the bait and argue with others. Move away from the drama and give yourself some much-needed TLC instead.
And the pleasantries don't stop there. Venus and Jupiter, both great planets that radiate wonderful energy, connect with the moon today too, bringing a sense of warmth and love (unlike yesterday's intense emotional vibe). Think of it like getting a big hug or cuddling in a warm blanket. It's a wonderful time to manifest a new dream or create a plan for how to move forward in your special relationship. Connecting with those you love won't be hard. It will be easy and tender.
The moon aligns with Uranus overnight, adding some erratic behavior to the evening. Use this to find unique ways to heal and decompress.
Daily Zodiac Horoscope for June 6
Aries Horoscope Today
The first sign of the Zodiac, Aries are the trailblazers. Passionate and independent, Aries will never do something just because everyone else is doing it—a Ram needs to be 100 percent committed to the task at hand.
Love Horoscope - You may find that one conversation in particular leads to a romantic liaison that is very promising. The astral energy may bring about the chance to talk in more depth with someone whom you sense you would really get on with very well. It may be rather unusual in its subject matter, but you will realize that you are on the same wavelength.
Money Horoscope - Money prospects may not be so good for the day. You may also have unwanted expenses towards your household.
Career Horoscope - Other people are not speaking your language today. This makes it difficult for you to get anything accomplished. Do your best to concentrate on your own tasks without letting others confuse you with their opinions.
Health Horoscope - If you find yourself giving in to other people too much because you feel they depend on you, it's time to give yourself the attention you deserve and stop distracting yourself through filling the needs of others. Ground yourself with deep breathing exercises. Have you been getting regular aerobic exercise? Take it easy if it's been a while, but definitely try to get back into caring for yourself first.
Taurus Horoscope Today
Smart, ambitious, and trustworthy, Taurus is the anchor of the Zodiac. Amazing friends, colleagues, and partners, Taureans value honesty above all else and are proud that their personal relationships tend to be drama free.
Love Horoscope - The planets are aligning to encourage you to lighten up and have some fun, after a time of much hard work. If you are in a permanent partnership, then this will help you both relax and enable you to spend some time together if possible. If you are hoping to find someone who is upwardly mobile, then this could be just the opportunity you have been waiting for.
Money Horoscope - This is a good day for making money gains. You will have enough funds to put aside a good amount in your savings.
Career Horoscope - Work conversations today may be completely over your head. Don't pretend that you know what is going on if you do not. It is better to ask questions than to make believe that you understand when that is not necessarily the case.
Health Horoscope - You are a delightfully flexible person at times, and the planetary energy at play makes this one of those times! To emphasize this quality, consider paying special attention to stretching out your hips and legs. When you feel strong physically, your true nature shines through. Cut back on the caffeine intake - regularly substitute peppermint or chamomile tea to strengthen your nervous system.
Gemini Horoscope Today
Smart, passionate, and dynamic, Gemini is characterized by the Twins, Castor and Pollux, and is known for having two different sides they can display to the world. Expert communicators, Gemini is the chameleon of the Zodiac, adept at blending into different groups based on the vibe and energy they perceive.
Love Horoscope - You may be feeling more lighthearted and jovial than you have for some time, and ready to have a good time. The planetary energies encourage you to be outgoing and unusual - and to get ready to sparkle. Romance is quite possible, but it may not happen in the way that you had envisioned and could come out of the blue.
Money Horoscope - You are blessed with a comfortable flow of money. You will also be able to derive enjoyment from your money.
Career Horoscope - In an effort for you to stay focused on your work, you are likely to get misinformation that may throw you off track. If something sounds suspicious, feel free to take the time to double check it instead of hastily moving on without question.
Health Horoscope - The need for perspective is universal, but for you it can feel particularly acute. Throughout your quest for this perspective, remember that there is no substitute for regular exercise. The circulation of fresh blood throughout the body affects your skin quality. The skin also depends on lots of fresh water and a diet that provides plenty of Vitamin C. When you take care of your skin you feel better about yourself - and this is something that can entirely change your perspective!
Cancer Horoscope Today
Emotional, intuitive, and practically psychic; ruled by the moon and characterized by the crab, Cancer has so much going on in its watery depths. Cancers may seem prickly and standoffish at the first meeting, once they make the decision to become friends with someone, that person has a friend for life.
Love Horoscope - The current astral energy is wonderful for creating a genuinely warm persona. Your romantic life could head off in quite a new and exciting direction, mainly because you feel ready for a change from the kind of partners that you have tended to attract in the past. It may not be a case of immediate passion, but it certainly won't be too long.
Money Horoscope - Money flow may not be so healthy for the day. You may also need to bear additional expenses and this could keep you worried.
Career Horoscope - You will verbally wrestle with someone today who is full of hot air and may not have his or her facts straight at all. Don't lose your composure in a situation like this. Stick to what you know is the truth and have confidence in yourself.
Health Horoscope - You may feel like friendship is the most important thing in life, and if this is true, you must be very careful about who your friends are. Communication will be greatly enhanced by keeping your thoughts to yourself until you are ready to voice them. Try thinking through your relationship issues while you lift weights or exercise and focus on what you really want to say to someone while doing so. The truth will find its way to the surface.
Leo Horoscope Today
Bold, intelligent, warm, and courageous, fire sign Leois a natural leader of the Zodiac, ready to blaze a trail, vanquish injustice, and make a name for themselves along the way. Blessed with high self-esteem, Lions know that they possess enviable traits—and they're proud of them.
Love Horoscope - Romance tends toward a more lighthearted flirtatiousness, with today's celestial energy. If you are wondering how to go about finding that special person, then you would be better off seeking out some new online groups that share similar ideas and ideals to those you hold and are interested in. In this kind of situation, you will have far more success, and more opportunity. Be adventurous!
Money Horoscope - Monetary inflows may be moderate. You will also have a lot of expenses to be met.
Career Horoscope - Take the lead today in order to clear up the confusion all around you. Taking a bold stand will be just the thing needed to get others back on track towards working towards the collective work goal trying to be accomplished.
Health Horoscope - Your concern for others brings you closer and closer to the feeling that you need the same kind of concern for yourself. Maybe it will mean getting hurt a few times before you learn that setting boundaries is useful for you. Start paying attention to your boundaries through following a more organized health regimen. Taking care of yourself sends out messages to others that they must take care with you. Also, remember that drinking enough water and other fluids is critical to maintaining healthy blood circulation.
Virgo Horoscope Today
Smart, sophisticated, and kind, Virgo gets the job done without complaining. Virgos are amazing friends, always there to lend a hand and also lend advice. Practical Virgos are incredibly adept at big picture thinking, and planning out their life, their vacations, and what they're going to do today isn't a drag it makes them feel in control and secure.
Love Horoscope - The current celestial energy brings with it a golden opportunity to spread your wings and to discover new people and new places that will spark your interest and motivate you. If you are in a permanent relationship, then this could bring new life into it and give you new things to do together. If you are looking for romance, then making some good friends could be a start.
Money Horoscope - You may have to spend more than you earning on this day, and this may become a little difficult for you. Be careful in handling money.
Career Horoscope - Be reserved with what you tell others. You may not realize how you affect people. The danger is that you will accidentally hit Send on an email that is not meant for your boss or one of your co-workers to see. Use discretion or you will find yourself in the doghouse.
Health Horoscope - Today's astral energy leaves you feeling alive and open to new things. The best complement to these emotional energies is a diet that's easy to process and stretching your body. Light foods such as soups, salads and fish can be very satisfying for the entire body. Remember to eat slowly to allow for the maximum benefit of a meal. Exercise in the morning is recommended. Drink plenty of water, preferably at room temperature.
Libra Horoscope Today
Intelligent, kind, and always willing to put others before themselves, Libras value harmony in all forms. Ruled by Venus, the planet of beauty, Libra adores a life that looks good. As the master of compromise and diplomacy, Libra is adept at seeing all points of view and excels at crafting compromises and effecting mediation between others.
Love Horoscope - Today is wonderful for all kinds of flirting, including any plans – virtual or otherwise - that you have on for tonight. With the current planetary energy, you will probably start off by finding out about each other's intellectual ideas and tastes, opinions, and views before considering other matters. However, there seems to be a basic harmony between you that helps you to get on just fine. You will enjoy it!
Money Horoscope - Plenty of monetary gains are indicated for the day. Loan applications will also be approved and money will flow in.
Career Horoscope - Your indecisive nature is worse than ever today, making it extremely difficult for you to be effective on the job. Take a long lunch and stop working early if possible. There is no sense in going around in circles when you are better off napping.
Health Horoscope - Balancing the need for emotional security with the drive for independence is an essential part of your life path. This process can be mirrored in how you approach exercise. The security of a daily routine is beneficial and reliable. The drive to do whatever you want, whenever you want can sometimes lead to a gap in progress. If you can't make exercise happen some days, balance that out with lots of water and no coffee.
Scorpio Horoscope Today
Passionate, independent, and unafraid to blaze their own trail no matter what others think, Scorpios make a statement wherever they go. They love debates, aren't afraid of controversy, and won't back down from a debate.
Love Horoscope - The current planetary energy is great for teaming up with someone new who shares your ideas, beliefs, and general philosophy. If you have been getting to know them and are hopeful it will turn into a deeper and more passionate relationship, then there is every chance that it will, but it may not happen overnight. You will have to get to know each other and trust each other first.
Money Horoscope - Money flow may not be very encouraging for the day. You could face some trouble by spending for unwanted purposes.
Career Horoscope - Tension is building today from all angles and you feel yourself caught in the middle of it. Keep in mind that most of this difficulty stems from maintaining a balance between facts and fantasy. Know which is which and you will come out on top.
Health Horoscope - You may feel like you're at the top of your game. The planetary alignment gives you the support you need to express your complex emotions: you find words work well for you when you talk about your feelings. It's not always necessary to talk to someone else, though. Try having a conversation with yourself to sort out your feelings when you are running or doing strength training. It's helpful to clarify your thoughts and feelings while you work out.
Sagittarius Horoscope Today
Independent and strong-willed, Sagittarius personalities are all about going off the beaten path. Sagittarius isn't afraid to step away from the pack and is a natural-born leader who goes after what he or she wants, regardless of what other people think.
Love Horoscope - There is a very light and warm atmosphere around right now, with the current aspect at play. It is perfect for getting to know someone on a different level, and for communicating in general, as others are very much interested in making new contacts. If you are looking for love, then you will find that although it may not happen right away, you can certainly make a beginning with someone special.
Money Horoscope - You could have lot of expenses for the day. There are also chances of losing some money.
Career Horoscope - The details you neglected on a recent project are catching up to you and backfiring. You may need to readjust your position today in order to get back on track with the correct procedure. Admit your mistakes instead of covering them up and move on.
Health Horoscope - Things may feel a bit uneasy today, and you are right to listen to yourself at the cost of seeming indifferent to others. There is no better way to protect yourself than to stay true to what you know is right for you. Giving in to the pressure of the outside world can often lead you to unhappiness. Try to enjoy the security of your own privacy but be careful not to shut yourself in completely. Getting in some soothing yoga is highly recommended.
Capricorn Horoscope Today
Smart, hardworking, and fully in control of their destiny, a Capricorn will always get what they set their mind to, in both personal and professional life—no excuses. Capricorns may get a reputation as stubborn, but they simply know what they want, and also know how they wish other people would behave.
Love Horoscope - The current planetary alignment is creating just the chance you need to get to know a certain person whom you have admired from a distance for some time. All you have needed is the opportunity to strike up a conversation and so get them to notice you. Although it may start out as an intellectual relationship, it could turn into something more promising later on.
Money Horoscope - Money prospects will be smooth enough for the day. You will be able to safeguard your gains by saving more.
Career Horoscope - Don't be left out today while everyone else says his or her peace. You may patiently wait until it's your turn to have input, but no one will reach out to ask your opinion. Get your two cents in by being aggressive if necessary.
Health Horoscope - Give yourself enough time to get things done today. You may feel pulled in several directions at once, and it will take a lot of emotional energy to balance yourself out before you can begin to get things accomplished. While exercise might be the last thing on your mind, consider that everything you do will benefit from the sharper focus you have once you've given your heart rate a chance to strengthen and pump fresh blood into your system!
Aquarius Horoscope Today
Independent and enigmatical, Aquarians are unique. There is no one quite like an Aquarius, and because each is so incredibly individual, it can be tough to describe them as a group. Aquarians don't like labels, and may shy away from any adjective—even the good ones you might bestow upon them.
Love Horoscope - All kinds of social occasions will be very successful, with the current astral energies at play. Romance is promising but not very passionate, which is actually no problem for you, as you prefer to take things lightly until you are sure that you are making the right decision. Someone you meet will have all the qualities you admire, and you have plenty of time to get to know them.
Money Horoscope - Financial matters may not be very encouraging for the day. You may have to bear some extra burden which will worry you a little.
Career Horoscope - An assumption you have made recently is likely to backfire today in some way. The only way to rectify the situation is to be honest with yourself and everyone else so that you can most efficiently deal with the difficult situation.
Health Horoscope - A new outlook is possible today - things that you do every day may seem somehow different - enjoy this fresh perspective! It's important to be flexible and to listen for the inner voice that tells you when to bend and when to walk away from a situation. You often comply in situations when someone else will benefit - ask yourself what you really need, instead. When it comes to what you eat, it's wise to give your intestinal tract a break from bread and dairy products.
Pisces Horoscope Today
Smart, creative, and deeply intuitive, Pisces can be close to psychic. Pisces feel things deeply and have incredibly strong gut reactions. A Pisces "knows" things from deep within, and can often judge whether a person or situation is good or bad.
Love Horoscope - The current aspect gives you all the confidence you need to express your feelings to someone whom you admire intensely. You may have wondered if it would be better to let them have the first word, but time is passing, and you may be impatient to start the ball rolling. A conversation you have with them today could be very significant. You will feel jubilant!
Money Horoscope - You may have to spend money for construction or renovation of your house. This may force you to bear some additional expenses. However, this will be a useful investment for you.
Career Horoscope - Keep your nose out of other people's business today. You might sense things regarding a conflict between co-workers, but the bottom line is that it is not your problem so stay out of it before you get tangled in a battle that is simply not yours to fight.
Health Horoscope - With today's astral energies at play, you may feel extra sensitive. If you don't know what you think or feel, perhaps you could take some time to yourself and do something relaxing. Take your mind off the job, the kids, the spouse, the boss - and spend some time getting distracted in a healthy way. Definitely exercise, definitely drink a lot of water. The balancing act of separating what you want from what others want will be easier if you give yourself some extra room.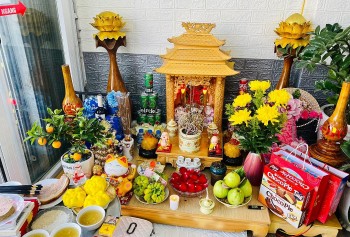 Handbook
Learn more about an ancient Vietnamese tradition that may bring you good fortune!