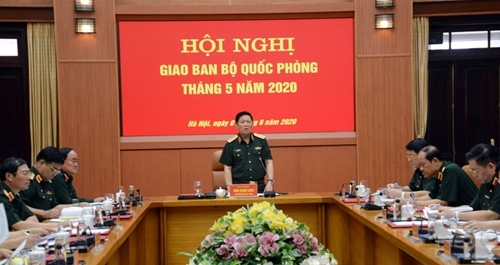 General Ngo Xuan Lich speaks at the meeting.
The Ministry of National Defense recently held a conference in Hanoi under the chair of Minister General Ngo Xuan Lich to review its military and defense missions over the past month and deploy tasks for next month.
On behalf of the Defense Ministry's leadership, Major General Pham Duc Duyen, Chief of the Office of the Ministry of National Defense, briefed delegates on the results of the ministry's commandership over the military and defense missions in May and its orientations for tasks in June.
Accordingly, the Central Military Commission and the Ministry of National Defense have grasped all situations and provided timely advice to the Party and State to promptly deal with unexpected issues. Notably, the Standing Committee of the Central Military Commission reported the complicated developments in the East Sea (internationally South China Sea) and suggested suitable diplomatic policies to the Politburo. Meanwhile, the General Staff directed all affiliated units to heighten their revolutionary vigilance, complete tactical plans, and raise the determination of troops to firmly protect national sovereignty over seas and islands.
On the other hand, draft resolutions of the 11th Military Party Congress have been completed as scheduled and highly appreciated by Party General Secretary and State President Nguyen Phu Trong. The Party congresses at all levels of the military were also held successfully in accordance with the Party rules and master plans.
In addition, numerous activities were organized on the occasion of the 130th birth anniversary of President Ho Chi Minh.
Defense external events within the 2020 ASEAN Chairmanship Year were adjusted suitably in response to the complicated developments of the COVID-19 pandemic.
The military maintained combat readiness and deployed measures to tackle all situations, especially the recent pandemic.
Speaking at the conference, General Lich praised the efforts and achievements of all units over the past month, adding that they have overcome hardships and fulfilled their assigned missions with remarkable results.
In regard to the complicated situations in the East Sea, General Lich required the units to proactively grasp all matters and provide timely advice to higher levels to firmly safeguard national sovereignty over border, seas and islands.
The defense minister required the Party committees and chains-of-command at all levels to maintain combat readiness and collaborate with relevant forces to ensure political security and social order during major events in the country.
He also urged them to promptly respond to search and rescue situations, provide natural disaster relief, and enhance border control.
In conclusion, the top defense leader urged relevant units to complete the draft resolutions for the military Party congresses at all levels and preparations for the ASEAN Defense Senior Officials' Meeting (ADSOM) in the time to come./.
Trung Thanh/PANO