Deputy FM: Bien Dong Sea (South China Sea) is a test of international relations
It is a must for relevant parties to step up dialogue and win-win cooperation, and seek peaceful solutions to differences and conflicts in the Bien Dong Sea (South China Sea) on the basis of international law.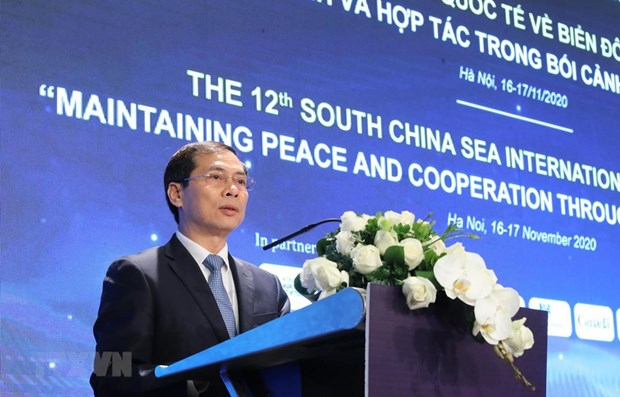 Deputy Minister of Foreign Affairs Bui Thanh Son speaks at the 12th South China Sea International Conference. Photo: VNA
It is a must for relevant parties to step up dialogue and win-win cooperation, and seek peaceful solutions to differences and conflicts in the Bien Dong Sea (South China Sea) on the basis of international law, heard the 12th South China Sea International Conference on November 16.
Jointly held by the Diplomatic Academy of Vietnam (DAV), the Foundation for East Sea Studies (FESS), and the Vietnam Lawyers' Association, the two-day conference has attracted over 700 delegates, including nearly 60 prestigious experts from 30 nations, 12 ambassadors and representatives from over 20 foreign representative offices in Vietnam, and nearly 100 domestic and foreign journalists.
Acting President of the DAV Pham Lan Dung said this is the first time the conference has been organised in both the in-person and online formats, with a record number of speakers invited from around the world. Another new feature is a special discussion session for young leaders, who are encouraged to share their opinions on the Bien Dong Sea issue, the Vietnam News Agency said.
Deputy Foreign Minister said amid the complex developments of the COVID-19 pandemic that have impacted the environment of peace and stability between respective countries, the Bien Dong Sea can be viewed as a test on many important issues in terms of international relations.
This includes the ability to maintain dialogue between countries for mutual benefits, the conduct of major countries, the protection of law, respect for international standards of conduct, the role of multilateral mechanisms to ease tensions, build trust, and promote co-operation towards settling conflicts.
Despite many efforts made to promote dialogue and co-operation, the situation in the Bien Dong Sea still poses a range of unpredictable challenge to peace, stability, and co-operation throughout the region. For example, outstanding issues such as the unilateral interpretation of international law that is inconsistent with the standards and interests of the international community pose significant challenges.
"This not only affects the foundations of peace and stability locally, but it also erodes the maritime order whilst hurting global peace and stability, especially amid stronger regional co-operation ties aimed at coping with challenges. Through co-operation mechanisms, Vietnam always promotes the spirit of dialogue, upholds multilateralism, respects international law and the United Nations Charter, and seeks a peaceful and equitable solution to international conflicts," Deputy Minister Son was quoted by VOV as saying.
In order to overcome these challenges, countries both inside and outside the region must work together to devise and implement effective measures, deepen dialogue, promote co-operation for mutual development, and jointly find peaceful solutions to differences and disputes. Deputy Minister Son therefore emphasized five major issues that could potentially prevent peace.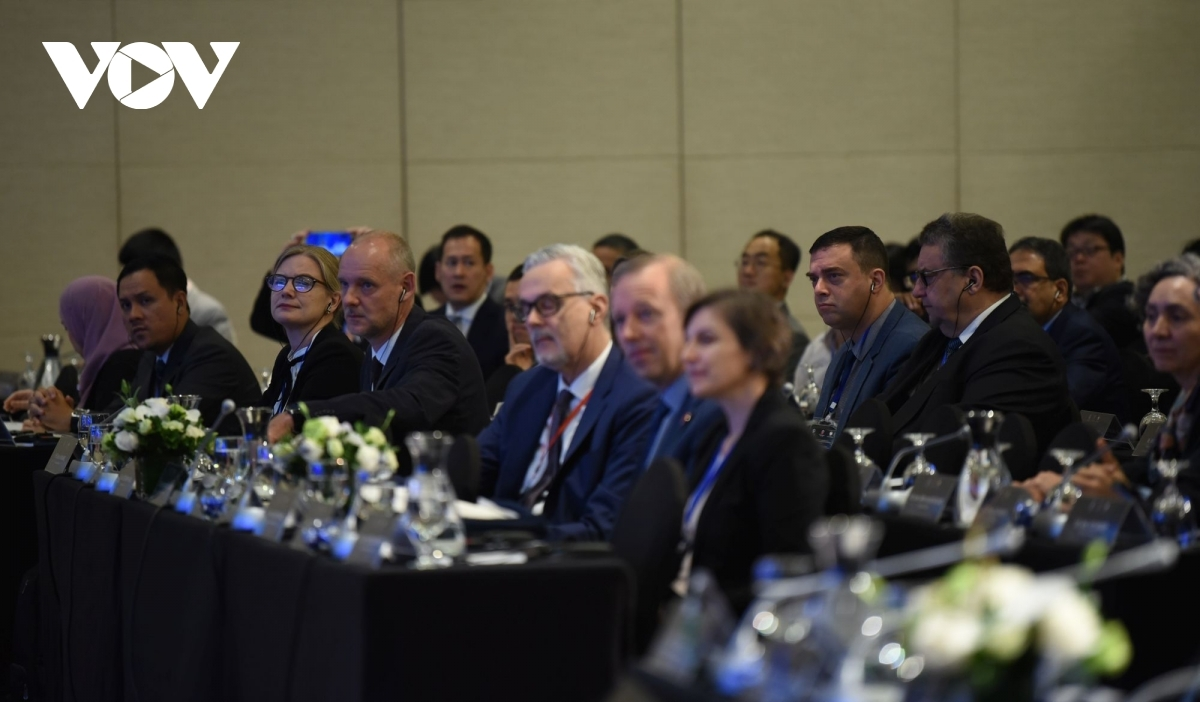 Delegates at the 12th South China Sea International Conference. Photo: VOV
As such, an environment conducive to fostering co-operation must be built and maintained, whilst it can be viewed as necessary to actively prevent unwanted clashes at sea. Indeed, it is imperative to ramp up co-operation for the sake of economic recovery and mutual development.
Furthermore, it is essential to co-operate in the protection of natural resources, strengthen marine scientific research, and sustainable development in the Bien Dong Sea. Finally, there nations must come together to relentlessly work towards the peaceful settlement of several overlapping claims in the Bien Dong Sea.
At present, the country is ready to join other stakeholders in utilising the bilateral co-operation framework or other regional multilateral mechanisms, including those of ASEAN to promote dialogue, build trust, and expand co-operation. On that basis, the nation hopes that all parties will actively and creatively find solutions to narrow disagreements and peacefully control current disputes. This can be done through negotiations and other mechanisms in accordance with international law, the Vietnamese diplomat said.
Over the past decade, since the launch of its first version in 2009, the conference has become one of the most prominent forums which feature leading experts. Indeed, the occasion gives them a platform to brainstorm a wide range of issues from maritime security, international law, marine-based economic development, and marine ecology, all of which are deemed important to regional peace, development, and environmental sustainability./.
Friendship
To mark the 50th anniversary of the establishment of diplomatic relations between India and Vietnam and on the eve of the 132nd birth anniversary of President Họ Chị Minh, Indo- Vietnam Solidarity Committee organized a national seminar on "Ho Chi Minh and India" on 14th May 2022 at National Library, India.