Deputy PM: Economy seriously affected if Covid-19 breaks out in industrial zones
Deputy Prime Minister Vu Duc Dam has requested that provinces and cities across inspect enterprises, factories and industrial zones to ensure implementation of regulations on Covid-19 prevention and control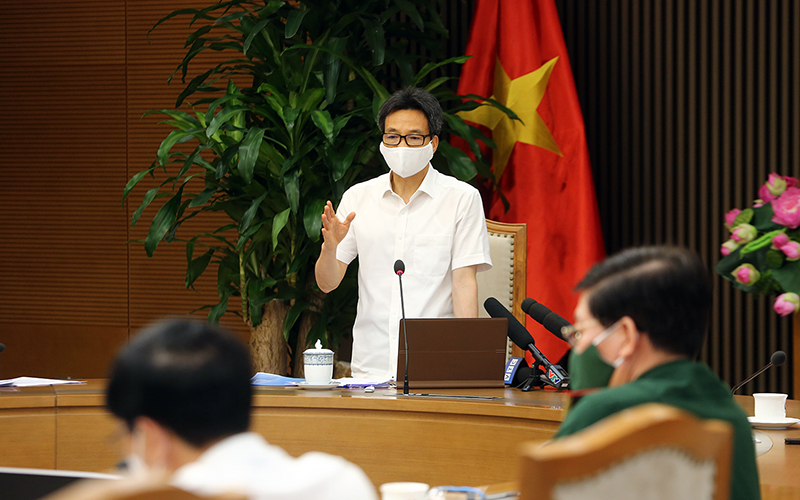 Deputy Prime Minister Vu Duc Dam speaks at the meeting. Photo: VGP
Deputy Prime Minister Vu Duc Dam, Head of the National Steering Committee for Covid-19 Prevention and Control had an online meeting with representaives of Da Nang City, as well as Bac Ninh and Bac Giang provinces on the morning of May 12, after they reported Covid-19 infections in the industrial zones, Nhan Dan Newspaper reported.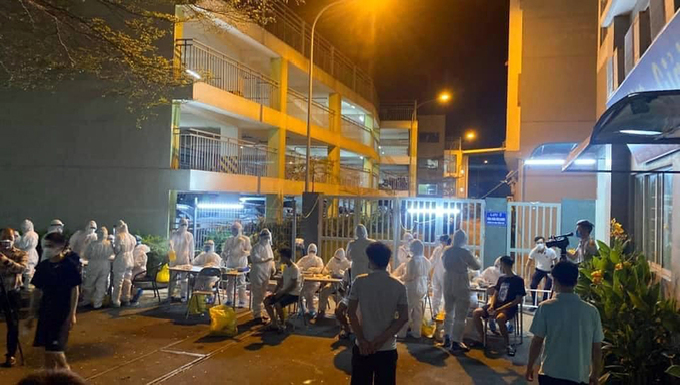 Medical staff take samples from Canon Vietnam's workers in Bac Ninh Province for coronavirus tests on the night of May 11, 2021. Photo by VnExpress/Thanh Tung.
Dam said he highly appreciated the fact that leaders along with the health sector, police and military forces of the three localities had rapidly taken measures immediately after Covid-19 cases were detected.
Although the risk of contagion in industrial zones is quite high, the three localities have basically zoned, contact traced, quarantined and taken samples from F1, F2 cases for Covid-19 testing.
In order for testing to keep up with the contact tracing and sample taking, Bac Ninh and Bac Giang provinces have combined rapid tests, while Da Nang City has conducted PCR tests with pooled samples.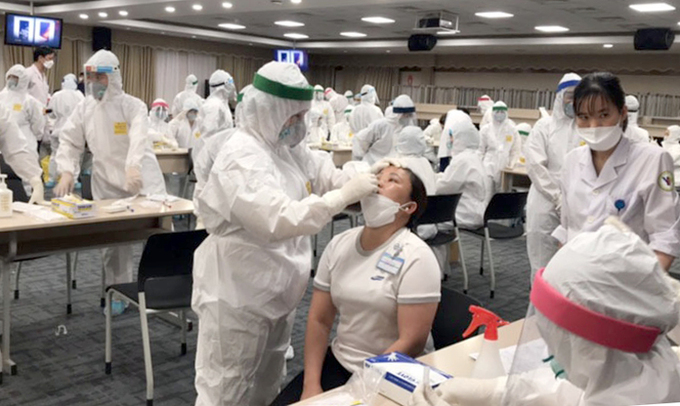 Medics take samples from Samsung workers in Bac Ninh Province for coronavirus tests on the night of May 11, 2021. Photo by Bac Ninh Newspaper
Deputy Prime Minister Vu Duc Dam has requested not only Da Nang, Bac Ninh and Bac Giang but also provinces and cities across Vietnam to remind and inspect enterprises, factories and industrial zones in implementing the regulations on Covid-19 prevention and control.
If the outbreaks resurge in industrial zones, the production and supply chains will be disrupted, adversely affecting the national economy, Dam emphasized.
The ministries of health and industry and trade were assigned to organize a nationwide online training session on ensuring safety in industrial zones.
The Ministry of Information and Communications was tasked to seek solutions to control the entire journey of vehicles transporting workers in and out of the industrial zones, aiming to facilitate contact tracing.
After a Covid-19 case was discovered at Truong Sing Company, in An Don industrial zone in Son Tra District, Da Nang City quickly took samples from those coming in contact with the patients and detected 33 new infections. It also sealed off a number of areas.
The director of Bac Ninh Department of Health said that after a Covid-19 case was discovered at the Samsung Electronic Company, the province contact traced 49 F1 and1,166 F2 cases. A total of 1,160 people have tested negative for the virus.
The province has contact traced 27 F1 and 589 F2 cases related to a patient at the Johnson Health Tech Co. A total of 2,800 samples have been taken and are awaiting results.
Due to a case at Canon Vietnam Co., the province has contact traced 40 F1 and 533 F2 cases. A A total of 1,998 samples have been taken and two infections have been confirmed.
Bac Ninh Department of Health has required enhanced screening and testing at industrial zones as well as requesting workers to refrain from communicating with others.
After a person at Shin-young Vietnam Co. in Van Trung industrial zone in Viet Yen District tested positive with SARS-CoV-2, Bac Giang promptly deployed measures. The outbreak was very complex as the company has 90,000 employees.
A total of 24,000 samples from F1, F2 cases linked to 75 patients have been taken. Several workers places of residence have also been put under lockdown.
Vietnam reported 35 cases of Covid-19 in 12 hours up to 6 a.m. on May 13, 33 of which were recorded in quarantine sites, according to the Ministry of Health.
There were two imported cases, one in Long An and one in An Giang Province. They were put under quarantine upon arrival.
The country has documented 2,213 domestic infections, and 1,445 imported cases so far. As many as 643 new cases were recorded since the latest outbreak hit the nation on April 27.
According to the ministry's Department of Medical Examination and Treatment Department, the country has seen 2,636 recoveries.
A total of 77,648 people who came in close contact with Covid-19 patients or arrived from pandemic-hit areas are being quarantined nationwide, including 1,052 at hospitals, 32,228 at other quarantine sites, and 44,368 at places of residence.
Among the Covid-19 patients, 19 have tested negative for the coronavirus SARS-CoV-2 once, 18 twice and 25 three times.
As many as 942,030 frontline medical workers and members of community-based anti-Covid-19 groups in Vietnam had been injected with a Covid-19 vaccine as of 4 p.m., May 12. The country began its Covid-19 inoculation campaign on March 8.
With the pandemic becoming complicated, people should strictly follow the ministry's 5K message: khau trang (facemask), khu khuan (disinfection), khoang cach (distance), khong tu tap (no gathering), and khai bao y te (health declaration).