Dong Thap Province presents necessities to Vietnamese in Tonlé Sap (Cambodia) in Covid-19 fight
The Border Guard High Command of Dong Thap Province, in coordination with benefactors in the province, presented gifts to Vietnamese people near Tonlé Sap in Cambodia.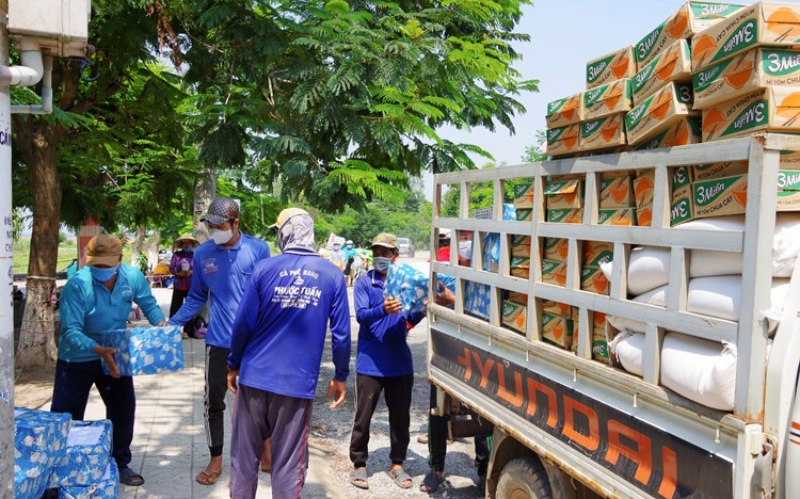 Dong Thap Province presents gifts to Vietnamese in Tonlé Sap (Cambodia) in Covid-19 fight. Photo: Nhan Dan Newspaper
The present includes 2 tons of rice, 100 boxes of instant noodles and medicines to support them to surmount difficulties caused by the Covid-19 pandemic, Nhan Dan Newspaper reported.
Colonel Le Van Luan, Commander of Dong Thap Provincial Border Guard Force highly appreciated achievements in working and studying that Vietnamese expats have obtained over the past time.
"The gift is special sentiment of Dong Thap Provincial Border Guard Force for Vietnamese expats amidst the difficult time caused by Covid-19. I hope that people will continue promoting solidarity and mutual support as well as strictly adhere to the host country's laws," Luan said.
Earlier, at Loc Ninh District in Binh Phuoc Province, the organizers of program called "Sharing love - Joining hands to overcome the pandemic" handed over gifts including 25.000 medical masks, 100 sets of personal protective equipment and necessities, worth a total of 100 million VND to police, military and gendarmerie forces of Kratie province, Cambodia.
The donation was contributed by Dong Minh Club in Lam Dong Province and Saigon Share Volunteer Group in Ho Chi Minh City.
At the ceremony, the two sides briefed each other on the Covid-19 situation in their localities. They also agreed to closely coordinate in patrolling, protecting the border and preventing illegal exit and entry.