Vietnam Covid-19 Updates (May 13): Vietnam basically bringing COVID-19 under control
Vietnam has exerted control over the latest outbreak of Covid-19 in the country, Deputy Minister of Health Do Xuan Tuyen affirmed.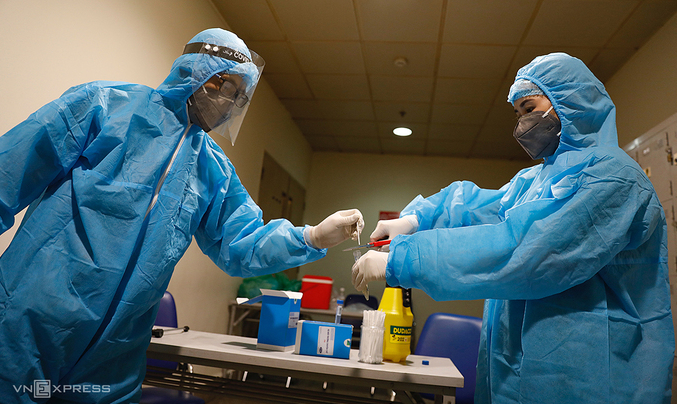 Photo: VN Express
85 new cases in the last 24 hours
According to the Ministry of Health, a total of 85 new cases were found in Vietnam in the last 24 hours.
Among them, twenty-two new cases of COVID-19, including 19 local infections and three imported, were recorded from 6am to 12pm May 12. The imported cases were quarantined upon their arrival in the south central coastal province of Ba Ria-Vung Tau.
Vietnam recorded 30 new COVID-19 cases on May 12 afternoon, with all in quarantine areas and no new outbreaks detected. Among the new cases, 20 were reported in Da Nang city, seven in Hanoi, two in Bac Giang, and one in Phu Tho.
The domestic Covid-19 tally of Vietnam was up by 33 on Thursday morning, with all new patients recorded in areas that have been isolated. Of them, central Da Nang City registered 22 patients, northern Bac Ninh Province and capital Hanoi reported three each, and northern Vinh Phuc and Bac Giang provinces two each.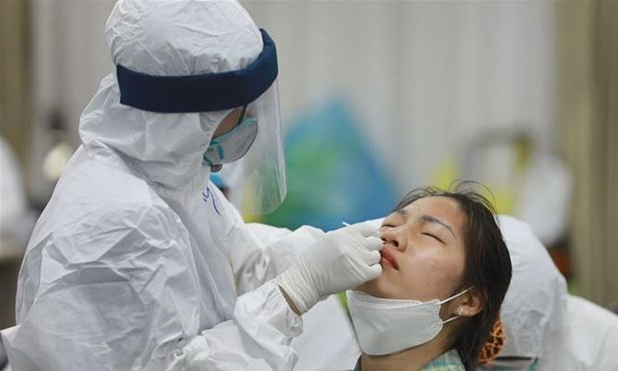 Photo: VNA
Health Ministry receives 10,000 COVID-19 test kits
Deputy Minister of Health Tran Van Thuan received 10,000 sets of COVID-19 testing kits donated by the Ampharco U.S.A Pharmaceutical Joint Stock Company at a ceremony held in Hanoi on May 12. Speaking at the event, Thuan lauded the company's success in using the technology from the Vietnam Military Medical University to produce the 'made in Vietnam' kits.
Licensed by the Ministry of Health to circulate under Decision No. 2263/QD-BYT issued on May 7, the Ampharco U.S.A's AmphaBio HT- Hithroughput PCR COVID-19 kit can detect most of the current coronavirus variants. As a joint product between the firm and the university, it has been tested and clinically proven on 2,000 patient samples. Highlighting the meaning of the aid, Thuan affirmed it demonstrated the firm's corporate social responsibility in the fight against the pandemic.
Under the Prime Minister's direction, the ministry set up a board for the mobilisation and coordination of resources for COVID-19 prevention and control in March. The freshly received test kits will be stored at the company's warehouse to ensure preservation conditions and be distributed to localities in need following real-life situations.
Photo: VN Epxxress
Japan offers Vietnam $1.8 mln for vaccine cold chain storage
Japan has earmarked ¥200 million ($1.8 million) for vaccine cold chain storage development in Vietnam, PM Suga Yoshihide told President Nguyen Xuan Phuc. Japan highly values and would continue to collaborate and support Vietnam's development in the future, Yoshihide affirmed Tuesday, according to a press release by the Ministry of Foreign Affairs.
In response, Phuc said Vietnam has always regarded Japan as an important, foremost and long-lasting strategic partner and highly values Japan's effective and practical cooperation in Vietnam's socio-economic development, including the non-refundable ¥200 million aid. Phuc has requested Japan to supply Covid-19 vaccine doses for Vietnamese, and to also support the Vietnamese community in Japan amid the pandemic. Phuc said he highly valued the fact Yoshihide had chosen Vietnam as a destination in his first overseas trip as Japanese prime minister in October 2020, and that he was happy to see the strong and comprehensive development of the Vietnam-Japan relationship.
Yoshihide said Japan would support Vietnam to help it secure the necessary amount of vaccines and continue to support Vietnamese apprentices in Japan. The country would also provide Vietnam with marine vessels for research purposes and would launch a Japan Consulate General in Da Nang in 2022, he added.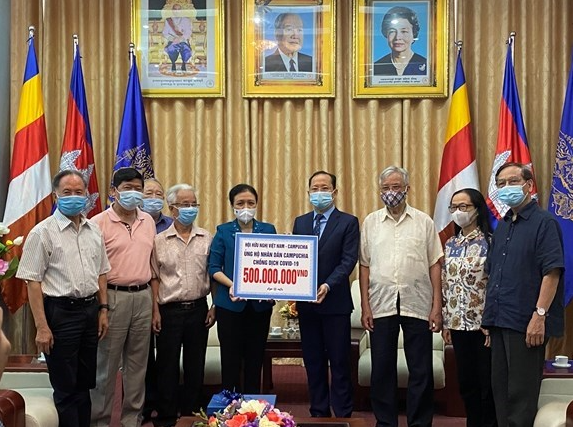 Photo: VNA
VUFO provides aid for Cambodia to fight COVID-19
The Vietnam Union of Friendship Organisations (VUFO) and the Vietnam - Cambodia Friendship Association on May 12 presented 500 million VND (around 21,680 USD) to the Cambodian Embassy in Vietnam to support Cambodian people in their fight against COVID-19.
Speaking at the handing-over ceremony in Hanoi, VUFO President Ambassador Nguyen Phuong Nga said over the past two week, both Vietnam and Cambodia are facing the complexity of the pandemic. The Vietnamese government and people are concerned about the developments of the pandemic in countries in the region, especially neighbouring nations. People of countries need to join hands to deal with the health crisis, she stressed.
Cambodian Ambassador to Vietnam Chay Navuth affirmed that the assistance reflects the solidarity and friendship between the two countries. He affirmed that his country will use effectively the aid for its COVID-19 prevention and control.
The Vietnam - Cambodia Friendship Association launched a campaign to raise fund to support Cambodia people to fight COVID-19 during April 28 - May 7. The campaign received warm response from members of the association and its chapters nationwide.
Since the disease appeared in the country early last year, Vietnam has got 3,658 Covid-19 cases, including 2,213 domestic cases and the rest imported. Vietnam has recorded 644 infections in 26 cities and provinces so far in this new wave of Covid-19, which started on April 27 and by far has been the country's most challenging one. There are 70,693 people under quarantine nationwide at present
Additional 18 COVID-19 patients were given the all-clear in the afternoon, raising the total number of recoveries to 2,636. Among those still under treatment, 19 have tested negative for the coronavirus SARS-CoV-2 once, 18 others twice, and 25 thrice, said the ministry's Department of Medical Service Administration.
More than 942,000 people, or 1 percent of the country's population, have been vaccinated against Covid-19.