Deputy PM: Government Supports Samsung's Long-Term Operation in Vietnam
The Vietnamese Government supports Samsung's long-term business strategy in the country.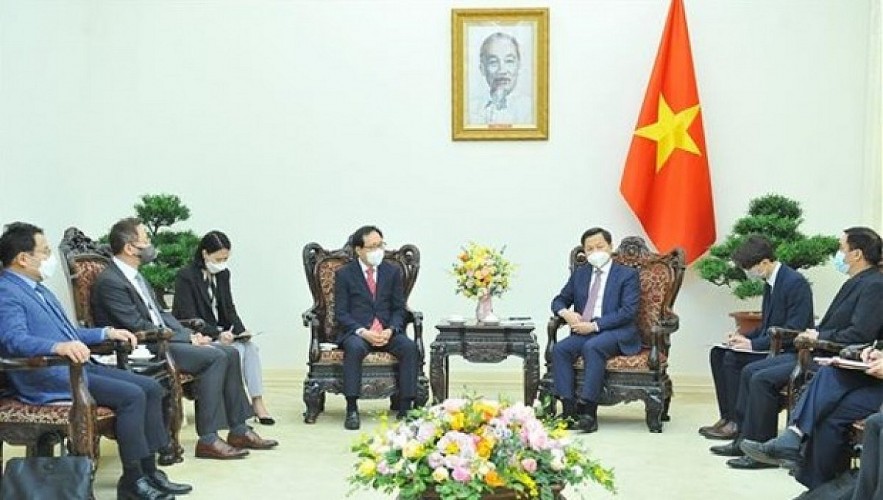 Deputy Prime Minister Le Minh Khai hosts Director-General of Samsung Vietnam Complex Choi Joo-ho. Photo: VNA
Deputy Prime Minister Le Minh Khai made the affirmation during a reception for Choi Joo-ho, Director General of Samsung Vietnam Complex, in Hanoi on December 6.
Khai said he is set to visit the Republic of Korea (RoK) within the framework of the bilateral dialogue mechanism on economic co-operation at the deputy PM level, VOV reported.
During the visit, he and his RoK counterpart will evaluate outcomes relating to the economic partnership between the two nations since their previous dialogue held back in 2019, he added.
Samsung represents a major investor in the country, so the Vietnamese Government is keen to listen to its opinions in order to discuss with the RoK side how to create more favourable conditions in which the firm can operate effectively, the Deputy PM said.
In response, Joo-ho told the host that currently Samsung operates six production factories, one research centre, and one sales entity in the Vietnamese market.
Apart from mobile phone and household appliance production, Samsung also manufactures the main parts of televisions and telephones, he said, adding that the firm is employing 110,000 staff members in the nation. Indeed, so far Samsung has disbursed all of its registered capital of US$17.7 billion throughout the country.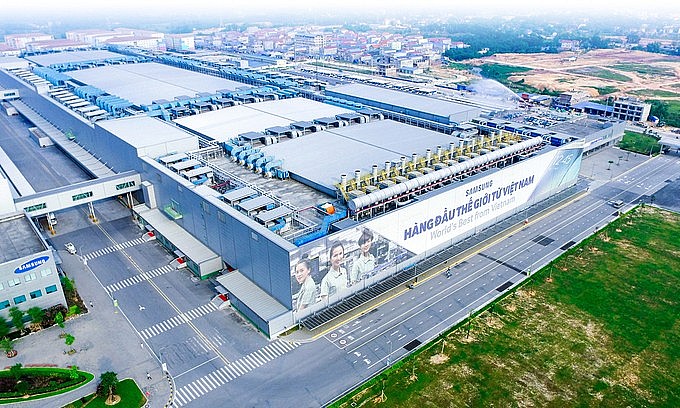 Samsung's plant in the northern province of Bac Ninh. Photo courtesy of Samsung Vietnam
He noted that during the fourth wave of the Covid-19, the firm received great support from Vietnamese localities, adding that its factories in the north resumed production in August, whilst those in the south have been operating stably since November.
Samsung's last year revenue hit US$56.7 billion, with the figure expected to grow by 15% this year, he said.
The executive therefore thanked the Vietnamese Government for assisting the firm over the years, expressing hope that the nation will continue to maintain safe and flexible adaptation both to and effective control of the pandemic in a bid to ensure that production is not interrupted.
Joo-ho gave several proposals regarding the global minimum corporate tax in line with the regulations of the Organisation for Economic Cooperation and Development (OECD).
Furthermore, Deputy PM Khai pledged that the nation will make greater efforts to access more vaccine sources in order to enable businesses to operate safely in the new normal, while also urging enterprises, including Samsung, to continue to co-ordinate with local Government to effectively control the pandemic for long-term operations.
He hailed Samsung's investment in a US$220-million research and development centre in the country, which is scheduled to be finalized next year.
The Vietnamese Government clearly supports the firm's long-term business strategy in the nation, he said, while requesting that Samsung report any challenges to competent Vietnamese agencies for timely solutions.
With regard to Vietnamese determination to deliver on its commitments to businesses, Deputy PM Khai said that the country has a strong desire to listen to feedback from the business community as a way of dealing with changes in policies in the future./.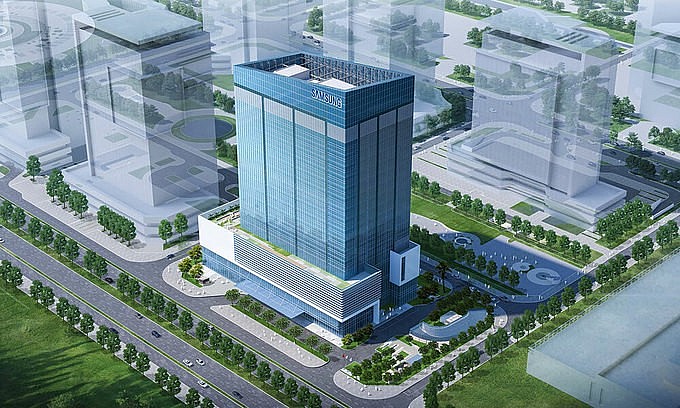 An artist's impression of Samsung Electronics's Research and Development Center in Tay Ho District, Hanoi. Photo courtesy of Samsung.
Samsung Electronics is building a $220-million R&D center in Hanoi, which is expected to be completed in 2022 and employ 3,000 engineers.
The giant also has other R&D centers in Vietnam to research into mobile devices, household electrical appliances, artificial intelligence, and data analysis, VnExpress said.
The Samsung facility will develop smartphones for the Southeast Asian market and software for Australia, New Zealand and Europe, and serve as a 5G network testing hub.
Samsung also has 11 labs in Vietnamese universities to conduct collaborative education programs and enable students to take part in research into mobile phone technologies.
Many students have gone on to become researchers at the company.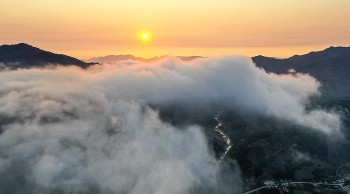 Multimedia
The gorgeous dawn behind a sea of fluffy white clouds creates a wonderful and beautiful picture of Truong Son Dong peak, Quang Ngai.