Vietnam Covid-19 Updates (Dec. 6): Daily Count Rises Past 14,000, 199 Deaths Recorded
As of 6 pm on December 5, Vietnam has confirmed 1,309,092 Covid-19 cases since the start of the first outbreak in January 2020, ranking 35th out of 223 countries and territories worldwide.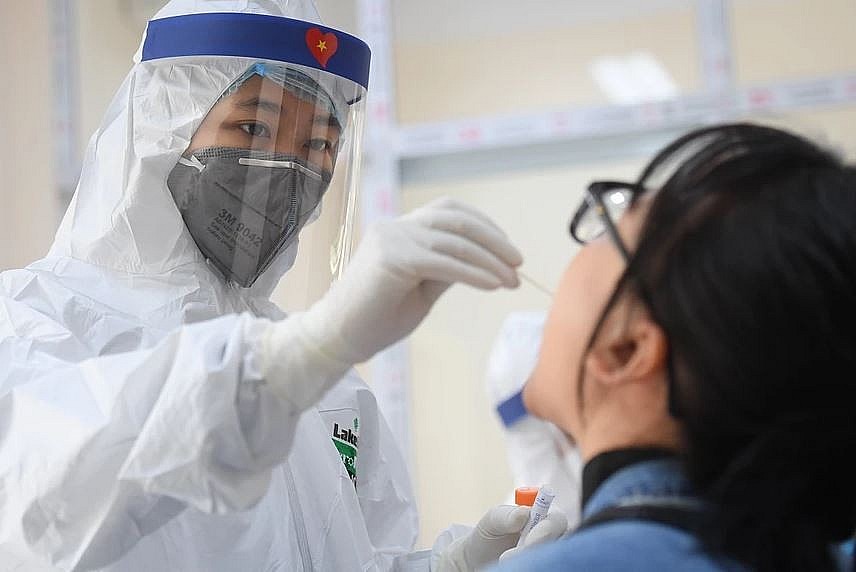 Photo: Zing News
Daily Covid-19 count rises past 14,000 again, 199 deaths recorded
Vietnam has recorded 14,314 new coronavirus infections in 61 cities and provinces across the country during the past 24 hours, the Ministry of Health (MoH) said in its coronavirus update on December 5. As many as 8,142 cases were detected in the community through random testing or test screening, said the MoH.
The MoH coronavirus update also shows an additional 199 Covid-19 patients have died and 1,711 more patients have recovered from the disease.
Like in previous days, most of the newly detected cases were logged in southern localities, with Ho Chi Minh City topping the region with 1,491 new cases. It was followed by Can Tho, Tay Ninh, Soc Trang, Ba Ria – Vung Tau, Dong Thap, Binh Thuan, Ben Tre, Binh Phuoc, and Vinh Long that reported between 500 and 1,000 cases each. Hanoi capital remains the largest coronavirus hotspot in the north, with 400 new cases confirmed during the past 24 hours. Other northern localities registering dozens of new cases each were Ha Giang, Bac Ninh, Hai Phong, Hung Yen, and Hai Duong.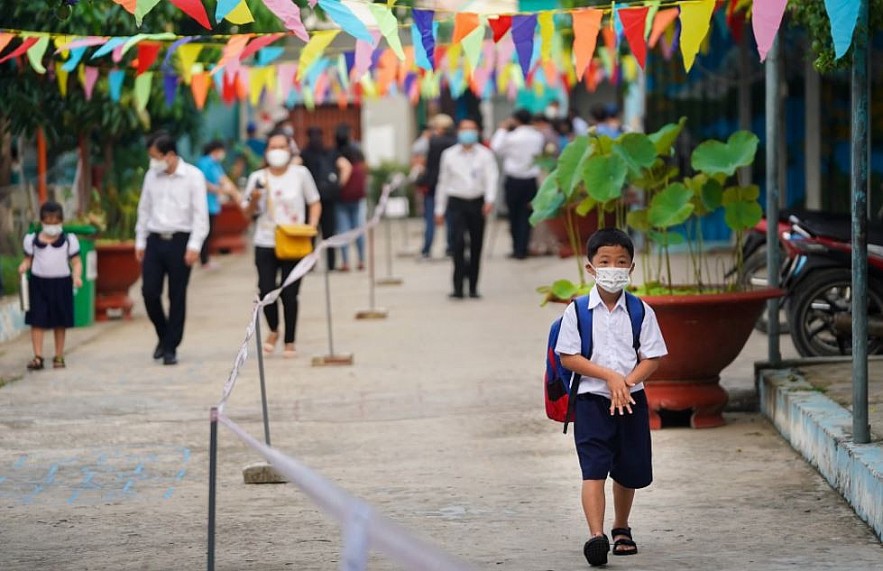 Photo: Zing News
Hanoi changes face-to-face learning plan at last minute
The Hanoi Department of Education and Training on December 5 changed its plan on face-to-face learning for high school students due to the complicated nature of the Covid-19 outbreak locally. In its latest announcement, graders 10 & 11 will not attend school as from December 6 as previously planned, while graders 12 will take a mix of face-to-face and online learning.
In addition, 50% of graders 12 will attend school on Mondays, Wednesdays, and Fridays, while the other half will go to school on Tuesdays, Thursdays, and Saturdays. Students will learn online on other days. Grade 9 students in 18 outlying districts continue to study at school as planned. Students of other grades will be taught online. Preschool children will continue to stay home from school.
The Department requested schools to only arrange one shift of learning (either in the morning or afternoon) instead of two shifts as usual. Several days ago Hanoi decided to permit schools to reopen the door to high-school students, starting on December 6. However, the complicated nature of the Covid-19 outbreak has over the past days prompted the city to adjust its plan at the last minute.
According to statistics from the Hanoi Centre for Diseases Control, the number of new infections has surpassed the 500 case mark for the past few days. On December 3 alone, its daily count hit nearly 800, raising public concern about the reopening of schools in the city.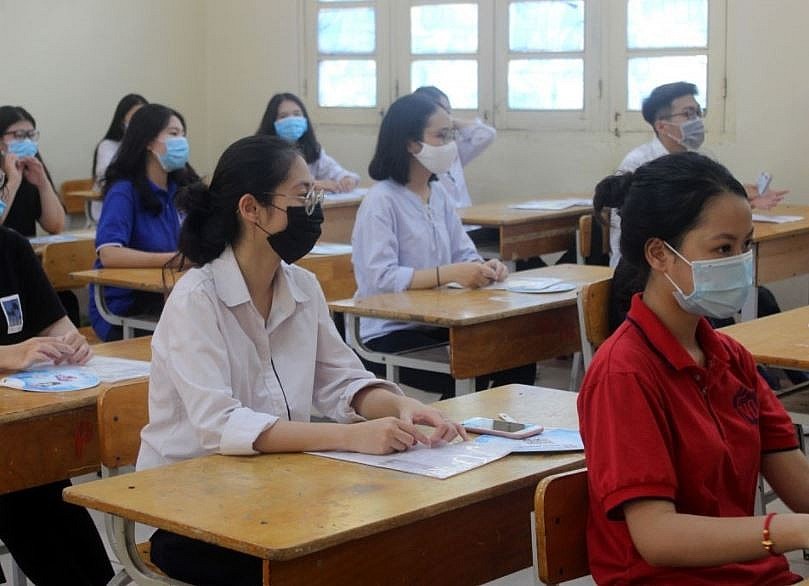 Photo: VOV
Vietnam considers Covid-19 vaccinations for children over 5
Prime Minister Pham Minh Chinh on December 5 asked the Ministry of Health and relevant agencies to examine the possibility of giving children aged 5 and above vaccine shots against Covid-19. The vaccination for children must be carried out on the basis of scientific evidence, safety, and suitability with pandemic developments in Vietnam and the practice in other countries, he said at a meeting on Covid-19 vaccine and drug imports and production held in Hanoi on December 5.
The government leader noted that Vietnam has drastically implemented the vaccine strategy and achieved encouraging results. However, the latest developments of the outbreak domestically and globally, especially the resurgence of the mutated variant Omicron forced countries to reconsider Covid-19 prevention and control measures.
He requested localities to speed up Covid-19 vaccinations, including those for children of different age groups, and ensure a sufficient supply of medications for Covid-19 treatment. All people aged 18 and above must receive their second vaccine shot by December at the latest, the PM ordered, adding immunization for children aged 12 – 17 should be accelerated while preparations for the third shot must be underway, with priority to be given to people aged 50 and older and frontline forces.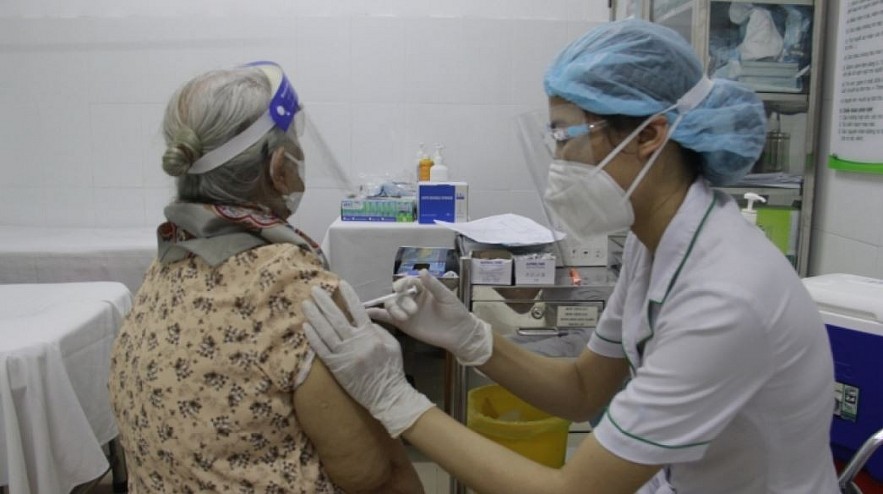 Photo: VOV
Vietnam Aviation Authority issues directive to cope with Covid-19 variant
The Vietnam Aviation Authority recently issued a directive ordering units in the sectors to intensify measures against the Covid-19 pandemic in face of the coming into being of a new variant. The directive asks aviation service providers to seriously implement the tests as prescribed by the Ministry of Health. When cases are detected, the units must report to the medical authorities and local administrations.
Carries are also asked to boost their checks and supervision of passengers coming from or transiting through African countries or those having the Omicron variant, while airport authorities must report those cases entering Vietnam so that they will be reported to the Ministry of Health and the Ministry of Transport.
The authority has proposed the Ministry of Transport to ask the Ministry of Health for concrete guidance on medical checks of passengers coming from a number of countries having Omicron such as the Republic of Korea and Japan, and to ask the Ministry of Public Security to tightly control and detect in a timely manner the passengers coming from or transiting through countries with Omicron to Vietnam through aviation ports to help prevent the danger of the variant's entry and spread in Vietnam.
As of 6 pm on December 5, Vietnam has confirmed 1,309,092 Covid-19 cases since the start of the first outbreak in January 2020, ranking 35th out of 223 countries and territories worldwide. Of the total, 1,009,277 patients have been discharged from the hospital after making a full recovery from the disease.
As many as 26,260 patients have died of the virus, making up 2% of the total number of infections. More than 127 million vaccine doses have been administered nationwide, with 54 million people getting their second shot.