Deputy PM Vu Duc Dam chairs meeting to help tourism sector overcome COVID-19 pandemic
Deputy PM Vu Duc Dam on June 3 met with ministerial and sectorial leaders, travel agents, and tourism associations with a view to spurring the tourism sector hit hardest by COVID-19 pandemic.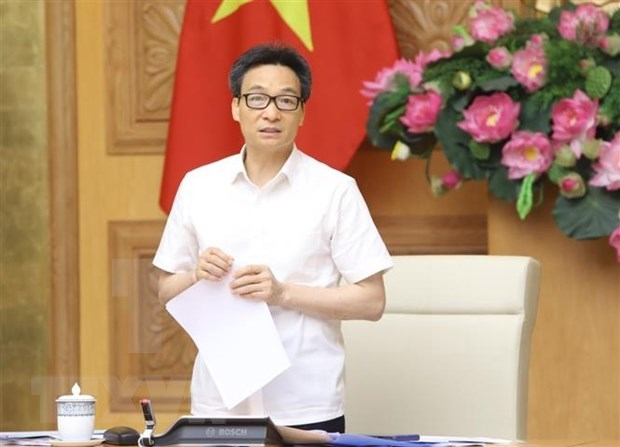 Deputy Prime Minister Vu Duc Dam. (Photo: VNA)
Deputy Prime Minister Vu Duc Dam made the request during a meeting with the Ministry of Culture, Sports, and Tourism, Ministry of Transport, Ministry of Finance, Vietnam Tourism Association (VITA) and several travel firms in Hanoi on Wednesday to help the tourism industry weather the COVID-19 pandemic.
The Deputy PM also requested relevant ministries to soon set the schedules for this year's upcoming public holidays and school summer break to boost domestic travel demand.
The Government is fully aware that tourism is one of the sectors most affected by the Covid-19 pandemic as it had over 40,000 tourism enterprises, 4.5 million employees, and millions of others involved indirectly, said Deputy PM Dam. He underlined the need to support tourism enterprises and spur domestic tourism. .
Many small-size tourism enterprises have been put under great pressure by the outbreak so the government must find ways to re-energize them, he said.
The VNAT reported that in the first five months, the number of international guests stood at 3.7 million, representing a 50% drop in comparison with the same period last year. Meanwhile, the number of domestic guests fell by 58.5% to 16 million. The tourism sector earned VND 150.3 trillion in revenue, or a 47.4% decline.
In the first two quarters, around 95% of domestic and international travel agents suspended operation. Up to 137 international travel agents asked for their licenses to be withdrawn, up nearly three times against the same period last year. A large number of tourism enterprises had to cut 30% of jobs or offered employment reduction or unpaid leave. Average room occupancy was only 20% compared to 52% of the previous year.
The VNAT forecast that the number of domestic guests would touch 60-65 million in 2020. Meanwhile, the figure of international arrivals would reach 6-8 million or 4.5-5 million should international markets would reopen in Q3 or Q4, 2020, respectively.
As a result, domestic tourism plays an important role when international tourism market is 'frozen.'
Earlier, domestic tourism has bounced back after social distancing rules were loosened since late April.
Especially, the program "Vietnamese travel around Viet Nam" was launched, attracting the participation of 15 favorite tourism destinations. In addition, the reopening of domestic flights also served domestic tourism stimulation, informed the VGP.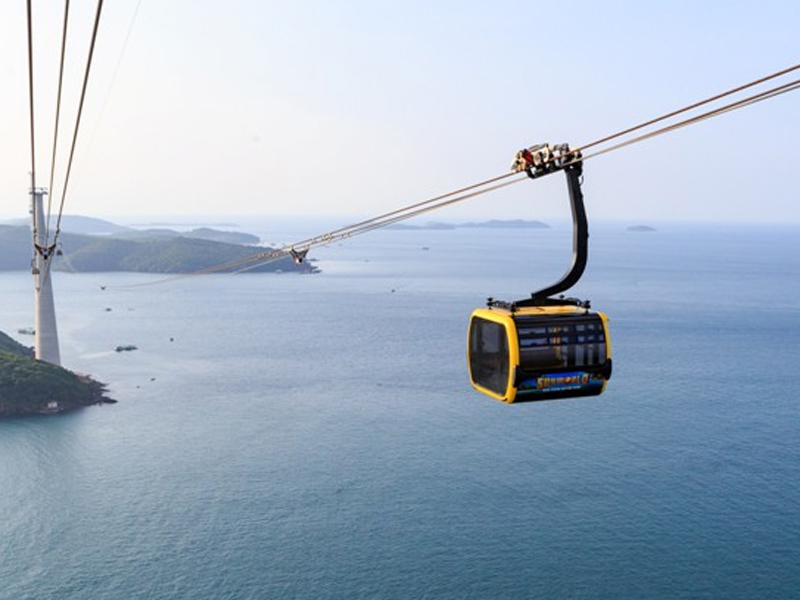 In the first two quarters, around 95% of domestic and international travel agents suspended operation. (Photo on VGP)
Especially, community-based tourism and homestay tourism not only contribute to poverty reduction but also serve to raise people living standards and build civilized cultural lifestyles in far-reaching areas, he added.
The Government leader asked ministries, sectors, and localities to stand by and share difficulties with tourism enterprises and boost domestic tourism especially in the North West, North South, and Central Coast.
Dam noted that though small firms like community-based tourism and homestay service providers are not large contributors to the State budget, they have played a crucial part in reducing poverty and improving living standards in remote and disadvantaged areas.
The Deputy PM asked the relevant ministries, agencies and local administrations to slash fees for hospitality firms fairly to help them overcome difficulties.
The Ministry of Culture, Sports and Tourism and the Vietnam National Administration of Tourism were tasked to coordinate with local administrations and the VITA to boost domestic travel demand and advertise destinations in the Northwestern, Northeastern and central coastal regions so businesses would not have to do it all by themselves.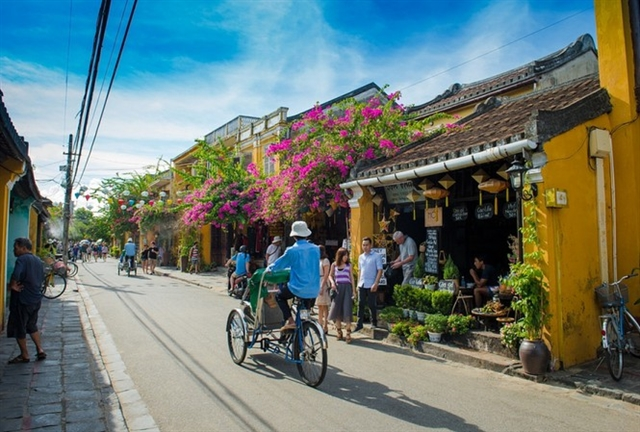 Tourists in Hoi An and Da Nang. Total tourism revenue in the first five months of this year reached VNĐ150.3 trillion, a reduction of 47 per cent year on year. ( Photo: tienphong)
He also suggested to the stakeholders organize more virtual international travel promotion events and develop tourism programmes to promote Vietnam as a safe destination amid COVID-19.
"At present, the promotion of domestic tourism activities is important. This is also the choice of many countries with tourism advantages in the context of suspended international tourism due to the pandemic," said Nguyen Trung Khang, VNAT general director.
In addition, the Government should have support for local tourism businesses. Of which, the Ministry of Industry and Trade should adjust electricity prices for tourist accommodation establishments to be at the same rates as electricity prices for production. This adjustment should be applied until the end of this year.
At the meeting, Nguyen Quoc Ky, Vietravel general director, said the Government should have policies to attract domestic tourists in the peak period from July to October.
It also needs to build key tourism regions for promoting tourism development in each region and regional links, and develop a tourism product chain connecting travel, aviation and service enterprises. Those activities would aim at stimulating tourism in the domestic market, he said
According to the VITA, international tourist arrivals to Vietnam in the first five months of this year totalled 3.7 million while the number of domestic holidaymakers stood at 16 million, down 50 percent and 58.5 percent, respectively, from the same period last year, reported the VNA.
Revenue from tourism plunged over 47 percent to 150.3 trillion VND (6.47 billion USD).
Hanoi starts welcoming more visitors

The number of tourists to Hanoi in May reached 258000 including 12000 foreigners a sign of recovery after the social distancing period due to COVID ...