Digital skill training courses launched for persons with disabilities
A five-month "Digital Employment Training Program for Persons with Disabilities Co-existing with COVID-19", was launched on November 5 with the collective efforts of the UN Development Programme (UNDP), the Government of Japan, and Hanoi-based Will to Live Centre which specialises in providing training courses for disadvantaged students.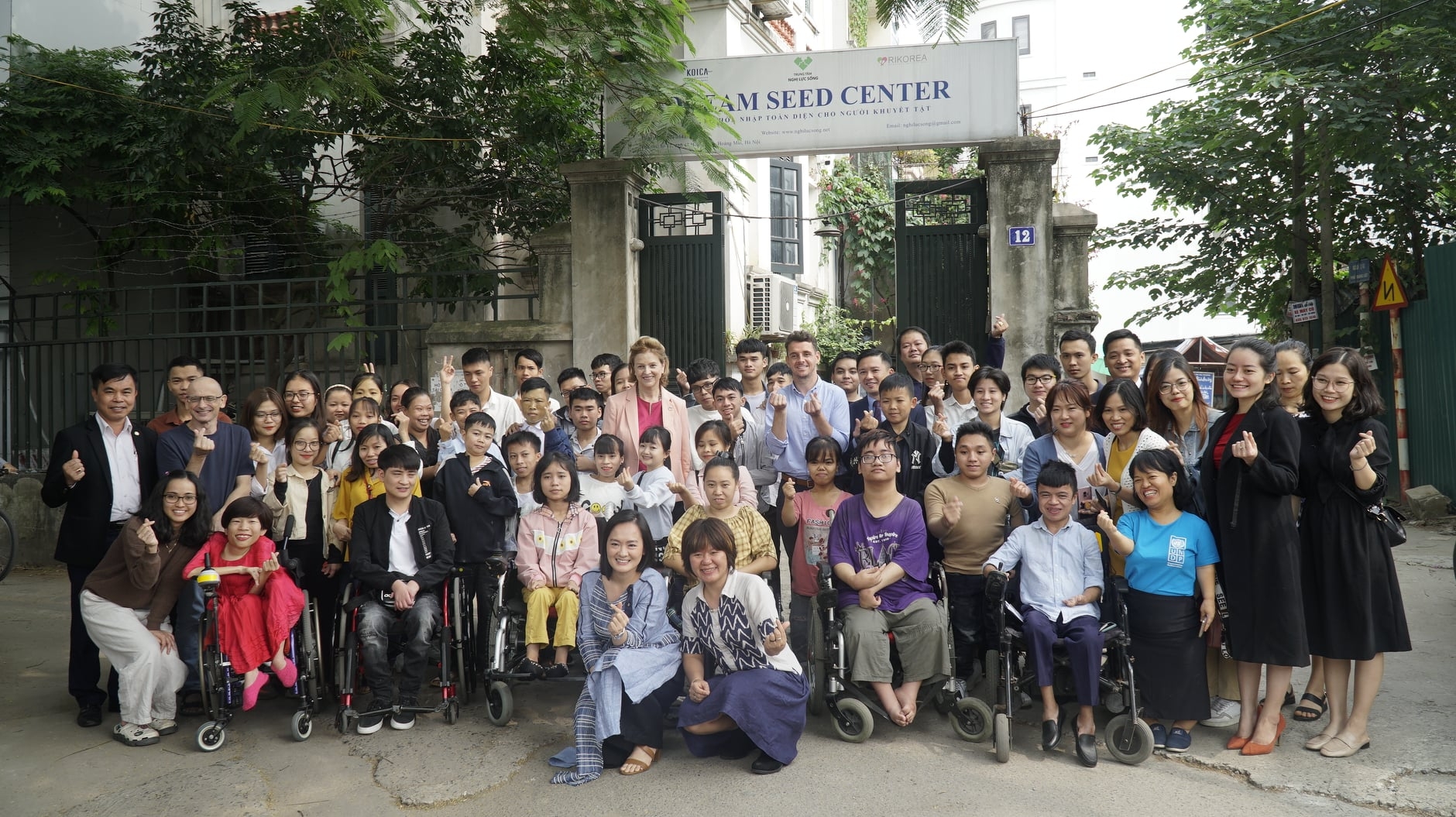 People with disabilities were among the hardest hit by the COVID-19 pandemic, said a rapid assessment announced by the United Nations Development Programme. Photo courtesy of UNDP
Thirty-nine students with disabilities will develop digital skills to be able to take digital employment opportunities, thus living independently with dignity, supporting their families, and contributing to the digital economy.
"This is what we are contributing to the increased equal employment opportunities for persons with disabilities - the indicators of the Article 27 of the Convention on the Rights of Persons with Disabilities (CRPD) and the Sustainable Development Goal No.8 on Decent Work for all," said UNDP Resident Representative Caitlin Wiesen. "We must ensure that the existing inequalities and risks faced by people with disabilities are not further deepened by COVID-19, and we can together Build Forward Better toward a disability-inclusive, accessible and sustainable post COVID-19 world, which will also be the theme of the approaching International Day for People with Disabilities".
"Each people has her/ his own ability and value," said Co-Founder and CEO of the Will to Live Centre Nguyen Thi Van. "We need to create equal opportunity for everyone to unleash their own potential". She gave flower seeds to all students for planting and wished the students the strength to overcome all barriers and move forward.
The Will to Live Centre provides free training courses for persons with disabilities, helping them to get jobs related to information technology, including photo editing and computer graphics.
Persons with disabilities often learn of the centre through social networks. Just one click via Google, with key words "nghi luc song" (the will to live), will call up the centre's website.
Van is also co-founder of Imagtor, a real-estate photography business focused on hiring persons with disabilities and providing an accessible workplace with high expectations for quality output.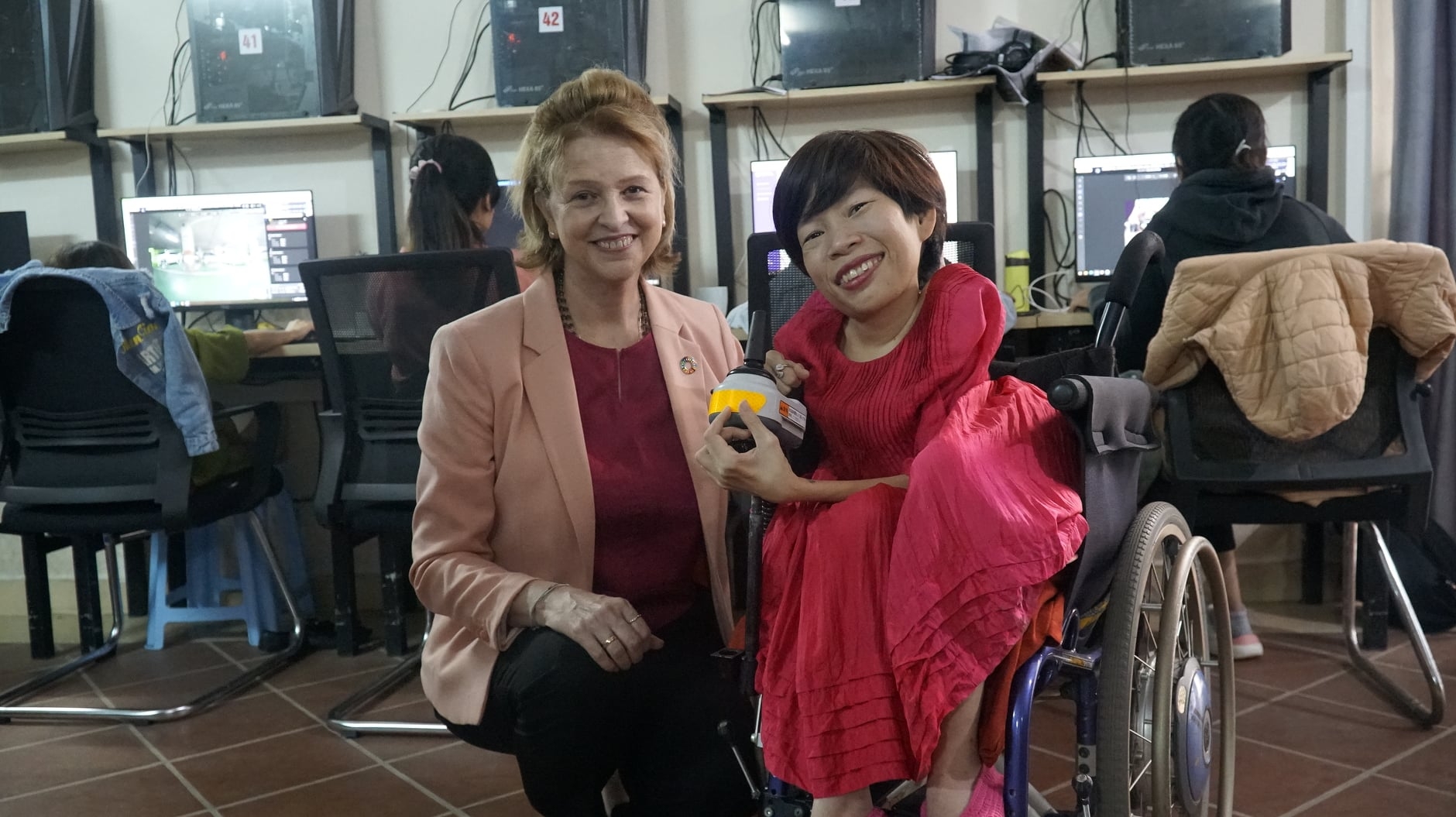 UNDP Resident Representative Caitlin Wiesen and Co-Founder and CEO of the Will to Live Centre Nguyen Thi Van.
"She shows us the way," UNDP Resident Representative Caitlin Wiesen talked about the flourishing partnership between UNDP and the Will to Live Centre/Imagtor to empower persons with disabilities.
In this project, Will to Live Center can become a role model of making reasonable accommodations and providing the latest digital skills for Persons with Disabilities to integrate into the dynamic economy of the Industrial Revolution 4.0.
"I wanted to go to the university but there is no elevator there and my mom can't give me a piggyback ride climbing the stairs to my class every day so I have to stay home," said Vo Thi Mien, 19 years old, from Ha Tinh province. "I was sad and wanted to integrate into the society. This digital skills training opens the second gate for me. I hope that I will have a decent job after graduation to support my family".
Two of the key findings of UNDP's recent study on employment policies and their implementation for Persons with Disabilities are that reasonable accommodations have not been stipulated in the Law, and Persons with Disabilities have not been trained in new jobs to meet the demands of the new labor market.
Moreover, persons with disabilities were among the hardest hit by the COVID-19 pandemic, said a rapid assessment announced by the UNDP in May 2020.
With support from the Australian Department of Foreign Affairs and Trade, the Embassy of Ireland in Vietnam and the Korea International Cooperation Agency, the UNDP organised the assessment to help identify health and socio-economic challenges faced by people with disabilities and their families during COVID-19 to offer targeted support and responses for them.
Nearly 1,000 persons with different disabilities - physical, hearing and speech, visual and psychosocial, including those from ethnic minority groups from cities and provinces throughout the country - participated in the assessment.
The rapid assessment reveals that 82 per cent of respondents expressed concern about protecting their health and 96 per cent expressed concern for their financial security during COVID-19.
Up to 70 per cent of respondents had found it challenging to access medical care, including check-ups, medicine, assistive devices and rehabilitation services, whereas 22 per cent of them were suffering from underlying medical conditions potentially putting them at heightened risk of COVID-19.
As of March 2020, 72 per cent of persons with disabilities across the country had a monthly income of less than VND 1 million (USD 43).
As many as 30 per cent of them had been made unemployed due to COVID-19, whereas 49 per cent were working reduced hours and 59 per cent had taken a pay cut.
More than 70 per cent of working persons with disabilities had seasonal jobs or owned an informal business, so were at risk of being ineligible for allowances from the Government's social welfare response package, said the assessment./.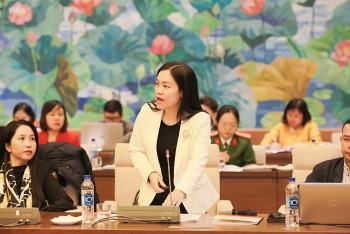 Friendship
Doan Thu Huyen, Vietnam Country Director for Campaign for Tobacco-Free Kids, made the statement at the "Child Downing Prevention" seminar.