Japanese teacher bridges gap with Vietnamese children with autism
Ito Mai, 40, traveled all the way from Japan to Vietnam to help children with disabilities in the Green Dream Center. The volunteer teacher tends and teaches the kids by both responsibility and an affectionate heart.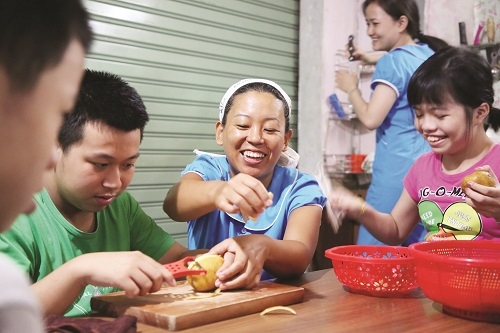 Ito Mai (blue shirt, in the middle) is held in high esteem by the children (Photo: Bao Phu Nu Thu Do)
Ito Mai has been working at Green Dream Center since October 2018 under the Japan International Cooperation Agency (JICA) Volunteers Election program for a two-year tenure and becomes the second Japanese volunteer to work at the center.
She has developed a close-knit relationship with other staff and the children with autism in the center now that one year has gone.
"I want to learn more about Vietnamese culture and society in order to find out culturally-suitable ways to support Vietnamese children with autism. I hope when my volunteer project in Vietnam terminate, other teachers could apply the experiences in caring and teaching disabled people and autistic kids we Japanese have accumulated ", Phu Nu Thu Do quoted Ito as saying.
Educational work
Ito's morning class starts with cooking lessons including Japanese-style potato pancakes recipe. The Japanese teacher patiently guides the children to work out from the little detail, from how to peel, wash, smash the potato, fry the pancakes, to clean kitchen tools aftermaths.
"Those are the simple steps, but I must be gentle and patient, as each child here is very special", Ito said, adding that she considers the cooking class both a chance to sharpen skills and a mental therapy for the children.
During hand-made class, the children are taught to make festive cards, key fobs, etc,. which Ito believes will give them more finesse, patience, comfort, and "help them get into discipline". All the children with autism join Ito and kitchen staff to prepare for lunch on a daily basis.
The Green Dream Center belongs to Da Nang Association for Supporting Orphans and the Disabled, established in 2014, is now caring and teaching 50 children with autism, language disorders, communication disabilities, and speech and hearing impairment, motor disability. Those kids are taken to the center every morning and picked up every afternoon by their children.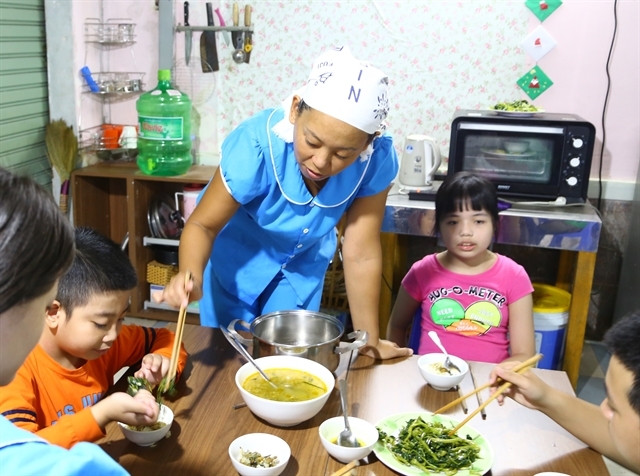 Ito help the children with lunch (Photo: VNS)
The bridge of love
Ito registered to become a volunteer in Vietnam although she has had 17-year experience of working with disabled people in Japan.
"Many of my acquaintances are working in Vietnam and they have great impressions on the friendly Vietnamese people, good security, and delicious food. Therefore, I want to work in Vietnam too", Ito told Bao Phu Nu Thu Do, adding that there are many facilities operated by the Association of Victims of Agent Orange/dioxin in Vietnam, which makes her want to work in Vietnam even more.
Language barrier was one of the most difficulties Ito faced during her first days in Vietnam, as "Vietnamese is so difficult to learn, I had struggled a lot" she added. With the help of her Vietnamese colleagues, however, she could gradually understand the language as well as bridge the cultural differences between the two countries.
"Each day at the center is a precious memory for me", Ito said. "I was welcomed like a family member".
She recalled seeing a little boy being punished for beating the teachers when she first arrived.
Thinking the boy would not understand why he was punished, she spoke to him in person and patiently explained what he had done was wrong.
"He finally understood and apologized to the teachers and went out to eat with his friends That boy was then very close to me and ready to receive my help", Ito told VNS.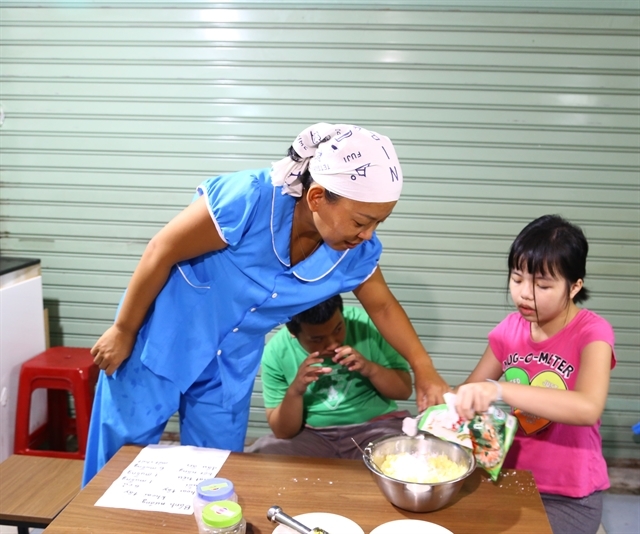 Ito and the children in cooking class (Photo: VNS)
Director and founder of the center Le Thi Kim Thu said Ito Mai's methods were highly appreciated.
"Ito Mai works very hard and enthusiastically with a sense of responsibility and caring," Thu told VNS, adding that her care has helped many children improve.
"Vietnamese and Japanese teachers have different ways to approach the disabled children, I'm glad that mine was welcomed here. The kids don't care about the language and cultural differences, they ready to follow my lead after all", Ito smiled.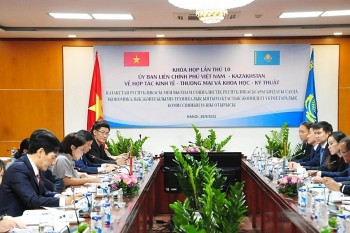 Friendship
The 10th session of the Vietnam-Kazakhstan Intergovernmental Committee on economic-trade and scientific-technical cooperation was held in Hanoi on September 26.