'Dirty Chinese kimchi' argument: How South Korea stepping up imported food inspection
South Korea will introduce measures to ensure the safety of imported kimchi after the exposed footage of a man topless, immersed in a large tank of Chinese cabbage, and kept stirring the pickled kimchi with his hands.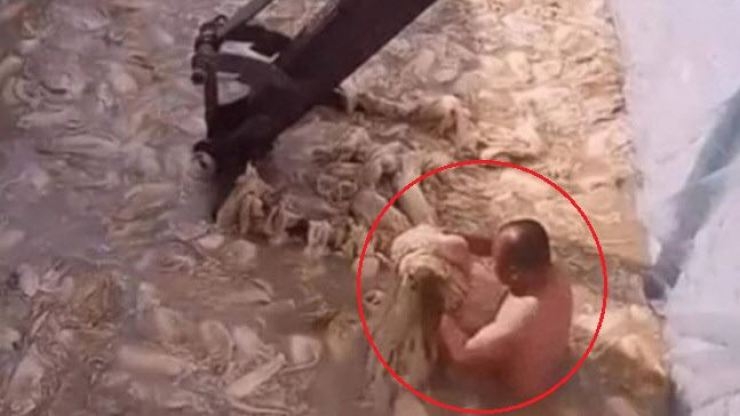 In this screenshot of a Weibo video from March 29, a man who appears to be naked wades in a pool of cabbage and grabs some of the vegetables soaked in a murky liquid while an excavator stirs them at a kimchi factory in China. Korea Times file
90% of kimchi imported from China
South Korea will conduct onsite inspections at around 100 kimchi production facilities overseas by 2025, the country's Ministry of Food and Drug said April 15, reported The Korea Herald, South Korea's largest English-language daily.
The move came after a video of a kimchi-processing plant in China went viral in South Korea for exposing its poor hygiene and sanitation conditions. In the clip, a naked man waist deep in a pool of brownish liquid that was filled with cabbages and tossing the vegetables into the bucket of an excavator arm that was mixing the produce in the mysterious liquid.
There is also no way of knowing for certain if the man was wearing anything beneath the surface. In addition, the machinery appears partly rusted.
A lot of kimchi consumed in Korea are imported from China. About 90 percent of the kimchi imported by South Korea comes from China, with a small town in East China's Shandong Province leading the country's export, accounting for 80 percent of the total, the Global Times reported.
The town not only provides the raw Chinese cabbage, but also makes kimchi in local processing plants for export to South Korea.
Kimchi making in China has stirred concerns in Korea due to an apparently loose adherence to hygiene standards.
The South Korea's Ministry of Food and Drug said this year it would inspect 26 overseas kimchi factories that sell its products to Korea and 20 sites annually until 2025.
The ministry said it has been keeping track of such foreign food vendors and conducted onsite inspections when safety issues were raised.
Between 2016 and 2019, the ministry conducted onsite inspections of 87 foreign kimchi production facilities, it added.
The ministry noted that it would conduct remote inspections when necessary due to the coronavirus travel restrictions by utilizing various tools, such as smart glasses.
The ministry will also hold meetings with other foreign governments in a bid to convince their kimchi production companies accept HACCP principles. Short for Hazard Analysis Critical Control Points, HACCP is an internationally recognized system of identifying and managing food safety related risks.
The ministry will also strengthen its inspection at the customs clearance stage by asking local authorities to double check the safety of imported food products.
The ministry added that it would review its testing requirements and filter out foreign kimchi producers that should go through a more thorough vetting process.
Meanwhile, the government will also conduct extensive inspections at 1,000 local distributors and restaurants, while requesting authorized agencies to review 250 kimchi products that are currently circulated in the domestic market.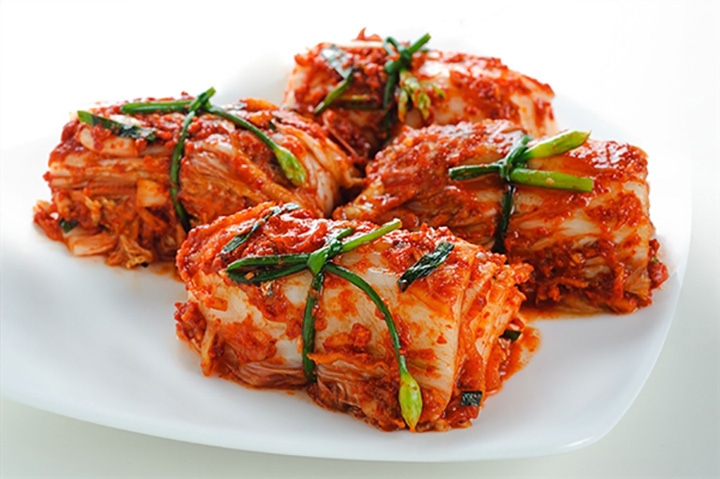 Kimchi, a traditional Korean side dish usually made of fermented cabbage, salt and hot peppers.
"Dirty Chinese kimchi"
The dispute over kimchi resumed in November last year, when the Global Times reported that kimchi was humiliated as the ISO acknowledged Sichuan paocai, about 90 percent of the kimchi South Korea imports is from China, and about 80 percent of the exports are from a small village in Shandong.
On January 9, Chinese YouTuber Liziqi with more than 14 million subscribers posted a kimchi making video with the hashtags of #ChineseCuisine and #ChineseFood. Chinese UN Ambassador Zhang Jun posted a similar photo on Twitter on January 3.
In South Korea, a famous YouTuber was insulted by Chinese and had to face contract cancellation for saying that kimchi originated from Korea.
According to local news reported by The Korea Times, police on April 13 said they are investigating a Chinese man who allegedly displayed violent behavior in a restaurant in Seoul after hearing other people talking about "dirty Chinese kimchi."
At a hotpot restaurant in the Sillim area of Gwanak District, the Chinese man in his 50s, whose name is being withheld, heard a conversation from three men in their 70s sitting next to his table. The Chinese man, who was intoxicated at the time, started shouting at them after they said they had been reluctant to eat kimchi after watching the above mentioned video of kimchi being made in China.
The infuriated Chinese national raised his voice at the men next to him, asking them why they were insulting Chinese kimchi. His verbal assault only grew harsher although the men apologized to him.
After his fit of fury lasted for about 20 minutes, the restaurant owner stepped in and tried to calm him down. But the Chinese threw insults at the owner as well. The owner then called the police, who later apprehended the man at the scene./.