Discover Alberobello – The Unique Trulli Town of Puglia
Somewhere in Southern Italy, there is a small town with grey looking trulli houses that make the place look like a fairy tale land and attracts many tourists each year. Let's learn more about this special town!
Photo: Wikimedia Commons
The town of Alberobello is among the most famous of the region's attractions, known as home to the largest collection of trulli - whitewashed stone huts with conical roofs that have been around for centuries. As tourism begins to have a negative impact on the world's top sites, from Venice to Mount Everest, it's doubly worth going beyond the textbook trappings to really experience a destination. Even Alberobello, which some avoid in peak summer due to crowds, boasts little-known spots to eat, drink and explore.
Alberobello, in the region of Puglia in southern Italy, is a strange and picturesque destination which is becoming an important fixture on the travel itineraries of tour operators as well as independent travellers. The small town has been made a UNESCO World Heritage site for its unusual districts of trulli, the characteristic white-washed conical-roofed houses of the area. It makes an interesting day-trip destination or a pleasant base for a few days - especially if you stay in a trullo of your very own.
What is a trullo?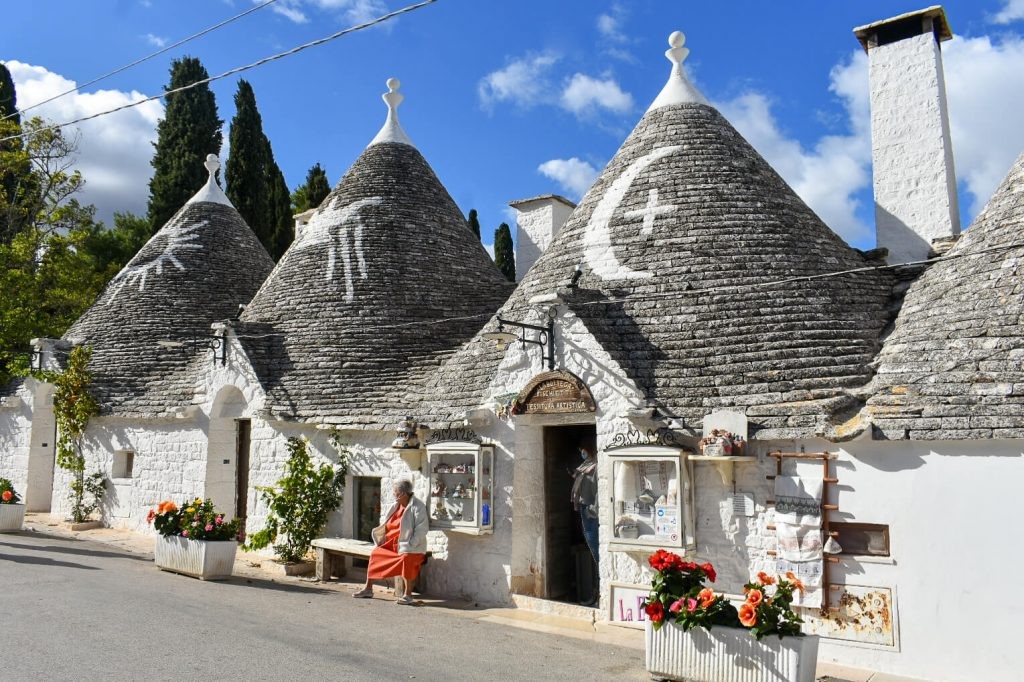 Photo: London city calling
A trullo is a small dwelling built from the local limestone, with dry-stone walls and a characteristic conical roof. It is a traditional and simple type of structure which you'll see dotted around this part of Puglia, sometimes in its most basic form used as a kind of shed among the olive groves. The story behind Alberobello, once a town of trulli alone, is a typically Italian one: its design was to fiddle taxes and fool the authorities. The local feudal lord, Count Acquaviva, moved his peasant workers here to clear woodland and cultivate the land. To wriggle around laws and taxes, it was important that Alberobello didn't class as an inhabited settlement. So until 1797, when Alberobello was finally given 'town' status, the people had to live in trulli, which could be dismantled in a hurry when necessary.
The buildings are usually square and have very thick stone walls, constructed without mortar. The thickness strengthens the structure and also helps regulate the internal temperature. The roof is actually a dome, as you can see when you enter one of the buildings, but is almost invariably built up on top into a cone shape, topped with a spire. There is generally a central room, with additional living spaces in arched alcoves. Residential trulli are smartly whitewashed, and their roofs are often decorated with fanciful painted symbols supposed to have religious or superstitious significance. The fanciness of the spire decoration was something of a status symbol: it showed the builders' skill and thus the spending power of the owners. Frequently the houses consist of more than one trullo roof: they are more like trullo complexes crowned with several roof-cones.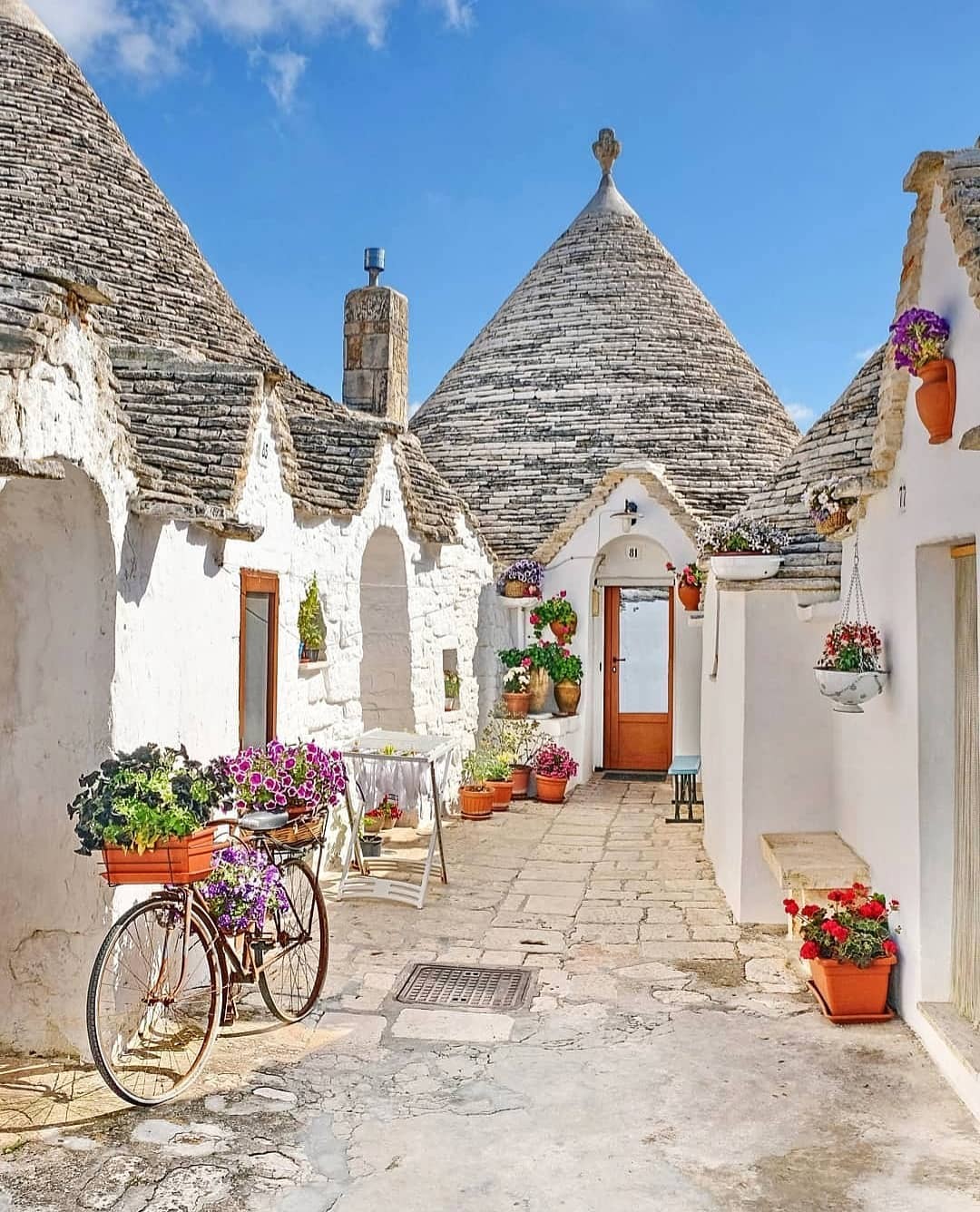 Photo: Pinterest
Things to see in Alberobello
The principal tourist activity in Alberobello is wandering around looking at trulli. There are also a handful of small museums and plenty of opportunities for buying kitsch souvenirs and tasting local products.
The centre of Alberobello is mostly composed of typical small-town Italian streets and buildings, with a few trulli interspersed among the buildings in a surreal fashion. Some older back streets are lined chiefly with residential trulli. The most picturesque parts of Alberobello, though, and the strangest, are the two areas composed almost entirely of trulli; over a thousand of them. Here the little white pointy-topped dwellings are clustered together like a hobbit town.
No one is exactly sure when the first trullo was erected, but it's thought that some date back to the mid 14th century. There's also a lot of discussion about why they were first built - some sources say they were originally used as storehouses and field shelters, others say they were permanent homes of small-time landowners or labourers. One of the most interesting theories is that they were an elaborate form of tax evasion - landowners didn't want the authorities to know Alberobello existed because they'd have to pay taxes. When the authorities did investigate, the key stonework was removed and the locals hotfooted it to the country. The huts took six months to rebuild and this mad system continued for around 300 years until Alberobello was made an official village (now, it's considered a small town). Today, the site houses 1,500 of these tiny fairytale-like huts, which house hotels, private residences, restaurants and bars.
The most touristy part of Alberobello is Rione Monti, a district on a slope facing the modern town centre. It consists of several narrow lanes sloping upwards, with others winding along the hillside, and is extremely picturesque both from afar and close up. Walking around is enjoyable, but be prepared for constant welcomes from the local vendors sitting outside their trulli shops and bars. You'll find colourful terracotta whistles (a local Puglia thing); some simple local ceramics; trullo snowstorms; sliding pens; and everything possible shaped like a trullo, from moneyboxes, to silver jewellery. Many buildings contain tiny 'bars' where you can sample local wines, which are also sold in the tourist shops along with biscuits and pasta. Although the area is obviously one big tourist trap, the prices aren't extortionate: there's too much competition. The owners will try to entice you in with all sorts of claims and promises: the oldest trullo, a trullo with a well, an inhabited trullo, a panoramic terrace, free wine and liqueur tasting. Especially if you don't have the chance to stay in a trullo, accept the low-key sales pitches and enter to have a look around. You will be able to see some interiors, and the panoramic terraces do have good views. Heading up Via Monte Michele beyond the commerce, the explorer reaches Alberobello's twentieth-century trullo church, the Chiesa di Sant'Antonio.
Aia Piccola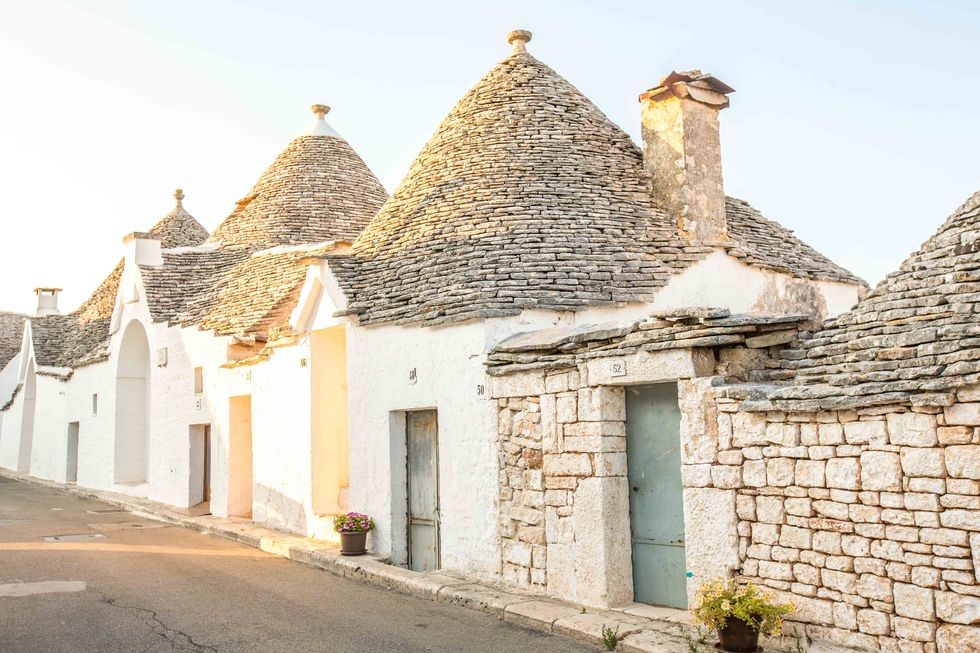 POPPY HOLLIS
If you want to see trullis in a non-commercial capacity, stay away from the Rione Monti area and head to Aia Piccola, a much less crowded spot which still boasts 400 huts, many of which are still used as private family homes. You'll find the odd restaurant, but really these quiet, winding streets are ideal for taking in Alberobello's unique architecture, amid some truly impressive views of the town below.
Trullo Mbà V'Tuccj and Trullo Mbà Franghin
Although there are a number of trulli available to stay in, many of these offer more modern decor (after all, the originals didn't have electricity, gas or indeed wifi), but Charming Trulli - which offers trulli rooms to rent - has recreated what two of the original huts would have looked like between 1600 and 1800, complete with vintage furniture, kitchenware, linens and religious paraphernalia. Trullo Mbà V'Tuccj and Trullo Mbà Franghin are part of a unique project called Rione Pentimi, which is keen to tell the story of the original trullis and what life would have been like for those who lived in them. Each is inextricably linked to the personal story of the craftsman who owned it, and so a corner of the trullo is dedicated to his work tools. These beautifully restored trulli are for rent but on scheduled dates, and otherwise are open to the public as museum.
Church of Saint Anthony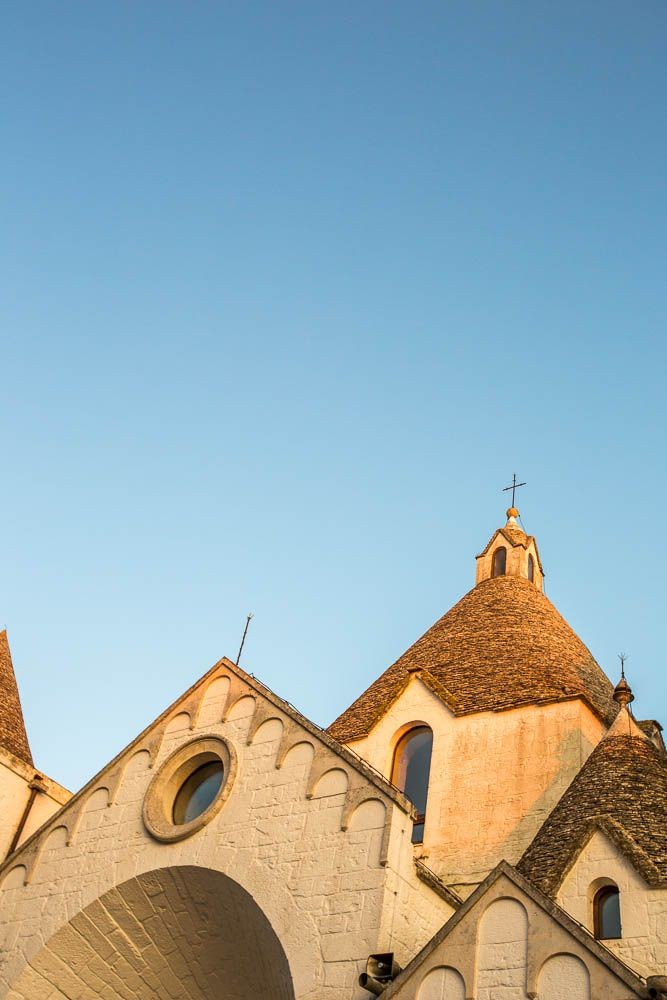 COURTESY OF POPPY HOLLIS
It is fitting that the Alberobello church should follow the same design as the rest of the town, and so the Church of Saint Anthony is constructed similarly to its smaller neighbours. The trulli huts that line the hilly street that builds up to the church almost resemble a staircase. Eventually, the shops and restaurants respectfully dwindle and the 20th century church stands in isolation with its dome shaped like a cone overlooking the town.
Nearby is the town museum, the Museo del Territorio. This is a rather fabulous structure of over ten combined trulli. It contains small displays of agricultural and building equipment, a couple of rooms recreated in period style which give a good idea of how inhabitants used to live, and some spires from the tops of trulli.
Alberobello has a few other small museums, as well as the many trulli which bill themselves as museums or show trulli but are basically just souvenir shops. There is a Museum of Olive Oil, a Museum of Wine and a Museum of Handicrafts. Since the tourist industry here is still developing, one suspects that there will soon be more. The main tourist information office is at the Casa D'Amore, just off Piazza del Popolo. However when we visited the staff were not terribly knowledgeable, couldn't understand a desire to explore the local countryside on foot, and were able to provide no more information than a photocopied town plan with English notes.
Alberobello food and drink
COURTESY OF POPPY HOLLIS
For a quiet spot to watch the sunset over Alberobello, we recommend Casedda a Cummersa. Walk through the family-run shop (housed in a trullo, naturally), then order a glass of wine, beer or Aperol Spritz from the makeshift bar at the back. You'll then be guided up a narrow staircase, past traditional crafts machines, before finding yourself on the roof looking over the village. This is a pared-back space with only a few tables and chairs decorated with fairylights and flowers, but if you want a tourist-free place to enjoy a cold glass of wine while the sun goes down, this is it.
For the best food in Alberobello, exit the tourist districts. That's not to say you won't eat well in the historic centre, but to sit among the locals, dine at Primi di Puglia: Pasta Experience, which offers the area's speciality pastas. The flour used to make the pasta is created with Cappelli wheat, which is known for its nutritional qualities and high protein content – in fact, it was previously called the 'meat of the poor' because of its nourishing benefits. The restaurant uses the very best, freshest ingredients to make its dishes with excellent results. The décor is stylishly rustic, with jugs of wheat decorating tables, and there's an outdoor terrace for those who want to make the most of the sun. The staff here are second to none, both personable and passionate about the food, and – should you want to pick up some tips – the exposed kitchen shows the Italian chefs at work making the pasta.
Trullo roof symbols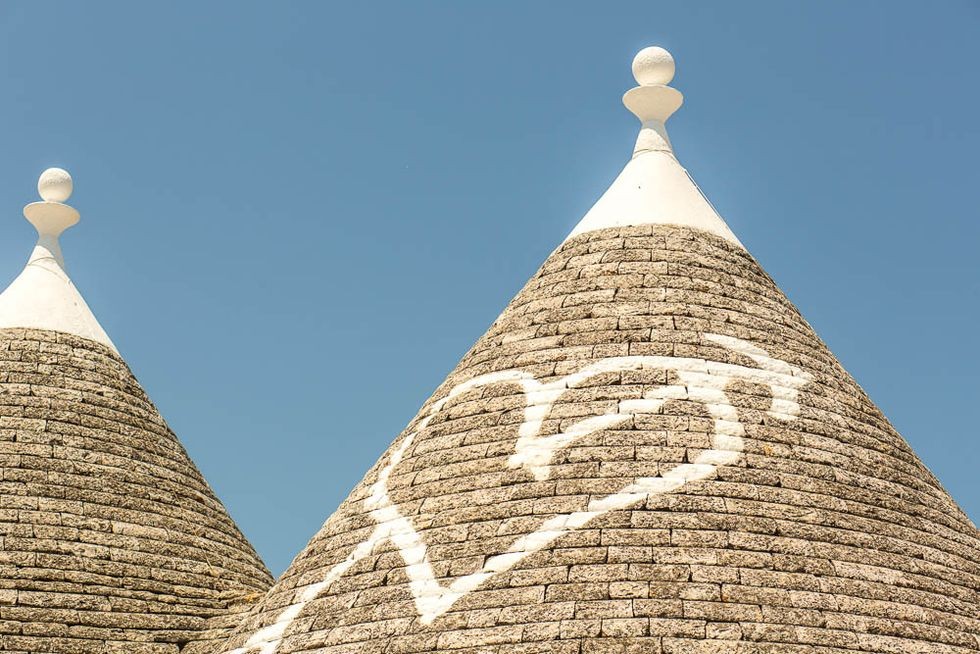 COURTESY OF POPPY HOLLIS
Many of the trullo roofs are crudely painted with whitewashed symbols, most of which relate to Christianity - such as the somewhat brutal image of Mary's pierced heart, which is pictured here. The more opaque letters (S, C, S and D) relate to the saints, although no one concretely knows which. Others have astrological or Pagan roots, like the evil eye, for example. Mysterious and with a fairytale-like allure, the roofs of the trulli could well be a metaphor for the town of Alberobello itself.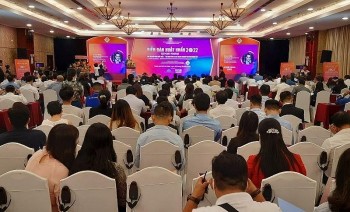 Focus
Vietnam News Today (Dec. 9): Vietnam - Singapore innovation centre helps firms transform production; HCM City among most searched destinations by travelers; Vietnamese digital technology industry's revenue estimated at 148 billion USD in 2022; Two Vietnamese films up for consideration at Oscars.