Donald Trump considers picking (another) fight with China
President Donald Trump has picked the worst possible time to relaunch his trade battle with China. When he escalates attack on Beijing's handling of coronavirus pandemic, the global markets see them recoil.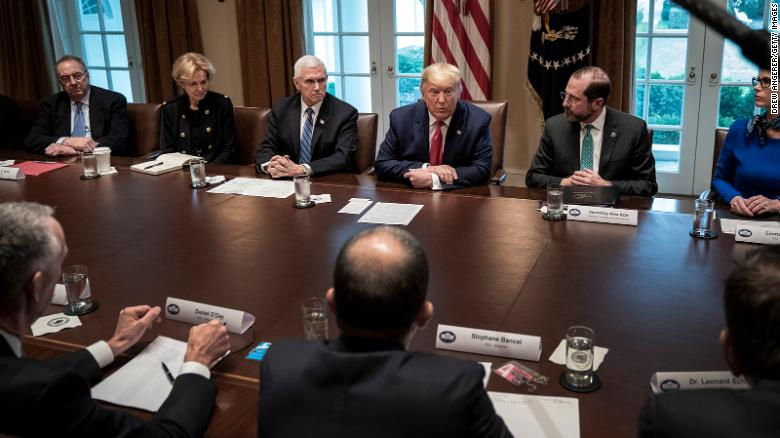 Photo on CNN
An analysis by Matt Egan on CNN writes: the coronavirus pandemic is crushing the US and global economies. Unemployment is soaring. GDP is collapsing at an unprecedented pace. Corporate profits are plunging. Manufacturing is contracting.
Yet Trump could amplify that financial pain by attempting to use tariffs or other sanctions to punish China for its role in the health crisis. Economists warn that such a strategy could badly backfire, potentially turning what is now a deep recession into a full-blown depression.
"This is pure folly. It's exactly what the US economy doesn't need," Joe Brusuelas, chief economist at RSM, told CNN Business.
Wall Street is not happy about the return of Tariff Man, as Trump calls himself.
The Dow tumbled 622 points, or 2.6%, on Friday on concerns about renewed US-China tensions. US markets retreated again Monday after US Secretary of State Mike Pompeo said over the weekend there is "enormous evidence" that the virus originated in a laboratory in Wuhan. Trump said tariffs would be the "ultimate punishment" for China.
And an article written by Alex Ward on Vox said that it was pressure mounting on Trump to "drop the hammer" on China when Trump wanted to retaliate against China over its handling of the coronavirus outbreak. It was said: "exactly how is anyone's guess'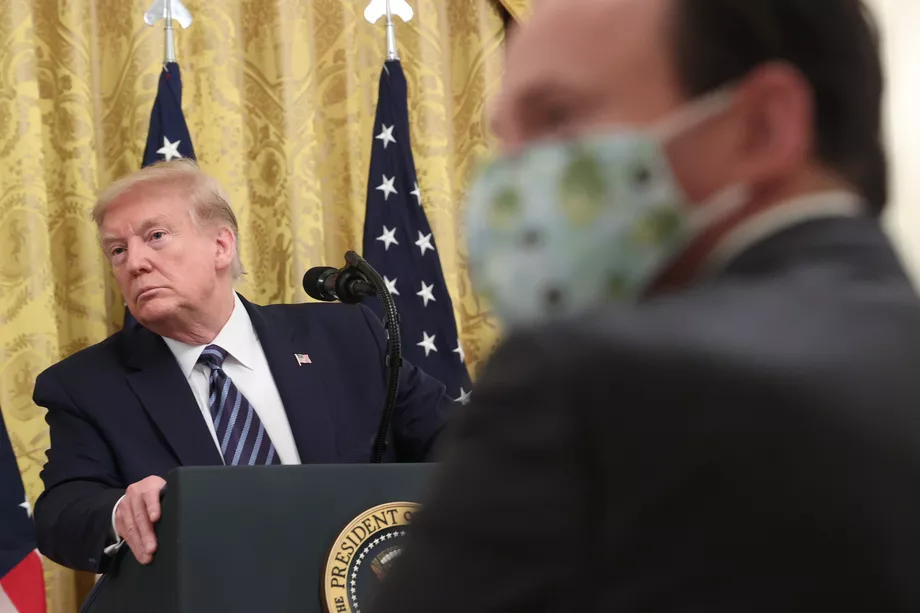 President Donald Trump speaks in the East Room of the White House on April 30, 2020. Win McNamee/Getty Images
As President Donald Trump weighs ideas for punishing China over its handling of the coronavirus outbreak, some inside and outside the White House want him to respond forcefully.
"In my personal opinion, we should drop the fucking hammer on them. Stop being such pussies," a senior White House official told me, speaking on condition of anonymity because they weren't authorized to disclose internal deliberations.
Top Trump allies, including Secretary of State Mike Pompeo and Republican senators, are pushing Trump to castigate China. Sen. Lindsey Graham, for example, has said the US should "make China pay big time."
The Washington Post reported Thursday that US officials from multiple agencies were planning to gather that day to discuss crafting some sort of retaliation against China.
"President Trump has fumed to aides and others in recent days about China, blaming the country for withholding information about the virus," the Post reported.
The Chinese government delayed releasing information about the outbreak of Covid-19 in the city of Wuhan, costing world governments precious time to prepare. It's ruthlessly exploiting the pandemic to further its own foreign policy goals. And on Friday, Sky News reported that the Chinese government is refusing to allow investigators with the World Health Organization to participate in China's inquiries into the virus's origin.
These actions — as well as Trump's likely desire to deflect some of the blame from his own administration's poor response to the coronavirus crisis in the US — are why the Trump administration is looking to formally rebuke China in some way.
"Punishing China is definitely where the president's head is at right now," one senior adviser told the Washington Post on Thursday.
At the same Thursday press conference, Trump suggested another idea: imposing billions of dollars in additional tariffs on China.
Why tariffs wouldn't punish China
To punish China, the US "can do it with tariffs," Trump said Thursday.
Yet there's (at least) one big, glaring problem with this idea: Though Trump has long believed that China pays these tariffs and the money goes to the US Treasury, that is not at all how tariffs actually work.
Tariffs raise the price of buying Chinese goods for American consumers. The idea is that by making Chinese products more expensive, American consumers will stop buying them from China and buy them more cheaply from somewhere else instead. While that would ultimately harm Chinese producers in the long run, in the short run, it's American consumers who are stuck paying these tariffs, not China.
With US unemployment claims having reached a staggering 30 million and the country facing an economic downturn unseen since the Great Depression, making things more expensive for American consumers would be less a punishment on China and more a self-own.
On top of that, the US has already placed tariffs on nearly every major Chinese product, so it's not even clear that the eventual impact on Chinese manufacturers would be all that meaningful.
Still, it seems some kind of retaliation is coming. Asked Friday about the administration's China considerations, White House press secretary Kayleigh McEnany said she wouldn't get ahead of the president on any announcements, but she reiterated Trump's "displeasure with China," adding, "It's no secret that China mishandled this situation."
"The China approach is all over the place"
Some sort of grander planning has already begun.
Multiple sources at the State Department told me that Pompeo has almost every office doing some sort of work involving China. Whether in Asia, the Middle East, Latin America, or elsewhere, Pompeo has staff looking at ways to counter China's aims, such as having US allies end certain business contracts with Beijing.
However, some in the State Department believe there's no real strategy to the top-down directive. The entire idea is "shortsighted," said one staffer tasked with finding ways to push back on China, who spoke on condition of anonymity because they were not authorized to talk to the press. "The China approach is all over the place."
Another State Department staffer pushed back against the notion that the department is in search of a more-robust-than-normal stance against China. "It is our standard policy to counter Chinese influence," they told me.
What's clear, though, is that the administration is thinking of ways to up the ante against China. When, and what, Trump decides to do is what everyone's waiting on.
It was also reported on the Guardian that analysts warned a renewed US-China trade conflict, as the world heads for the worst recession since the Great Depression in the 1930s, could inflict additional damage for jobs and growth.
Donald Trump's threats to reignite the US-China trade war over coronavirus has triggered another sell-off in global financial markets, as the economic costs of the pandemic continue to mount.
Against a backdrop of rising tension between the world's two economic superpowers, share prices resumed a downward slide on Friday with the FTSE 100 falling by 144 points, or 2.5%, in London.
Selling pressure resumed on Wall Street after recording gradual gains in recent weeks amid rising hopes a turning point had been reached for the coronavirus crisis. As fears over the economic costs from the disease mount and as the White House ramped up the threat of a renewed trade conflict with Beijing, the Dow Jones industrial average fell by more than 2% in afternoon trading in New York.
Stock prices fell sharply in Japan, with the Nikkei index of leading Japanese company shares sliding by more than 500 points, or 2.8%. Markets in China, Hong Kong and South Korea were closed for public holidays.
Despite world leaders starting to outline plans to lift lockdown measures more than a month on from the depths of the crisis, the economic fallout from tight controls on social and business activity during the Covid-19 outbreak are now becoming increasingly clear.