Dong Thap Province sternly cracks down on illegal entrants
The Mekong Delta Dong Thap province has suspended the exit through the border gate and strictly cracked down on those illegally entering.
Deputy Minister of Health Do Xuan Tuyen on April 22 representing the National Steering Committee for Covid-19 Prevention and Control came to inspect the entry management, quarantine and Covid-19 vaccination program in Dong Thap province, Zing News reported.
According to the immigration personnel, given the complicated development of Covid-19 in Cambodia, the border gate has halted the exit to Cambodia for all citizens, except for experts or those existing for performing the anti-pandemic duty.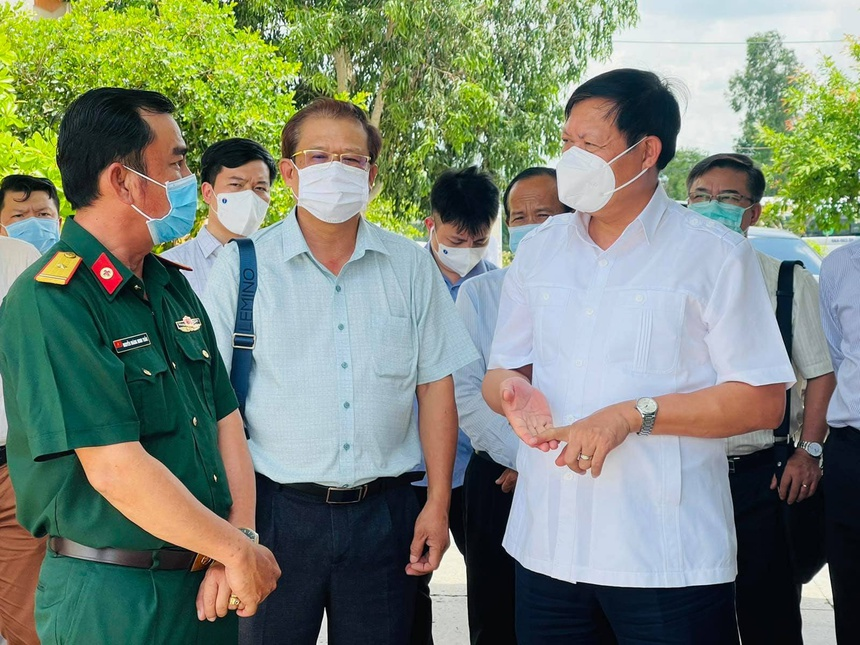 Deputy Minister of Health Do Xuan Tuyen came to inspect the entry management, quarantine, and Covid-19 vaccination program in Dong Thap province. Photo: Zing News
To prevent illegal entrants, Duong Hoang Anh, who in charge of a checkpoint near Cambodia, said the patrol force has kept a close eye on all people entering, check their body temperatures and personal papers, etc. Regardless of whether they furnish papers, the patrol force would report them to the head of the border guard station.
Over the past time, the patrol force has detected more than 40 cases with 60 people illegally entering or organizing for others to illegally entering. All of them take advantage of the night to illegally enter through rivers or trails.
To promptly avert illegal entrants, the border guard set up more 21 checkpoints.
Doan Tan Buu, Vice Chairman of Dong Thap People's Committee, said the province has strictly carried out anti-pandemic measures. Nevertheless, it has encountered some difficulties in preventing and controlling the epidemic since its border area is large, meanwhile, the patrol force is limited. Besides, facilities at some centralized quarantine sites haven't met requirements, etc.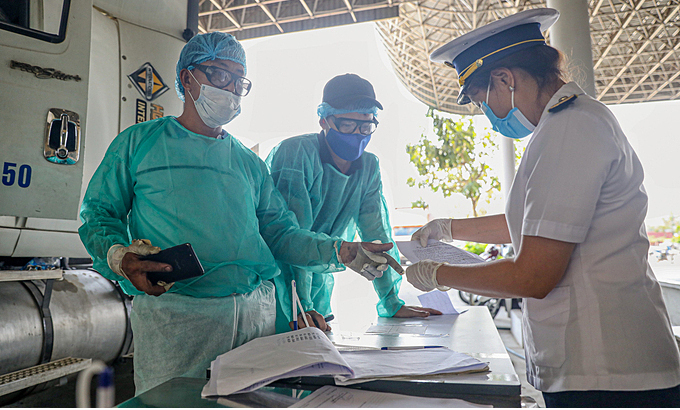 Arrivals from Cambodia complete health declaration procedures at Moc Bai border gate in Tay Ninh Province, March 2020. Photo: VnExpress
Deputy Health Minister Do Xuan Tuyen required Dong Thap to review and promulgate a plan for epidemic prevention and control and Covid-19 inoculation; prepare scenario to timely respond to the possible outbreak, etc.
"Dong Thap need to tighten the control at the border gate, make efforts not to let the infection spread to the community, strictly crack down on those illegally entering and organizing for others to illegally entering", he emphasized.
Cambodia is grappling with its latest Covid-19 outbreak, which has infected nearly 7,000 people in the first quarter alone, while the country only recorded a little over 400 cases last year.
Cambodian capital Phnom Penh and the Ta Khmau Municipality have been placed under lockdowns.
In Vietnam, four imported cases of COVID-19 were detected in the past 12 hours to 6 pm on April 22, according to the Health Ministry.

The national count increased to 2,816, with 1,570 domestic infections.

The number of recovered patients reached 2,490, while the death toll remained at 35.

Among active patients, 40 have tested negative for the novel coronavirus from once to three times.

A total of 39,191 people who had close contact with or arrived from pandemic areas are being quarantined nationwide.