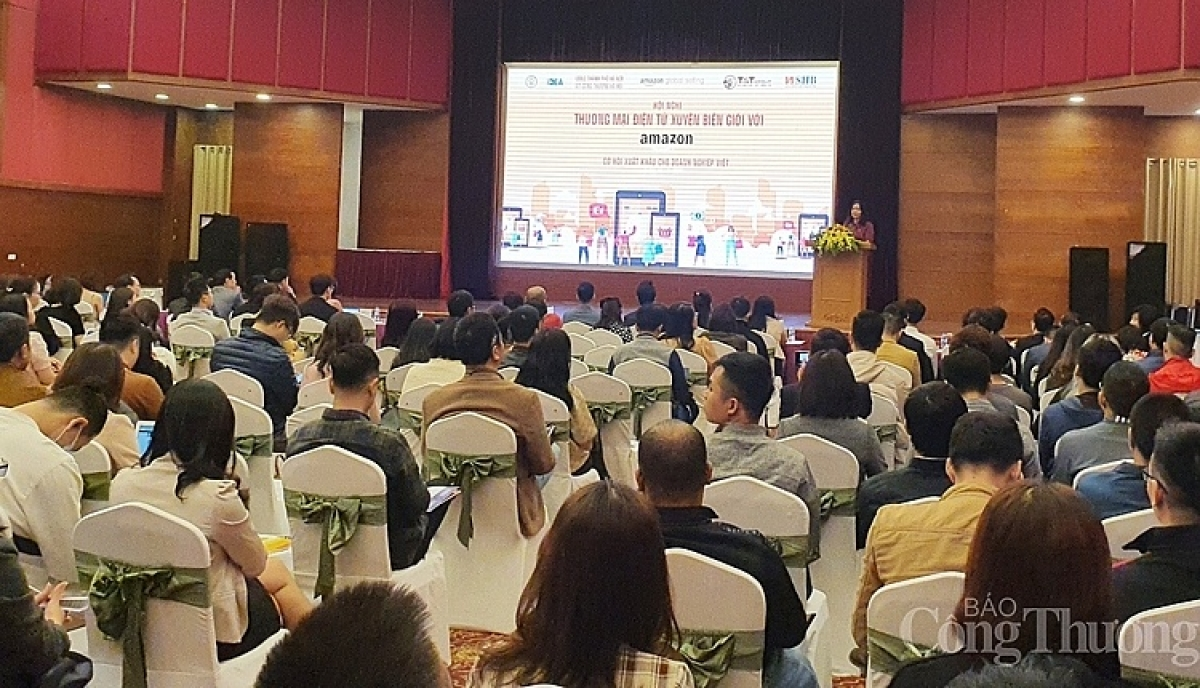 The event attracted roughly 300 businesses that are keen to boost their export of goods via Amazon's online retail channel. Photo: VOV
E-commerce platforms, particularly Amazon, are expected to help Vietnamese businesses boost their exports given the complex developments of the COVID-19 pandemic, industry insiders said.
During her opening speech at a recent seminar held to discuss cross-border e-commerce, Tran Thi Phuong Lan, deputy director of the Hanoi Department of Industry and Trade, said local businesses have encountered numerous difficulties caused by the delay of export orders, coupled with the slow progress of customs clearance.
Lan added that Hanoi's export turnover during the opening ten months of the year has witnessed an annual increase of only 0.1 percent to US$13.194 million, the lowest figure over the past 10 years.
She also underlined the importance of online sales channels as a means of increasing exports for businesses amid this challenging period.
Sharing this point of view, Nguyen Thi Minh Huyen, deputy director of the Department of E-Commerce and Digital Economy, pointed that through e-commerce platforms domestic firms are able to gain access to customers based in fastidious markets such as North America, Japan, and Europe in a fast manner.
Tran Xuan Thuy, director of Amazon in Vietnam, outlined that cross-border e-commerce represents an effective channel for local enterprises, including small and medium enterprises (SMEs) as they export goods to the global market, especially in the context of the COVID-19 epidemic.
Thuy therefore advised local firms to improve their knowledge relating to cross-border e-commerce channels, devise coherent business strategies, whilst simultaneously developing their brands in order to successfully export goods to these demanding markets.
Do Quang Vinh, CEO of T&T Group's branch in the United States, emphasized that enterprises must devise plans based around the actual needs of each export market, their various tax incentives, and the online shopping habits of customers via Amazon to boost exports.
The event attracted roughly 300 businesses that are keen to increase their export of goods via Amazon's online retail channel, VOV reported.
Vietnam e-commerce market set to grow 30 pct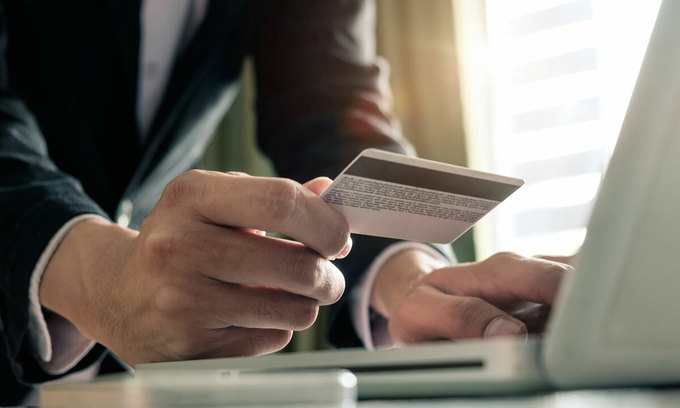 A person makes online purchases using a credit card. Photo by Shutterstock/mrmohock.
Vietnam's e-commerce market is set to maintain its recent growth momentum this year with a 30 percent year-on-year rise to reach $15 billion.
The coronavirus pandemic has prompted a change in Vietnamese consumption habits with many shifting to online shopping after brick and mortar stores had to close during a nationwide social distancing campaign, according to the Vietnam E-commerce Association (VECOM).
Most e-commerce companies have been able to retain their staff during the pandemic and plan to hire more in the second half of the year as they see rising demand from online shopping, the report says.
A VECOM survey of 4,000 businesses found 39 percent using social media for sales last year, up three percentage points from 2018, according to VnExpress.
Respondents said social media was the most effective advertising medium, followed by search tools, mobile messages, apps and online newspapers.
Businesses have also been paying more attention to mobile shopping, with 50 percent allowing customers to order and pay for products via smartphone, up 7 percentage points from 2018, the report said.
Vietnam has recorded a compound annual growth rate of 30 percent in the 2016-2019 period. Last year, the market grew 32 percent year-on-year to $11.5 billion, a report by VECOM noted./.
Rosy Huong