Editor's Pick: Barry Penter - Australian Master of Realism Art in Vietnam
The Realism is Art 2 exhibition is a rare chance to see 15 hyperrealistic graphite artworks by artist Barry Penter, all created during his time spent in Vietnam.
From across the gallery, she stares at you, unblinking. The attractive woman's face subtly hints at a smile. Flames engulf her ao dai but she doesn't seem to mind. She simply continues to stare ahead, unfazed by the fire. You wish to talk to her... but she is just a painting.
Created by Australian expat artist Barry Penter, "The Phoenix" is the name of one of his most captivating pieces, drawn in his signature hyperrealistic style. From June 24th to July 3rd, Hanoians have a chance to experience the beauty of "The Phoenix" firsthand at Barry's first solo exhibition, entitled "Realism is Art 2," held by Chau & CO. gallery.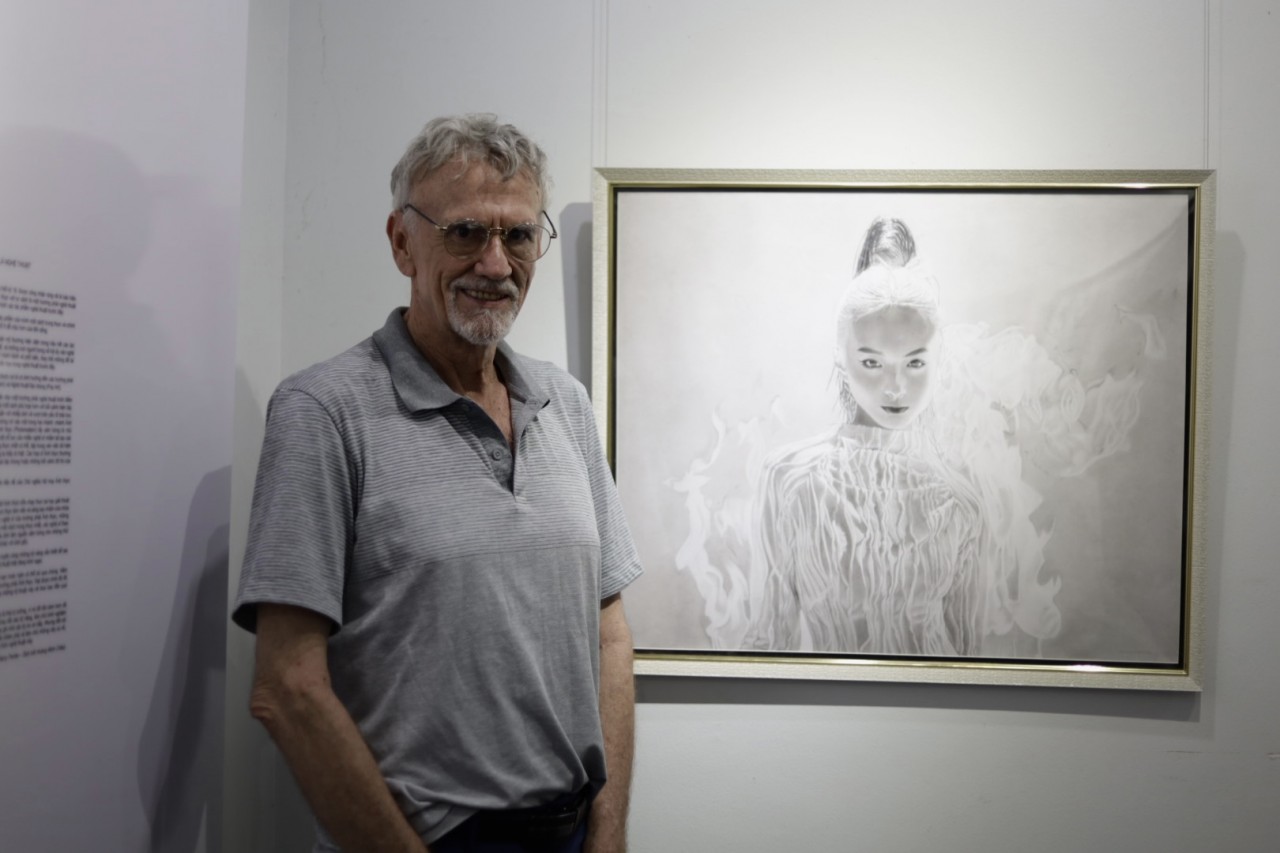 Australian artist Barry Penter and his latest work - the Phoenix. Photo: Chau & CO
"She is one of my favorite people here in Vietnam," said Barry, when describing his connection with the model for Phoenix. Barry hopes that with The Phoenix being lighter with the smooth features of a young, elegant face will be more appealing to the Vietnamese market. The seasoned artist spent around 300 hours on this piece alone. Now complete, Barry is happy to watch young artists reflect on his intricate work.
Many of the visitors were young art students from several universities around Hanoi, eager to learn more about the beauty of Realism. With his many years of experience, Barry is happy to teach them about the patience and determination of a skilled artist.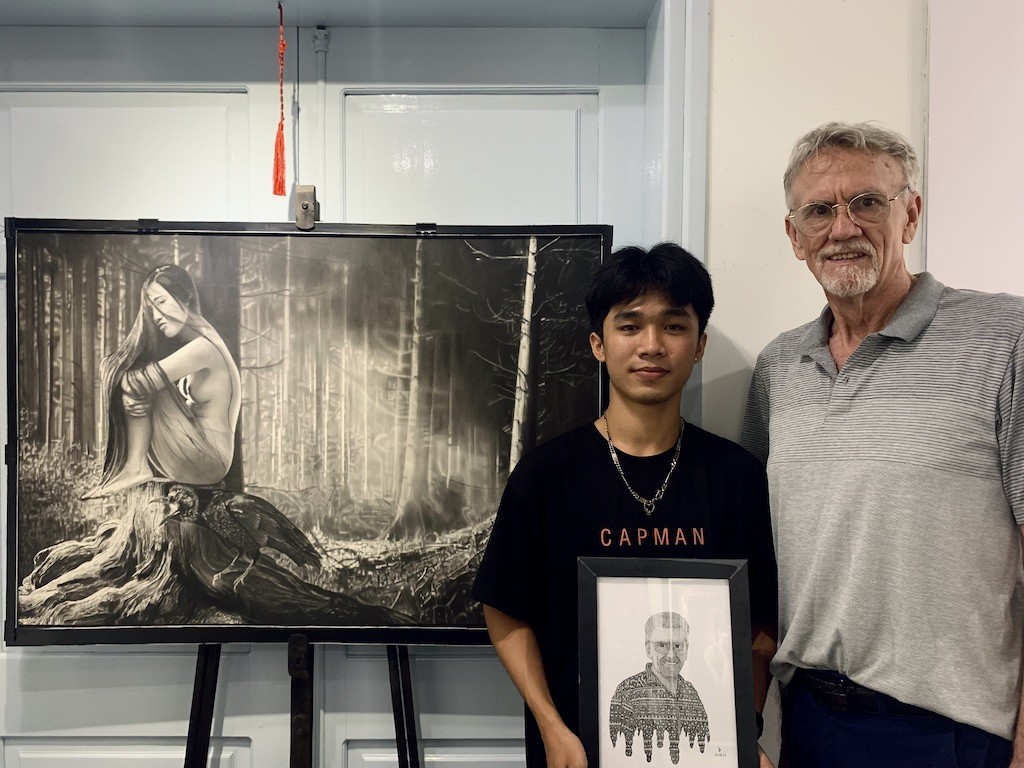 Barry's fan presented him with a drawing at the exhibition. Photo: Chau & CO.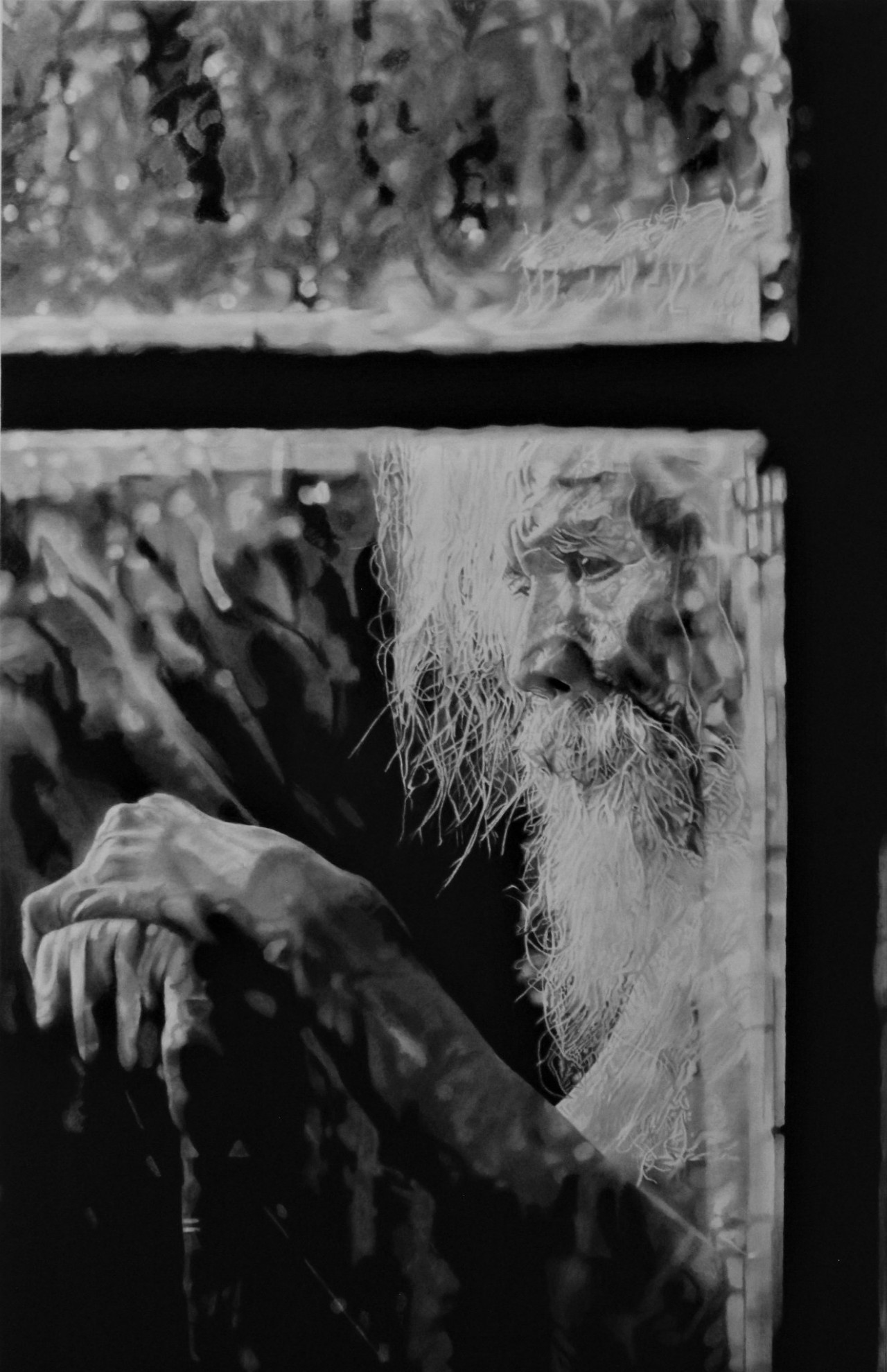 Title: Waiting for it to end - 2019. Artist Barry Penter. Photo: Barry Penter
Realism, Hyperrealism, are Photorealism are artworks that belong to a genre of paintings and sculptures, resembling high-resolution photographs, which has become increasingly popular over the past two decades.
An artistic soul from the industrial world
In 2015, after wrapping up a life-long career in electrical engineering, Barry Penter was looking for his next adventure. With a pack of pencils, he started expressing himself with art, drawing Realism portraits in particular.
Instead of kicking it back and enjoying retirement, this self-taught artist decided to spend everyday practicing his craft. He gets inspiration from what is happening around the world, the world itself, the people in his circles, then blurs the line between reality and art with thousands of pencil strokes.
Out of the 15 Hyperrealistic graphite artworks in his first solo exhibition, some focused on major global events like the Black Lives Matter movement or masking wearing in the COVID-19 pandemic, others were Barry's personal interests in Vietnamese people and lifestyle.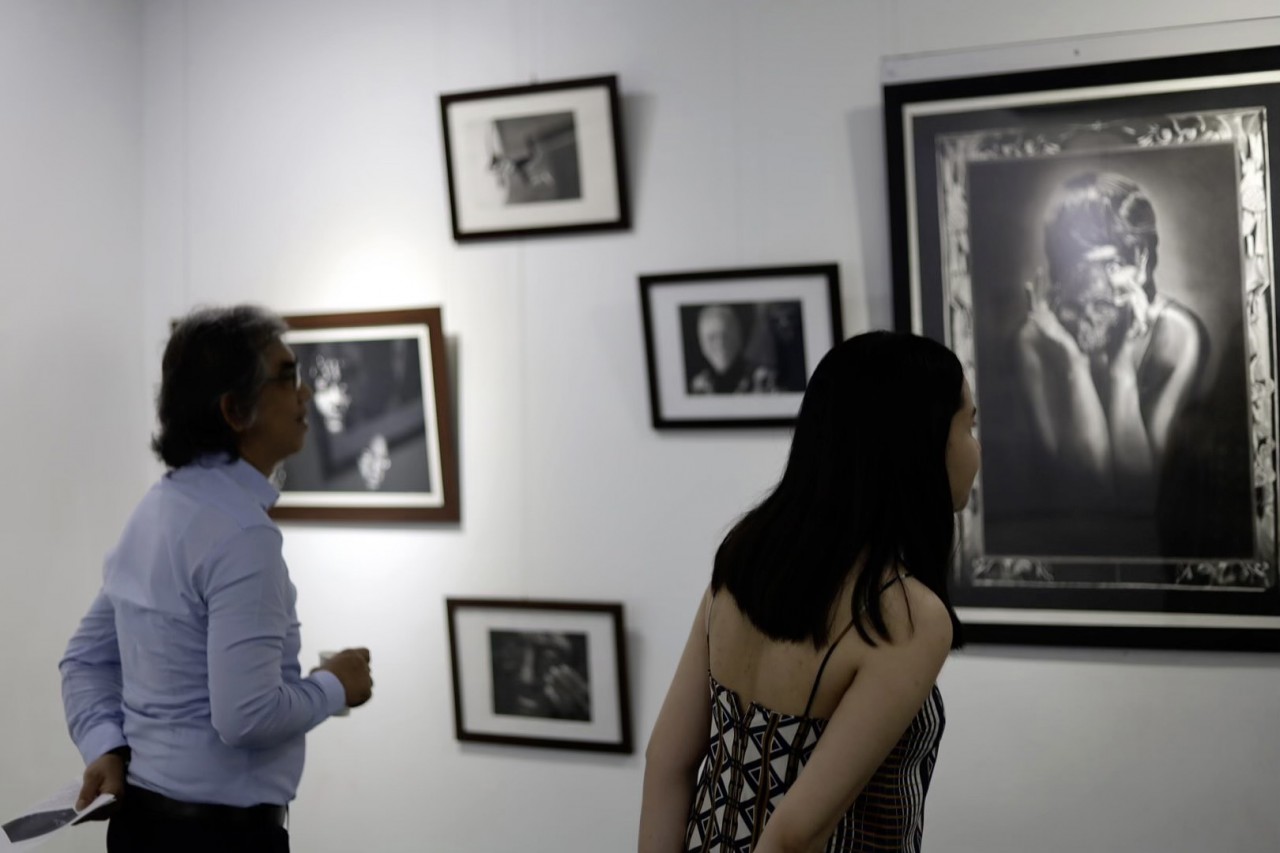 Photo: Chau & CO.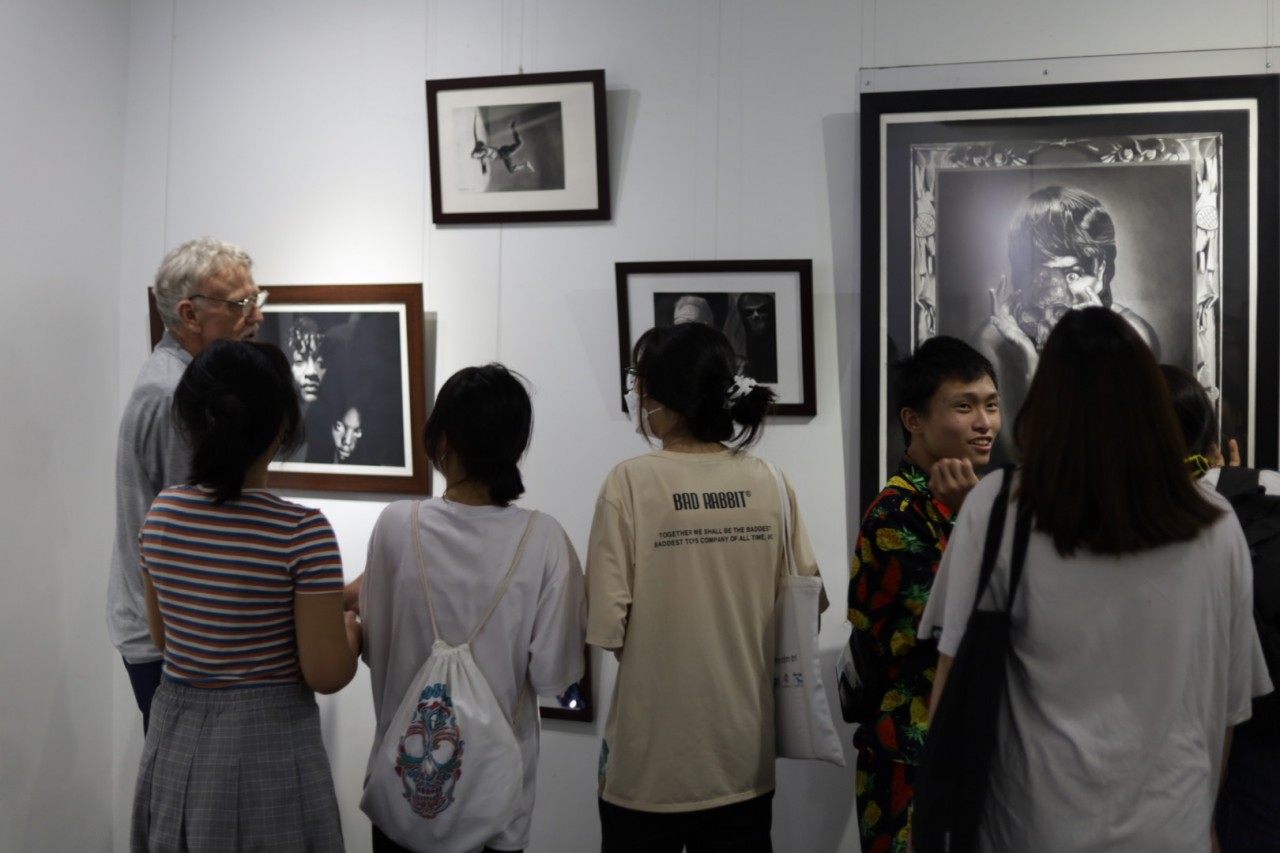 Photo: Chau & CO.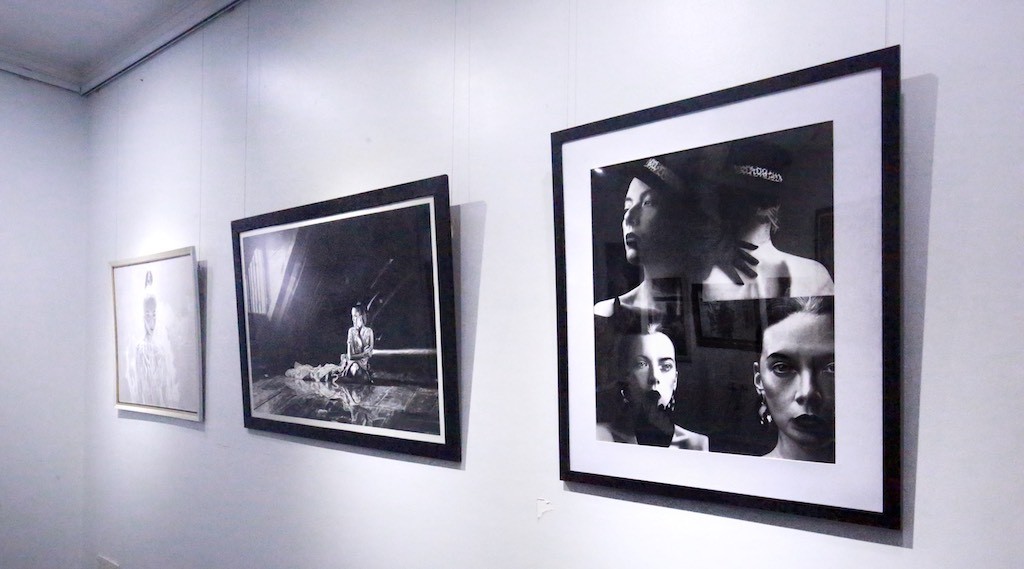 Barry has been spending thousands hours in total to perfectly deliver artworks that could be mistaken for photos.. Photo: VNT/ Zoey Nguyen
"To create a realistic image, artist can use whatever it takes, there is no rule or protocol they must follow," said Barry. "You learn the rules, and the rules will take you to a place. Then you break the rules or forget the rules, it will take you to a better place."
His first exhibition is a collection of works he has done in the last 4 years. While most of them had been published through his Facebook page and other collective exhibitions, the expat artist is excited to have his "babies" on display in one room for the first time.
Also, he believes this exposure will shed a new light on Realism art among local and expat art lovers in Vietnam. He is particularly hopeful for the young generation of Vietnamese artists, affirming that there is no time better than right now to become a Realist artist.
"Mastering the techniques will get you to the Photorealistic level then to Hyperrealism," said Barry. "Drawing as a method of learning these skills is ideal as it is a very cheap medium to work with. It is a great way to hone the skills, master the heuristics of the mind and generate muscle memory. But for some the passion for drawing is greater than the desire to paint and they dedicate their lives to it."
A volunteer teacher of Realism art in Vietnam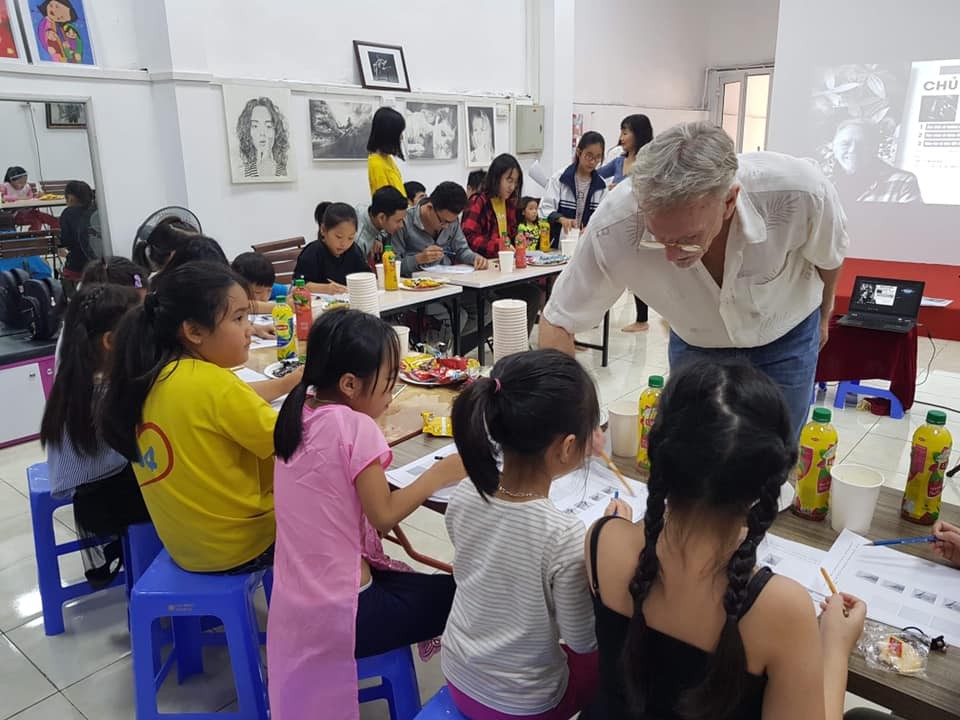 Barry held his first Realism drawing workshop in 2019 in Hanoi. Photo: Barry Penter
Now in his 70s, Barry's passion is to pass on the spirit of Realism artists by continuing to mentor the next generation of Realist artists. The Australian artist revealed his teaching method encouraged many young artists to embrace the Realist art form.
"I would do training for my students within eight lessons, they are drawing very professionally, and it takes only eight lessons," explains Barry. "They can start drawing human arm, leg, etc. Even the face. With only eight lessons because of the system that I teach them once they are there, then they keep practicing down that way and then they can start just drawing because it will come naturally."
He has now became a Realism drawing master who provides drawing classes for people of all ages, especially young people living in Vietnam.
"There is a movement within Vietnam at the moment of young people who are concentrating on portraiture. And there are some very good portraiture artists in this young group," said Barry.
With his mind as sharp as his pencils, Barry is a welcomed fixture of Hanoi's diverse art community and plans to create more impressive works for many years to come.
Venue: CHAU & CO Gallery, No. 11, Alley 123 Nguyen Dinh Thi, Tay , Hanoi.
Date: June 24 to July 3, 2022.
Opening hour: Everyday from 10.30 am to 7.30 pm
Hotline: 0914990109 (Ms. Chau)
Friendship
On March 25, the 92nd anniversary of the founding of the Ho Chi Minh Communist Youth Union took place at the Russian Presidential Academy of National Economy and Public Administration (RANEPA) in Moscow.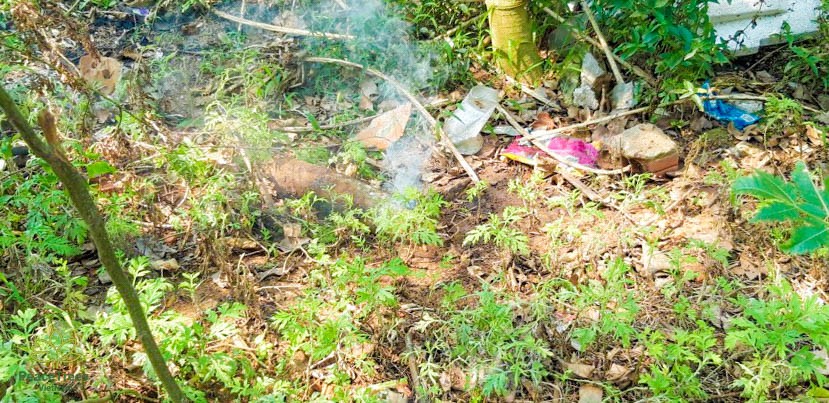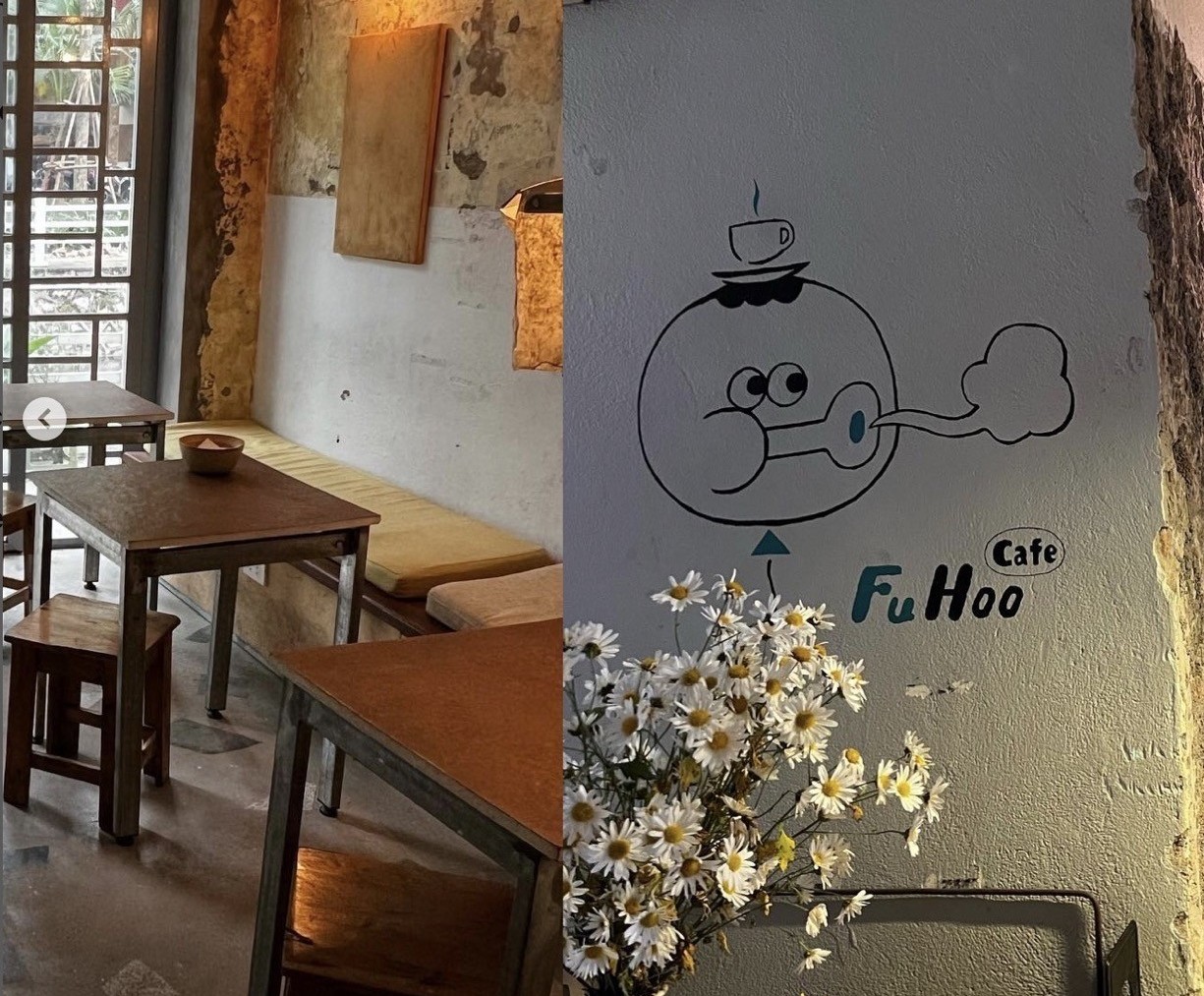 Focus
During three months of Covid-lockdown, Japanese architect Kosuke Osawa came up with the idea of a coffee shop/social gathering space in the heart of Hanoi city. After only a year since its opening, Kosuke's café has created an active and friendly community loved by both locals and expats.
February 24, 2023 | 06:30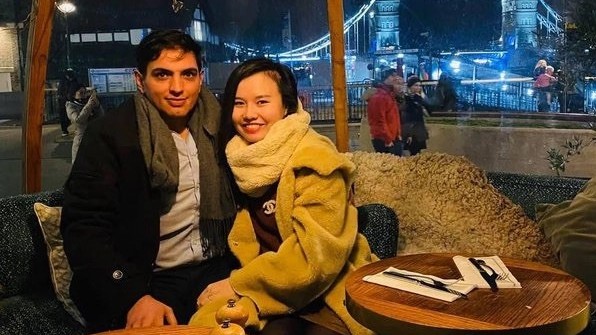 Expats in Vietnam
A modern fairytale between a Vietnamese beauty and a German had turned into a fruitful marriage since 2018. It all started with a song.
February 21, 2023 | 14:12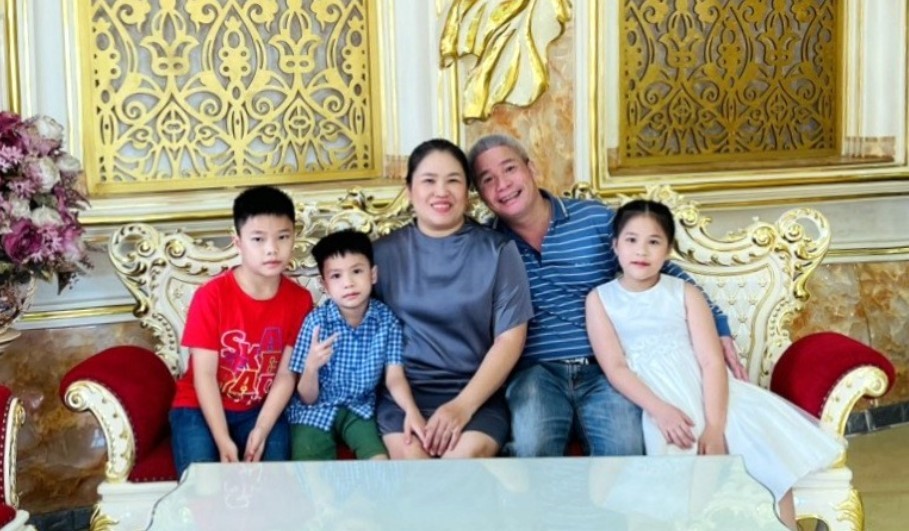 Expats in Vietnam
For Nun, a Lao bride in Vietnam, simple gestures of care are sometimes worth thousand times more than gifts or flowers.
February 20, 2023 | 12:04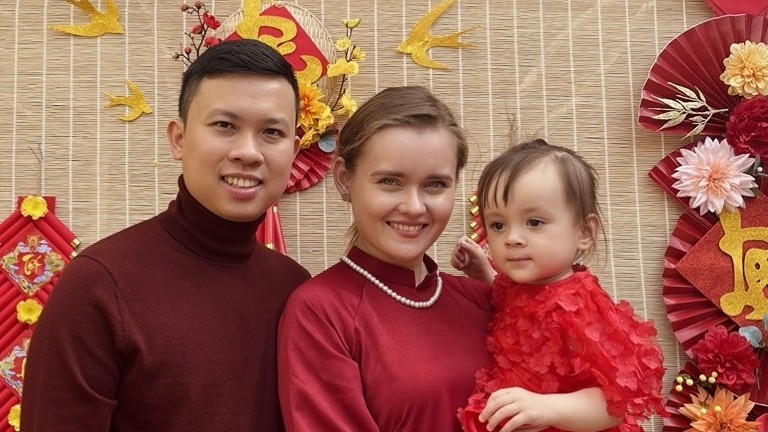 Expats in Vietnam
According to Phan Vu Son and Sophia Koshelna, love is the secret ingredient for a sweet multicultural family dynamic.
February 14, 2023 | 10:19