Editor's Pick: Seeing New(s) by Phuong Hoang - Perceptions Versus Facts
In an exhibition that critically reexamines photojournalism, visual narrator Phuong Hoang suggests more interactive ways you can read the news.
Right at this moment, you are reading the news with comfort, perhaps on a phone that fits right into your hand, or on a PC at an appropriate eye level. Seeing New(s) is a photography exhibtion that offers a different way to see and to read. In a room full of optomery gadgets, with no guidance or instruction manual, there are photographs of all sizes, big and small, for you to explore.
The exhibition is a collection of pairs of photos placed on the walls, on the table, in a mix of media, all taken in Arles (France). These pairs were exhibited at such tiny size so that you have to use magnifying tools to closely look at them.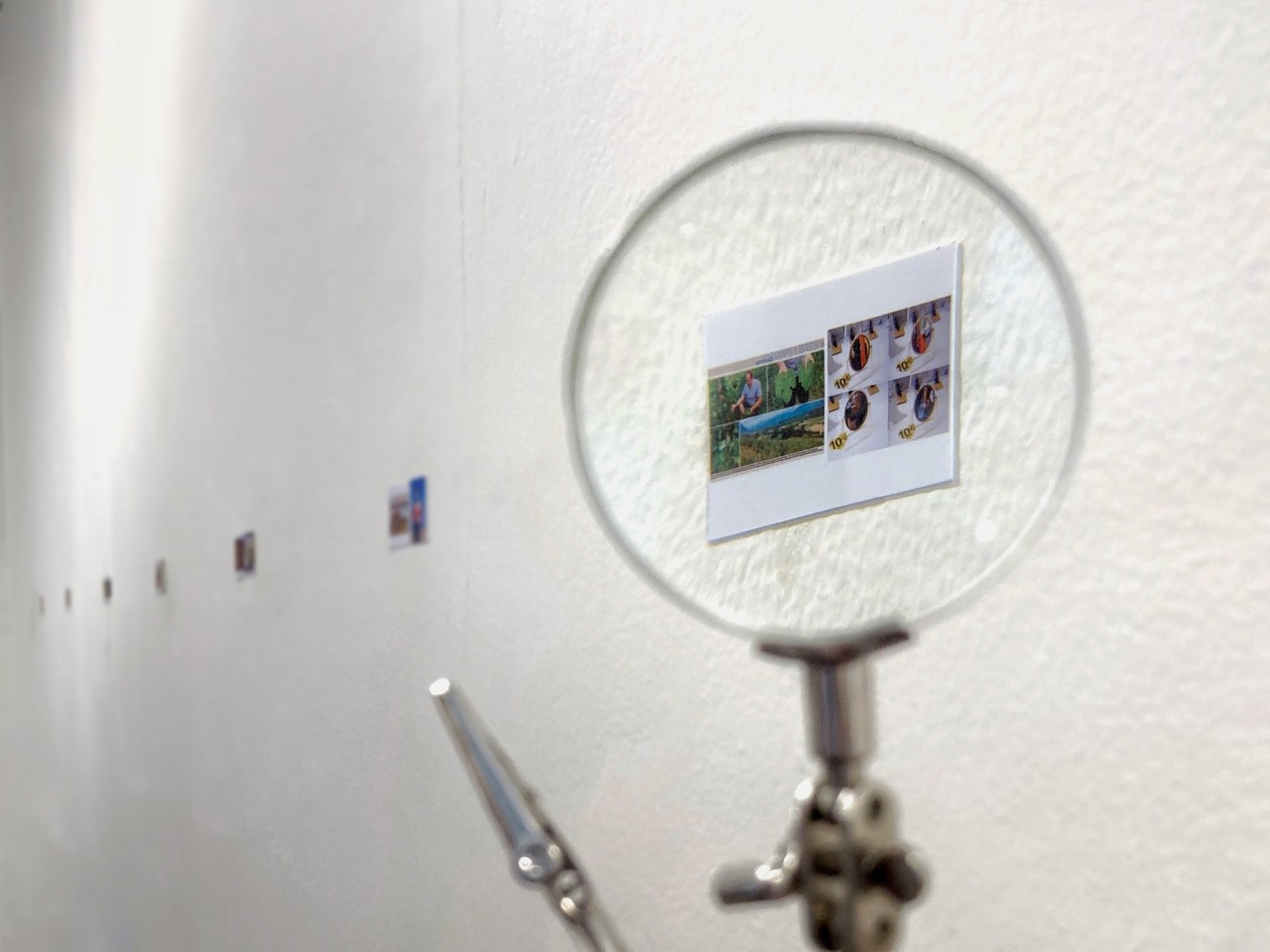 Photo: Matca Facebook Page
Bending down to a glass table covered with paper articles and photographs, facing the wall as close as possible, you explore the exhibition by taking a close look. According to Phuong, you might find the photographs much more interesting when you have to "work hard" to see them.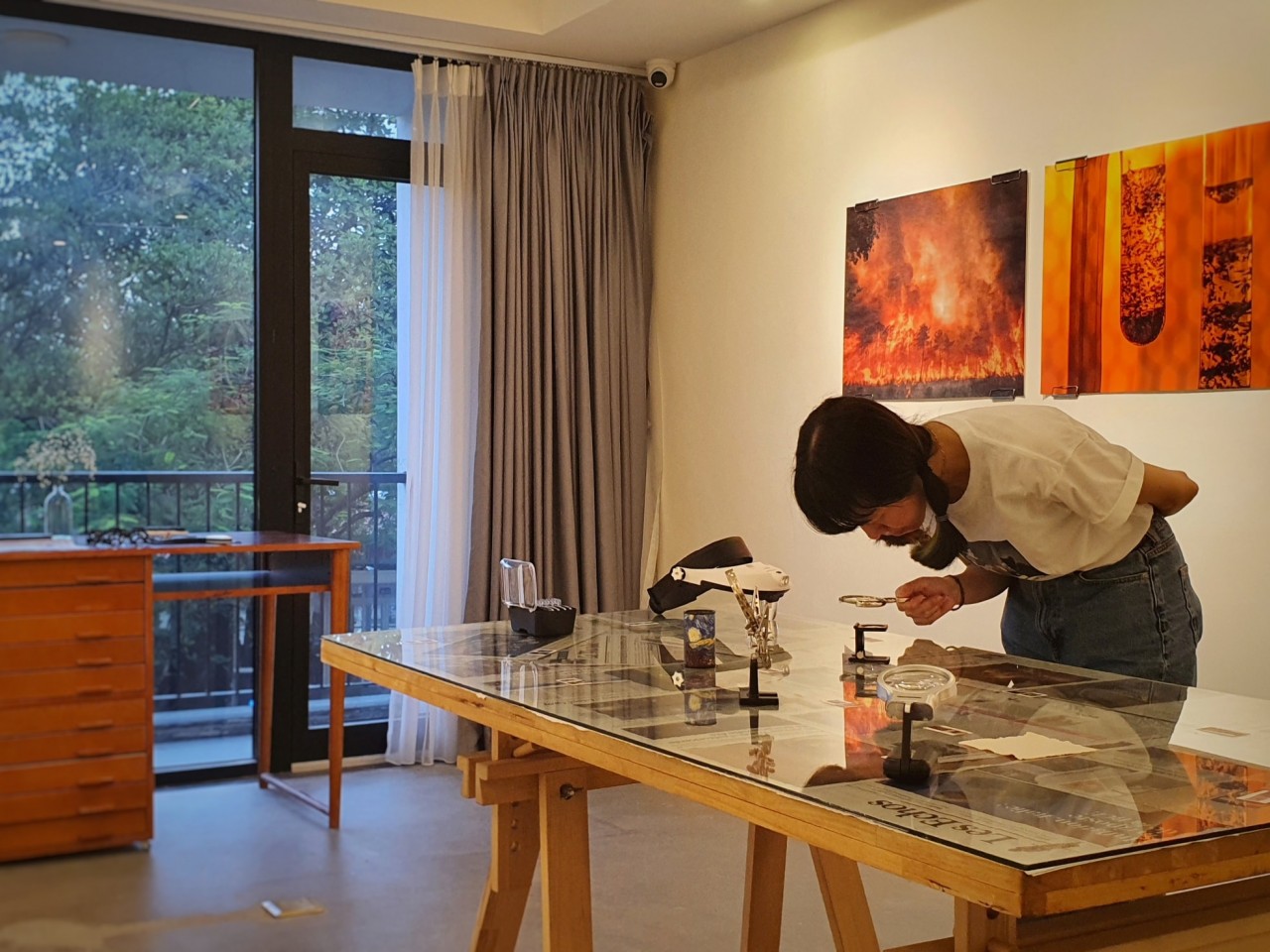 Photo: Matca Facebook Page
"Our Eyes Conceive the World in Countless Different Ways"
While participants enjoy playing with different gadgets, it is the combination that makes the photographs more visually appealing and more memorable. The photos are displayed as "matches," a placement that provokes the curious minds to ask questions like: Why are they a pair? How are they similar or different? What is the story behind the photos?.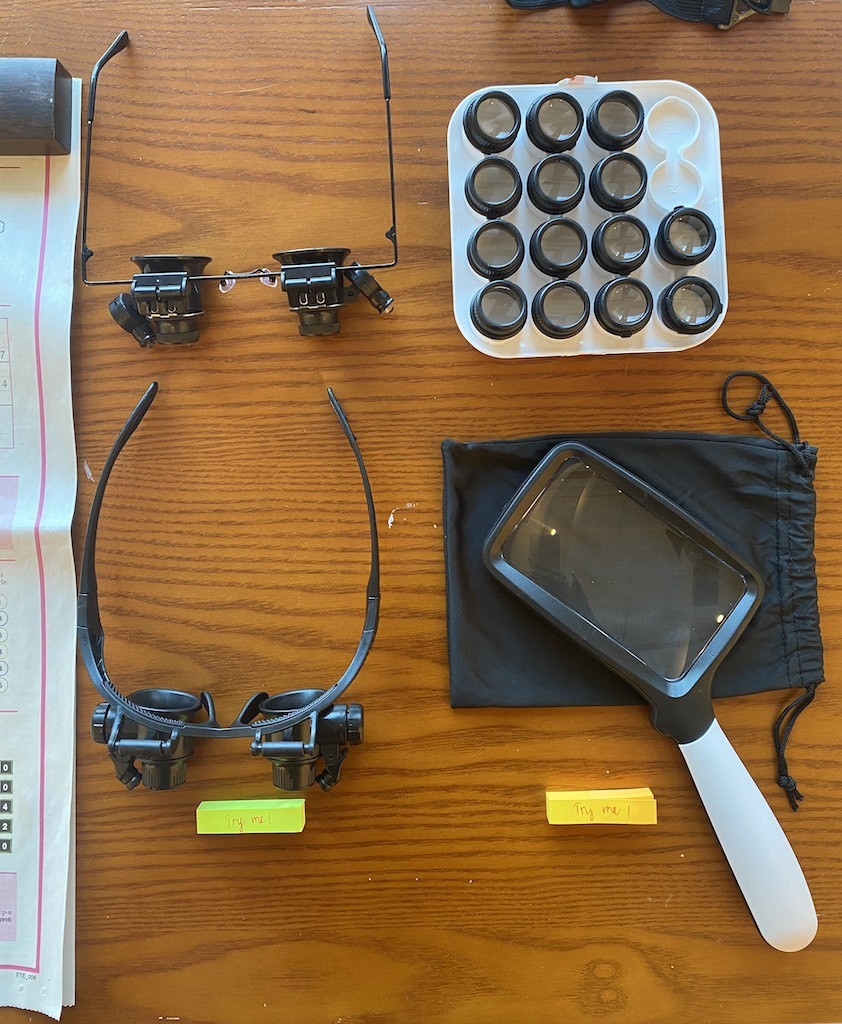 A few optomery gadgets at the exhibition (Photo: Zoey Nguyen).
The combination is a delightful riddle for followers of current affairs. They can find picture of world leaders put next to an ordinary Frenchman on the street, or the scene of a protest paired with a photo of school playground and question how they are related to each other.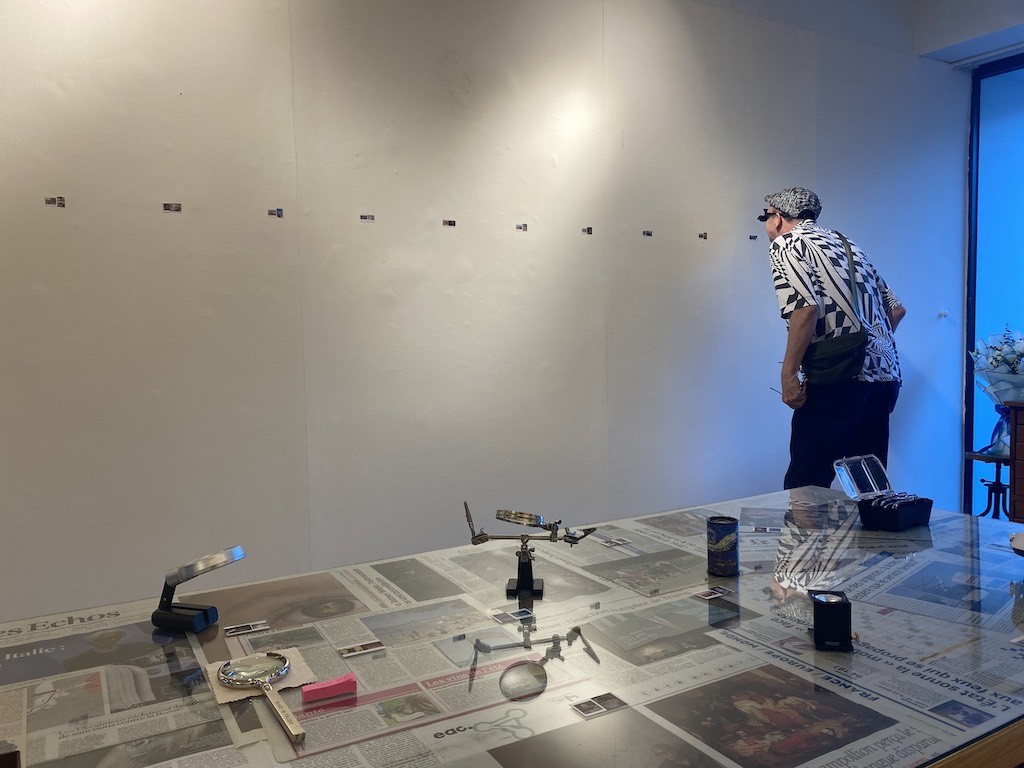 (Photo: Zoey Nguyen)
The exhibition encourages the interactive way of seeing, evidently by the eye tools placed on a wide spread of layers of newspaper - the equivalent to an overdose of information intake.
After trying and experimenting, you find many ways to view one object, all are more interactive and offer something newer than your old ways.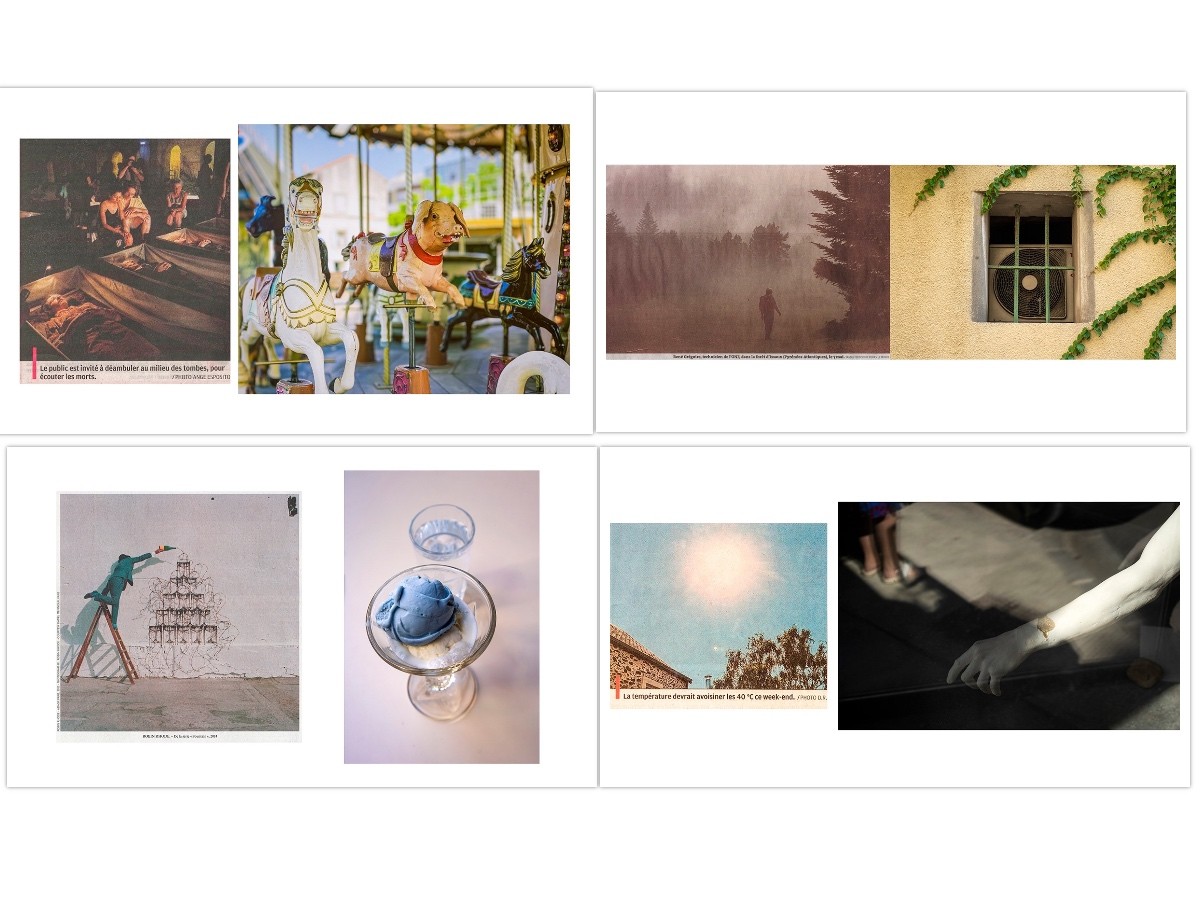 With more than twenty pairs in the collection, plus tools and other photographs, the exhibition is a reading experiment to each participant. Photo: Matca Facebook Page
Speaking to Vietnam Times about the idea behind Seeing New(s), Phuong Hoang explained that during her residency photography workshop in Arles (France) in July 2022, she had a habit of buying the local newspapers everyday.
Without knowing any French, she wanted to learn about current events through the photographs in the newspapers. For Phuong to understand the news in Arles, photo is the only source of information as she could not rely on the text part of an article.
Seeing New(s) shows that her case is not unique. Readers sometimes only look at the photos when reading the news, so photojournalism plays an important role in providing the most comprehensive narrative for the public.
The "matches" are by Phuong's design, however the viewers' perceptions of them are also eye-opening in her opinions. She believes it shows that "our eyes conceive the outside world in countless different ways. Exploring different ways to view the world is part of the fun."
About Photographer Phuong Hoang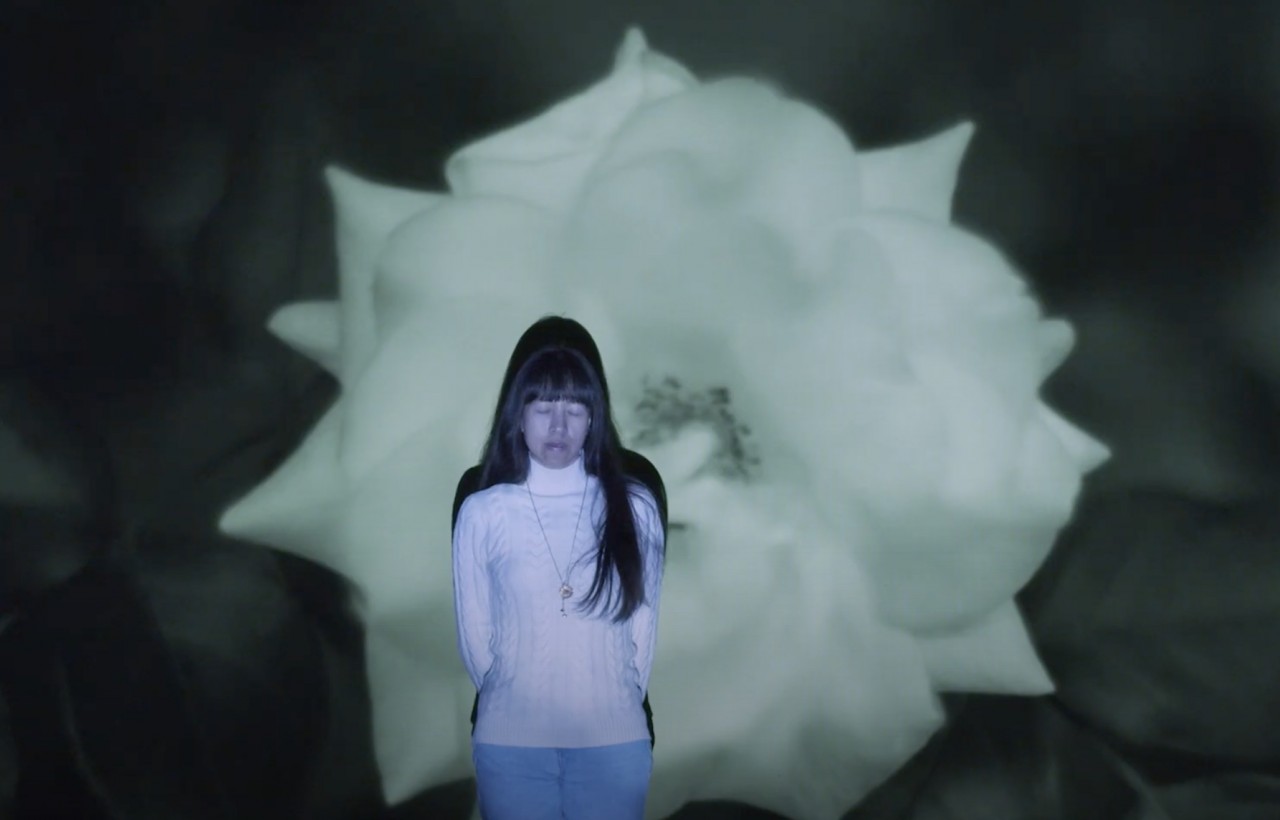 University of Europe for Applied Sciences's YouTube Channel
Phuong Hoang is a visual narrator who grew up during the 1990s in Hanoi, Vietnam. She uses photography and multimedia approaches to document and share stories about social and environmental issues, focusing on the underprivileged. She won the Scholarship Award for Excellent Photography Student by University of Applied Science Europe (Germany) in 2020.
Her work has been exhibited in European Month of Photography, OFF Bratislava Photo Festival (Slovakia), "The Long Night at The Museum" Hamburg (Germany), CONTACT Photography Festival (Canada), Goethe Institut Hanoi (Vietnam), and Ada Slaight Gallery in Toronto (Canada).
Seeing New(s) is Phuong's latest exhibition. Find Phuong Hoang's portfolio on: phuong-hoang.de.
Your perception is your reality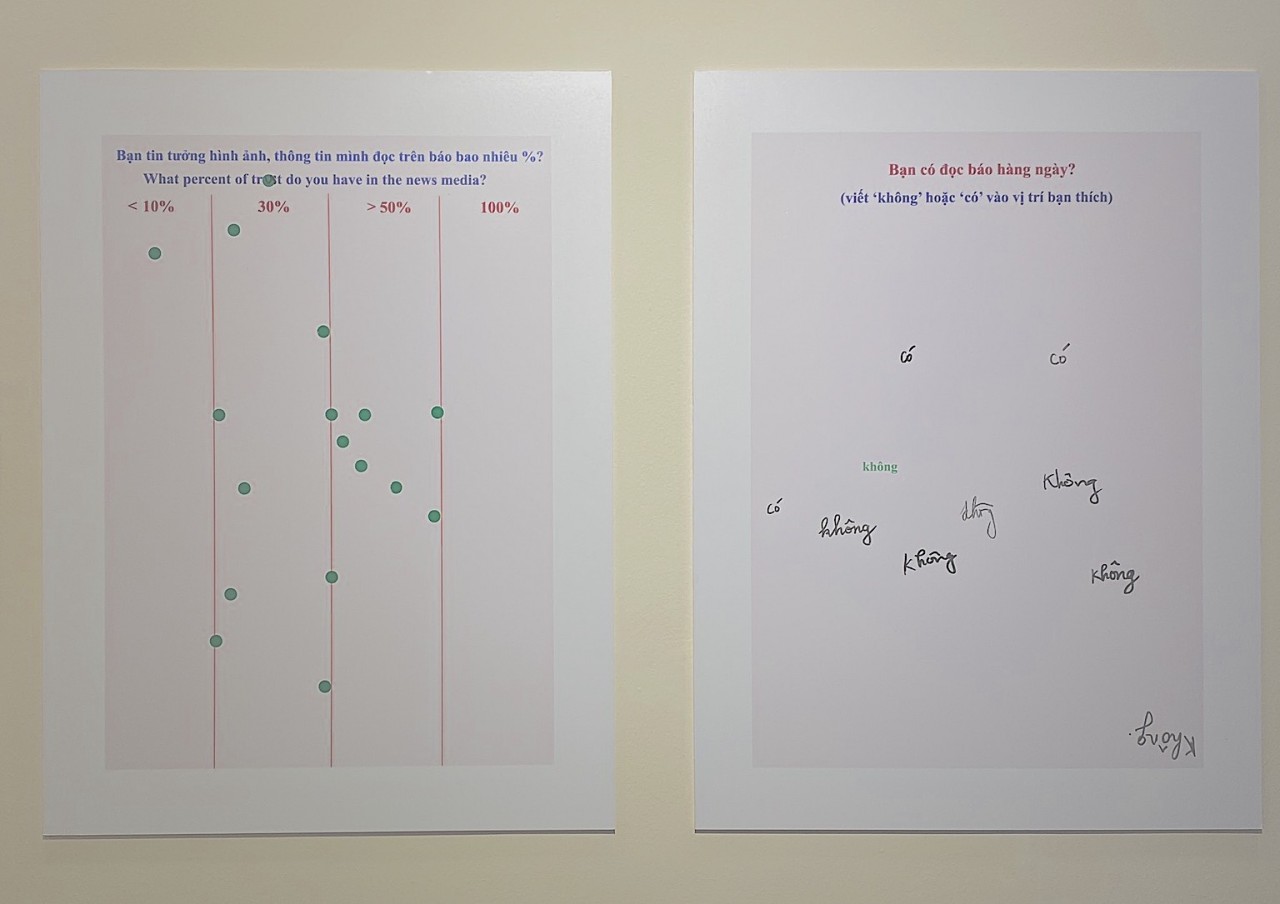 Survey questions at the exhibition from left to right: What percent of trust do you have in the news media? Do you read newspaper everyday? (Photo: Zoey Nguyen).
In photojournalism, a photographer's job is to effectively deliver the narrative through images yet they have no control over the reader's perception of the image.
The visual narration of Seeing New(s) is a thought-provoking example of how multiple news sources can widen the gap between the reality and how it is perceived. The veteran photojournalist offered some helpful advice for visual storytellers.
"The photographer must answer 5 questions in their photo: Who (is this), what (is he doing), where (is he), why (is he here), how (did it happen)?" said Phuong.
Additionally, she stressed the importance of perspective in photojournalism, based on her experiences working on sensitive projects like domestic abuse, and climate change. In an age with conflicting reports, media bias, and online misinformation campaigns, Phuong's work reminds the viewer to view news stories with a critical lense.
A change in processing news is necessary. The past two years saw a gloomy reality as the world is in a critical moment between chaos and reconstruction. Situated at a crossroad in history, the news in the modern age is filled with staggering death tolls and concerning climate reports, rarely a glimpse of hope. Seeing New(s) is Phuong's attempt to interject a sense of humor and tranquil visuals into the daily mayhem of our newsfeeds.
Phuong hosted a talk with participants and local photographers, discussing the importance of perspective in photojournalism. (Photo: Long Nguyen)
Information about the exhibition
Location: Matca Space for Photography, 48 Ngoc Ha Street, Ba Dinh, Hanoi
Exhibition time: 17 September - 3 October, 7:00 - 17:00
FREE ENTRANCE
Editor's Pick: EARTH BODY BLOOD WATER

In the latest installment of Editor's Pick, VNT Staff Writer Zoey Nguyen braves portals to the underworld to interview the international artists featured at the ...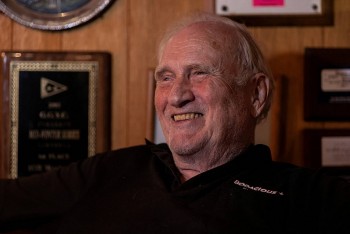 World
Alain Aspect, John F. Clauser, and Anton Zeilinger have won this year's Nobel Prize in physics for their work in quantum mechanics, Sweden's Karolinska Institute announced on Tuesday.