Editor's Picks: The Oriental Tale – a Lacquer Exhibition in Hanoi
Lacquer artist, researcher, and lecturer Dr. Trieu Khac Tien introduces art lovers to the delicate and unique techniques of Vietnamese lacquer painting in combitaion with Japanese urushi art in his latest solo exhibition.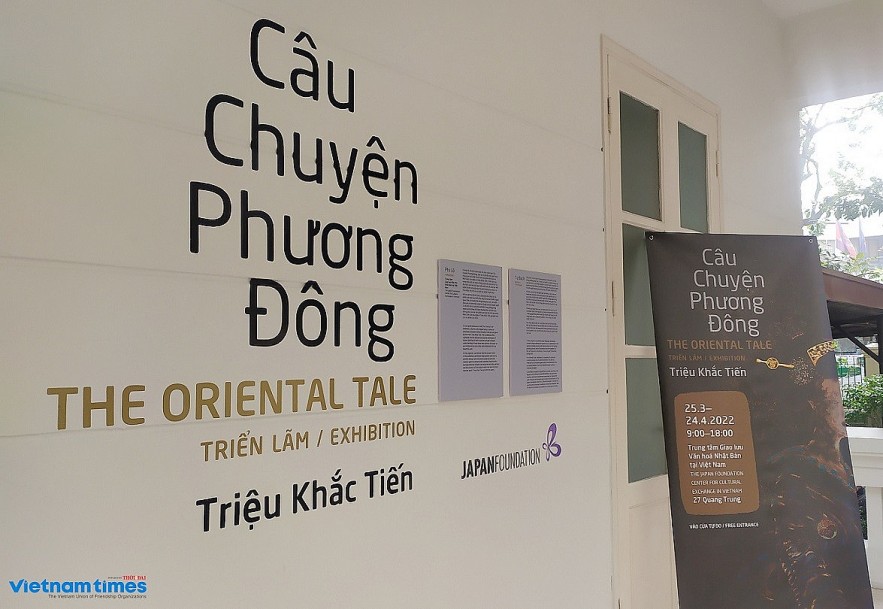 The Oriental Tale exhibition at The Japan Foundation Center for Cultural Exchange in Vietnam. (Photo: Valerie Mai/ VNT)
Shiny and transparent, lacquer has been used in Vietnamese painting and woodwork for decades. Lacquer painting, known in Vietnamese as "sơn mài," has been exploited for both practical and aesthetic reasons. By shielding wood under layers of hard, waterproof, natural lacquer, artists create a soulful piece of art.
Glamorous as it might be, the art of lacquer requires so much dedication and meticulousness that only a handful of painters can adapt. Following in the footsteps of previous masters, Trieu Khac Tien has strived to "Vietnam-ize" Japanese urushi techniques, which he studied and researched during an arduous doctorial course in urushi art at Tokyo University of the Arts.
Launched at The Japan Foundation Center for Cultural Exchange in Vietnam on March 25, the "Oriental Tale," an exhibition of lacquer paintings by Dr.Trieu Khac Tien, gives audiences an overview of his effort to blend both Japanese and Vietnamese lacquer into a multicultural marvel.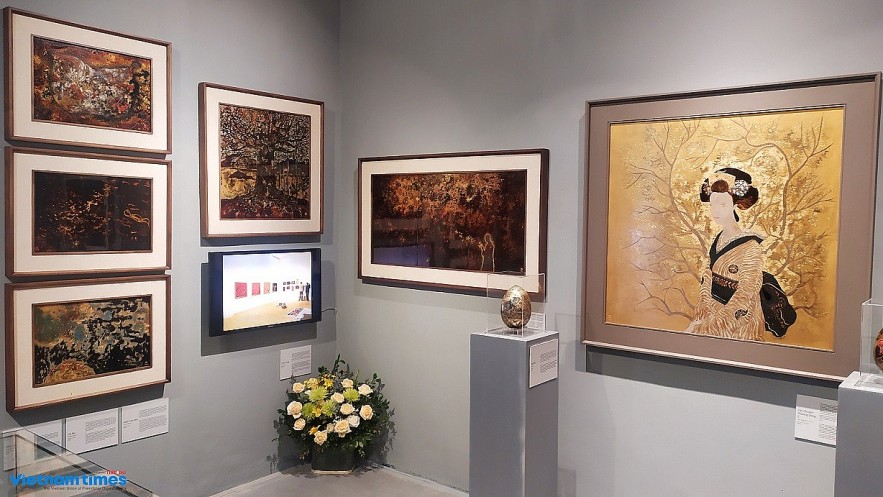 Inside the exhibition room. (Photo: Valerie Mai/ VNT)
A pass to connect Vietnamese and Japanese lacquer heritage
"The Oriental Tale is a summary of my personal journey of creation, where I experience sublimation of emotions," said Dr. Tried Khac Tien. "It is a reflection of oneself in a fortunate chance to be immersed in the cultural interference between Vietnam and Japan's long-standing lacquer art background. It is a gift to the audiences who love lacquer art. It delivers deep gratitude to the master Doan Van Nguyen and Professor Arisumi Mitamura - the great teachers who have helped me achieve today's results."
The exhibition room is an artistic melting pot, where Vietnamese and Japanese culture mingles together. There, a painting of a lady in a Japanese kimono with a traditional hairstyle is put next to demonstrations of Vietnamese cultural symbols. Elsewhere, Japanese paintings depict the natural beauty of Vietnam.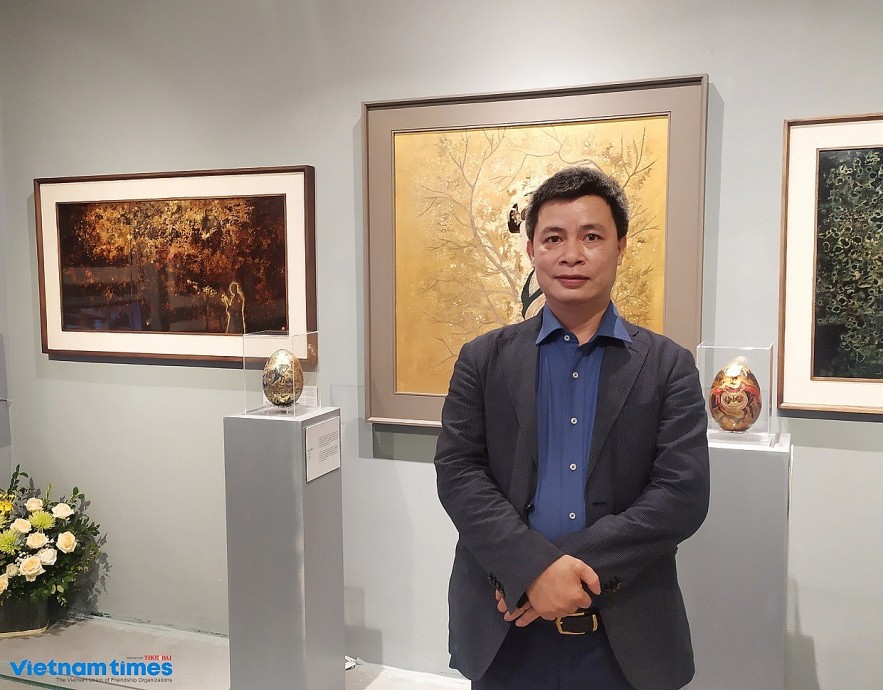 Artist, Dr. Trieu Khac Tien at the event. (Photo: Valerie Mai/ VNT)
Both made from natural lacquer trees, Vietnamese "Phu Tho raw lacquer" and Japanese "Urushi" differ in their characteristics. Therefore, the painting technique systems of each country have their own unique features.
The natural Japanese material has high quality, adhesion, and radiation, therefore, it creates very thin layers of paint, showing the delicate shades of details. However, once it dries, the lacquer leaves a hard surface that is difficult to grind. Artists must use charcoal and grindstone to achieve a flat, smooth, and glossy effect.
Meanwhile, Vietnamese lacquer is softer, making it easier to coat thick layers and grind. When grinding, the material creates a multi-color surface created by many layers of gold and silver coating. Because of such features, the process of creating Vietnamese lacquerware contains unexpected surprises.
"Both Vietnam and Japan have a long history of lacquer with similarities in materials, techniques and differences in expressions, which is closely associated with each culture. Through lacquer, one earns a deeper understanding of unique features in culture, sense of beauty and history. I take Japanese lacquer as a mirror to reflect and find new directions for Vietnamese art," the artist explained.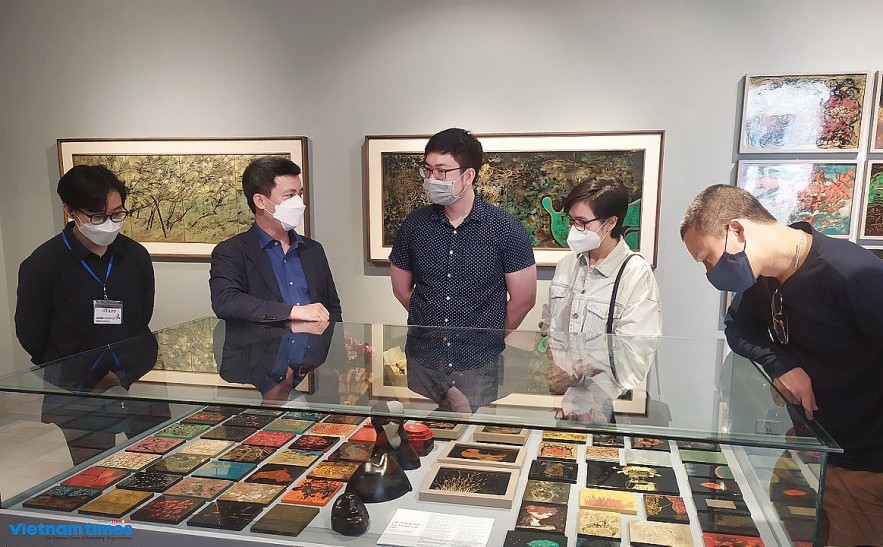 Trieu Khac Tien and guests at the exhibition. (Photo: Valerie Mai/ VNT)
Trieu Khac Tien – Gifted artist, heartful educator
Recalling his first day at the Tokyo University of the Arts, Trieu Khac Tien said he had taken his professor's words, Arisumi Mitamura, emeritus professor in Urushi art from the Tokyo University of the Arts, as his motto: "You should be only 50% a learner, for the other 50, you should be a researcher because you are a lecturer. Think of passing on your acquired knowledge to your students after returning home, creating a foundation and jointly developing the world of lacquer in new directions."
Trieu Khac Tien inherited his artistic sensibility from his father – artist Trieu Khac Le, who is also a celebrated painter. After graduating from the M.A. course at the Vietnam University of Arts with honors, he decided to continue his Ph.D. studies in Japan whilst simultaneously maintaining a teaching position at said university.
Besides Trieu Khac Tien, only two other international students - from China and the Netherlands- have managed to achieve the doctoral degree at the Tokyo University of the Arts during Arisumi Mitamura's time as the lacquer department's main professor. (Photo courtesy of Trieu Khac Tien)
"It must be noted that a doctoral degree at the Tokyo University of the Arts is extremely difficult to obtain for international students, as all the academic works must be submitted in written Japanese. Tien overcame many of the difficulties associated with the doctoral program, and graduated with high marks for both his thesis and graduation works," said Arisumi Mitamura.
On the opening day of his exhibition, Trieu Khac Tien, who is also the Deputy Dean of Painting Department, Vietnam University of Fine Arts / Lecturer for Lacquer Studies, was busy introducing his passionate works to the guests, many among whom are art enthusiasts and young people curious about Japanese culture.
Attending the event, painter, art researcher, and educator Vu Do said he was impressed by the thoroughness and vast knowledge of an artist who spent a long and challenging time in Japan researching both Japanese and Vietnamese lacquer.
"The interference between the two cultures can be seen through the material. The works of artist Trieu Khac Tien show his hard work and knowledge gained in Japan and the inner spirit and style of the Vietnamese people."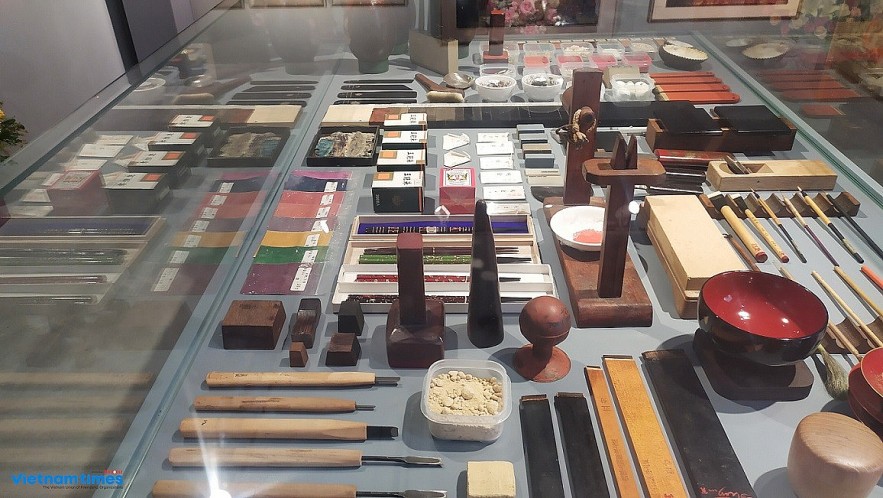 Art supplies were displayed at the exhibition. (Photo: Valerie Mai/ VNT)
Thanh Hien, a young art lover who came across a notice for the event on Japan Foundation Center's Facebook page, stopped by the venue to learn about an artist who connects Vietnamese and Japanese art. Hien, who studied Japanese at university, regards Trieu Khac Tien as an outstanding artist and a bridge to connect the two countries.
"Young people in Vietnam crave art activities. I have been to other exhibitions and witnessed their strong feelings for art. The question is how to bring art closer and easier for them to absorb," Hien said.
As a passionate lecturer, Trieu Khac Tien said to encourage young artists to develop Vietnam's lacquer heritage, it was necessary to have orientation for specialized training at professional art institutions across the country. Academic training should be paired with fieldwork. The quintessence of traditional lacquer art has to be researched, inherited, and developed. At the same time, Vietnamese lacquer, from traditional craft professions to contemporary works, should be promoted through creative activities to reach young audiences.
Thanks to his passions, skills, and academic experience in both countries, Trieu Khac Tien honors the distinctive lacquer art of Japan and Vietnam.
Oriental Tale – An exhibition by Trieu Khac Tien
Time: 25 Mar – 24 Apr 2022, 09 am – 06 pm, Free entrance
Venue: Japan Foundation Center, for Cultural Exchange in Vietnam - 27 Quang Trung, Hoan Kiem District, Hanoi
Editor's Pick: EARTH BODY BLOOD WATER

In the latest installment of Editor's Pick, VNT Staff Writer Zoey Nguyen braves portals to the underworld to interview the international artists featured at the ...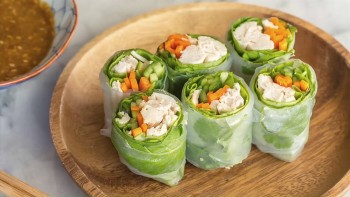 Travel
Rolls are a easy-to-make dish that is loved by many Vietnamese diners as well as Korean stars.