Eight Delicious and Traditional Hanoian Dishes
Although Hanoi cuisine has changed through time, combining East and West culinary styles, it still retains its traditional traits. In the article below, we will introduce to you the 8 simple yet delicious old Hanoi dishes for many generations.
The most significant characteristics of Hanoi cuisine culture are sophisticated simplicity with legendary deliciousness. Thousands of years have passed, and the traditional dishes of the capital still keep proving their value in the culinary culture of Vietnam.
Each food carries a special taste. Hanoi people have the habit of enjoying foods according to the season in the year and the time of the day. In autumn, Hanoi people are excited to celebrate the crop of Com (green rice flakes) in Vong village. Com is listed as a favorite specialty of Hanoi thanks to its subtle scent of young glutinous rice packed in gemstone-green lotus leaf. In cold winter, it is so great to enjoy the hot crunchy fried shrimp cakes (Banh Tom) by the West Lake (Ho Tay).
1. Pho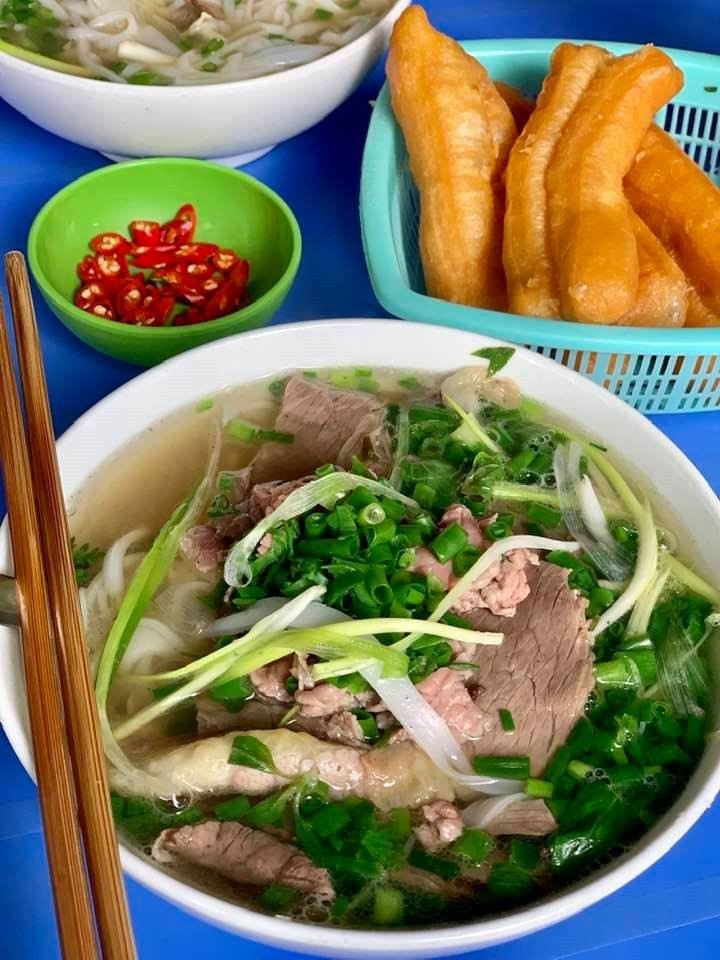 Photo: Laodong
When talking about Hanoi cuisine, Pho always stays on top of the list. Pho is a very delicate dish that has existed for a long time and has many different flavors. The main ingredients of Pho include noodles, broth, ginger, cinnamon, anise, and grilled cardamom combined with the sweetness from simmered pork bones, thinly sliced beef, along with herbs.
The most important part that makes Pho delicious is the broth. The broth should be clear in color and has a sweet, delicious taste. The secret to cooking the broth depends on each person's culinary experience.
Pho is a dish for all ages and can be eaten at any time during the day. This is the best traditional food that you can find in both luxurious restaurants and street vendors. Nothing is better than having a bowl of delicious Pho on a cold winter day in Hanoi, which will warm your body and give you energy for the rest of the day.
2. Bun Cha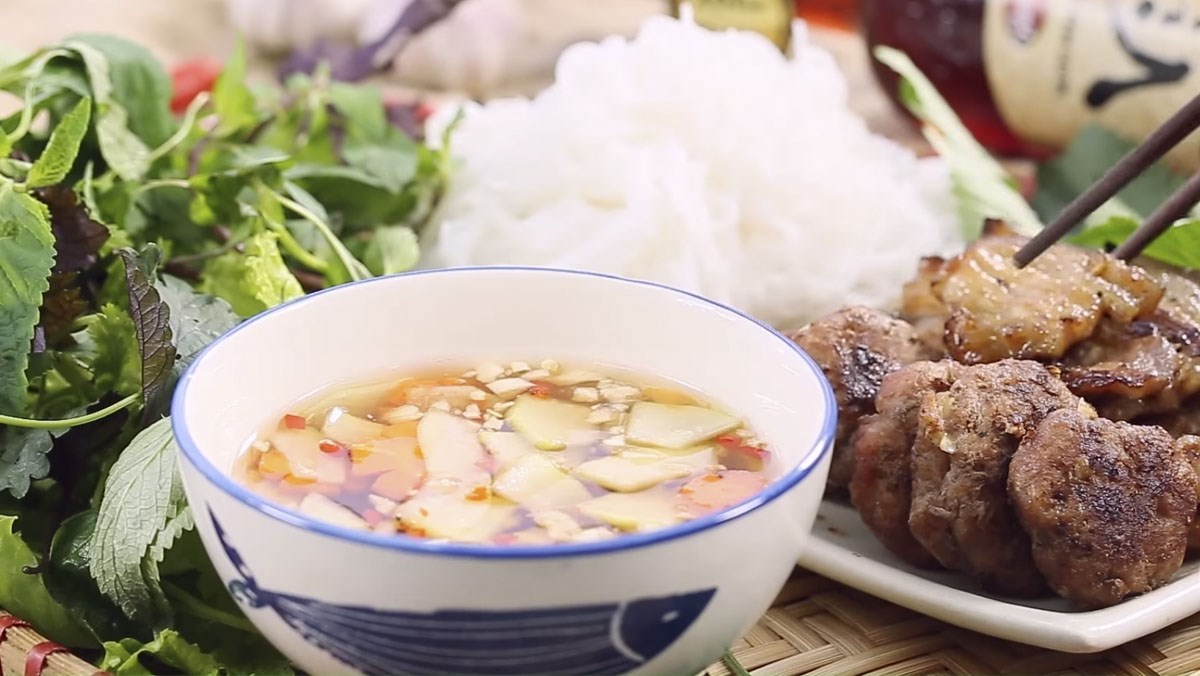 Photo: Foody.vn
Bun Cha (Grilled Pork with Rice Vermicelli) is a very common dish that is thought to be originated from Hanoi. Bun Cha can be easily found in Vietnam's busy capital city from elegant restaurants to simple street vendors on narrow streets. Along with Pho, Bun Cha also stands for Hanoi's stunning cuisine culture which is the perfect combination of rice products, meat, veggie, spices, and local special dipping sauce.
Bun Cha can be eaten as the main meal in the day, from hurry breakfast to complete lunch then hearty dinner. However, bun cha is the top choice when it comes to lunchtime in the capital. It becomes more irresistible when the incredibly aromatic smell of grilled pork pervades the streets, which tempts any hungry stomach after a busy day.
It's not hard to find a street vendor serving Bun Cha along narrow streets in Hanoi Old Quarter. As the recipe of Bun Cha is fairly simple and easy, there is not much difference between restaurants. The selling point of each place must be their technique for delicious grilled pork, dipping sauce, and spring rolls.
3. Bun Thang (Hanoi Combo Noodle Soup)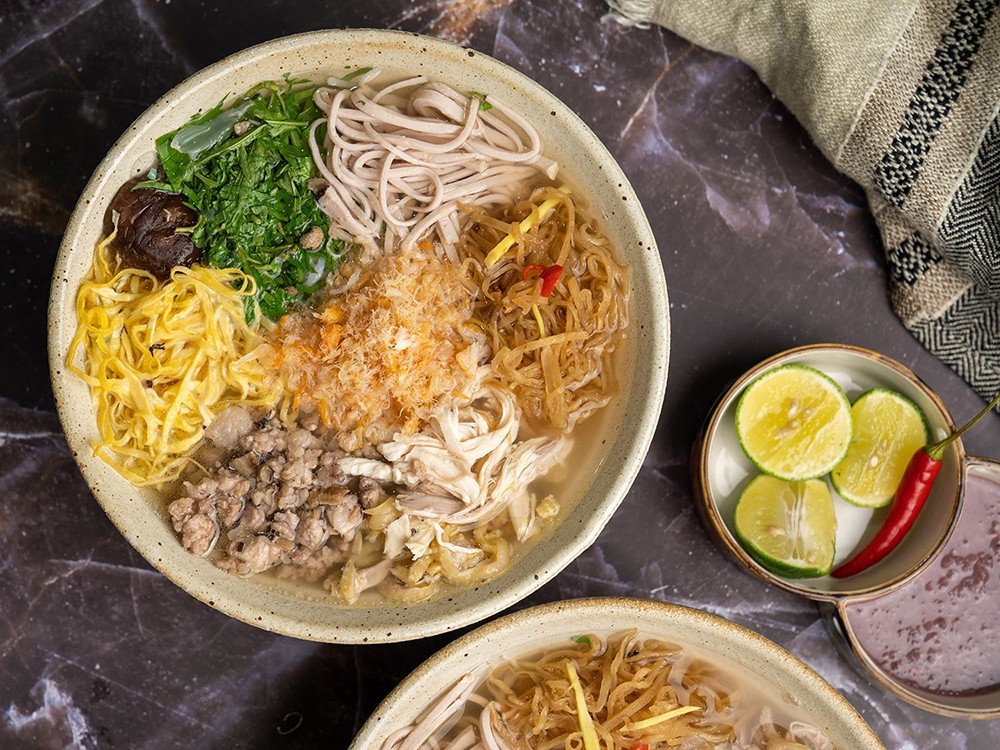 Photo: NgonAZ
A standard bowl of Bun Thang (Hanoi Combo Noodle Soup) includes vermicelli, boiled chicken, omelet, spring rolls, spring rolls, shiitake mushrooms, and dried radish. The sweet taste of the broth blends with the taste of chicken, the greasy bit of eggs, and the strong aroma of shrimp that make you fall in love at the first bite.
Bun Thang is a specialty of Hanoians. This delicious food originates from the processing of leftovers after the Tet holiday into an attractive dish, which requires a lot of skills and experience to make the perfect bowl of Bun Thang.
The bowl is beautifully garnished with green onions, Vietnamese coriander (Rau Ram), fried shallots, a few slices of red chili peppers, a wedge of lemon, and a dollop of fermented shrimp paste on the side.
Shrimp paste has a strong pungent smell on its own. However, when added to the broth, the pungent smell is no longer noticeable, and it gives the broth a nice earthy aroma.
4. Cha ca La Vong (La Vong Grilled Fish)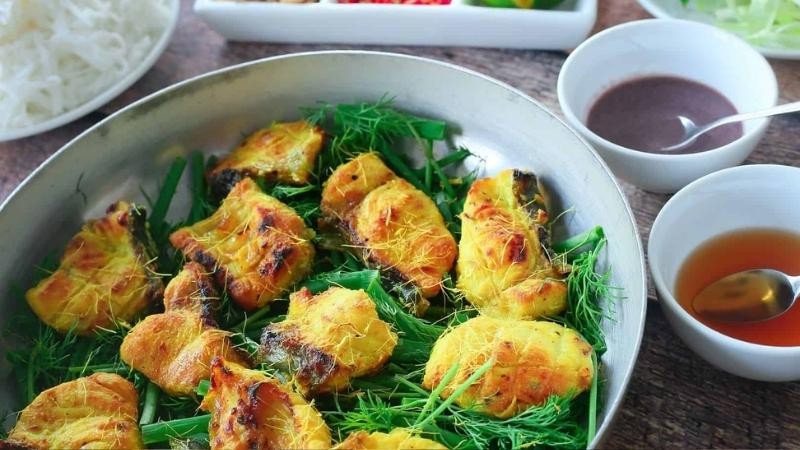 Photo: Bach hoa XANH
Cha ca La Vong is a Vietnamese grilled fish dish, originally from Hanoi. The dish is traditionally made with hemibagrus (or ca lang in Vietnamese). The fish is cut into pieces and marinated in a turmeric-based sauce, which often includes shrimp paste or fish sauce, ginger, and chili peppers. Sometimes, saffron is used instead of turmeric. It is then lightly grilled over charcoal. The dish is served in a hot pan coated with marinade sauce and herbs, particularly dill. Other herbs, such as scallions or basil, may be included. It is eaten with vermicelli rice noodles and peanuts. Cha Ca La Vong is considered a delicacy in Vietnam, and is loved by tourists from around the world.
Patricia Schultz has included Cha Ca La Vong in her book "1000 Places to See Before You Die".
5. Banh Cuon Thanh Tri (Thanh Tri Steamed Rice Rolls)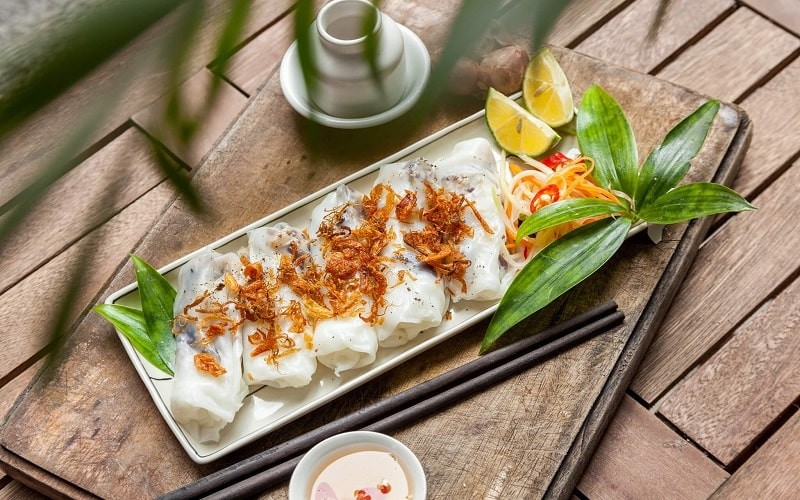 Photo: Du lich Viet Nam
About the snack foods of Hanoi, Banh Cuon Thanh Tri (Thanh Tri steamed rice rolls) must be mentioned at the top of the menu. Banh Cuon is a very thin and light piece of rolled pancake with sliced black mushrooms and fried spring onion inside. When Banh Cuon is cooked, the tender smell of rice spreads out.
To Hien Thanh Street is a place where you can enjoy thin, transparent, fragrant rice cakes covered with golden fried onions, and the delicious fish sauce creates a fragrant taste in your mouth.
6. Cha Ruoi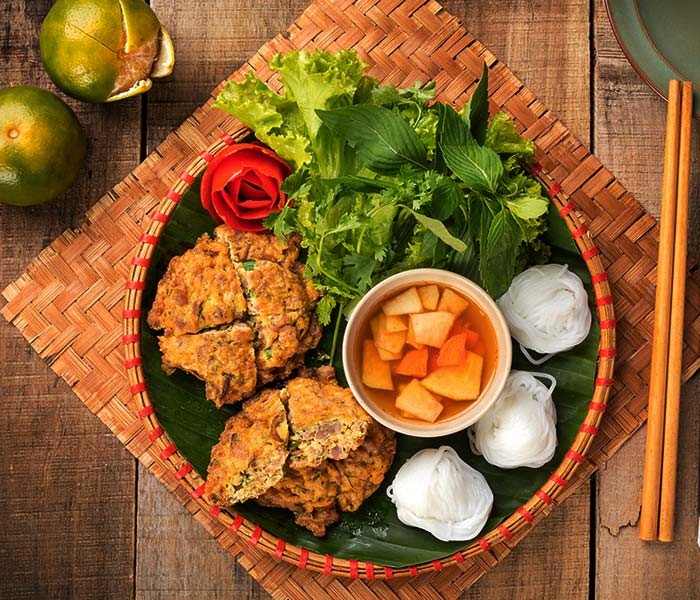 Photo: SCMP
Cha Ruoi is a Vietnamese dish made from the polychaete worm, and it is one of the most popular dishes in Hanoi. The dish is prepared from live sand worms, which are put in hot water to remove their tentacles, and then mixed with raw egg. Onions and various spices are added, and the mixture is then fried until it obtains a crispy brown surface.
Because sand worms can only be found in autumn, the dish is not available year-round and is considered a specialty during the autumn. Some vendors use frozen sand worms to be able to serve the dish year-round, but the taste of the fresh sand worms is considered the best among other traditional dishes.
7. Banh Ran Luc Lac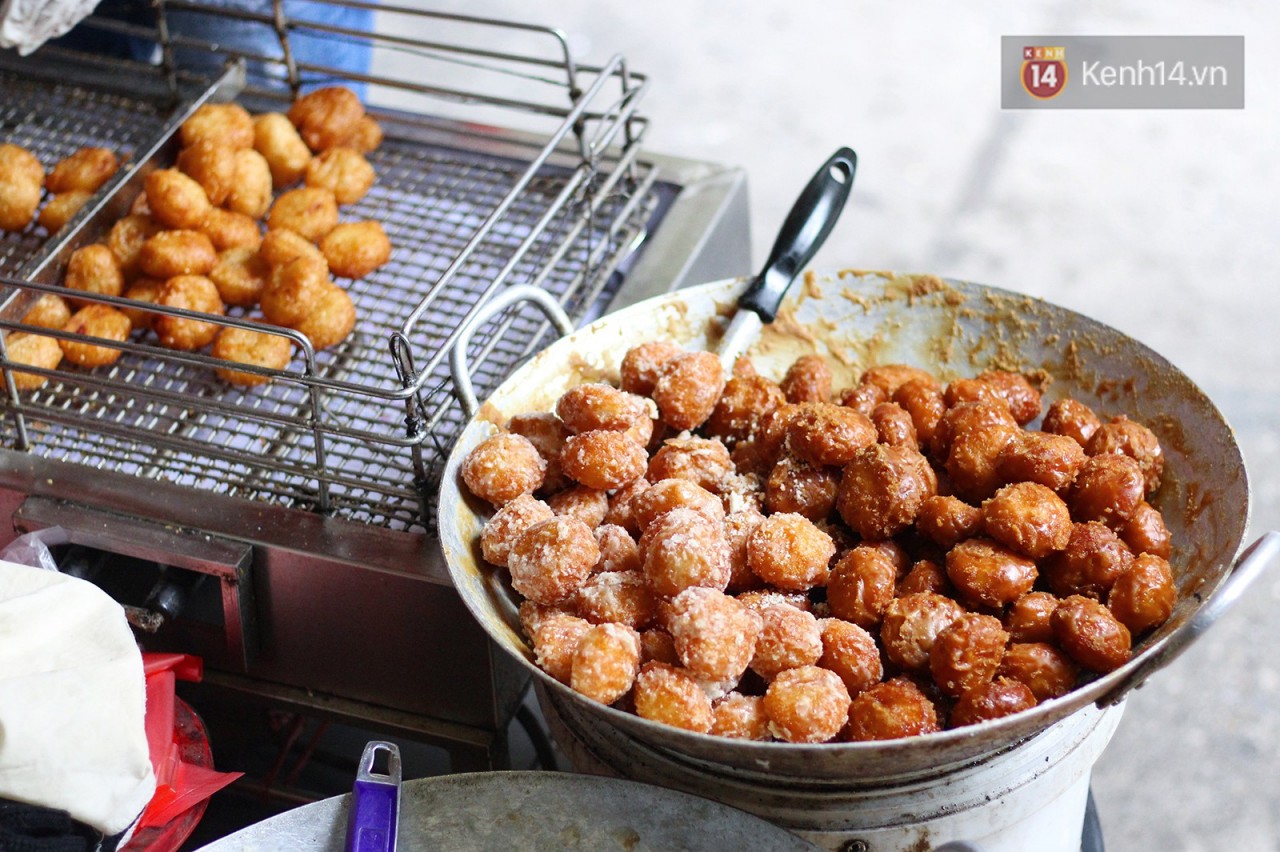 Photo: Wecheckin
The cake is golden yellow, the outside is covered with fragrant roasted sesame. When you hold the cake and lightly shake it, you can hear the "rolling" (luc lac) sound of the small green bean ball inside it.
This makes the unique character of Banh Ran Luc Lac – a traditional dish in Hanoi.
8. Banh Tom (Shrimp Cake)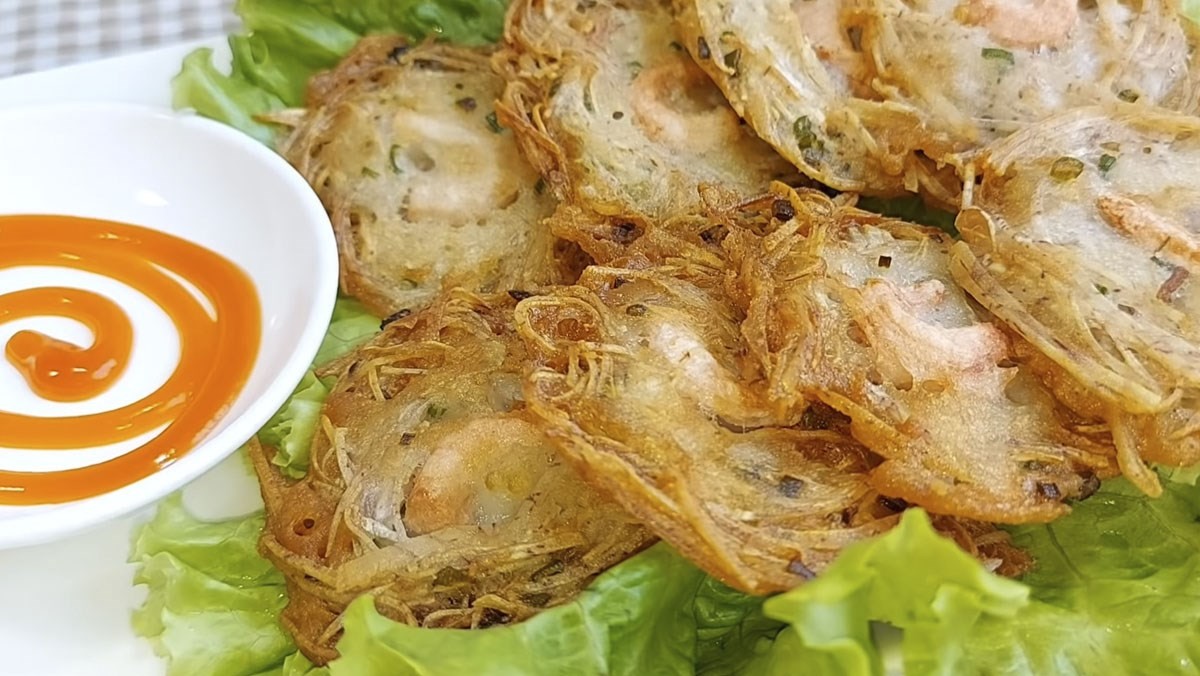 Photo: Dien may XANH
The most well-known Hanoi shrimp fritter is West Lake shrimp cake, it's made of shrimp caught from Hanoi West Lake or the nearby Red River.
In Hanoi, shrimp cakes were made with batons of sweet potato and with shell and head-on shrimps. As the recipe spread to southern Vietnam where herbs were more abundant, the fritters started to bring served with lettuce for wrapping, herb leaves for seasoning, and flavored fish sauce for dipping.