American Man Loves To Cook Vietnamese Food
In June, Chad Richard Kubanoff, his wife, and three children returned to Vietnam after many years in the US. Since then, his followers on social networks have been attracted to the American guy by hundreds of Vietnamese dishes.
On his TikTok account, which has 359,000 fans and 10.2 million views, Chad Richard Kubanoff shows Vietnamese dishes cooked by himself such as bitter melon soup stuffed with meat, vermicelli noodles with grilled meat, braised meat with fish sauce, sauteed pickles with eggs and boiled eggs with fish sauce.
Fate with Vietnamese cuisine
Chad said that before being a full-time online content creator, he had been a chef since he was 18 years old. In 2008, he moved to Ho Chi Minh City (HCMC) to work.
"I quickly fell in love with Vietnamese ingredients, cuisine and dishes," he said.
At that time, Chad said he was lucky to be able to have meals at work, so he could enjoy the dishes that Vietnamese people eat with their families every day.
"On my day off, I find everywhere in the city to try all the dishes I can have. I also try the same dish in different restaurants to see how people cook. It helps me understand the popular dishes at the restaurant as well as the everyday rustic dishes", Chad explained about the opportunity to help him understand Vietnamese cuisine.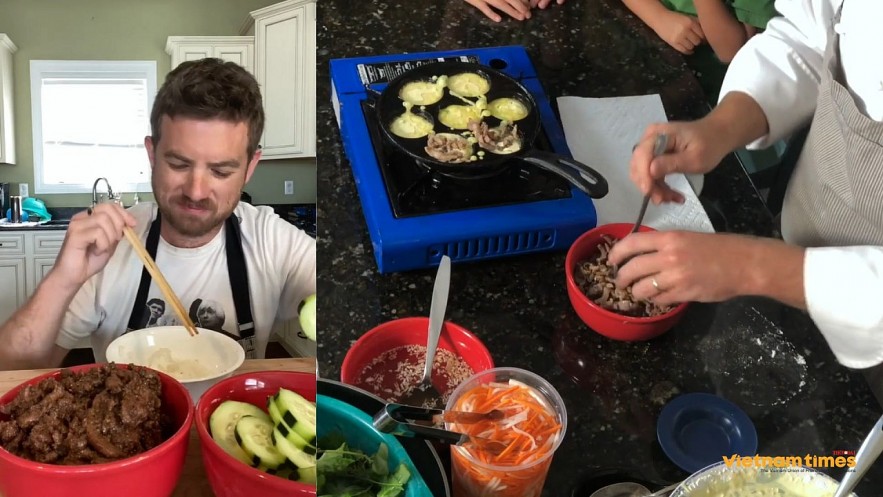 Chad Richard Kubanoff. Photo: VNT
While working in Ho Chi Minh City, Chad met and got married with a Vietnamese girl in 2011. Before the wedding, he quit his job and rode a motorbike through Vietnam with his wife, visiting many places and enjoying delicious food.
Then, Chad's love of Vietnamese cuisine led him to a new job. He founded a company specializing in providing motorbike tours to take foreign tourists to enjoy the street food that he considers the best in HCMC.
"This forced me to learn about the vendors and the streets of Ho Chi Minh City very carefully, and also forced me to be professional at explaining dishes and ingredients to tourists from all over the world," he said.
By the time his wife completed the procedures to go to the US, in 2013 the couple returned to Pennsylvania together. Chad opened a restaurant selling Vietnamese street food there.
Although only operating for 2 years, his restaurant has received positive feedback from diners and professionals. Food website Eater also had an introduction to Chad's Same Same restaurant.
Passion for Vietnamese food
Chad is still passionate about cooking Vietnamese food now. "I wouldn't say Vietnamese food is hard to learn because once you understand how food is made and how to taste it, all cuisines are the same", he shared.
"The point is that there are a lot of new ingredients that I've never tasted or cooked, so I have to taste a lot to understand these new flavors and how they match."
Chad said there are some techniques that he still needs to practice more, such as making wet cakes, Hue cakes, roast pork and pan using technique.
One of the best Vietnamese dishes that Chad feels proud to cook is Bun Bo Hue. "Many Vietnamese in Philadelphia (Pennsylvania) thank me for giving them the authentic taste of their homeland with a bowl of beef noodle soup," he said.
"Every dish I cook, no matter what culinary background, always has to go through a 'Vietnamese filter,'" Chad compared. "Even when I cook Italian food, I will eat with pickled chili or a little lemon, and definitely must have fish sauce. Life in Vietnam has changed the way I cook forever."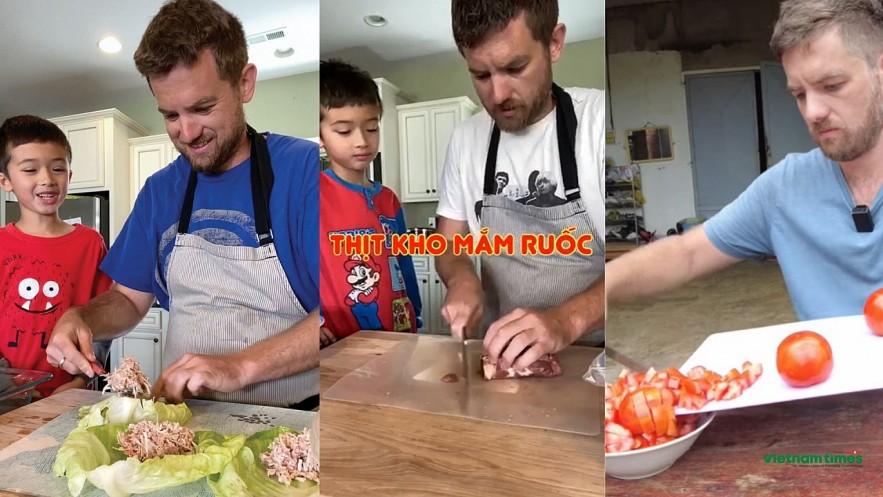 Chad Richard Kubanoff. Photo: VNT.
According to Chad, overseas Vietnamese like to watch videos of him cooking Vietnamese dishes because they remind them of their homeland, while foreigners like to watch them because it's completely new to them.
He and his wife plan to stay for a long time in Vietnam because this is the first time their children has met their Vietnamese relatives. Chad still plans to travel to many places, to make videos and to share as much as possible about dishes, ingredients for overseas Vietnamese as well as foreigners.
He also aims to learn how people make fish sauce, shrimp sauce, and other Vietnamese specialities. He wants to learn how to make all kinds of food from bread, banh tet, banh chung or even moon cakes.
Chad started making videos about his life in Vietnam because he wanted other professional chefs to know more about Vietnamese cuisine. Surprisingly, most of Chad's video viewers are not professional chefs as he thought.
"Some people are foreigners who love new dishes, some are tourists who have been to Vietnam and miss this land. There are also Vietnamese overseas who feel homesick, but I find it most shocking and exciting when the first or the second generation overseas Vietnamese tell me that I inspire them to connect with Vietnamese culture, to feel proud of their Vietnamese origin," said Chad.