Em Vui Platform Educates Youth on Child Marriage, Human Trafficking
Em Vui online platform raises awareness among ethnic minority youths on preventing child marriage and human trafficking.
The internet brings about connectivity and information access but also exposes ethnic minority youth to risks of early marriage and human trafficking. Still, with appropriate guidance, these youth can learn how to protect themselves on the Internet. This can be achieved through captivating animation series or informative games through which youngsters can learn about trafficking or unwanted marriage traps on Em Vui website or mobile app, heard a workshop in Hanoi.
On May 22 in Hanoi, the Institute For Social Development Studies (ISDS) in collaboration with its partner Plan International in Vietnam organized a workshop to introduce the products of the Em Vui Project.
The event aims to introduce educational and communication products to raise awareness on the prevention of child marriage and husband trafficking for ethnic minority youth in four provinces of Ha Giang, Lai Chau, Quang Binh and Quang Tri.
The work is co-implemented by ISDS and Plan International Vietnam, with financial support from European Union in Vietnam and Plan International Belgium.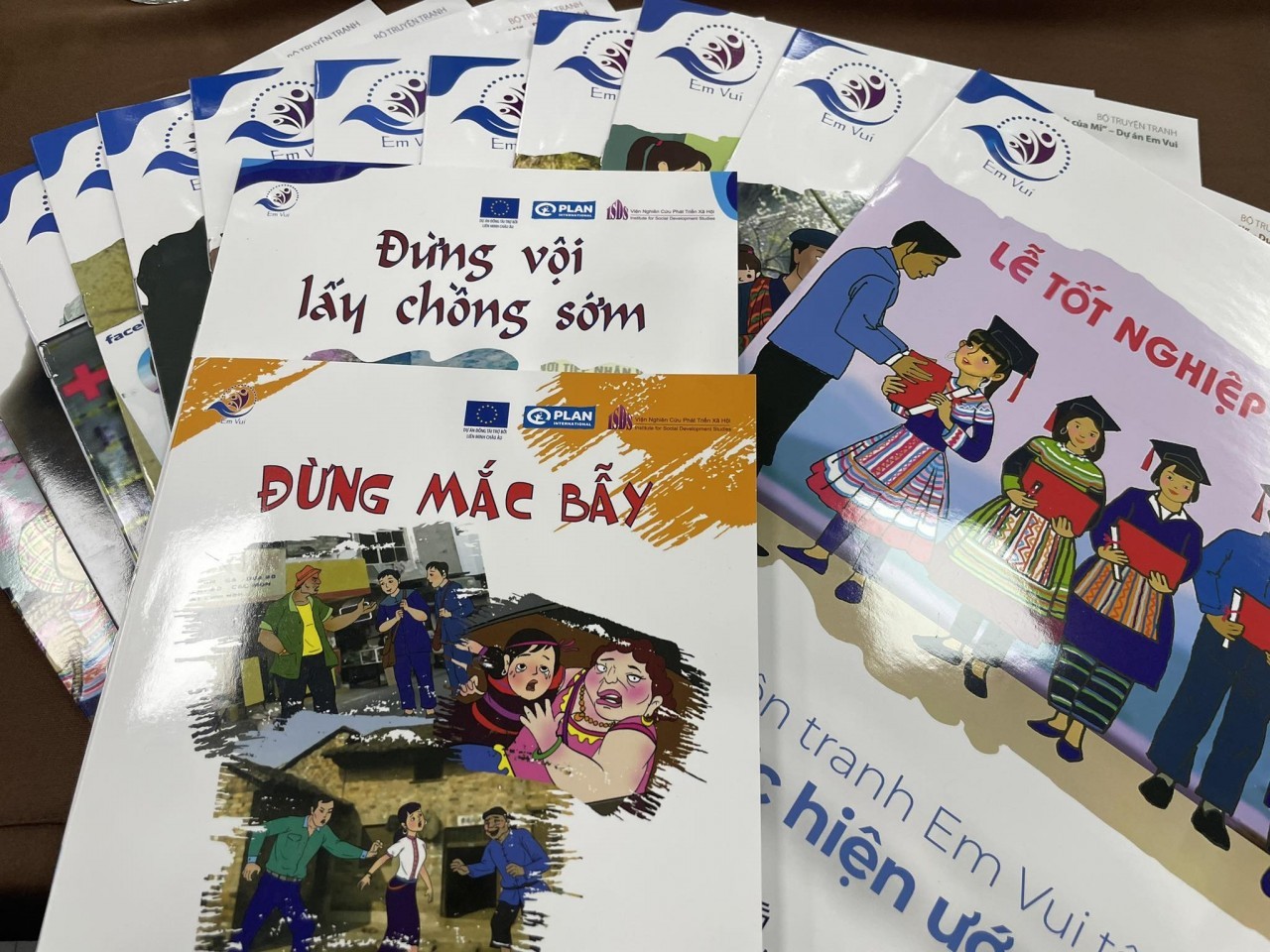 Educational and communication products to raise awareness on the prevention of child marriage and husband trafficking for ethnic minority youth in 4 provinces of Ha Giang, Lai Chau, Quang Binh, and Quang Tri.
Harmful practices and customs die hard
Poverty, harmful practices, outdated customs and gender inequality are key drivers of child marriage in Vietnam, particularly in ethnic minority communities in rural areas.
In many remote areas, marriage and schooling are viewed as incompatible, and decisions about removing a girl from school and marrying her off at a young age are often made at the same time. Many families consider their daughters getting married as a means to reduce economic pressures on the family. In Vietnam, despite the Law on Marriage and Family setting the minimum age for marriage at 18 for women and 20 for men, the rate of child marriage is particularly high in ethnic minorities living in the northern mountainous, Central Highlands, some central provinces and the Mekong Delta.
Although there has been some progress, in many cases, children under the lawful age for marriage wanted to get married early. They announced their decision and even told their parents they would commit suicide, or leave home if they were opposed.
With increasing use of the internet, social networks and mobile phones, children can easily contact each other.
The boys are usually more active in seeking marriages, as according to traditional customs and thinking, a boy becomes more mature and has higher social status if he gets married.
The girls, though less actively than boys, want to marry for fear their lovers will find someone else. In many cases, the girls want marriage after becoming pregnant or seeing other girls in the neighborhood get married.
For these reasons, it is not a surprise to see young women being grandmothers in their 30s. This is a vicious circle, from poverty and lack of education to health consequences for early pregnancies for both mothers and babies. In some cases child marriage is a form of "servile marriage" that brings to domestic servitude and greater risk of experiencing spousal violence.
Cultural and social pressures force girls to prove their fertility after marriage. In addition, the barriers to contraceptive information and services leave many girls trapped in child marriages.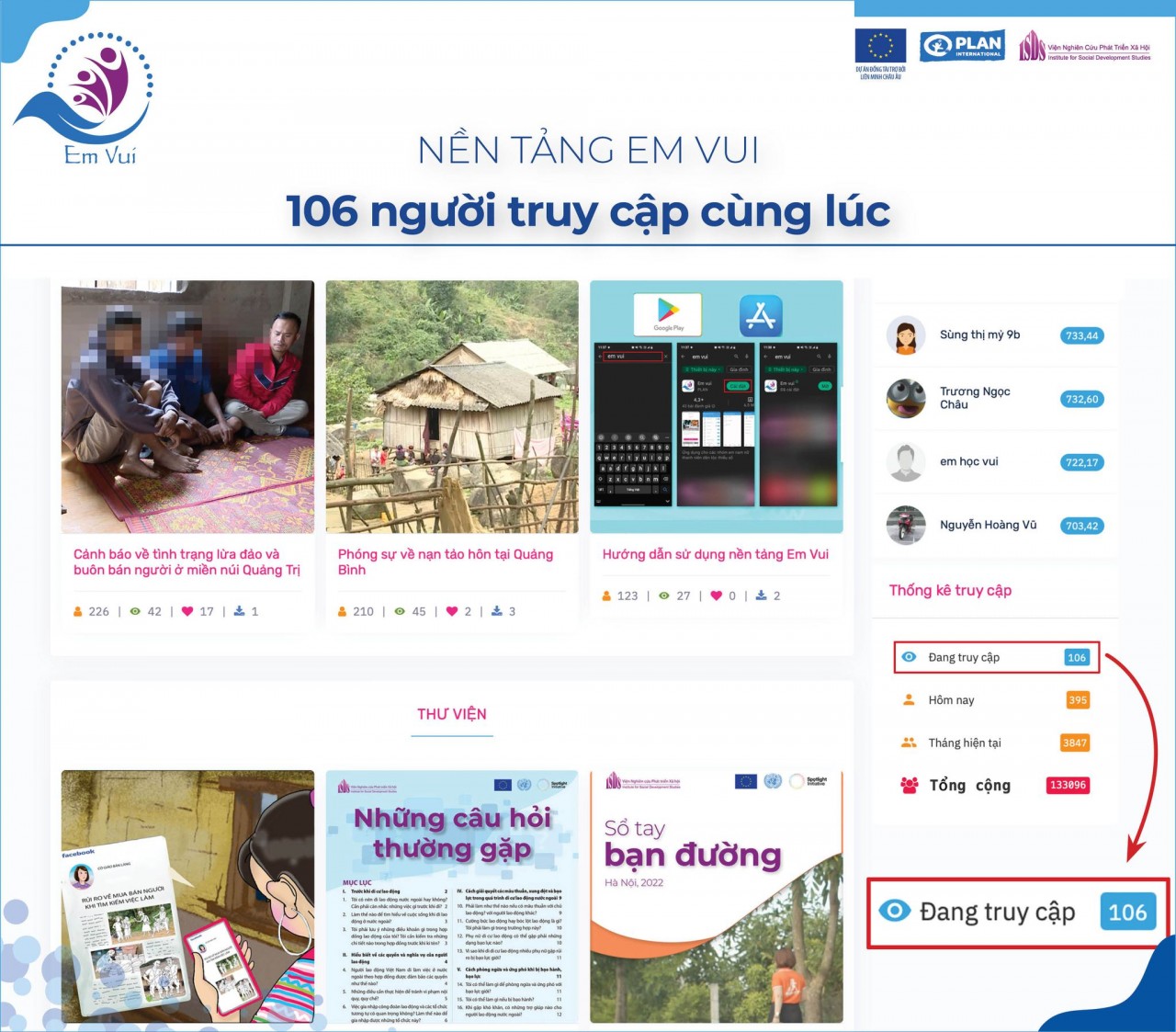 The "Em vui" digital platform on website. Source: Em Vui/FB
Taking advantage of digital development
The EMPoWR project or "Ethnic minority girls, boys, young women and men use the digital space to understand and claim their rights, access support services and raise their voice towards policymakers" that is co-financed by the European Union (EU) and Plan International Belgium and co-implemented by the ISDS and Plan International in Vietnam.
The EMPoWR project is sited in 52 communes of 11 districts of Ha Giang, Lai Chau, Quang Binh and Quang Tri provinces. It contributes to enabling ethnic minority girls, boys, and young women, and men (age 10 to 24 years) to use the digital space to learn online safety skills, understands and claim their rights, access support services and raise their voice towards policymakers.
Em Vui platform, which translates as "I'm happy", is the core action of the EMPoWR project. The platform can be accessed via www.emvui.vn and is also available on popular social media platforms such as Facebook, Tiktok, Zalo, Youtube, Instagram and Twitter.
During the past three years of operation from June 2020 to June 2023, Em Vui has built a lot of educational and communication products. First of all, there are 12 episodes of the animated series "The Journey of Mi". These are episodes that are built from real documents, close to ethnic minority teenagers. Besides, it also produces comic books such as "Don't be fooled" or "Don't rush to get married early".
There have been six stories mentioned in the comic book "Don't be fooled" which are stories that reflect the reality of human trafficking and exploitation cases, including high-paying easy jobs, trafficking recruitment online, surrogacy, marriage trafficking, adoption, and online dating. The comic book "Don't rush to get married early" includes four stories reflecting the reality of child marriage, unwanted pregnancy, online dating, and forced marriage.
Following the scheme, communications to improve public awareness of child marriage and relevant laws has been boosted and carried out in various forms depending on the features of each locality, such as on TV, radio, newspapers, posters or talk shows, and community meetings.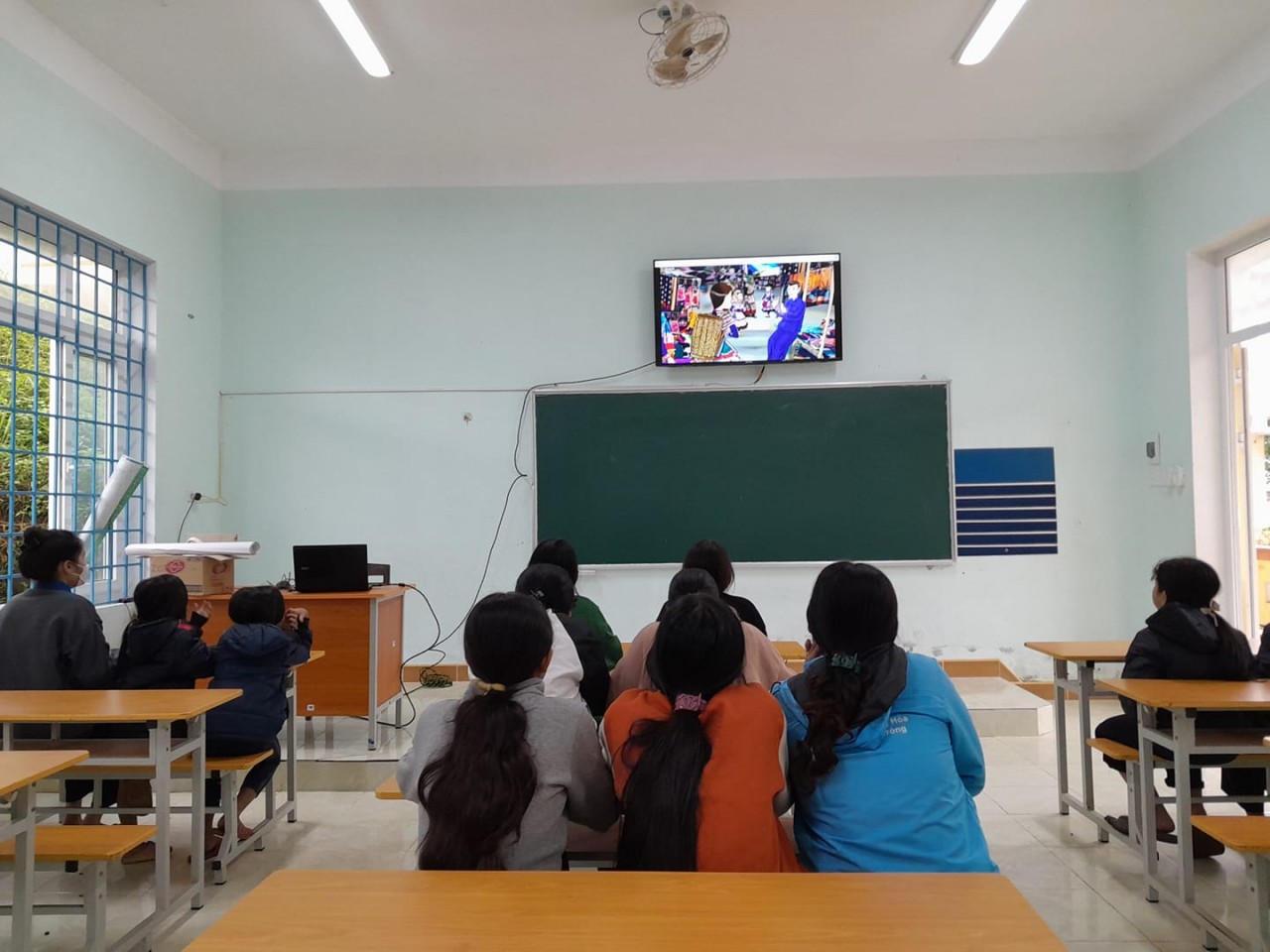 Students watch a Em Vui's cartoon episode.
In addition, the project also includes illustrative videos on safe internet use; a library with nearly 150 lessons, reporting, theatrical skits, dialogues, and seminars between ethnic minority youth and representatives of local authorities on issues related to child marriage, human trafficking, reproductive health, education and jobs and many other products have been posted on the website and the application.
The target audience of the project is 17,200 ethnic minority youth aged 10-24 who directly benefit from the project's activities, until the end of the implementation phase. The project is expected to reach out to more than 57,400 ethnic minority children across the four project provinces.
As of May 20, Em Vui had nearly 200 videos and learning materials on knowledge related to online safety, reproductive health, prevention of child marriage and human trafficking, and legal knowledge.
The platform is uniquely designed to be 'data light,' meaning it can be accessed in remote areas where internet connectivity is not as strong. Essential information shared on the platform will be handed out as an infographic leaflet to those without internet and digital tools.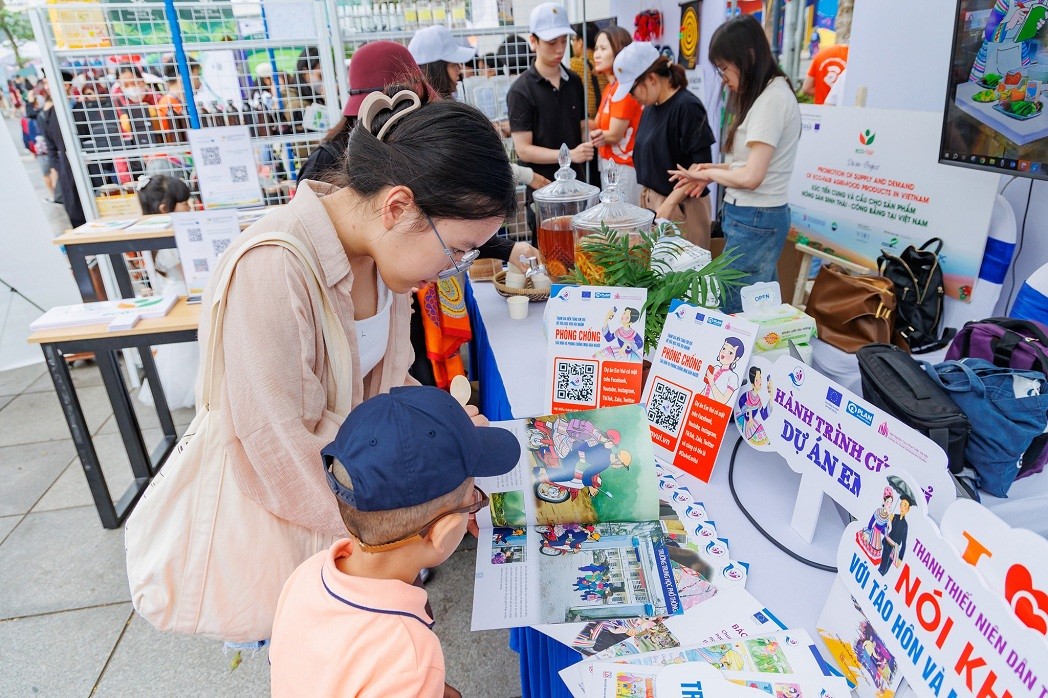 Children and young people look at Em Vui's materials and comic books at the recent "2023 Europe Village" event in Hanoi. Source: Em Vui/FB
Sharing at Ha Giang bridge point, Nguyen Thi Hong, a teacher of Chien Pho Secondary School, Hoang Su Phi district of Ha Giang province, shared that she and other teachers often use materials on the Em Vui platform in their extracurricular classes. Moreover, videos, questions are used in knowledge contests on prevention of child marriage and human trafficking. In addition to life skills lessons or extra-curricular activities, they also use a variety of resources on Em Vui's online library.
"It is a very useful and interesting resource for both teachers and students to learn about many different topics. The students found the cartoon series "The Journey of Mi" to be their favorite, and they were also very excited waiting for next episodes," Hong added.
A student from Chien Pho Secondary School, have installed and used Em Vui for quite some time. She finds it useful lessons integrated with many cartoon series, with many pictures and interesting stories about ethnic minority youth. She is able to learn about her rights, adolescent reproductive health and other topics – she can now direct her friends in danger of child marriage to the platform, uses data to illustrate how child marriage and schooling are related, and raising awareness of their communities.
She even shared her dream of getting into college and finding a stable job, hoping that the project will be continue, not only for ethnic minority youth in the project areas, but also for young people nationwide.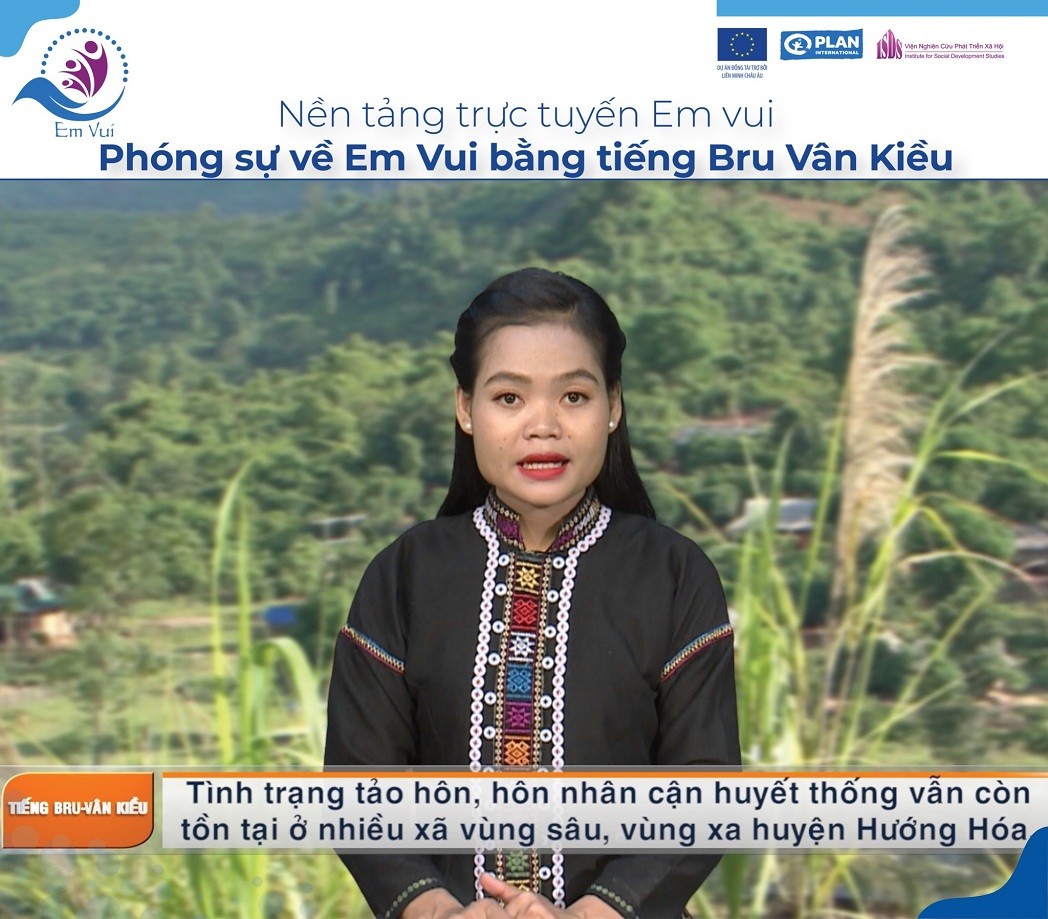 A report in Bru-Van Kieu language about using the online platform Em Vui in Huong Hoa district, Quang Tri province. Source: Em Vui/FB
Speaking at the workshop, Dr. Khuat Thu Hong, ISDS director of and project head, pointed out that Em Vui has really become a trusted friend of thousands of ethnic minority youth and youth and a useful information channel for teachers and local officials. The educational and communication products are very friendly and close to children, making it easy for them to find out information and equip them with necessary skills to prevent child marriage and trafficking.
Up to May 17, 2023, the Em Vui digital platform had developed about 200 videos and documents on knowledge related to online safety, reproductive health, and prevention of child marriage and human trafficking; 7,648 registered members; 145,649 hits; as well as thousands of interactions, comments, lessons, downloads.
In order to increase the student's interest and enthusiasm to learn about social networking and online safety skills, as well as knowledge about child marriage and human trafficking, encouraging gifts have been presented to highest-scoring students when they answer a list of questions after watching a video or cartoon episode developed by the project.
Top 10 members currently have the highest points of Em Vui Online Platform as of July 12, 2022. They improve the points by participating in watching videos, reading documents, answering questions, sharing ideas on the platform.