Enjoying Japanese Cuisine in Vietnam's Capital
Japan is an undoubtedly one-of-a-kind spot for food lovers. Fortunately, Hanoians are blessed with several amazing Japanese eateries.
Whether you are looking for a quick ramen dinner, a perfect place for date night, or travel to Japan with your tastebuds, we have it all covered. Here are the three must-try spots for those who love Japanese cuisine in Hanoi.
1. Masu Japanese Restaurant
Masu is located on the Ly Thuong Kiet street, in the downtown of Hanoi. As soon as you step in the restaurant, it is like entering a different land.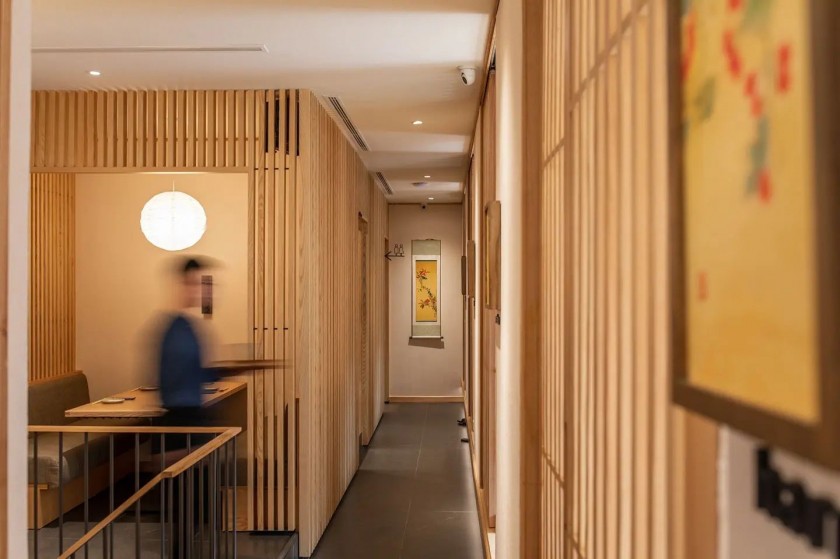 On Dec. 12, Masu officially reopens with new look. Photo: Masu
The defining feature of this place is the staple Japanese wooden bars on all walls and the calming blue tone of the sea, creating a luxurious impression. They have been closed for almost 5 months due to the lockdown situation at the capital, but on Dec. 12, it officially reopens its doors to welcome customers.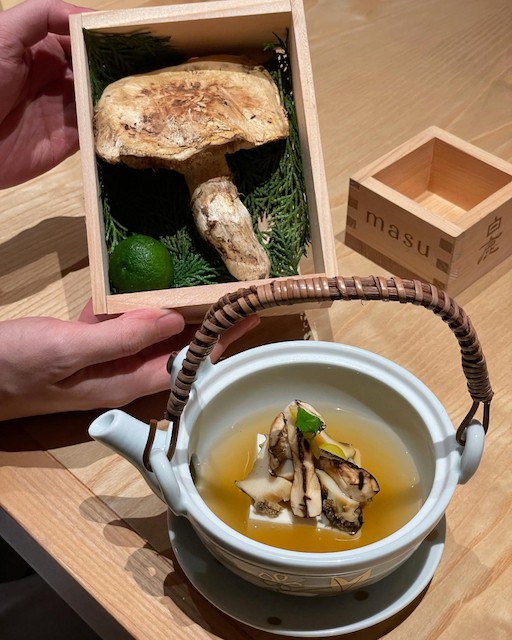 Japanese cuisine at Masu. Photo: Masu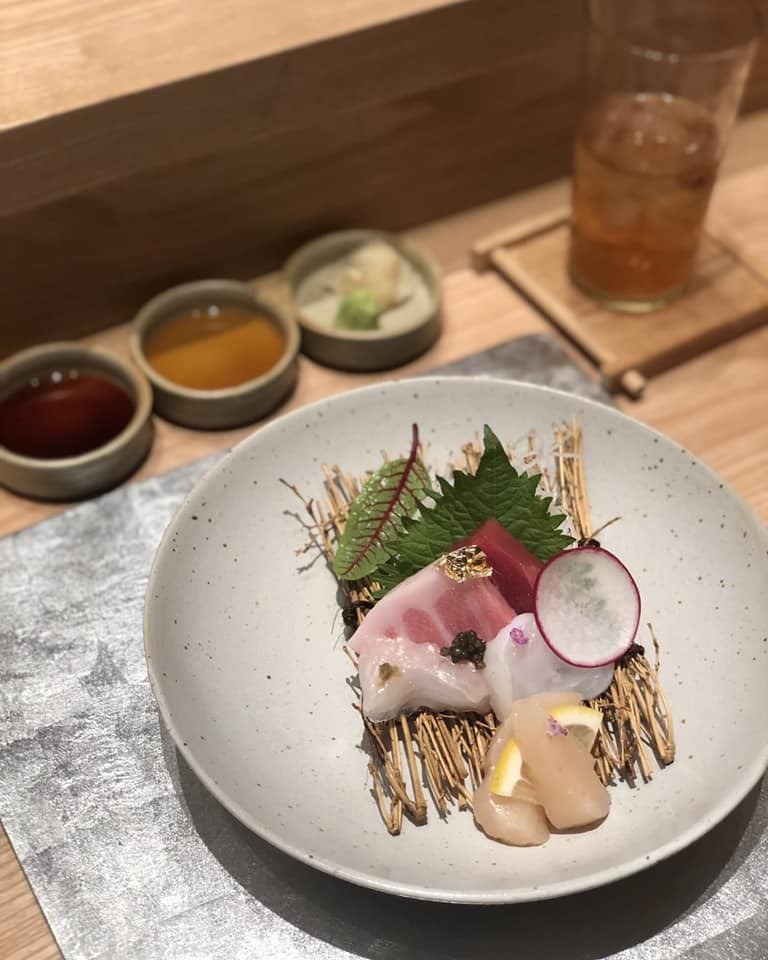 Japanese cuisine at Masu. Photo: Masu
Masu's brand identity on menus and decorations creates an impression of elegance fine-dining. The private dining room is named after the four seasons. The owner describes the restaurant as stage where the main character who is the quintessence of Japanese cuisine can shine.
Beside dish presentation, Masu focuses on the quality of fresh ingredients. At Masu, diners can taste sashimi at 15 degrees Celsius - the average temperature of the sea water in autumn and early winter, the season of many specialty fish. Or Omakase - a type of delicate and expensive Japanese cuisine, is also served. This is a must-try dish at Masu, it always receives the love of diners coming here.
More information: Masu Japanese Restaurant
Address: 60 Ly Thuong Kiet
Opening hours: 10:00 - 14:00, 18:00 - 23:00
Price: from 400,000 VND/person (US$ 17.32) or from 1.5 million VND/person (US $65) if eating Omakase.
2. Vege Ro Vegetarian Ramen Shop
Vege-ro is a vegetarian ramen restaurant (vegetarian noodles) located in a small alley next to Truc Bach lake, like a hidden gem in the heart of Hanoi.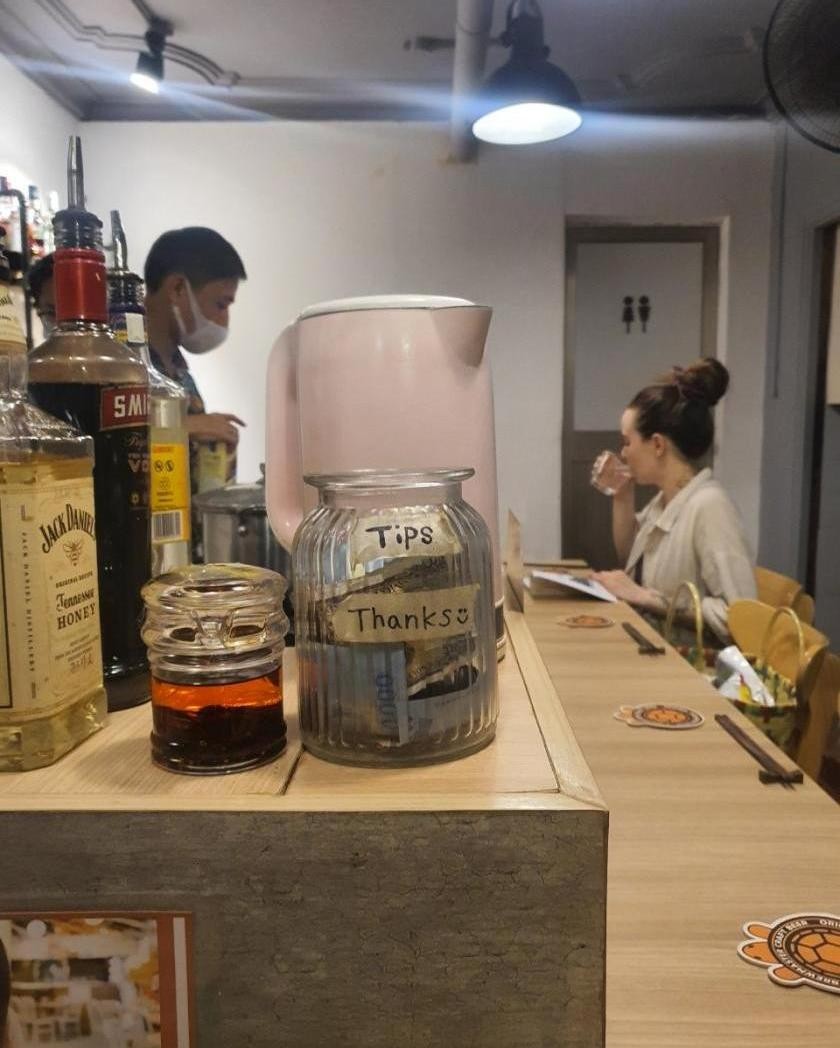 The small counter dining space with open kitchen. Photo: Vege Ro Facebook
The space is cozy and simple. It offers a small counter dining space, an open kitchen, so customers will get to see the the chef making the ramen on the spot. Vege-ro can only fit a maximum of 6 people. Be sure to book beforehand to secure your seat, you might have to wait with hungry stomach if walk-in.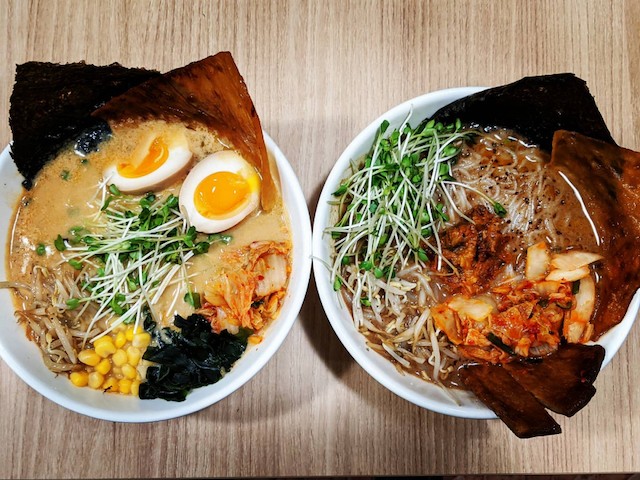 The menu has just over 10 types of ramen. Photo: Vege Ro Facebook
Vege Ro's ramen is very typical and full of Japanese standards. Each type of broth for each ramen has a different taste. Here, you can try gluten-free noodles (no flour) which are equally unique and worth the experience.
Eating here is like watching an one man's show, the owner is also the server, cashier and the cook. The owner prepares bowls of ramen in a professional and considerate manner. It reminds you of dedicated Japanese masters working on their crafts.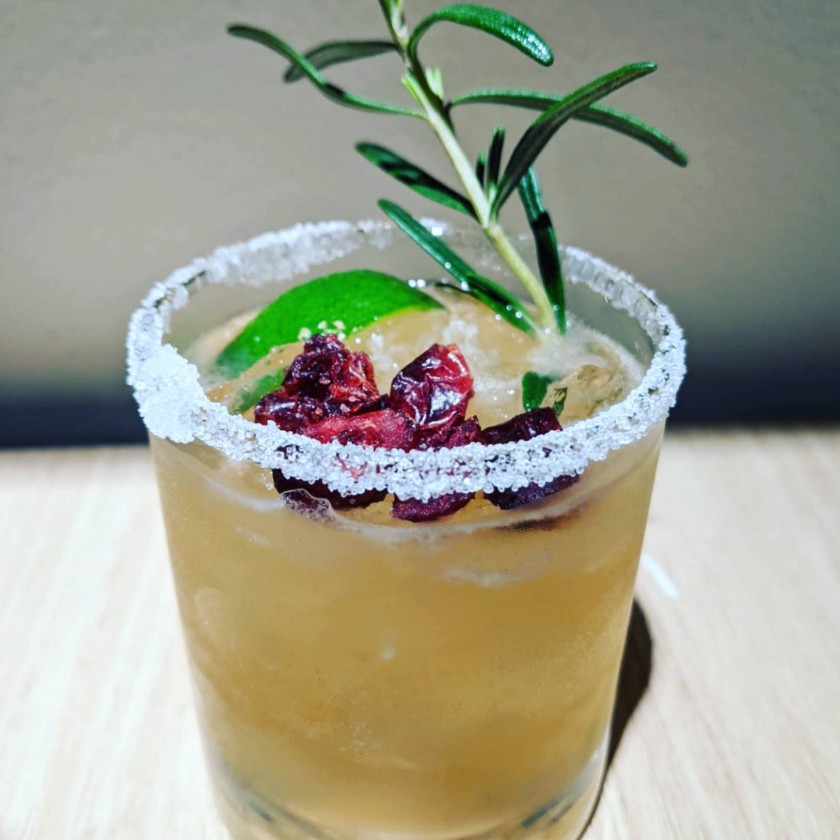 Japanese style drinks/cocktails. Photo: Vege Ro Facebook
The menu has just over 10 types of ramen and some creative appetizers; or drinks/cocktails are also created based on "Japanese" ingredients such as matcha, wasabi, Japanese whiskey, apricot wine...
"I like the atmosphere here, it's cozy, it feels like life slows down as I enjoy my ramen bowl. I will definitely come back for more," - a first-time visitor to Vege-ro shared.
More information - Vege Ro Vegetarian Ramen Shop
Address: 105A2 Lac Chinh
Opening hours: 17:00 - 22:00, Saturday and Sunday 11:45 - 13:45
Price: average from 100,000 VND/person (US $5)
3. Moto-san
In the center of the city, Tam Thuong alley is where Moto-san is located. Moto-san have no big signboard, only a narrow path in the alley leading the way. The architecture and layout here resemble a corner of Kyoto, Japan.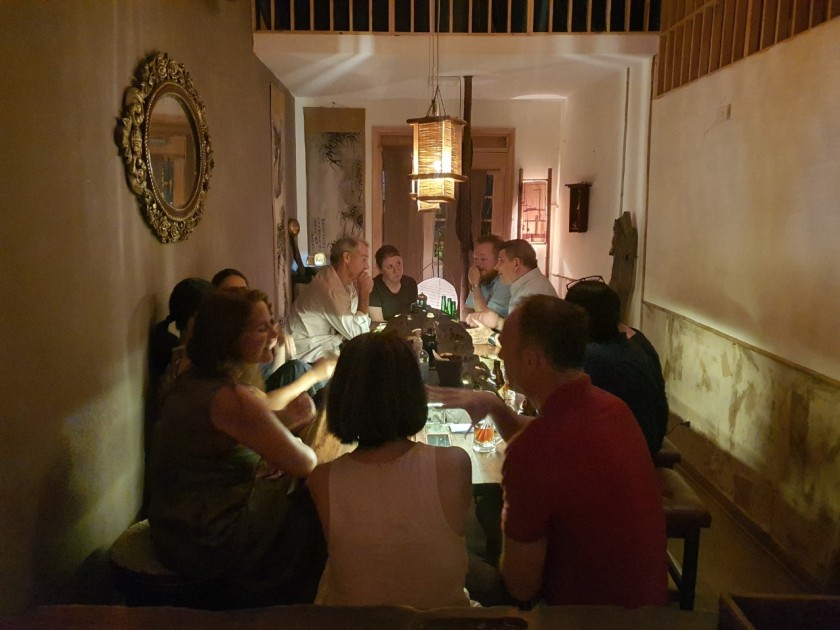 Moto-san is a hidden gem in Hanoi. Photo: Vntravellive
Moto-san's space is a symphony of light. The light on the ceiling, under the dining table, alternating with the corners of the house mixed with deep wood colors are complimenting each other with harmony. There are two floors, and a small bar with a variety of expensive Gin and Whiskey, for those who want to linger until late at night. The shop also has wine, apricot wine or sake to go with the meal.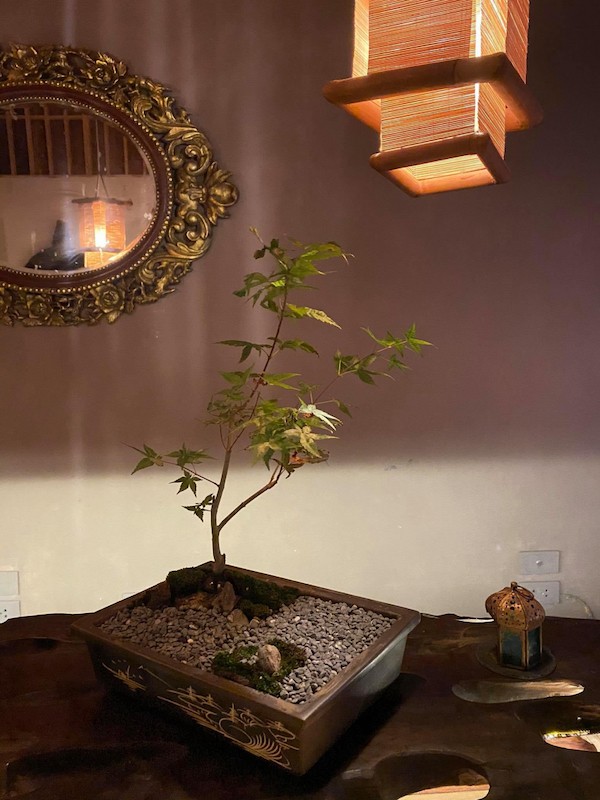 The space is a symphony of light. Photo: Vntravellive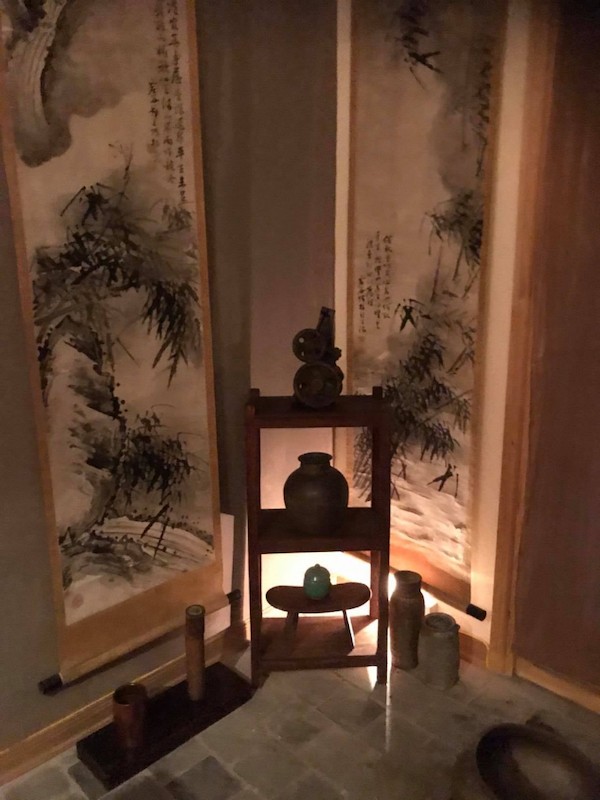 The space is a symphony of light. Photo:Vntravellive
While Japanese-inspired, Moto-san is also very Hanoian. The food names all written in a witty, simple Vietnamese style. The dishes suit the taste of Vietnamese people: from Ramen, Sashimi, Sushi, to bread, noodles, dumplings or grilled skewers, said regular customers.
More information - Moto-san
Address: 15 Tam Thuong
Opening hours: 11:00 - 14:00, 17:00 - 23:00
Price: from 100,000 VND/person ((US $5)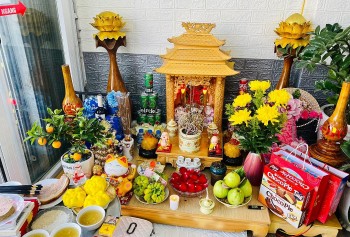 Handbook
Learn more about an ancient Vietnamese tradition that may bring you good fortune!