Entry Procedures on Entering Vietnam in March
Because of its limitless natural beauty, Vietnam is quickly becoming one of the world's most popular tourist destinations. If you're planning a trip to Vietnam in March, here are some things to consider.
The procedure for foreigners coming to Vietnam is instructed in the official Decision 450/VPVP-QHQT from the government, issued on January 18, 2022. Agreeing to the policy of facilitating entry procedures for foreigners, overseas Vietnamese and their relatives returning home and guiding the procedures for consideration and approval for entry as follows.
For foreigners, overseas Vietnamese who already have a valid permanent residence card, temporary residence card, visa or visa exemption certificate, they may enter according to the provisions of the Law on Foreigners' Entry into, Exit from, Transit, and Residence in Vietnam (not required to apply for approval of immigration policies of ministries, branches and localities and carry out procedures for personnel inspection at the Immigration Department)
Provincial People's Committees continue to consider and approve to create favorable conditions for cases of entry to work, attend conferences, seminars, study, humanitarian in the province for foreigners who come without a visa. Ministries, branches and agencies under the Central Government shall proactively decide on the invitation, welcome and take responsibility for managing foreigners working with their agencies.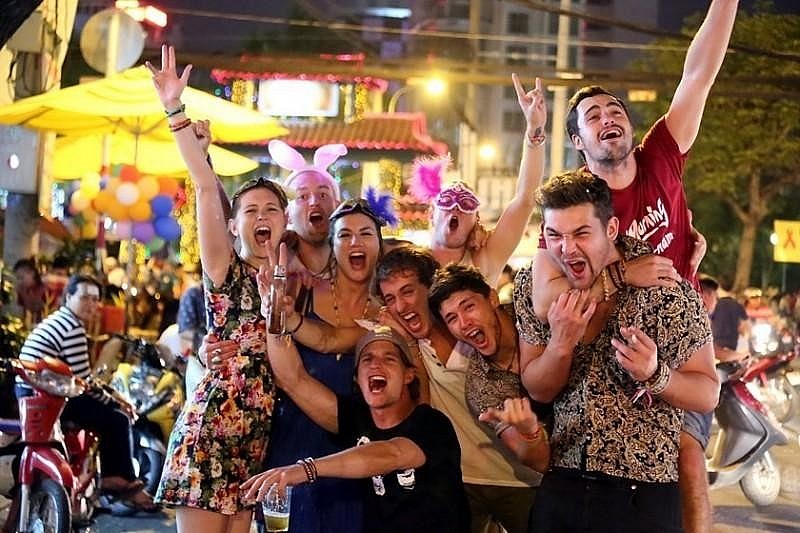 Expats are having the best of times on the street of Vietnam. Photo: VUFO
Foreigners who enter according to official decision 450/VPCP-QHQT include:
Foreigners are invited and guaranteed by agencies, organizations and individuals in accordance with the Law on entry, exit, transit and residence of foreigners in Vietnam.
Foreigners who enter for leisure will comply with the Ministry of Culture, Sports and Tourism's pilot program to welcome international travelers.
According to the issued Decision, foreigners who do not hold one of the above documents but seek to enter Vietnam to learn about the market, work, invest, attend conferences, seminars, study, or visit relatives may do so. Before proceeding with the procedures for inviting and ensuring the granting of an entry visa at the Immigration Department, the policy of the provincial People's Committee or the ministries, branches, and central agencies must be approved.
The policies issued by the Ministry of Health must be followed in the prevention and control of the Covid-19 outbreak.
To apply for a visa, you can log in Vietnam Immigration Department to see the list of ports that allowed you to enter and exit Vietnam by Vietnamese E-Visa.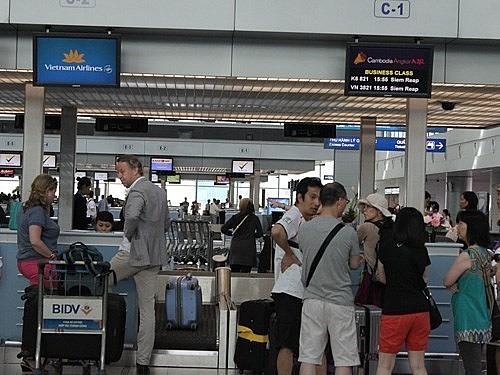 Vietnam's Airport customs. Photo: Thanh Nien
Health requirements
Fully vaccinated: If traveling alone, you'll simply require three days of self-isolation at your own lodging, with PCR testing on days one and three. If you test positive, you will be placed on a government-mandated quarantine. If the results are negative, you must continue to self-monitor for another seven days while enjoying your vacation.
If you don't have documentation of full vaccination, you'll need to self-isolate for seven days in your own home and undergo PCR testing on days one and seven. If you test positive, you will be placed on a government-mandated quarantine. Please continue to self-monitor for 14 days after your isolation period if the results are negative.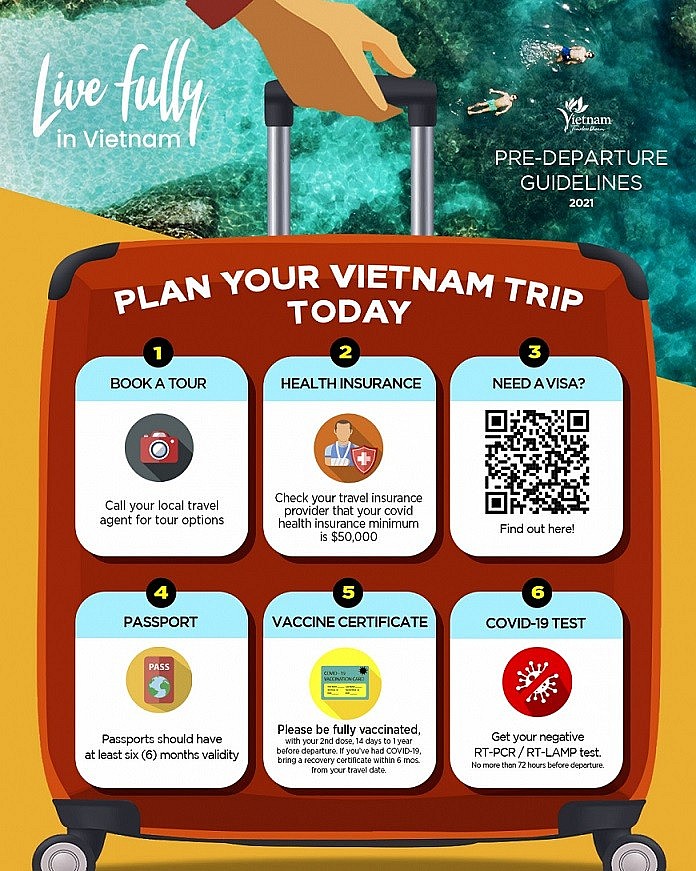 Photo: Vietnam Travel
International visitors and returning Vietnamese are welcome in Vietnam if they meet the following criteria:
Present confirmation of full COVID-19 immunization, with the most recent dose received at least 14 days and no more than 1 year prior to the date of entrance. Alternatively, you might show a COVID-19 certificate of recovery. The duration between discharge from the hospital and the date of admission into the program shall not exceed six months.
Within 72 hours after boarding, present a negative result from an RT-PCR/RT-LAMP-method test (from the time of test).
Have COVID-19 therapy covered by medical or travel insurance, with a minimum liability of $20,000. This usually costs around USD 40. Make an appointment with your travel agent.
Make a reservation with a travel agency's approved package tour program.
Vietnam: Travel to Love!

The Vietnam National Administration of Tourism released a video clip entitled "Viet Nam: Di de yeu! Song tron ven o Viet Nam", known as "Vietnam: ...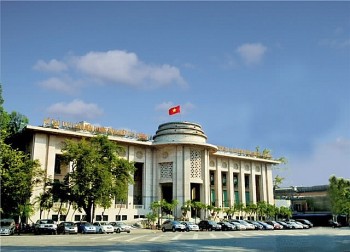 National
The State Bank of Vietnam (SBV) has used the bill issue channel again to net withdraw money out of the banking system for the first time since June 2020.