EU applied tough rules on vaccine exports, putting more pressures on AstraZeneca
Strict rules on vaccine exports have been applied by The European Union, and also put more pressure on AstraZeneca to deliver more shots to the region.
It comes as the region's sluggish vaccine rollout faces scrutiny, despite the EU continuing to export millions of coronavirus shots abroad.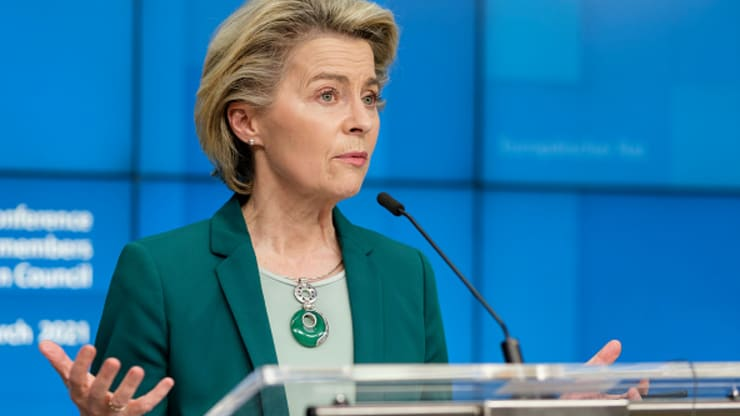 President of the European Commission Ursula von der Leyen. Thierry Monasse | Getty Images News | Getty Images
In an attempt to have a stronger negotiating position with pharmaceutical firms that do not respect delivery targets, the bloc has extended its strict rules on vaccine exports.
Before approving shipments of Covid-19 shots, the EU will consider whether the recipient country has any restrictions on vaccines or raw materials, as well as if it is in a better epidemiological situation, CNBC reported.
"We want to make sure that Europe gets its fair share of vaccines. Because we must be able to explain to our citizens that if companies export their vaccines to the whole world, it is because they are fully honoring their commitments and it does not risk security of supply in the European Union," European Commission President Ursula von der Leyen said on Thursday, according to BBC.
The EU was accused, primarily by the UK and the World Health Organization (WHO), of so-called vaccine nationalism after it introduced export controls on jabs produced within the bloc.
In response, UK Prime Minister Boris Johnson warned that "blockades" were not "sensible".
He said a ban would imperil the UK's vaccination drive, which has so far been more successful than EU member states' vaccine programmes.
Mr Johnson also warned that a ban that extended beyond AstraZeneca's disputed supply could also block jabs produced for BioNTech/Pfizer in Belgium.
France's foreign minister said on Friday that the EU "shouldn't be paying the price" for the UK's vaccination policy.
Mrs von der Leyen said on Thursday that EU was the "region that exports most vaccines worldwide" and invited other countries to "match our openness".
Her comments came a day after the EU issued a joint statement with the UK in which both sides pledged to work together after weeks of tensions over the Oxford-AstraZeneca jab.
Meanwhile, French President Emmanuel Macron backed the EU's export controls.
"I support the fact that we must block all exports for as long as some drug companies don't respect their commitments with Europeans," he said.
Earlier, he expressed frustration at the slow pace of much of Europe's vaccine rollout. "We didn't shoot for the stars," he told the Greek television channel ERT before the summit. "We were wrong to lack ambition."
Dutch Prime Minister Mark Rutte said while his fellow leaders had found the Commission's tougher export measures "acceptable", he hoped they would never be used - a message echoed by his Belgian counterpart, Alexander De Croo.
Both those two countries are home to factories involved in the production of the AstraZeneca shot, which it's suggested may soon be sending increased supplies to European nations - a move that may assuage some EU anger, BBC Brussels correspondent Nick Beake reports.
Mr Rutte said an agreement with the UK over AstraZeneca components produced in the Netherlands could be announced this weekend.
Pressure on AstraZeneca vaccines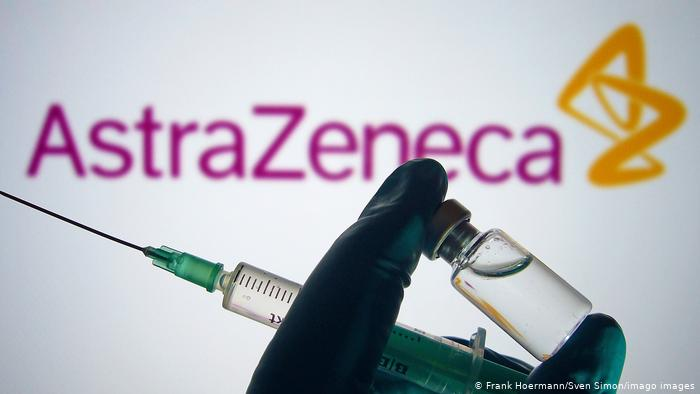 Photo: DW
The EU has also been at odds with the Swedish-British drugmaker for not delivering as many Covid shots as the bloc was expecting.
The 27 nations were awaiting 90 million doses of this vaccine in the first quarter and 180 million in the second quarter of 2021. However, AstraZeneca has said that production issues mean it can only deliver 30 million doses until the end of March and 70 million between April and June.
The reduced delivery targets are a concern for EU nations, some of whom wanted more of this vaccine as it's cheaper and easier to store than others. Any further delivery delays to Europe could compromise its wider rollout plans, according to CNBC.
"We all know, we could have been much faster if all pharmaceutical companies had fulfilled their contracts," von der Leyen said on Thursday.
During a press conference, she added that AstraZeneca, "has to catch up, has to honor the contract it has with the European member states, before it can engage again in exporting vaccines."
The EU's vaccine rollout has faced a number of challenges since the beginning and the Commission, which negotiated with the drugmakers, has been criticized for taking too long to sign vaccine deals.
Speaking to CNBC on Friday, Italy's former prime minister Mario Monti said: "We should not be too surprised that Europe has reacted quite well in terms of monetary, financial fiscal response to the pandemic, and so far not quite (as) well in terms of procurement and industrial response."
He argued that while EU nations have integrated their monetary policies and part of their fiscal responses, "there has never been such a thing as a health union."
The individual governments are still in charge of their own health policies, whereas areas like international trade are the main responsibility of the European Commission.
EU leaders to discuss boosting vaccine supplies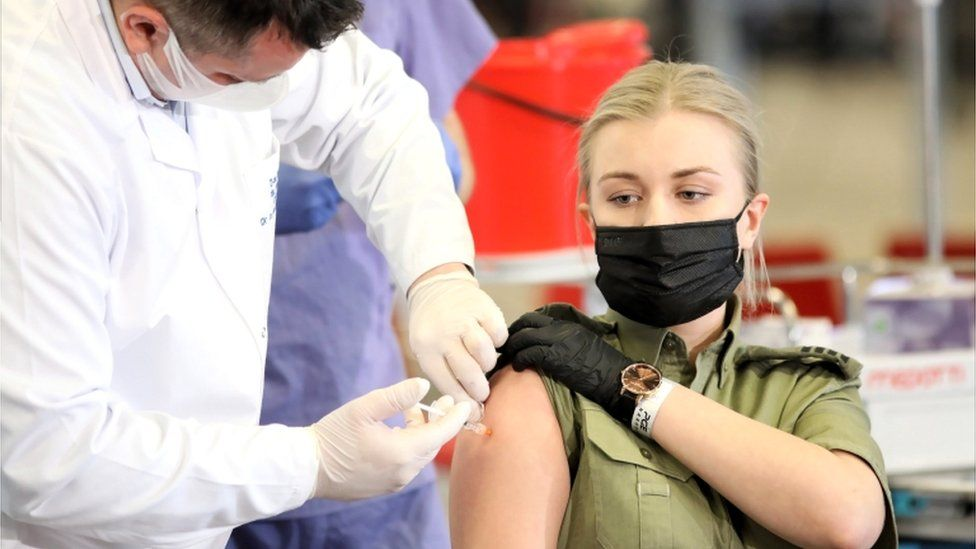 The EU's vaccine rollout campaign has been slower than that of the UK (Photo: EPA)
EU leaders are to hold virtual talks to discuss ways of boosting Covid vaccine supplies and improving the rollout of doses across the 27-nation bloc.
The European Commission will on Thursday ask leaders to support plans for added controls on vaccine exports, which could affect supply to the UK.
UK Prime Minister Boris Johnson earlier warned against imposing "blockades".
The virtual summit comes as a third wave of coronavirus infections sweeps across much of mainland Europe.
US President Joe Biden will also dial in to the talks later on Thursday to discuss EU-US relations.
The European Union's vaccine rollout campaign has been slower than that of the UK. The European Commission has blamed pharmaceutical companies - primarily AstraZeneca - for not delivering the promised doses to the EU.
However, leaders are divided over proposals for new restrictions on vaccine exports out of the bloc, which would aim to boost supplies within the EU, BBC reported.
A site in Belgium produces the Oxford-AstraZeneca vaccine, and another in the Netherlands is expected to increase supplies of the jab in the EU.
Brussels has said that of the more than 40 million doses exported from the EU over the past two months, a quarter were sent to the UK.
In a joint statement on Wednesday, the UK and the EU said they wanted to "create a win-win situation and expand vaccine supply for all".
"We are all facing the same pandemic and the third wave makes co-operation between the EU and UK even more important," the statement added.
The tone of Wednesday's EU-UK statement was positive, but actual progress between the two sides was described to me by an EU diplomat as "slow, cumbersome and difficult". On both sides.
That doesn't mean impossible, but at their summit on Thursday, some EU leaders - along with the European Commission - will still be pushing for tougher controls on vaccine exports. And they could hit the UK.
EU insiders say they had hoped never to use the controls. They say they want them as a means of exerting pressure on vaccine companies and on countries with vaccine production sites that are not exporting to the EU.
Meanwhile, leaders are coming under increasing pressure to show voters they are taking action to ramp up both the supply of jabs and their vaccine rollout, on both of which they are trailing behind the UK.
While there have been suggestions that the proposals being put before EU leaders on Thursday would be focused on the UK and US in particular, EU Health Commissioner Stella Kyriakides said that this was not the case. "We're dealing with a pandemic and this is not seeking to punish any countries," he said.
Asked whether the UK might retaliate, Mr Johnson told MPs he did not believe "that blockades of either vaccines or of medicines, of ingredients for vaccines" would be "sensible". Companies might draw conclusions about future investments "in countries where arbitrary blockades are imposed", he added.