A new trial of AstraZeneca vaccines will be tested on children
A new trial of AstraZeneca coronavirus vaccine testing will be done on children, in order to determine its efficacy in produces strong immune response in children aged six to 17.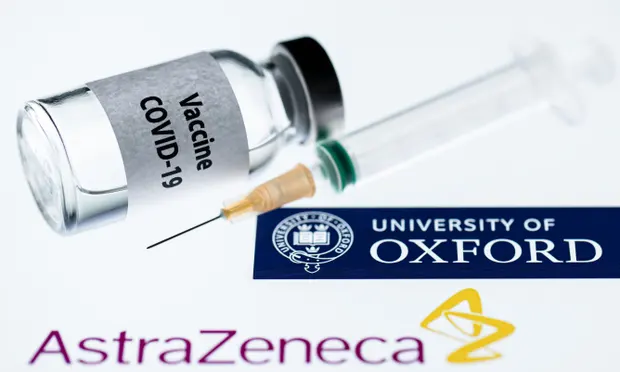 The first vaccinations under the trial will take place this month, with up to 240 children receiving the vaccine and the others receiving a control meningitis jab. Photograph: Joel Saget/AFP/Getty Images
Researchers will use 300 volunteers to assess whether the jab – known as the the ChAdOx1 nCoV-19 vaccine – produces a strong immune response in children aged between six and 17.
The Oxford jab is one of three to have already been approved for use in adults in the UK, along with those from Pfizer/BioNTech and Moderna.
The Royal College of Paediatrics and Child Health has said it was rare for Covid-19 to cause death and severe illness to children, according to The Guardian.
"In children, the evidence is now clear that Covid-19 is associated with a considerably lower burden of morbidity and mortality compared to that seen in the elderly," it said.
According to BBC, as many as 240 children will receive the vaccine - and the others a control meningitis jab - when the trial gets under way.
Volunteers who live near one of the four study sites - the University of Oxford, St George's University Hospital, London, University Hospital Southampton and Bristol Royal Hospital for Children - are being asked to sign up.
Those interested in taking part must complete a short questionnaire.
Andrew Pollard, professor of paediatric infection and immunity, and chief investigator on the Oxford vaccine trial, noted that most children were relatively unaffected by Covid and were unlikely to become unwell with the virus.
But he said it was important to establish the safety and immune response to the vaccine in children and young people as some children might benefit from vaccination.
There are currently no plans for children to be vaccinated with the Oxford-Astrazeneca jab in the UK, as it has only been authorised to prevent Covid in people aged 18 or over.
The Pfizer-BioNTech jab is only authorised in those aged over 16. The vaccine priority list also excludes anyone under the age of 16, even the clinically extremely vulnerable.
Earlier this week England's deputy chief medical officer, Prof Jonathan Van-Tam, told ITV News several trials were under way to develop vaccines that were safe and effective in children, saying it was possible there would be some licensed children's vaccines by the end of the year.
The University of Oxford said its was the first trial of a Covid vaccine in the six to 17 age group. It said other trials had begun but only measuring efficacy in those aged 16 and 17.
Earlier this week, England's deputy chief medical officer said several trials were under way to develop vaccines that are safe and effective in teenagers.
"I believe most of the major manufacturers are now starting to turn their attention to whether we can do some clinical trials to prove that our vaccines are safe and effective in children," Prof Van-Tam told ITV News.
"And it is perfectly possible that we will have some licensed children's vaccines for Covid by the end of the year. It is perfectly possible, but not assured.
"That shouldn't put you off, if your doctor agrees with you, that it's the right thing for your son or daughter to be vaccinated because of their vulnerability. But it is an individual, always an individual decision when you're using medicines and vaccines outside of the label."
Evidence of whether the vaccine reduces transmission remains unclear, though there are positive indications from Israel with the Pfizer jab, as well as similarly favourable preliminary findings on the Oxford/AstraZeneca.
The University of Oxford said theirs was the first trial in the 6-17 age group. It said other trials had begun but only measuring efficacy in those aged 16 and 17.
Rinn Song, paediatrician and clinician-scientist at the Oxford Vaccine Group, said: "The Covid-19 pandemic has had a profound negative impact on the education, social development and emotional wellbeing of children and adolescents, beyond illness and rare severe disease presentations.
"It is therefore important to collect data on the safety and the immune response to our coronavirus vaccine in these age groups, so that they could potentially benefit from inclusion in vaccination programmes in the near future."
Who is being vaccinated?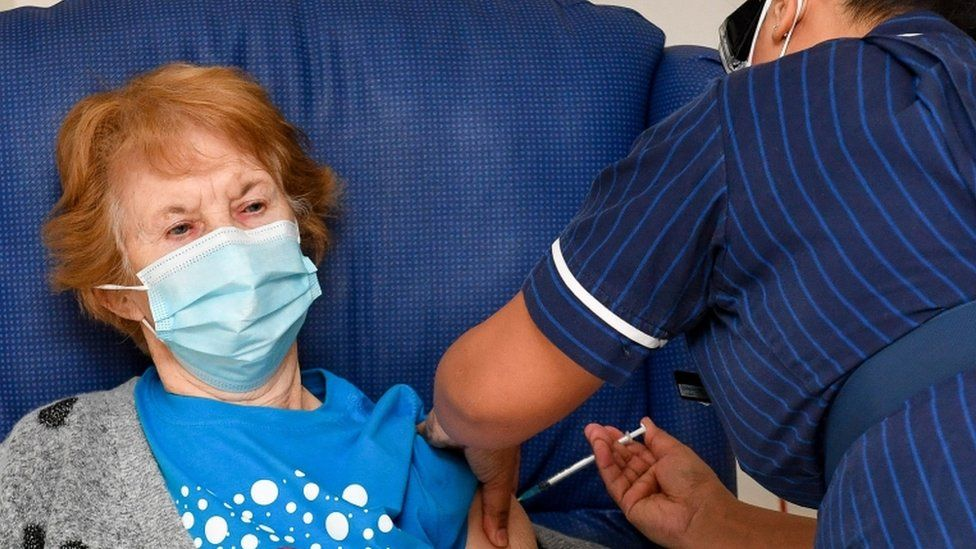 Margaret Keenan, aged 90, became the first person vaccinated in the mass roll-out by the NHS (Photo: PA WIRE)
More than 14 million people in the UK have had at least one dose of a Covid vaccine, which means the UK is closing in on its target of offering vaccines to 15 million of the most vulnerable by mid-February.
Vaccines are given to the most vulnerable first. A list of high-priority groups - covering up to 99% of those most at risk of dying - is being followed.
If you're 70 or over in England and haven't yet been vaccinated, you are now being asked to contact the NHS to book an appointment online or by calling 119 free of charge.
Most NHS frontline staff, care home residents and workers, and over 75s have been vaccinated. Some areas are now inviting over 60s.
All four nations of the UK follow these priorities, but the roll-out varies between England, Scotland, Wales and Northern Ireland.
Wales has offered a Covid jab to everyone in the top four priority groups.
The aim is to vaccinate over-50s by the start of May.
Police officers and teachers will be vaccinated after the most vulnerable groups - probably from late spring.
Any change to priorities will be decided by the Joint Committee on Vaccination and Immunisation (JCVI).
The Oxford vaccine offers a similar level of good protection against the 'Kent' variant now dominant in the UK as it does against the original virus.
Early research on other vaccines, including Pfizer's, suggest they also protect against this new form of coronavirus.
All have been shown to be effective at preventing people from becoming seriously ill and dying from Covid-19.
But there are concerns that Covid vaccines may not work as well against other variants with a mutation called E484K. This has been found in variants first spotted in South Africa and Brazil, and in some UK variants too.
Nonetheless, the World Health Organization has recommended that the Oxford vaccine, which is seen as suitable for rollout around the world, should still be used in countries where these variants are present - as well as in all adults over 18.
The approved vaccines require two doses to provide the best protection against Covid.
In the UK, people were initially told they would get a second dose three to four weeks after the first. But to ensure as many people as possible were protected in the shortest time possible, the UK's chief medical officers extended the gap to 12 weeks.
This approach for the Oxford vaccine is now backed by the World Health Organization which says giving two doses 8-12 weeks apart increased the vaccine's effectiveness and provided greater protection.
A recent study found the Oxford-AstraZeneca vaccine remained 76% effective during the three months after the first dose. There was also evidence the Oxford vaccine could reduce the spread of the virus.
Some doctors are worried that a long gap between doses of the Pfizer vaccine will make it less effective.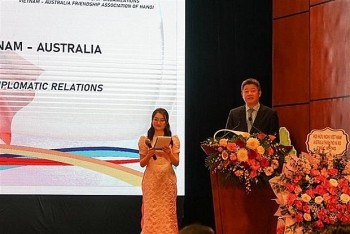 Friendship
A friendship exchange programme has been held recently in Hanoi to celebrate the 50th founding anniversary of the Vietnam-Australia diplomatic relations (February 26).