Europe-Vietnam Documentary Film Festival to Kick Off with Free Entry
The documentaries will provide audiences with a deeper understanding of life, people, and society of East and West cultures. This is an annual cultural event designed to encourage cultural exchange between European countries and Vietnam.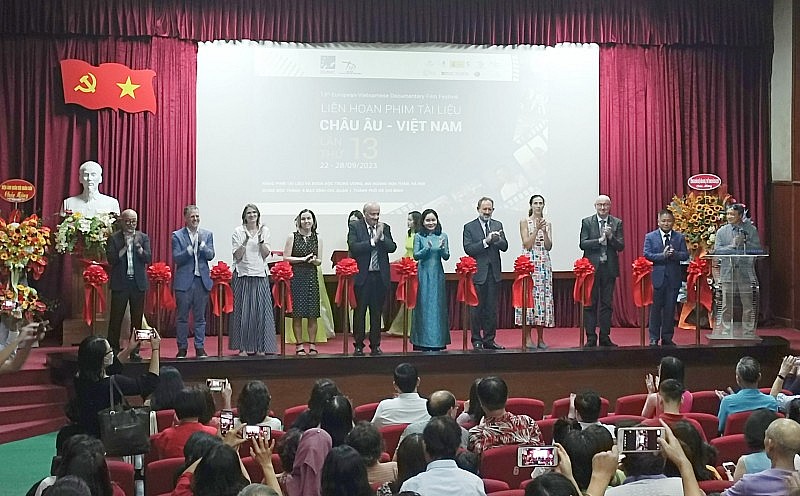 On September 23, in Hanoi, Deputy Minister of Culture, Sports and Tourism Trinh Thi Thuy and delegates cut the ribbon to launch the 13th Europe-Vietnam Documentary Film Festival (Photo: Hoa Nguyen)
The European Network of Independent Cultural Institutes in Hanoi (EUNIC), in collaboration with the Vietnam Central Studio of Documentary Scientific Film, will organize the 13th EUNIC European-Vietnamese Documentary Film Festival in Hanoi and Ho Chi Minh City from September 22nd to 28th.
The event is expected to feature 19 distinct documentaries from seven countries, including Austria, Germany, Italy, Spain, England, Finland, Belgium, and the hosts Vietnam.
Each European country will send one film, while Vietnam will present 12 films, including those that have received awards at international and Vietnamese film festivals. The film's topics will be social themes such as climate change, women's empowerment, environmental protection, peaceful coexistence, and the risks of the digital age.
Specifically, the participating international films include Vesuvio or How They Learned to Live Among Volcanoes (Italy); The Happy Worker - Or How Work Was Sabotaged (Finland); The Girl Named Tania (Belgium); The Steadfast Ones (Germany); Where Does the Garbage Go (Austria); Living Witness: A Climate Story (UK); and Muntadas In Hanoi: A Spanish-Vietnamese Urban Interpretation (Spain).
Accordingly, film enthusiasts can also explore stories about other contemporary global issues including employment in 'The Happy Worker' (Finland), and women's rights and gender equality in 'Sous Le Nom De Tania' (Wallonie-Brussels) and 'Die Unbeugsamen' (Germany).
Children Of The Mist, Secrets From The Underground, My Enemy-My Friend, Above The Clouds, and Crime Behind Trust are among the 12 films from Vietnam.
According to director Trinh Quang Tung, Deputy Head of the National Documentary and Scientific Film Studio, the festival is a cultural exchange activity that has left audiences with a positive impression over the years.
Tung explained that the event allows viewers to learn more about the people and culture of Vietnam and European countries, as well as the relationships between individuals and modern-day challenges.
He also noted that the 13th edition would allow Vietnamese artists and film producers to enhance their knowledge of the film industry and come up with new ideas.
The screenings will be free and will be held at the Central Scientific and Documentary Film Studio, 465 Hoang Hoa Tham Street, Ba Dinh District, Hanoi, and the DCINE Ben Thanh Cinema, 6 Mac Dinh Chi Street, District 1, Ho Chi Minh City.