9th Global Conference of Young Parliamentarians:
Every Young Parliamentarian is Ambassador of Friendship
"Each young parliamentarian is a dynamic, creative Ambassador of friendship, connecting parliaments and people of other countries for a better world for everyone." President Vo Van Thuong sent this message in the 9th Global Conference of Young Parliamentarians opening on the morning of September 15 in Hanoi.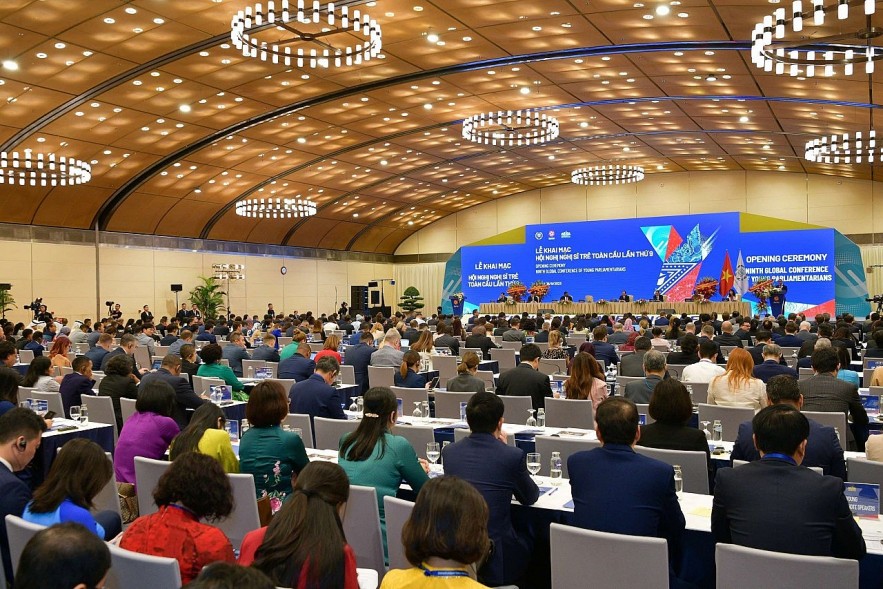 The 9th Global Conference of Young Parliamentarians opened on the morning of July 15.
According to President Vo Van Thuong, young people have great strengths in taking advantage of opportunities, especially opportunities brought by the Fourth Industrial Revolution.
They are the force that holds the key to opening new doors, new ways of thinking and doing to effectively handle common global challenges now and in the future.
Through eight conferences, the Global Conference of Young Parliamentarians fulfilled its mission of promoting youth participation in parliaments and supporting young parliamentarians to maximize their role. They ensure that young people's voices are heard in global decision-making and thereby make an important contribution to solving global challenges.
The President appreciated the conference's theme because it reflected the common concern of countries on how to take advantage of the outstanding achievements that science, technology and innovation bring, strengthen international cooperation and linkages to accelerate the implementation of the Sustainable Development Goals.
It also expanded youth participation in solving global problems, contributing to peace and prosperity for all countries in the world.
The President believed that the National Assembly of Vietnam will continue to cooperate with parliaments of other countries to turn the recommendations and resolutions of the Inter-Parliamentary Union (IPU) and the Global Conference of Young Parliamentarians particularly into concrete actions, contributing effectively to peace, stability and sustainable development in the region and the world.
He expressed his wish that each young parliamentarian be a dynamic and creative Ambassador of friendship, connecting parliaments and people of other countries for a better world for everyone.
Five discussion topics
Speaking at the opening of the conference, National Assembly Chairman Vuong Dinh Hue said that the National Assembly's hosting of the 9th Global Conference of Young Parliamentarians continued to affirm Vietnam's active, and responsible participation in IPU. It also showed Vietnam's special priority and concern for young people and the global issues of today's youth.
He asked delegates attending the conference to exchange and discuss some of the following main contents:
First, what needs to be done and how to do it to comply with and ensure international law and the United Nations Charter, which is a key condition to preserve and cultivate peace, cooperation and sustainable development.
Second, the role of developed countries, international organizations, the business community and young people in solving global issues such as sustainable and safe digital transformation, equitable energy transition, adaptation to climate change and strong spread of entrepreneurship and innovation.
National Assembly Chairman Vuong Dinh Hue speaks at the opening of the 9th Global Conference of Young Parliamentarians.
Third, let people and businesses truly be the center of all decisions in the development process, both the goal, the driving force and the basis of all resources. What and how we need to continue to do in planning, implementing laws and organizing actions towards people's happiness.
Fourth, promote cultural and human values in sustainable development, respect for cultural diversity in the context of the 4th industrial revolution; tighten cooperation in innovating ways to operate the economy, sharply increase labor productivity, create new driving forces for economic growth; help state agencies operate more transparently and effectively on the digitalization roadmap, to narrow the development gap and ensure national sovereignty as well as personal privacy in cyberspace.
Fifth, suggest that IPU research and establish a network of global young parliamentarians on innovation to exchange and learn from each other's experiences.
The Chairman of the National Assembly believed that each young parliamentarian from member parliaments will promote their intelligence, youth, creativity, responsibility and enthusiasm to contribute to the success of the conference.
Strengthen the influence of young parliamentarians
Speaking at the conference, Duarte Pacheco, president of the Inter-Parliamentary Union, emphasized the role of youth in the development of each country.
He said that we need conferences like this to unite young parliamentarians and strengthen their influence by learning from each other and discussing development strategies in the future.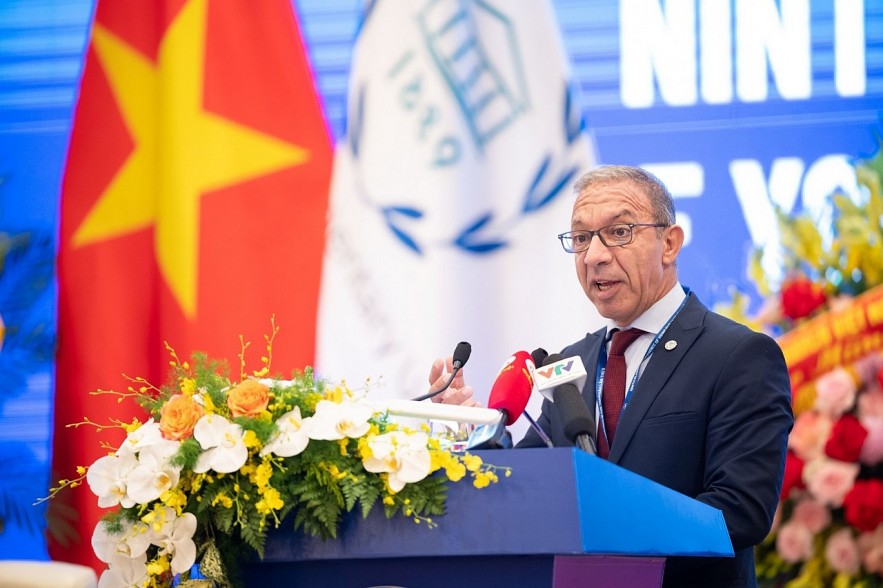 President of the Inter-Parliamentary Union Duarte Pacheco appreciated Vietnam's commitment to setting a leading example in empowering youth.
He said the world faces challenges greater than any we have seen in the past. The Sustainable Development Goals and our Common Agenda are aimed at addressing the challenges we face. We are halfway through implementation, but we are lagging far behind.
IPU President Duarte Pacheco hoped that young parliamentarians will have substantive and effective exchanges to improve and change the common problems the world is facing, towards a better future.
According to Secretary General of the Inter-Parliamentary Union Martin Chungong, young parliamentarians play an important role, being the driving force for progress and development, contributing innovative perspectives and solutions to parliamentary processes.
They also share practices, raise the voices of young parliamentarians on issues of concern, and connect with young people better.
This conference is also a reminder that there is a group of young women who are discriminated against. The contribution of young women is needed not only in parliament, but also in the broader global mission to advance the SDGs through digital transformation and innovation. As young parliamentarians, they need to become pioneers in promoting greater gender equality, and IPU is committed to this goal.