EVFTA - New gateway for market diversification and economic growth
The European-Vietnam Free Trade Agreement (EVFTA) will play a critical part in bringing new opportunities for market diversification and help Vietnam to reduce its reliance on certain trade partners, economic experts from RMIT discussed.  
Trade dependencies mean high risk
Global supply chains have experienced significant disruptions due to COVID-19. Photo: RMIT Vietnam
It is witnessed that, supply chains globally have been shaken by the loss of production and trade due to the COVID-19 pandemic. For an open economy reliant on extensive imports and exports like Vietnam, the issues associated with these losses can escalate quickly.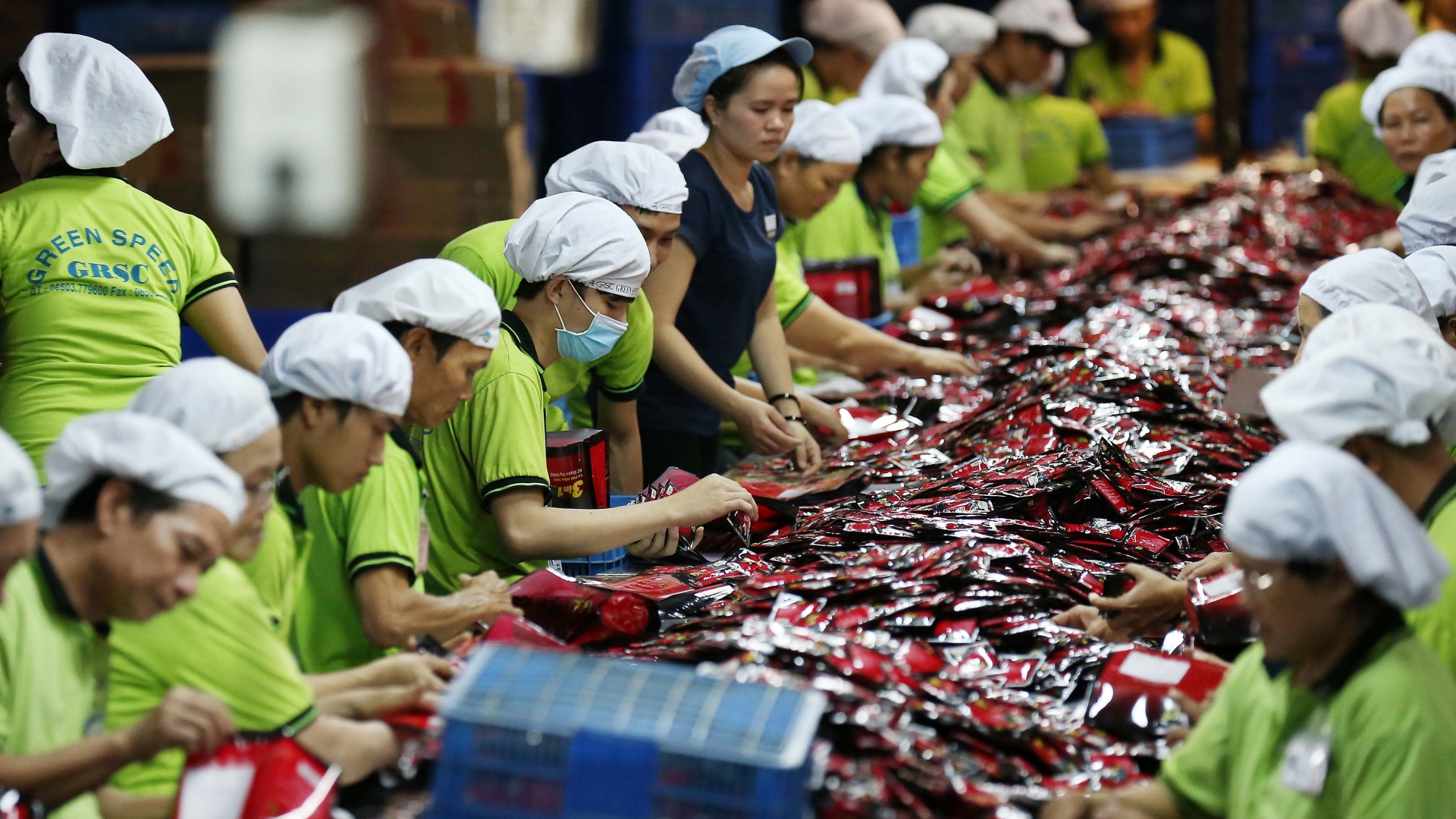 Photo: Nikkei
Official statistics from the General Statistics Office of Vietnam show that closing the border between Vietnam and China would mean a 22%-24% reduction in total Vietnamese agricultural exports. "Similarly, high and increasing trade surpluses with the United States can be unsustainable", commented Dr. Nguyen Quang Trung, Head of Department of Management, RMIT University Vietnam. "A shift from the Trump administration could put Vietnam's exports in a difficult situation, especially as local firms are not yet deep-rooted in the global value chains".
In recent years, Vietnam's external trade has been characterized by consistent deficits with China, and continual surpluses with the United States. Therefore, according to Dr. Trung, it is necessary to have a balanced overall trade sheet, which would help stabilize the economy and boost its ability to resist external shocks like the COVID-19 pandemic.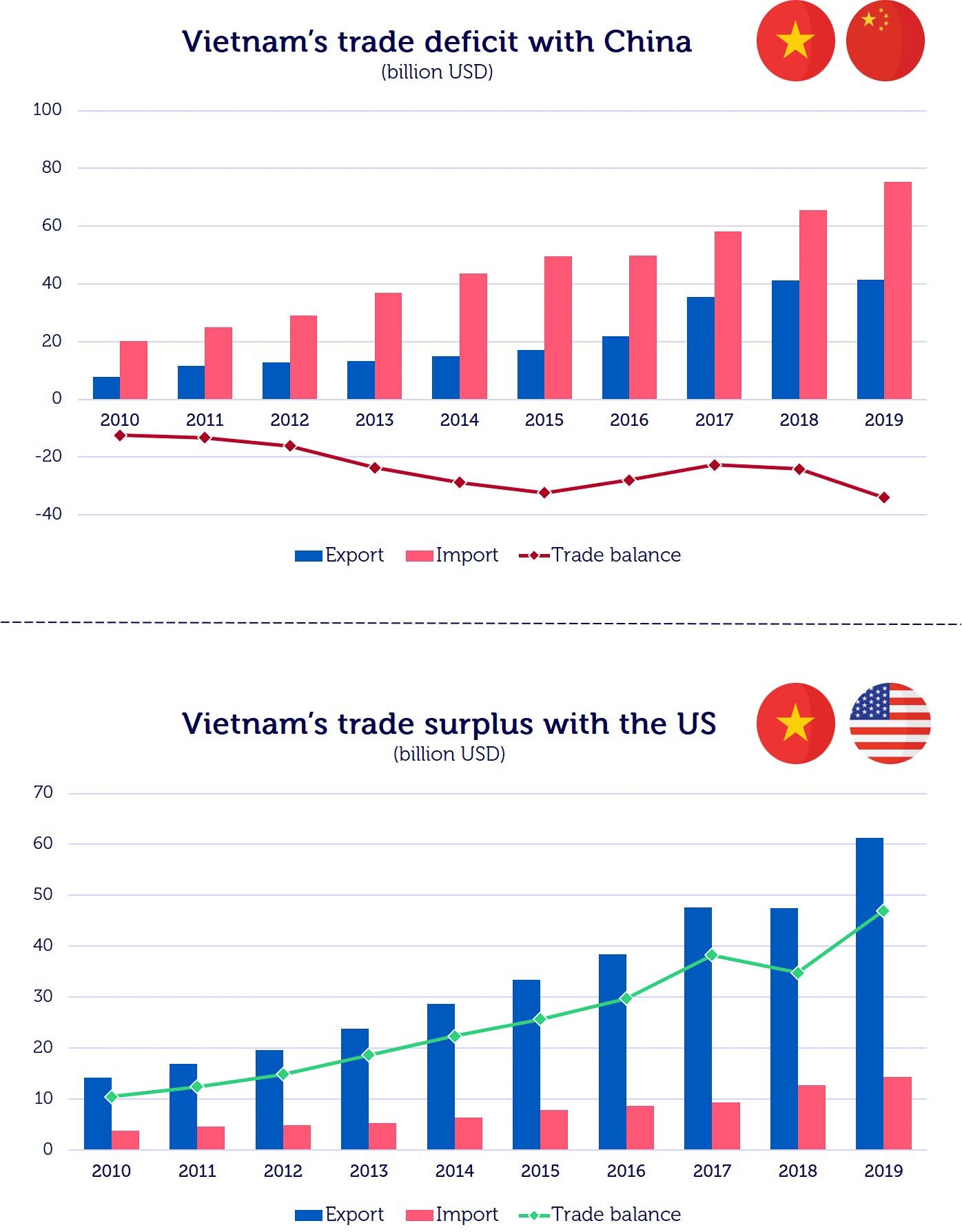 Vietnam has consistently recorded a trade deficit with China and a trade surplus with the US. Source: General Statistics Office of Vietnam.
"It's not clear when the current crisis will end, and when all the knock-on effects throughout the economy will work themselves out. So now there is an urgent imperative for the Vietnamese economy to quickly grasp the opportunities to diversify its markets and, by doing so, reducing the risks it faces.", Dr. Trung added.
The EVFTA might prove to be of vital importance in this regard, along with other international treaties such as the Comprehensive and Progressive Agreement for Trans-Pacific Partnership (CPTPP).
According to Dr. John Walsh, RMIT International Business Program Manager, the EVFTA is the most stable agreement for Vietnam as it requires stricter regulations for all relating stakeholders to follow.
"That means there is less scope for beggar-thy-neighbor policies for short-term gain which one country might pursue – either deliberately or not," Dr. Walsh said.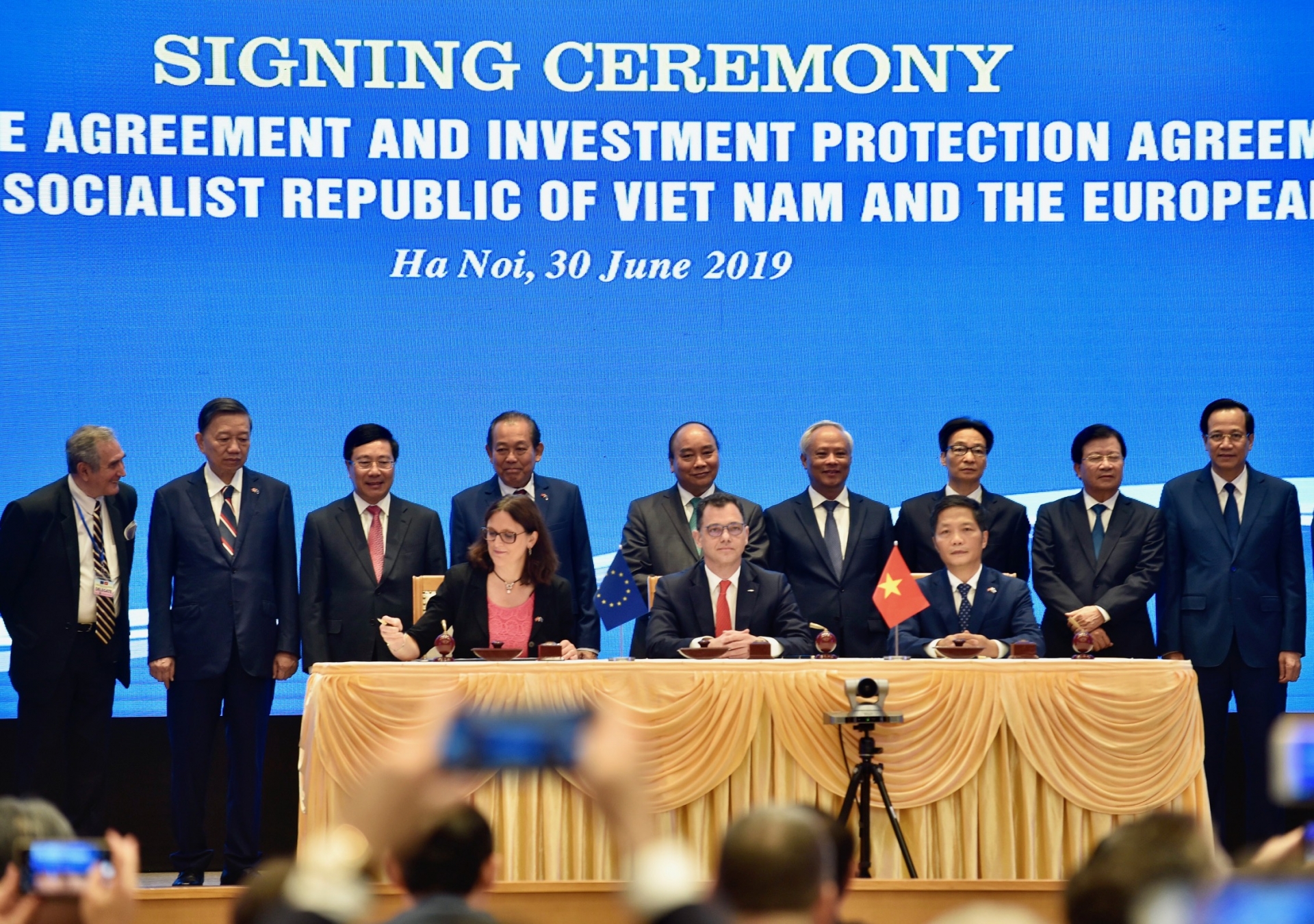 The signing ceremony between The EU and the Vietnamese Government in 2019. Photo: VGP
The new-generation FTAs will also give Vietnam the chance to ameliorate its position on the global trade map, moving beyond low labor costs and abundant agricultural resources and on to technological transfers and skill sets of its young workforce.
Brave leadership of Vietnam
Vietnam became the 2nd ASEAN country to sign an FTA with the EU. But "such boldness needs to be accompanied by swift, decisive and credible initiatives to enable the economy to be developed further", according to Dr. Trung.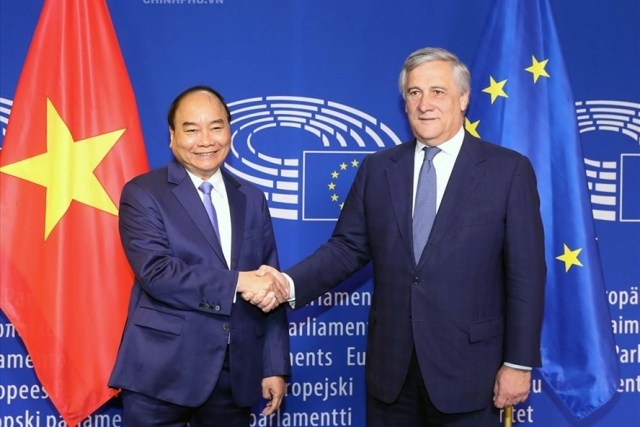 Prime Minister Nguyen Xuan Phuc in a meeting with Mr. Antonio Tajani, President of the European Parliament in 2018. Photo: VGP
Within seven years, trade with the EU will see the elimination of more than 99% of tariffs on more than 99% of products exported from Vietnam.
Dr. Walsh said that the competitiveness of Vietnamese products in a number of particular areas, for instance textiles, footwear, and agricultural products, will be enhanced by reforms in the energy sector to meet low carbon footprint standards.
Furthermore, as the Vietnamese economy and consumers become accustomed to EU imports in new sectors, Dr. Walsh believes that the retail and distribution sectors will be strengthened to accept other products in these categories from the international market.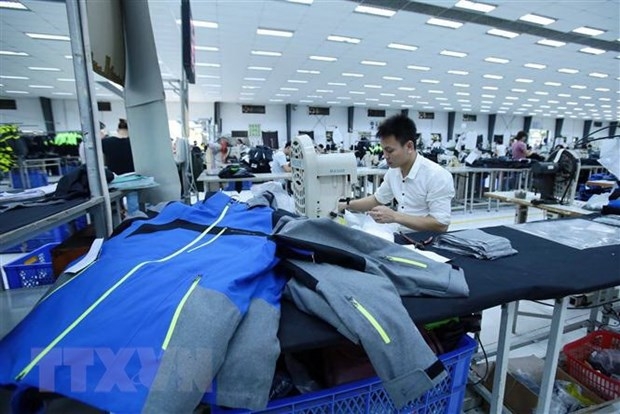 Once the EVFTA comes into force, the EU will eliminate import duties on nearly 86 percent of tariff lines for Vietnam and over 99 percent after seven years. Photo: VNA.
Vietnamese businesses will also benefit from low-cost superior products from the EU and will be able to use them in their own production processes, thereby improving the productivity and profitability of Vietnamese exports. However, due to the high competitiveness in the free trade market, it is necessary to promote trade facilitation, though harmonization of regulatory conditions, rules of origin, border customs administration and management, and the mutual recognition of appropriate standards and regulations, Dr. Trung noted.
Problems and challenges remain ahead
However, Vietnam also has to deal with the challenges of meeting the requirements of the new arrangements.
Several chapters in the EVFTA around labor protection, property rights protection, government procurement practices, and other areas have not currently complied. Another critical challenge is that, the private sector will need to be well-prepared in terms of upgrading its supply chains and value chains to ensure all links meet with international best practices and standards.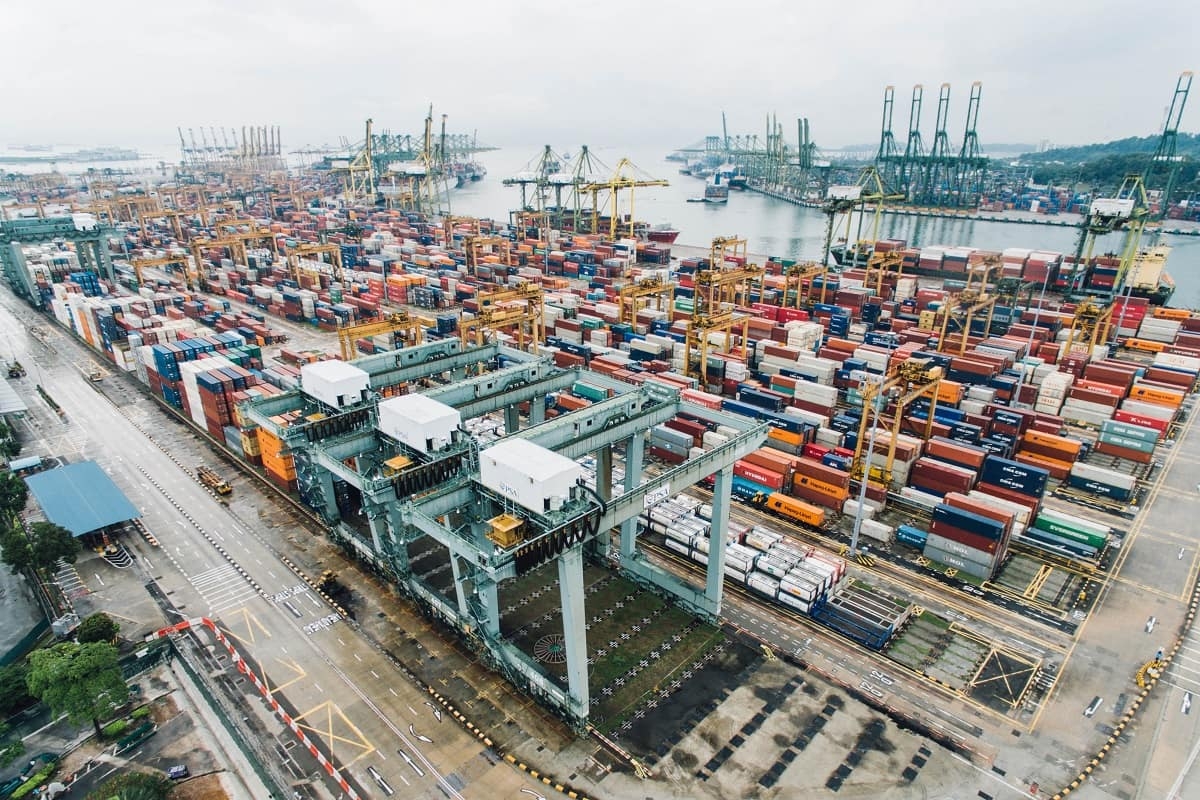 Vietnamese logistics firms can expect opportunities but also challenges from the EU-Vietnam FTA, and need to make efforts to improve their competitiveness. Photo: VNA.
"In particular, there will need to be a focus on supporting small and medium-sized enterprises (SMEs). These companies tend to be quick moving and more likely to evolve to take advantage of new opportunities in the economy, yet they are also currently frail and under-resourced," Dr. Trung raised his opinion.
According to Dr. Trung, since SMEs account for around 98% of the local enterprise population and the majority of them are micro-enterprises, fail to make a connection of these enterprises to the global value chains could mean that an unsustainable economic development may happen in the future.
New mindset is required for long-term benefits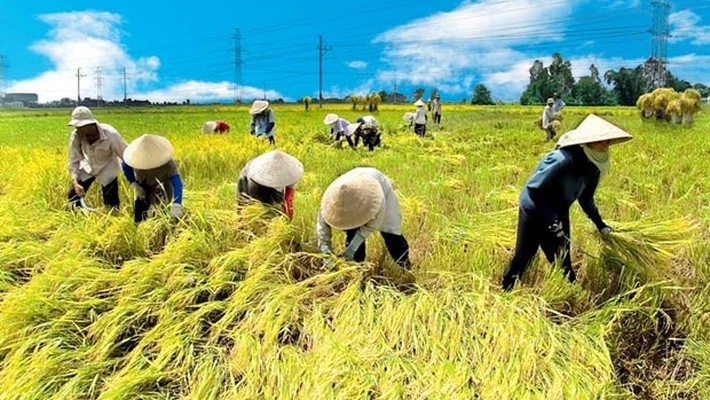 The EVFTA will generate both opportunities and challenges to Vietnam's agriculture. Photo: VOV
From the observation of an economic expert, Dr. Walsh believes new ways of thinking need to be activated to ensure that benefits from FTAs are maximized and risks minimized. "It is no longer feasible to think in terms of short-term fixes at the expense of the environment or of long-term planning. It is clear that a clean, inclusive, and productive industry is the only way forward for the Vietnamese economy," he emphasized.
Similarly, Dr. Trung also noted that the government needs to facilitate a leading role in this process, but in serving rather than steering the economy.
"Modern governance is a must for all progressive governments nowadays. An effective and efficient government would depend on how the leadership builds a robust system and leverages the role of technology through digital transformation and e-government services," he stressed.
According to Dr. Walsh, pandemics normally usher drastic changes into economies, social relations, and government operations, which will follow their own course if not directly managed; and therefore, it is the right time for Vietnam as a nation to embrace stronger diversification of trading partners and modernize the government, "so that the country will become less dependent on one or two key markets for both imports and exports. The EVFTA is a necessity on that journey," Dr Trung concluded.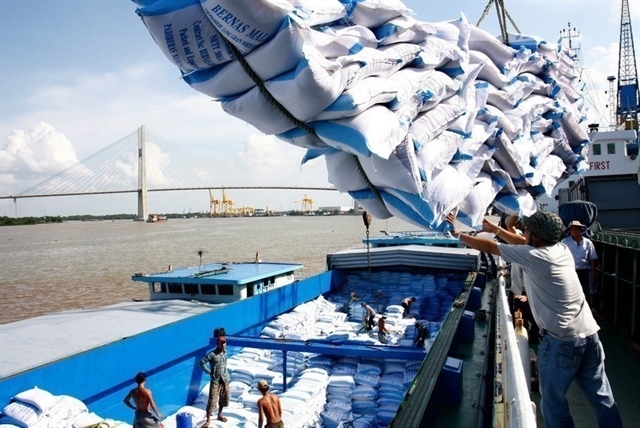 Rice is loaded at Saigon Port in HCM City. With the ratification of the EU-Việt Nam Free Trade Agreement, Việt Nam can export 80,000 tonnes of rice a year with a zero tax rate to the EU. Photo: VNA/VNS.
According to Ms. Nguyen Thi Thu Trang, Director of the Vietnam Chamber of Commerce and Industry's WTO Integration Centre, logistics costs in Vietnam account for 21-25 percent of the country's annual GDP, 12 percent of the cost of fishery products, 23 percent in the case of wooden furniture, 29 percent for vegetables, and 30 percent for rice, much higher than that in Thailand, Malaysia or Singapore.

Besides, the country's logistics infrastructure falls short of requirements, affecting the distribution of goods, and thus the competitiveness of Vietnamese goods.

Therefore, the EU trade deal would be not only a challenge to the logistics industry but also could push it into reforming and improving its competitiveness.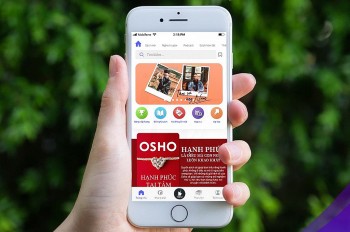 Make in Vietnam
Although the market is still new, audio book makers have a high growth rate. Currently, both Voiz FM and Fonos have a monthly revenue increase of six times compared to the first month of the year.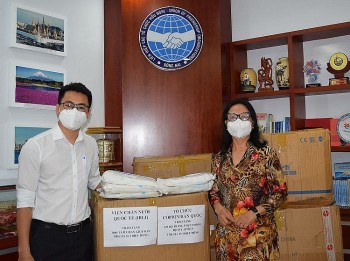 Friendship
Foreign organizations joined hands to prevent and control the Covid-19 in the southern province of Dong Nai.
Women in Business
In the complicated pandemic, corporate culture was an important factor to lead the enterprise through difficulties, said Ngoc Bich Tran, Tan Hiep Phat Deputy CEO.