Expats and Locals on How to Fully Enjoy Your Summer Vacation in Hanoi
Hot, humid, unexpected heavy rain, yet the Hanoian summer was unforgettable for those who returned.
The capital city of Vietnam is the ideal destination for late summer. Let's find out why and what locals, immigrants and tourists would recommend for an authentic, fun and memorable summer in Hanoi.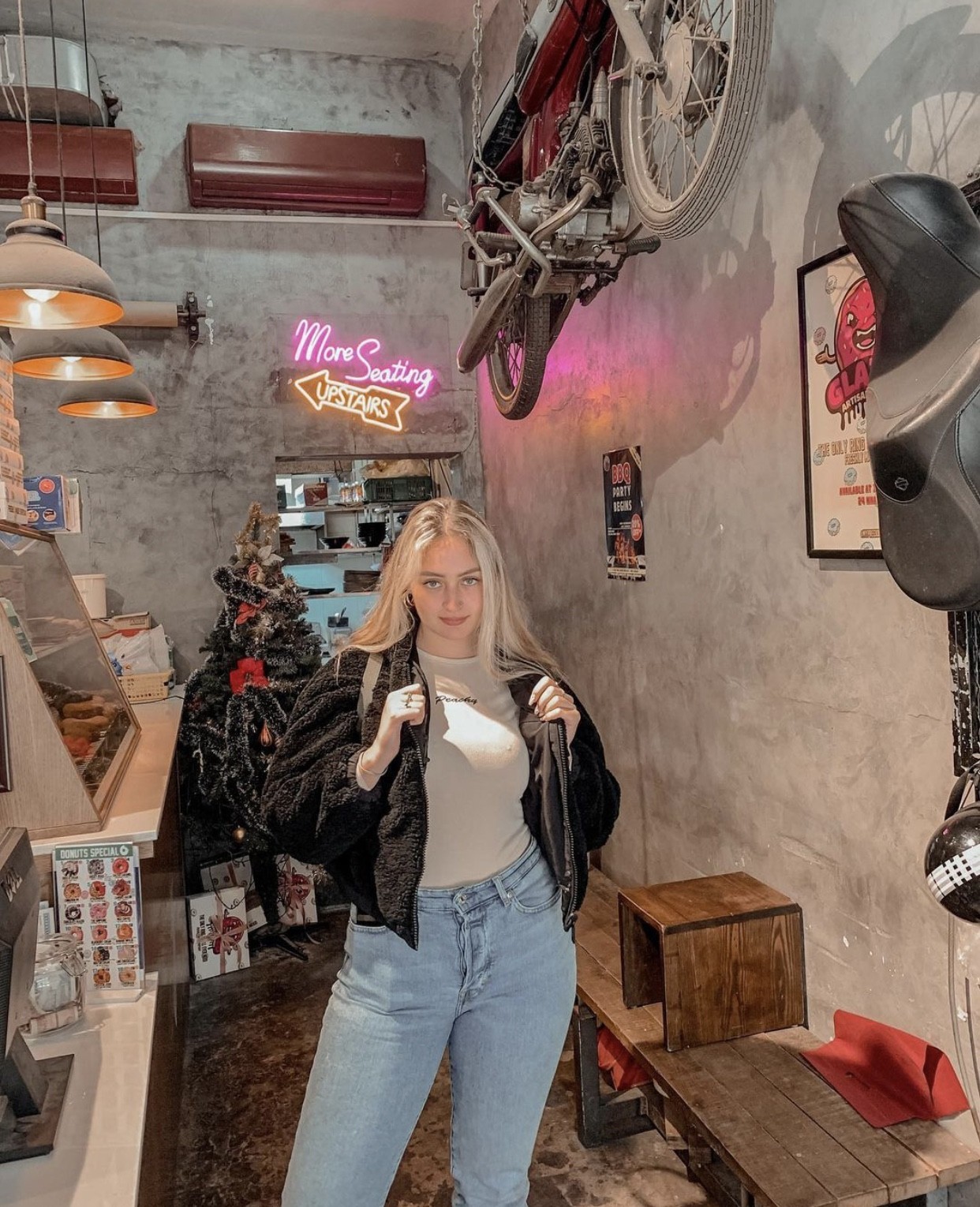 Belgian tourist Juanique when in Hanoi (Photo courtesy of Juanique Kadriye).
Traveling to Hanoi in July, Belgian tourist Juanique Kadriye was taken by the lively atmosphere. She enjoyed Hanoi's food and warm hospitality in her short visit.
While watching the streets from a cafe next to the Cathedral (Hoan Kiem, Hanoi), the Westerner listed her favorite summer dishes in Hanoi, such as tea, cake, shaved ice with flavored syrup, ice cream.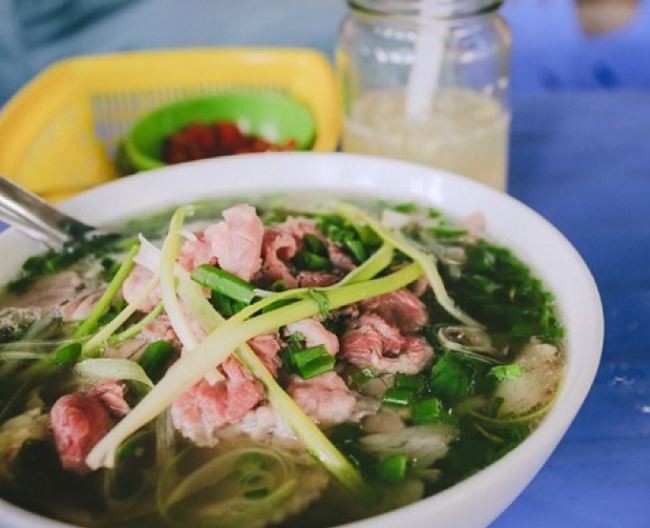 A bowl of "pho" contains flat, soft rice noodles dipped in a fragrant beef or chicken broth flavored with different condiments. It is served with beef or chicken, shallots, and chili and lime to taste. Photo: Getty Image
There is no need to go to fancy restaurants to find the best foods in Hanoi, because the cheap and tasty street foods are plenty to enjoy.
"My favorite food is Pho. It is so unbelievably delicious," said Juanique. She added that she loved the rich and unique flavors of traditional dishes such as summer rolls and spring rolls.
Although having been to Vietnam many times, the city never fails to bring Juanique pleasant surprises: "Everything is new to me; from the food, the unique atmosphere and the generosity of the people here. I have learned more things about Vietnamese people and culture," said the foreign tourist.
Something as simple as the summer weather in Hanoi also impressed Juanique, she finds that it is much different from her home country's. For example, the sudden yet heavy rains, the afternoon thunderstorms, etc. When the rain came with cool air, removing the stuffiness of the weather, it surprised Joanique because she never experienced it in Belgium.
She was also interested in the fashion of Hanoians in the summer. "The young people here always know how to dress. They pull off trendy clothes very well. Not only that, many people also focus on protecting their skin when going out. Most people always cover up, wearing tight clothing as they are called "ninjas clothes" to cover the heat", exclaimed Juanique.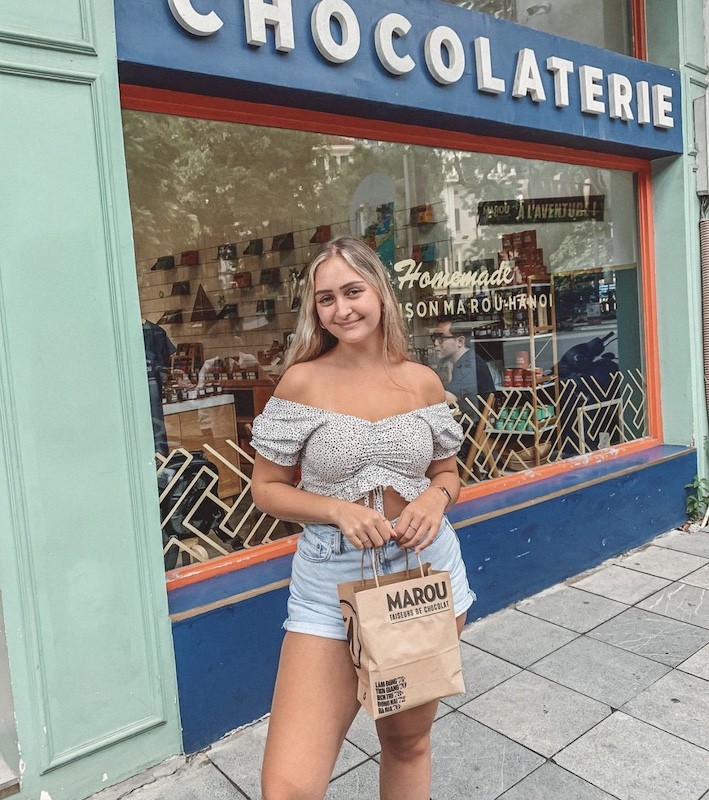 Belgian tourist Juanique when in Hanoi (Photo courtesy of Juanique Kadriye).
Juanique Kadriye (born in 1999, from Belgium) is a musician. Juanique frequently travels to Vietnam for vacation. So far, she has been to Phu Quoc, Da Nang and Hanoi. In Hanoi, she spent a week together with her family. Her favorite Hanoi's attractions are the cathedrals, Hoan Kiem Lake, West Lake, etc.
Having been in Canada for more than 3 years, the 23-year-old student Thai Yen Phuong carried memories about Hanoian summer to ease her homesickness while being more than 11,500 km away from home.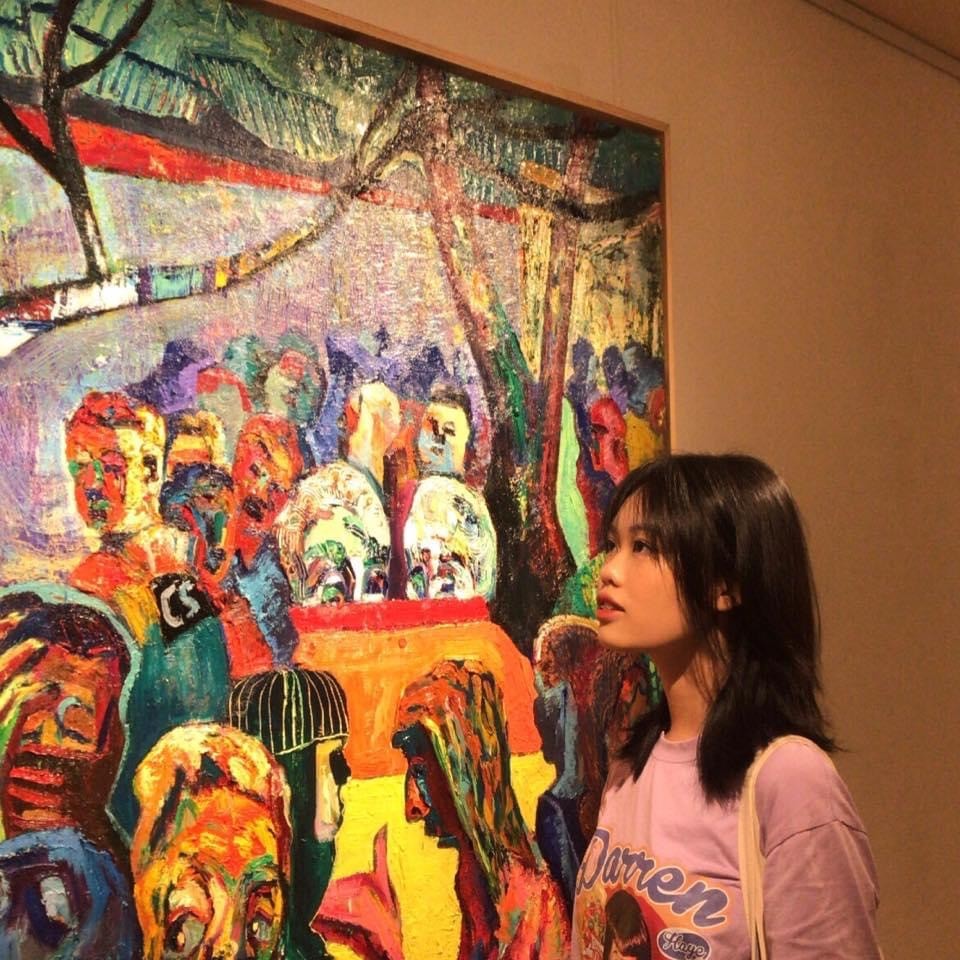 (Photo courtesy of Thai Yen Phuong)
While in Canada, summertime brings nostalgia about Hanoi for the young student. Phuong recalled: "Summer in Hanoi is full of fond memories for me: the cicadas sound in the afternoons, the trees on Phan Dinh Phung Street, and especially sidewalk eateries. Summer in Vietnam is always filled with laughter because I was with my close friends,".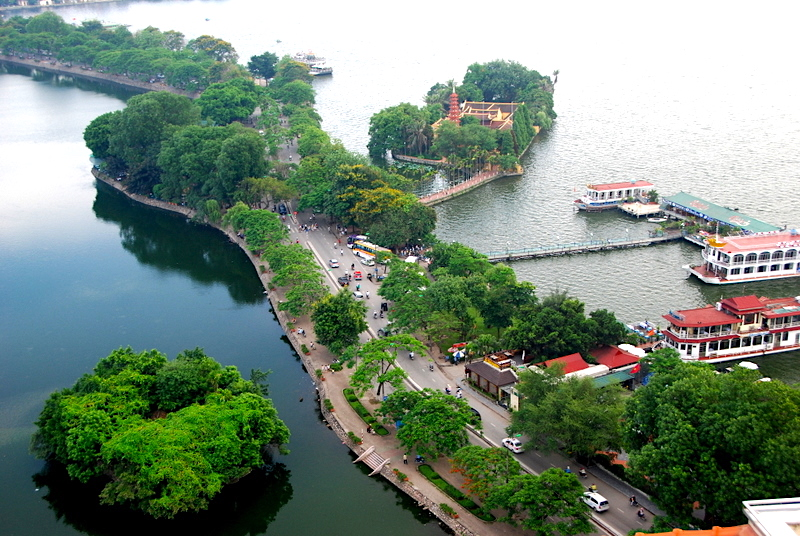 Hanoi is known as "the city of lakes" (Photo: metrip.vn).
Phuong finds the days when the temperature is up to 38-40 degrees Celsius to be "typical Hanoi feeling" and that the further she is away from home, the more I miss them.
One of her most memorable things about Hanoian summer was that: despite the heat, there are many different ways to have fun. "The must-visit places are swimming pools in the city for residents in apartment buildings," said the female student, "even public places like rivers, particularly, West Lake and water park attract many locals and tourists every summer, including me."
Hanoi is known as "the city of lakes". There are about 20 lakes, all become the favorite spots for outdoor activities in the summertime. The walkabouts around lakes are arguably the most vibrant and lively in the summer heat. Under the shade of big trees and next to the cooling water, the locals enjoy many activities like feasting, playing sports, or simply taking a walk.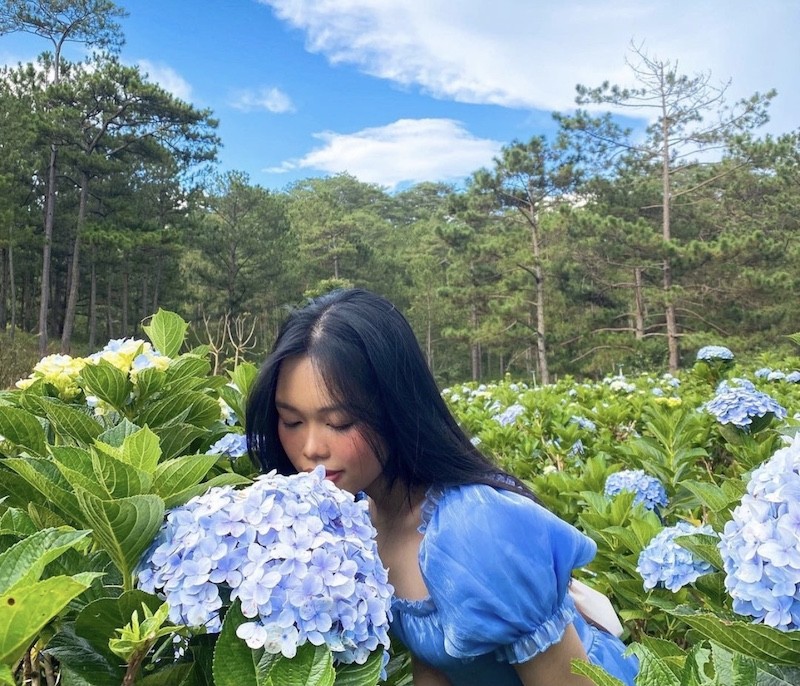 Photo: Thai Yen Phuong

Thai Yen Phuong (born in 1999, from Thai Nguyen, Vietnam) has lived in Hanoi for 18 years. Phuong is currently studying at

the St. Thomas University, New Brunswick, Canada. This is her first time returning to Hanoi after 3 years.
Daoni Nguyen, a Hanoi-native, wishes to avoid crowded places and touristy spots in her hometown. She has been living and studying in Paris, France, one of the most crowded tourist destinations in the world so she looks for peace and calmness whenever she returns to Hanoi.
The female student is drawn to hidden places such as the train track at Tran Phu Street. This is where the train passes literally a meter away from the resident houses. Seeing the train passing by up close is a thrilling experience for tourists despite how dangerous it is.
She also suggests getting away from the city center on a motorbike. Daoni said: "Riding a motorbike is the best way to enjoy a Hanoian summer. It is how you get to live like a local." But if you are a tourist and do not know how to ride one, you can get on mobile apps and get a motorbike taxi by a few clicks.
The Long Bien bridge - the first steel bridge in Vietnam and also one of the oldest bridges in Hanoi (Photo: @Daonigram).
Daoni's favorite places in Hanoi to take beautiful photos in the summer are the Long Bien Bridge and the bank of the Red River. They are also easier to access with a motorbike. For example, the Long Bien bridge, only allows pedestrians, bicycles and motorbikes.
Crossing across the Red River on the Long Bien bridge is also your chance to see the city from a different view and capture beautiful memories.
Another attraction to cool off in the summer is the Yen So public park, 9km away from the city center to the South. Daoni especially loves this park because it reminds her of the Parisian days.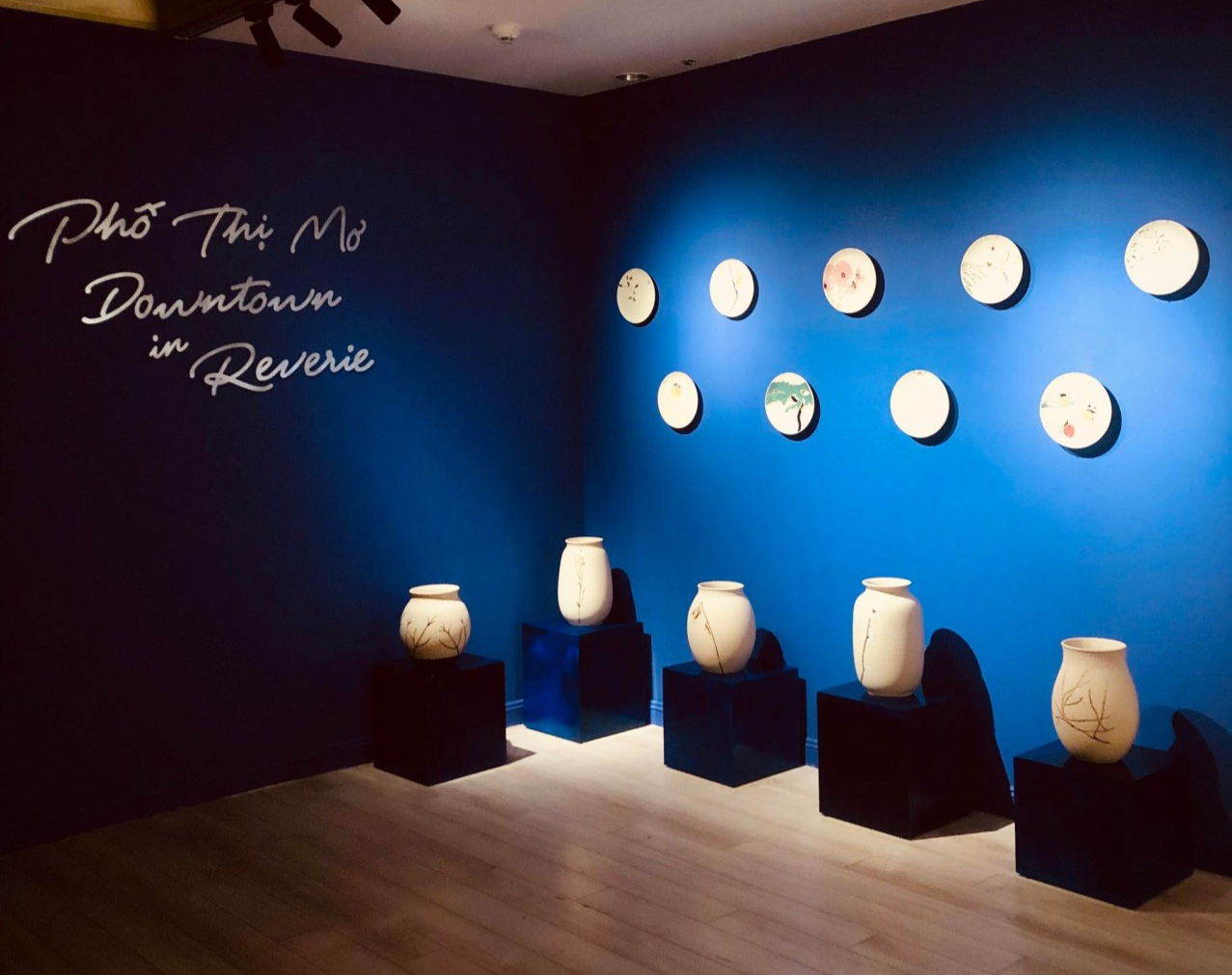 (Photo: @Daonigram).
"I like to visit hidden places that not a lot of tourists know about. I feel a certain atmosphere [in Yen So park] like in Paris. My friends and I can lay on the grass, and enjoy a picnic by the lake. In Hanoi, I also like [to visit] Hoan Kiem Lake and the Temple of Literature, ", said Daoni.
For an authentic experience in Hanoi, a city of more than a thousand years old, Daoni recommends the Women's Museum of Vietnam and the Vietnamese Museum of Ethnology. These attractions are like her summer schools where knowledge about Vietnamese history and cultures are delivered in an interesting way.
"At the museums, I learn a lot about how Vietnamese women were heroic back in the colonial times and the war, and I admire them. Also, I learned about Vietnam and the different ethnic. Since I have never studied in a Vietnamese school, I have never learned that." explained Daoni.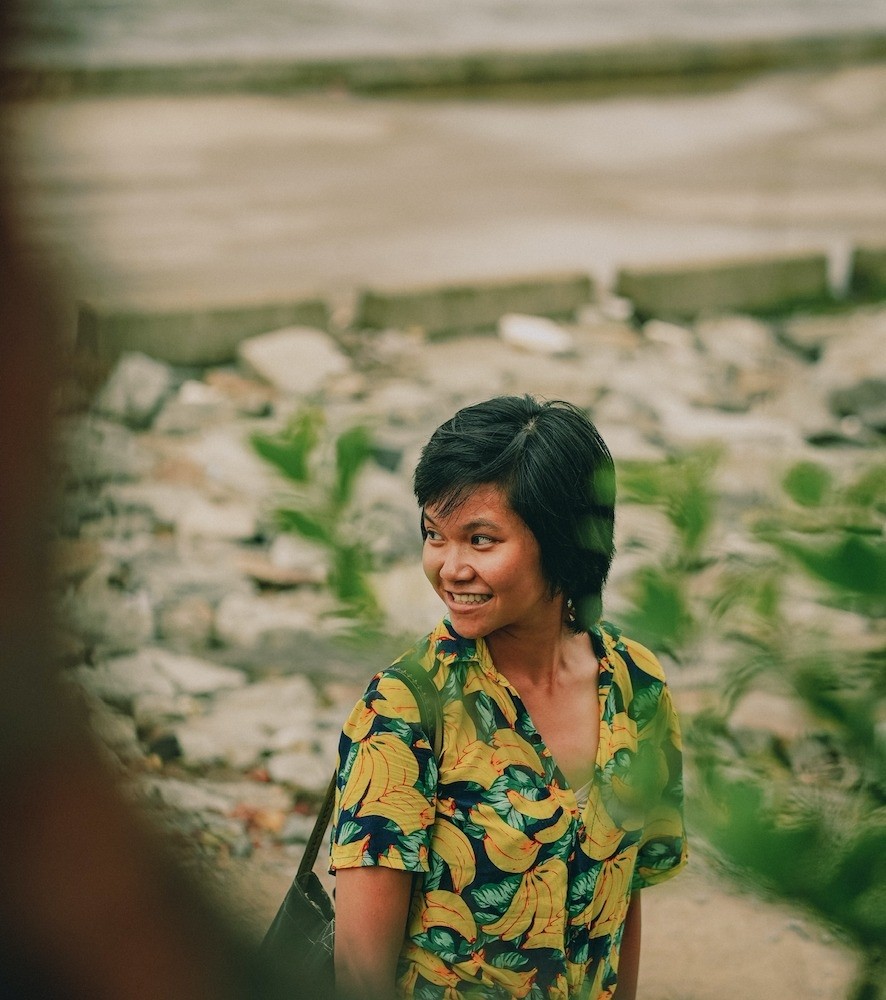 Photo: Daaunhi Nguyen Facebook

Daoni Nguyen (born in 1998, from Hanoi, Vietnam) was born in Praha, Czech. She is a

student at Sorbonne University, Paris, France and is currently on a gap year in Hanoi. Daoni has been to many countries like

Portugal, Spain, Germany, Hungary, Estonia, Finland etc.