Must-Visit Foreigner-Friendly Art Galleries in Vietnam
Are you an art lover who wants to discover Vietnam-based expat artists and to keep up with their exciting creating journeys? Read on to explore some outstanding galleries that have been actively forming a local-expat community that grows together artistically.
These pioneers are not only ushering in new aspects of arts in the S-shaped land but also highlighting interesting collaborations between the local and international artists. Among many means, they especially to engage with the audiences using social media contents that are both creative and informative.
The art scene in Vietnam is sailing for world-class standards and these galleries blowing the medium in right direction.These pioneers help create a platform for foreign artists to showcase their talents and become an integral part of the contemporary art scene in Vietnam. With their continuing efforts, Vietnamese art community can achieve a momentum and synergy for both local and foreign artists to thrive together.
1. CHON de l'art (Hanoi)
Having 15 years of experiences in the Vietnam art trade industry 2015, CHON de l'art was one of the most reputed local galleries in Vietnam art scene. Thanks to CHON de l'art, now located in Bat Trang Ceramic Museum, only 15km away from the center of Hanoi, opportunities for the public to learn and appreciate the ancient cultural beauties are closert than ever.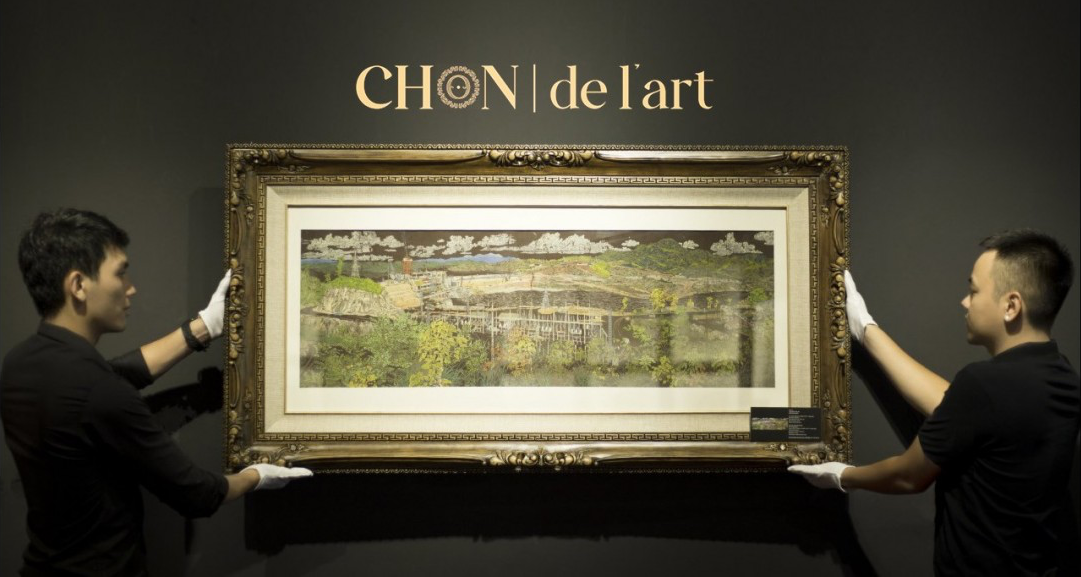 Since 2015, CHON's activities include auctions and exhibitions, art discussions, conferences, performance and shows.
CHON de l'art hosted "The Art of Making Ancient Japanese Swords" exhibition in May 2022, the first of its kind, showcasing 5 rare samurai swords. One of them is The "sacred swords of superiority" - a masterpiece dedicated to Shogun Tokugawa Iemochi, who ruled over all of Japan from 1858 to 1866. The exhibition attracted only only fans of Japanese culture but art lovers in general who are interested in foreign artworks and antics.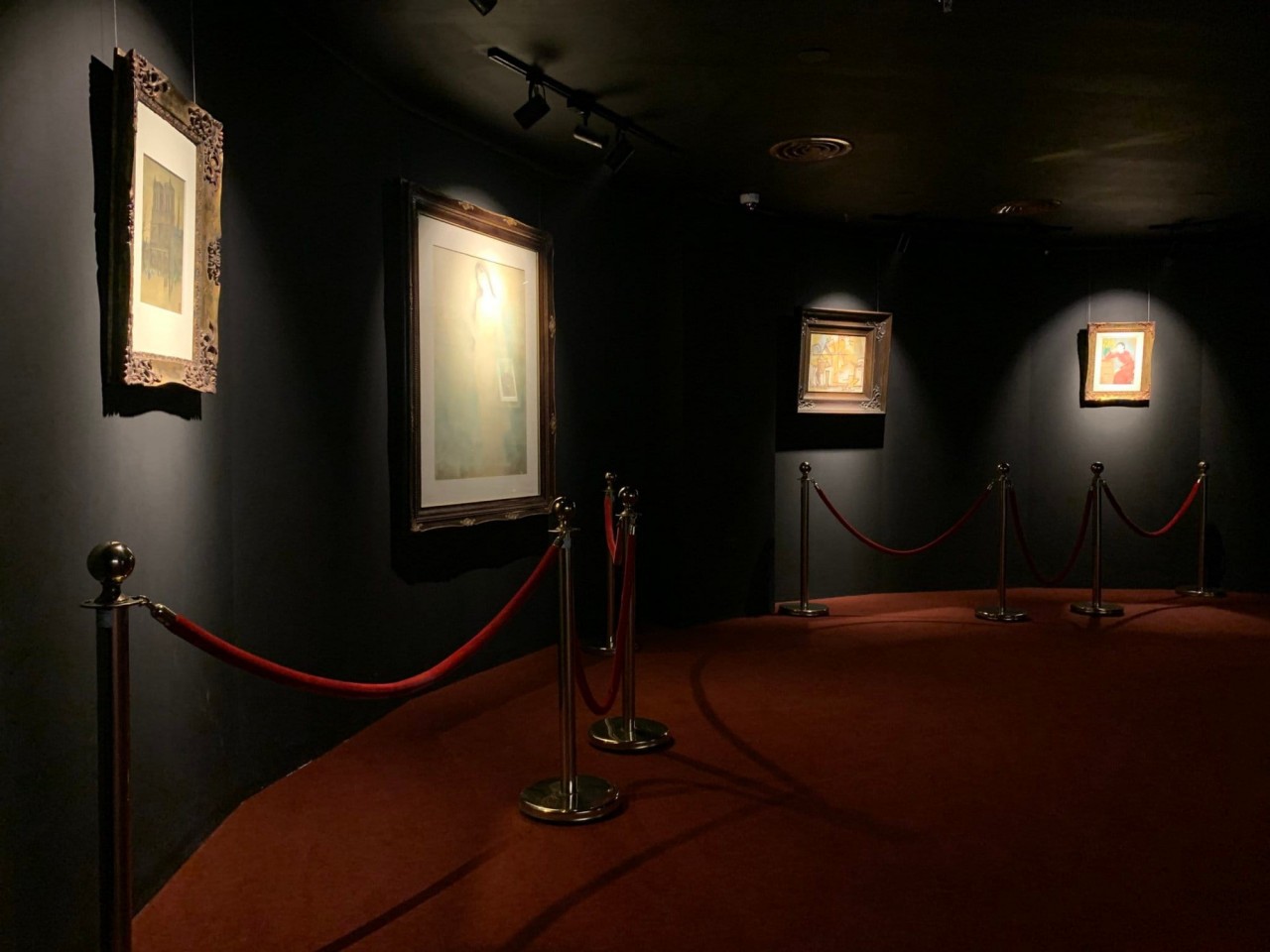 The gallery is located at Bat Trang Ceramic Museum in Hanoi, a new cultural spot for young people.
From 2020, CHON's activities focus on three main sectors, two of which are completely new, besides the traditional CHON del'art gallery. The first new sector is CHON delicat – the fashion brand associated with CHON de l'art. With this brand, founders of CHON want to turn artwork to fashion designs, instead of being present only between picture frames.
In addition, CHON focuses on implementing digitalization into art trade and exhibition: for example, investing in traceability or promotion so that the public can jointly own a work of art.
Speaking to Vietnam Times reporter about CHON's vision, Art Director Tran Long stressed that it is the long-term strategy of the gallery/auction house to honor, preserve and promote the high-class world heritage right here in Vietnam.
Find about more about CHON's on their Facebook page Chon's de l'art.
2. Chau & CO. (Hanoi)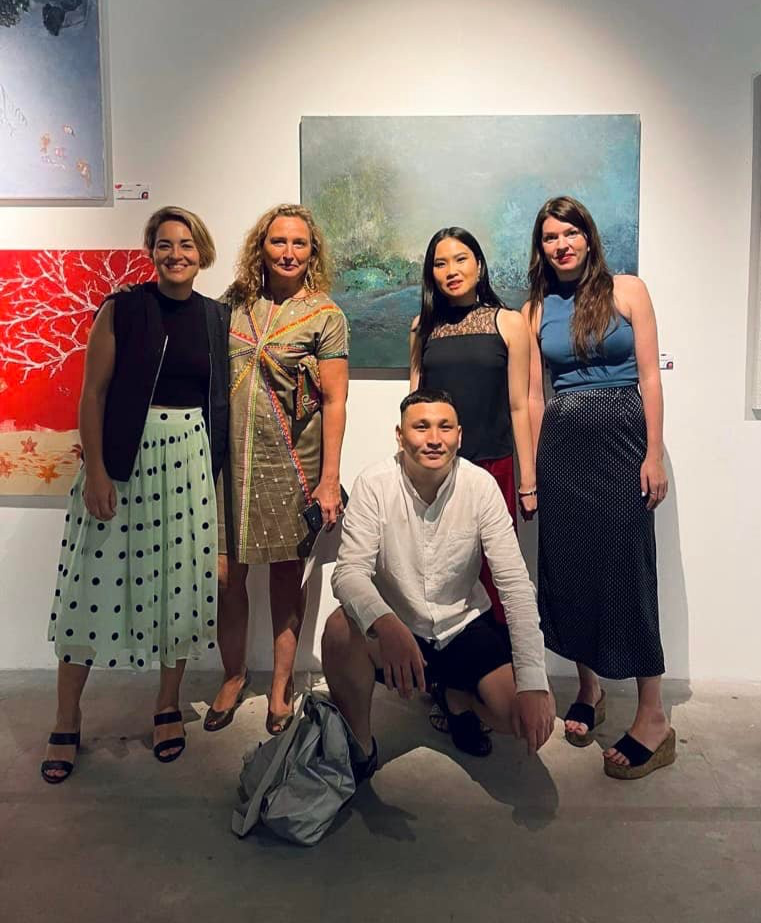 The gallery director Hoang Minh Chau (third from left) with expat artists.
This gallery is among some of the first galleries in Hanoi to feature artworks by foreign artists.
At the moment, CHAU & CO Art Gallery represented and non-artists from 13 different countries, exclusively and non-exclusively. The artists are encouraged to join the local art community to first, find inspiration from it and second, get a valuable learning experience on their artistic journeys.
Spanish artists working with CHAU & CO like Cristina González Martín and Natalia Peraita saw themselves evolve as soon as they step foot in Hanoi's art scene.
"Being able to meet and work in the same space with so many other talented artist, painting during hours a day, each one of us focusing just on giving our best on our paintings or sculptures…,", said Natalia Peraita about her participant in Hanoi Art Connecting program (an annual networking program for the international art community in Vietnam) earlier this year.
CHAU & CO Art Gallery also aims to expand the range of artworks available to local art collectors by not only feature foreign artists but also help the them become an integral part of the local contemporary art scene.
The gallery director Hoang Minh Chau offered buyers and collectors a variety and diversity of art choice that suits their budget and style. She personally guides your gallery visiting experience and most importantly, gives you chances to communicate with the artists.
Located in the beautiful urban district of Tay Ho (West Lake), the sophisticated space welcomes everyone in a private yet cozy and friendly ambience.
You can also visit its "virtual gallery" on social media where artworks are displayed and sold online. The gallery offers nationwide and worldwide shipping service at the client's disposal. Shopping for your favorite art pieces is never easier.
3. The Mango Studio (Hai Phong)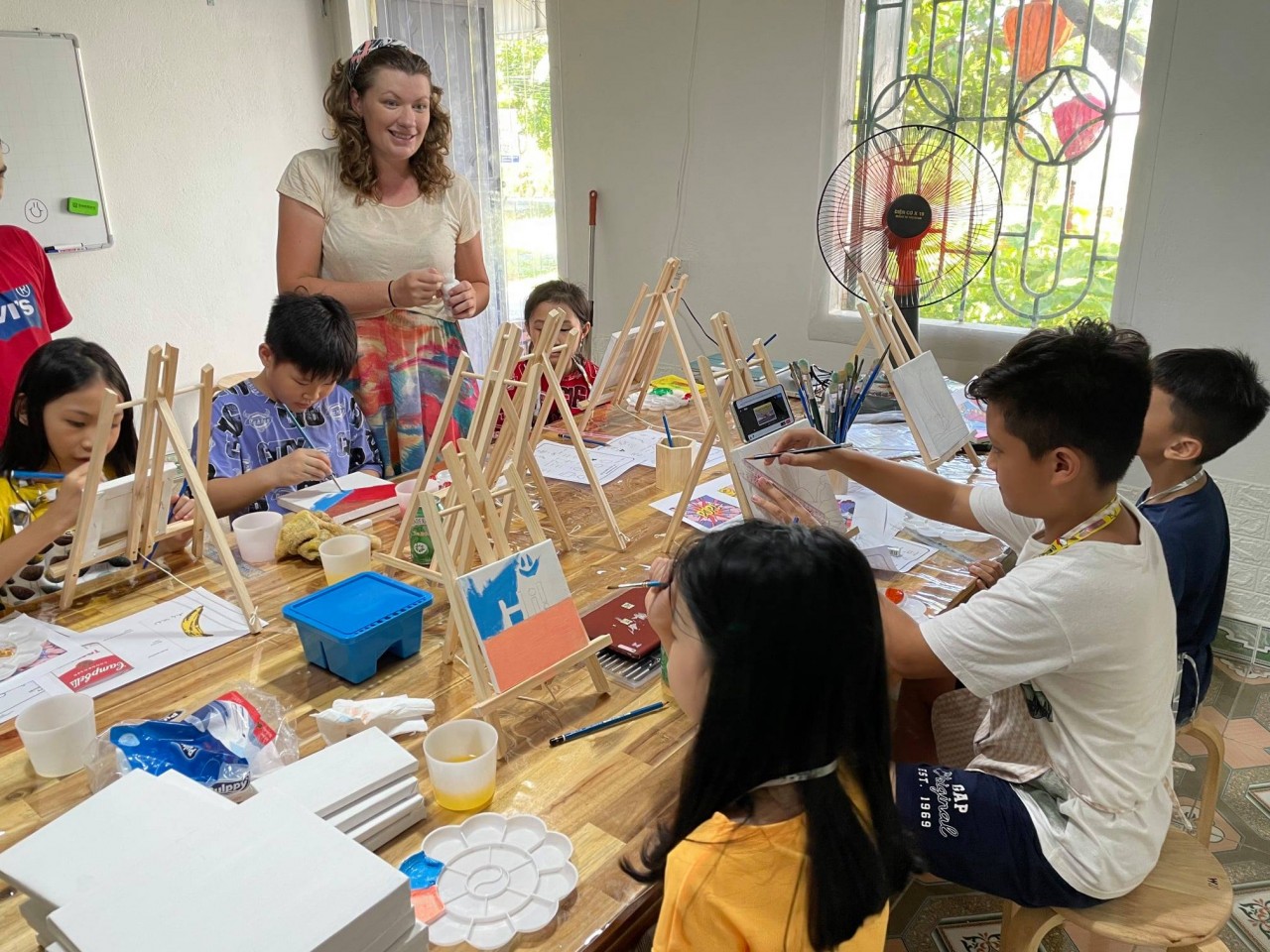 The gallery owner Rebecca Milward (standing) is a Canadian who has been living in Vietnam for eight years, studying the country's distinct art scene.
A few hour drive from the capital city, you will find a small but thriving art scene in Hai Phong city. In this town you will find a platform for the local community to express themselves creatively and bonding with expats with the same interests. It is named The Mango Studio.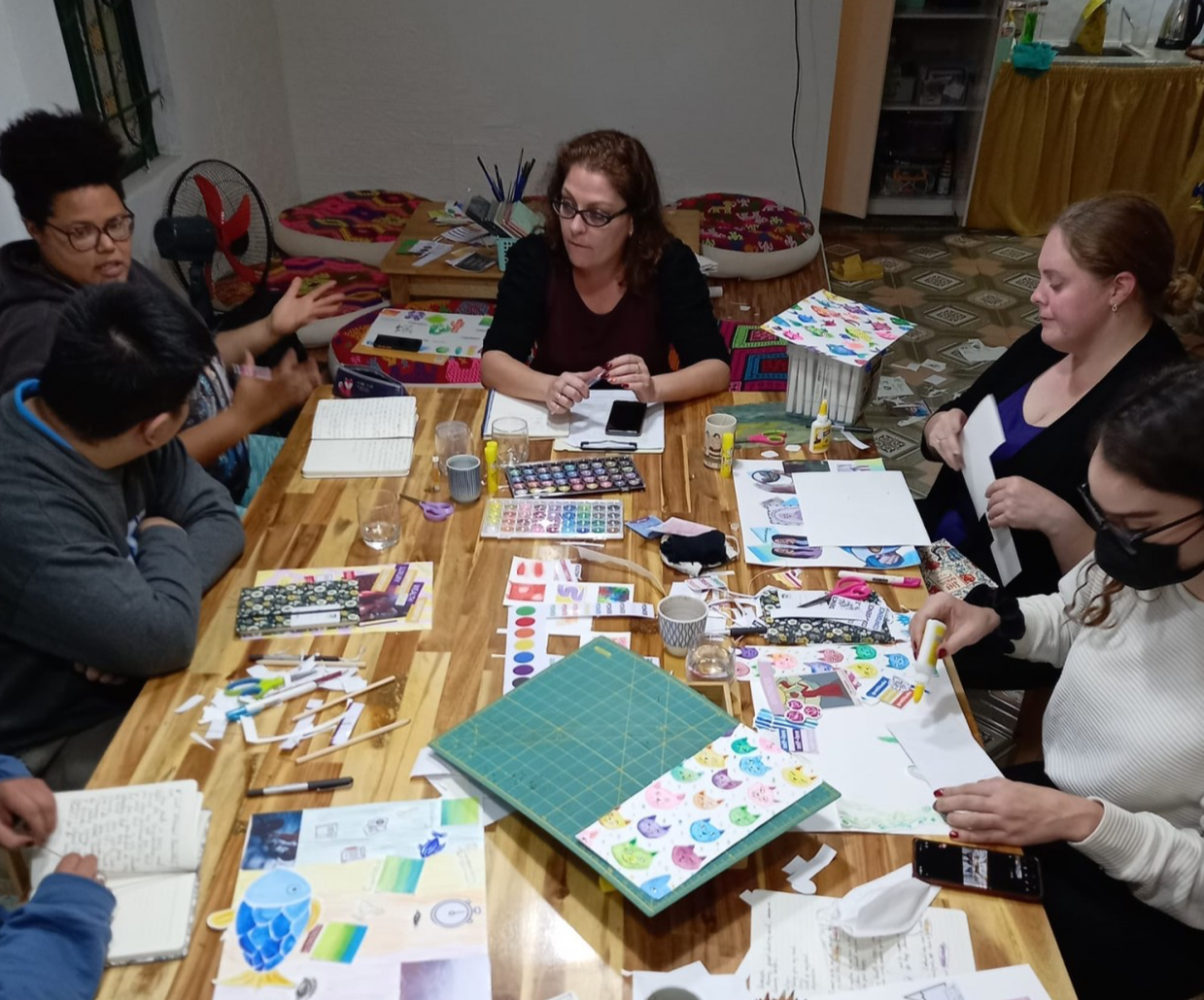 The Mango Studio is also a community-based arts space in Hai Phong city offering creative workshops, courses, and art exhibitions for both children and adults.
In the summer 2021, the studio hosted its very first exhibtion "Ikigai", which featured Egyptian artist Mo and his film photography. This is also Mo's first solo exhibtion, and as their artistic visions met, Mo and the gallery owner Rebecca Milward succefully told a story of Hai Phong's lifestyle through street photography and conceptual portraits.
The colorful space has plenty of ways to artistically express oneself.
With huge tables built for collaborative projects and walls filled with art, Milward's new business has been a beacon for the city's artists. Many of them gather at the Mango Studio ready to create something new.
At the moment, you can join Mango's national-wide, online project called "52 Birds" - an ongoing projectto to raise awareness of endangered wildlife in Vietnam.
Get in contact with the Mango Studio on Facebook and submit your own interpretation of the Vietnamese bird breed in the Red List (with instruction from the host). This is your chance to be featured in the 52 Birds online collaborative project.
By making your choice of mediums, from watercolor to clay sculpture to collage, you deliver the charming beauty of Vietnam and viewers can watch your work on the 52 Birds online art exhibit live-streaming on the Facebook page of The Mango Studio.
4. The Saigon Print Shop (HCMC)
The Saigon Print Shop is an art studio founded by Jack Clayton, a young woodblocking printmaker from London, England. Despite coming from a different culture, Jack has spent the past seven years drawing, carving, and making woodcut prints that combine Western and Eastern styles. He learned this craft whilst in the UK starting back in 2009 and has combined his early inspiration of Japanese and European woodcut printmaking with the Vietnamese art of Dong Ho Painting.
In the cozy space of his studio, you will find stories that Jack he puts down into pieces of wood and printed on pieces of fine papers. They come together to create a visual representation of his love for Vietnam.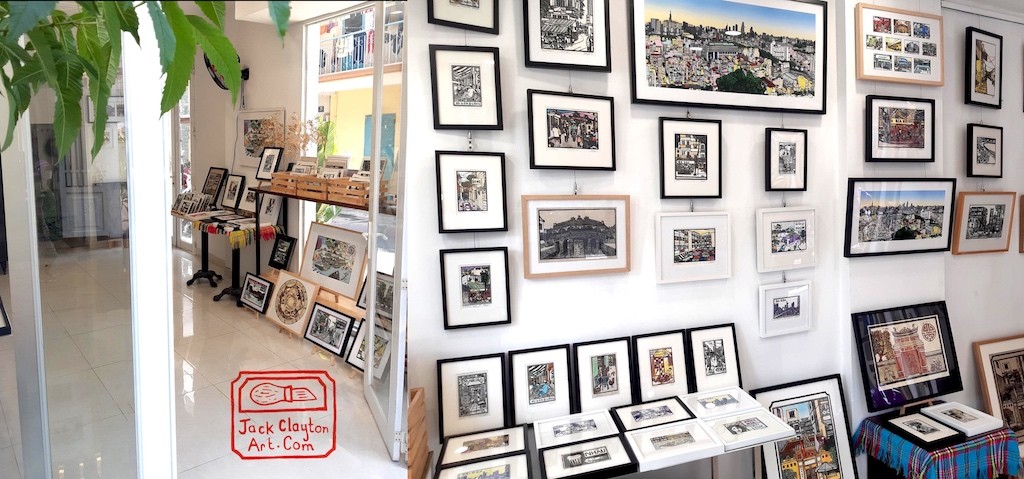 His works are vibrant in color and give a glimpse of Vietnamese lifestyles, including portraits of many characters like shop owners, cyclo drivers, and mostly locals doing their daily activities.
The studio also hold illustration and woodblock printing art classes for both locals and expats. You can find more information on Jackclaytonart.com.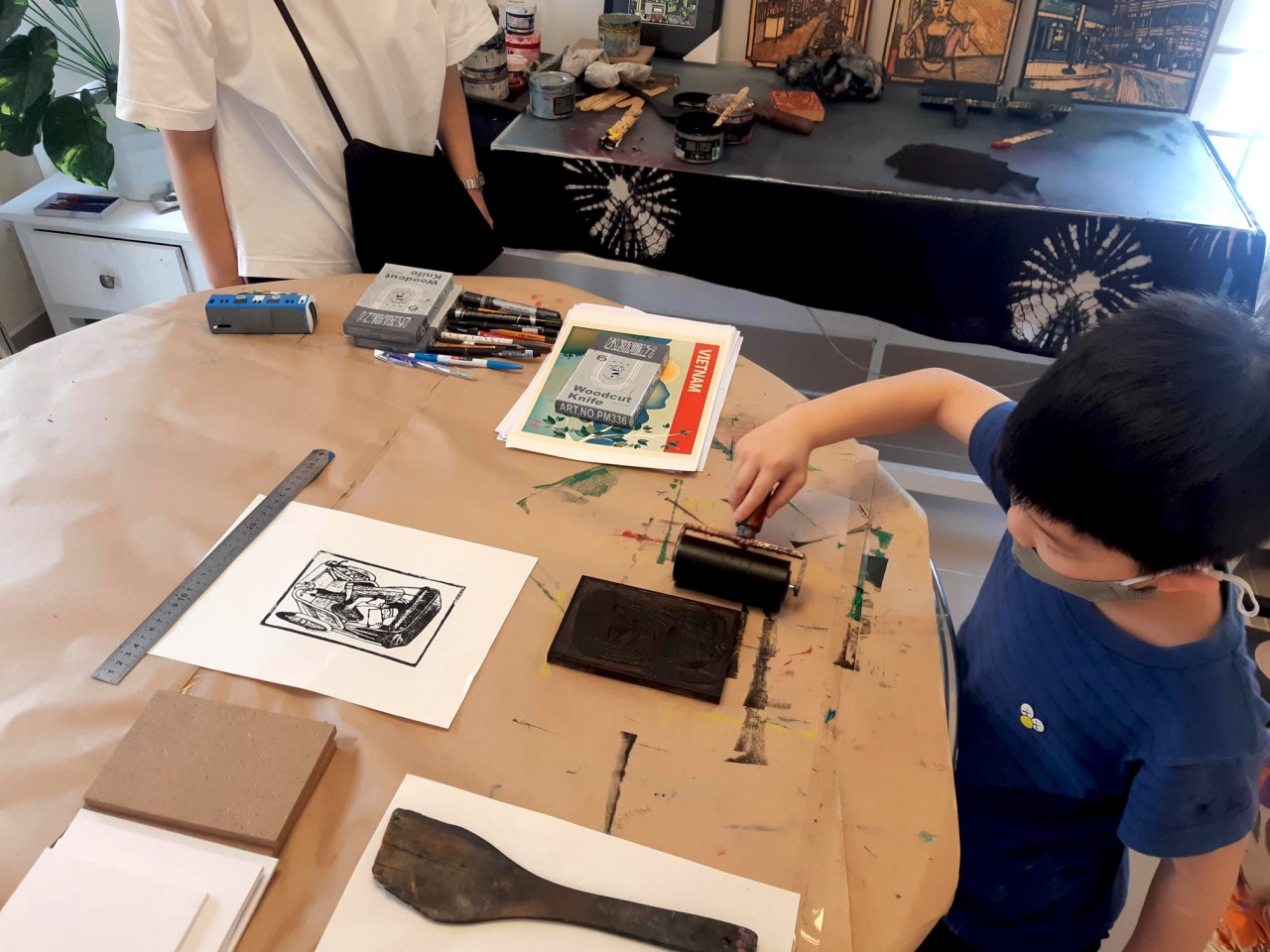 Students making woodblock printing in Jack's class
A city walk art class is in planning, which will combine tourism and art to give tourists a unique Saigon experience, from illustrating iconic destinations around the city to crafting memorable souvenirs.
As a staple of Saigon's expat art scene, this expat artist encourages others to try their hand at woodcut relief printmaking. He believes that the only tools an artist needs are their hands, imagination, and a lot of practice.