Expats Business Owners React to Vietnam's Post-Covid Reopening
Vietnam recently returned to pre-pandemic normalcy, much to the delight of expat business owners. Read how they survived lockdowns and their plans to capitalize on the nation's new normal.
For the past two years, many businesses suffered under Vietnam's strict anti-Covid laws. While effective at protecting the most vulnerable members of society, these laws made some expats unable to continue running their business. While some failed, others were able to make it through by being financially-savvy or just unbelievably lucky.
Recently, the Vietnam Times reach out to several expat-owned businesses to collect their thoughts on Vietnam's reopening and their plans for the future.
Chopsticks (Hanoi)
Chopsticks had to make huge changes to its organizing strategy in order to survive. Matthew Lowe, the founder of two beloved Hanoian restaurant, Chopsticks and Great Wall, tells his story about how he managed during various lockdowns.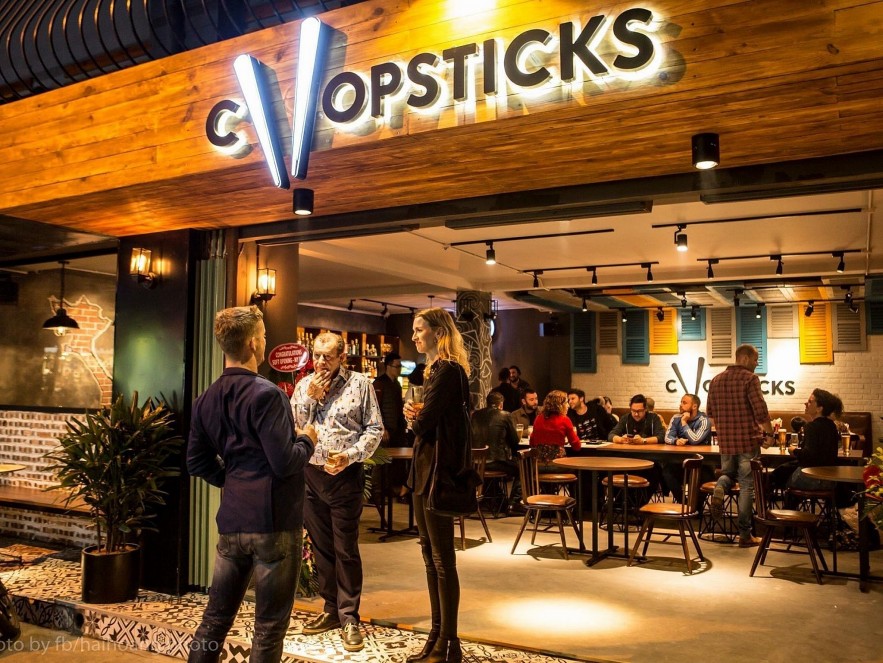 Photo: Matthew Lowe
To deal with Covid situation, Chopsticks was changed to Chopsteaks as Lowe and his associates wanted to target the local market for Vietnamese customers. "We also opened Great Wall on Xuan Dieu as we realized delivery was still very strong and in that area expats remained, rather than focusing on tourists," said Lowe.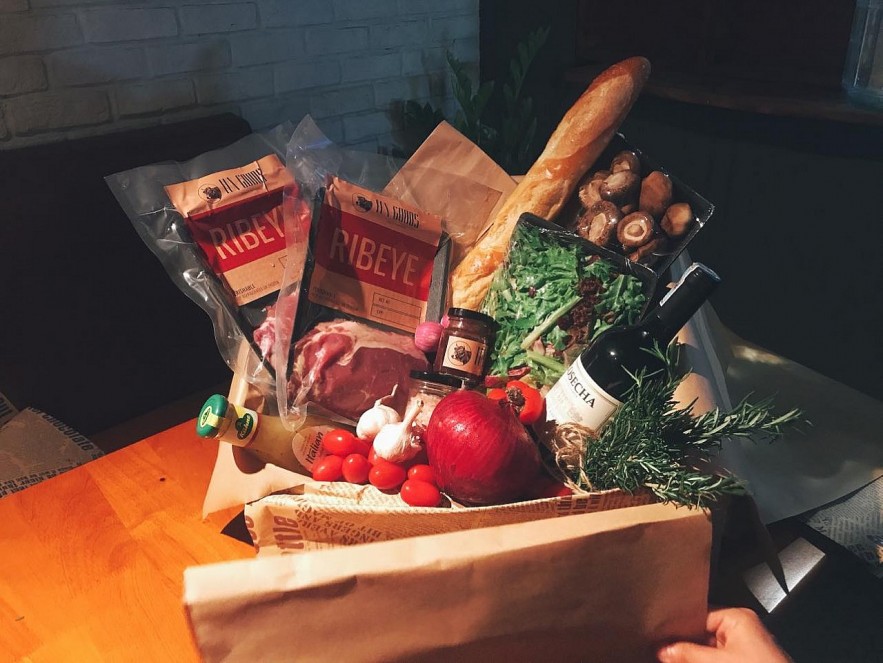 Packages Chopsteaks sold over lockdown. Photo: Matthew Lowe
"We survived by any means possible," he says. "Including making ready meals in the worst periods of lockdown. We sold these in around 20 mini-marts mainly around Tay Ho. We also delivered packages so people could enjoy restaurant-quality in their own homes."
The owner of Chopsteaks further explained that it was difficult to take a salary during that time. However, they managed to keep their key employees and 'cut the fat' by running the business with far fewer employees, while still being able to operate.
"We also utilized our personal networks and relationships, who supported us with a number of events and private catering. We made deals with our landlords and suppliers and ultimately did not give up. It definitely led to creativity and innovation and being in pure survival mode," said Lowe.
Chopsteaks bar. Photo: Matthew Lowe
He foresees higher-level tourists visiting Vietnam as it continues to rapidly develop. Some of the facilities, brands, and foreign investments are very exciting, especially as Vietnam has so much to offer and incredible places to see. As a Brit living abroad, Lowe is a champion of Vietnamese-English relations.
"I am delighted to see the incredible diplomatic relationship between Vietnam and the UK," said Lowe. "Being from Manchester, England, I am delighted to see the incredible diplomatic relationship between Vietnam and the UK. The speed that which Vietnam is evolving is also wonderful to see and I think it will see sustained growth over the coming years. I have been here for 10 years and feel genuine excitement and always warmth and massive support from my Vietnamese friends and associates."
"I believe Vietnam will make a statement internationally," said Lowe, expressing his enthusiasm toward the opening and the future of tourism in Vietnam. He said, "I think it's fantastic that tourists are coming back."
After a long period of time working and living in Vietnam, Lowe thinks the level of tourists has improved in terms of quality.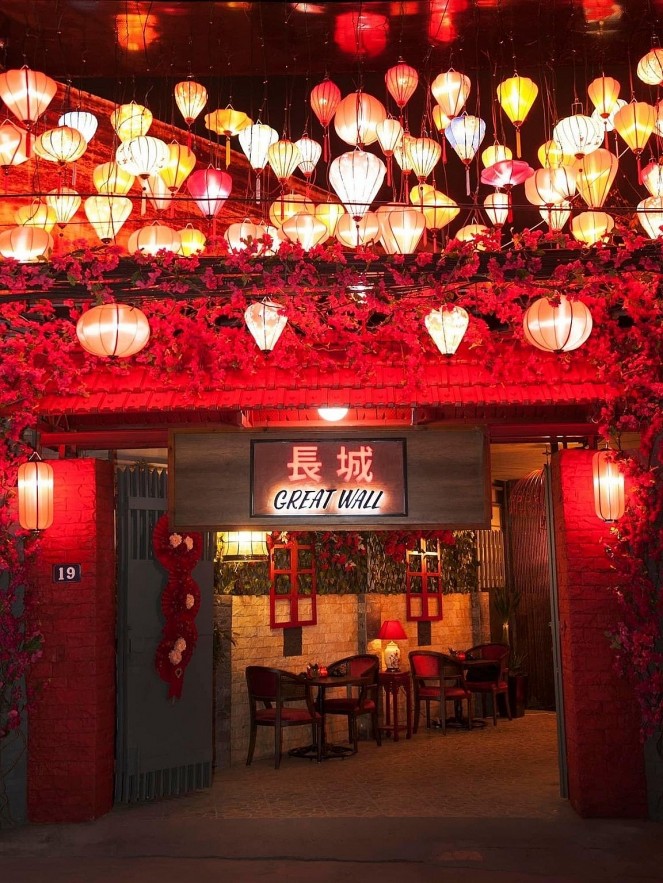 The Great Wall. Photo: Matthew Lowe
Matthew predicts that "Vietnam is the most exciting place to be in South East Asia over the next 5-10 years with massive opportunities and growth potential."
Chopsteaks and the Great Wall are well-known restaurants that the public figures enjoy, from Ryan Giggs, Park Hang Seo to the President of Haiti have visited over the years.
ARCH. Café Bar & Rooftop (Hanoi)
As the most hottest location for art lovers and local community gatherings, ARCH. Café Bar & Rooftop is a beloved spot for the capital city's art scene. Owner Diego Romero spoke about how the ARCH. team has managed to "just hold it down together" throughout Covid.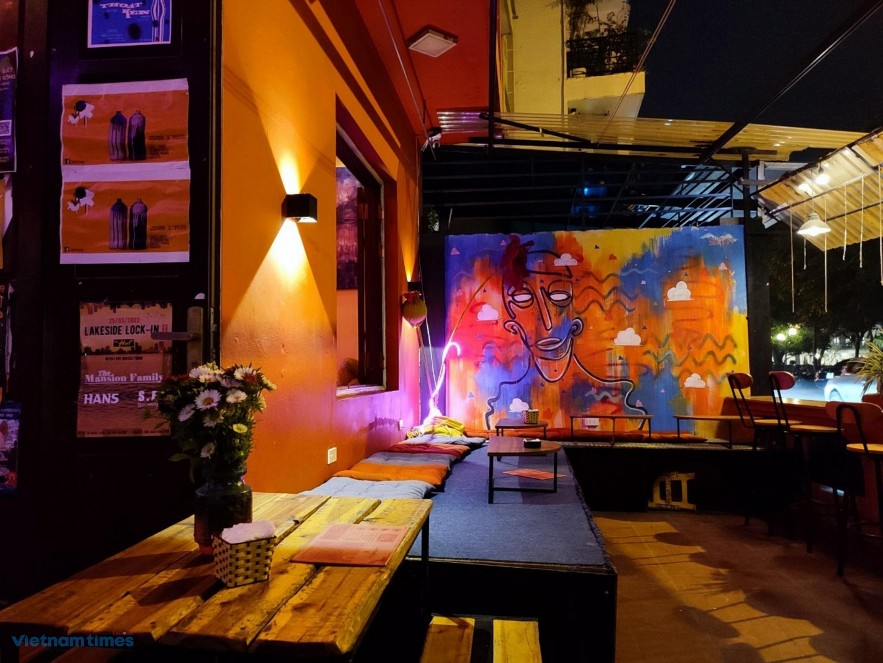 ARCH. outdoor area. Photo: Ollie Le Nguyen
As the F&B director of ARCH., the 28-year-old Canadian-Colombian discussed seeking help from the locals. "I don't know really how we did it we just survived and always kept hope."
ARCH. has been organizing events for everyone since the social separation was eliminated at the beginning of 2022. Diego referenced ARCH. business plan when he said that they "have learned not to rely on tourists" and instead aim to reach out to as many people as possible.
Some of their current events were mentioned by Matthew MacPhee, Creative Director & Designer at ARCH. include: 'Messy Play' session with Storytime on a Saturday each month for parents and up to 3-year-old toddlers. For older patrons, "Escape from the cocoon" is an art exhibition with artworks including paintings and ceramic statues of young Vietnamese artists bearing the impression of people, animals and things in the 21st century. These events and many more have made the name ARCH. really stand out in both local expats and the Vietnamese communities.
Diego Romero at ARCH. Photo: Ollie Le Nguyen
"Now I'm excited to see the potential to grow faster as tourists are coming back to Vietnam. I'm very excited to open for tourists. Not only for ARCH. but our many projects including Bloom Festival and Electric Escape in Lan Ha Bay. Vietnam is one of the only countries that didn't get covid recessions because of its strong economy and big growth numbers," said the Canadian-Colombian expat.
"We are absolutely excited to connect with the new crowds of people coming into the country," added MacPhee. "Being based on Westlake though we know the tourism traffic won't be major however we are looking into ways to put Arch on everyone's radar! Outside of that the excitement of welcoming new artists, musicians, and creative minds to showcase at ARCH. will be an added bonus!"
"I believe we will see a tremendous push for growth and tourism," said Romero. "I believe Vietnam will be able to return to its previous growth rate of 5-10 percent per year within the next two years."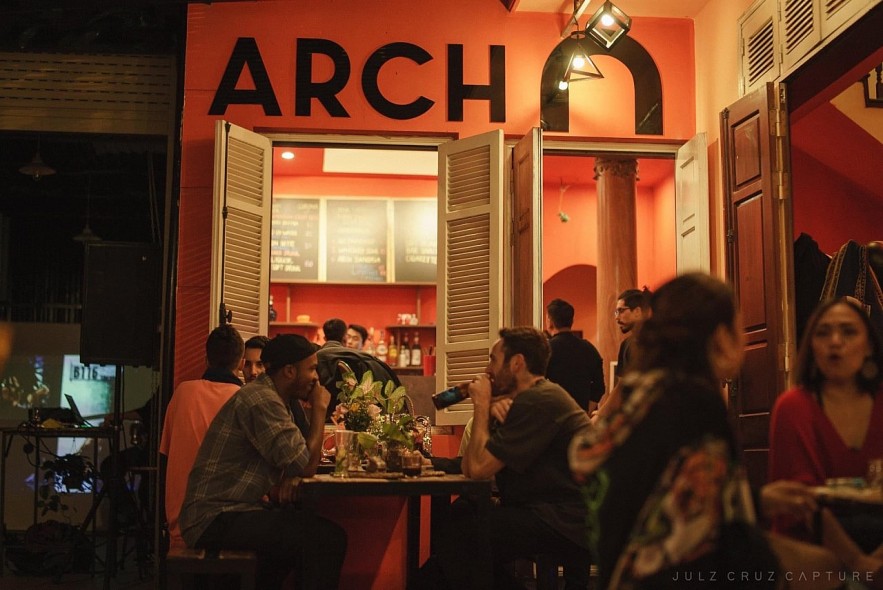 ARCH.
He also mentioned that one of the most significant challenges that most firms face is a shortage of staff to carry out the tasks necessary to ensure future success.
"Because Covid destroying the business has led to many employees shifting careers for something more secure like factory job or office work, all F&B industry locations are experiencing difficulty hiring people. So now that things have reopened, we're all short on employees," said Romero.
"We're also trying to expand into other markets," said MacPhee, when discussing future investment plans, "but that's still a way off as we wait to see how the return of tourism affects the economy!"
Mike Rosa, 31, American, and his best friend, Nhân, a Vietnamese citizen from Danang, opened a bar called "The Worst Bar" in Dong Hoi, Vietnam. Moving to the central coast of Vietnam, in Dong Hoi, Quang Binh, Mike Rosa, along with Nhân, opened a place called "Everybody Nhậu" around 2 years ago. Last year, they changed it into "the Worst Bar." Despite the ironic name, the establishment is well-liked by expats and locals. Now, they struggle to stay afloat during these trying times.
"We are trying our best and doing whatever we do to keep the business," said Rosa.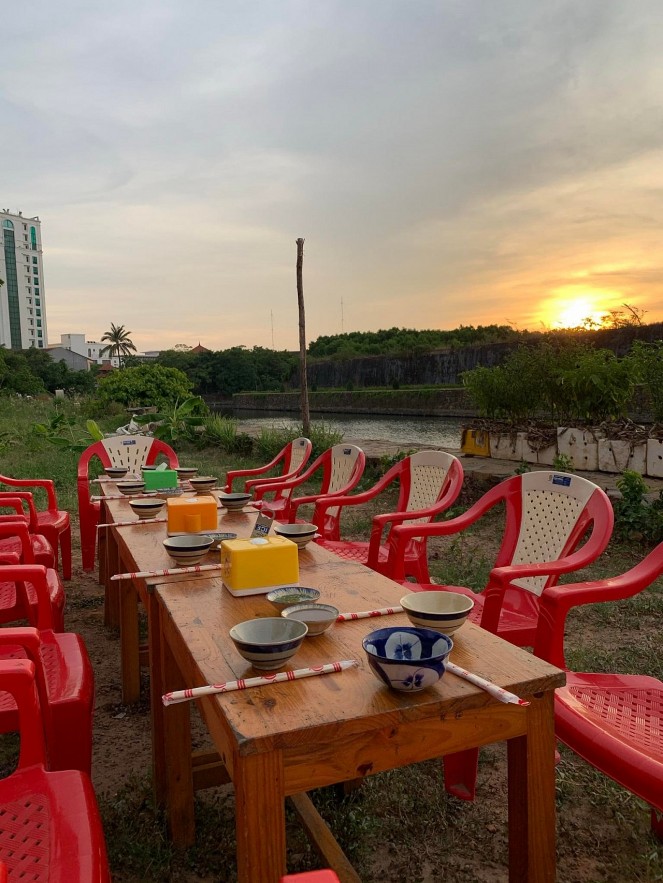 The view from The Worst Bar. Photo: Mike Rosa
"The Worst Bar (Tệ Xá) is very much a labor of love," explains Rosa, who put everything he had into the business. "We make everything by hand all of our food is made by hand nothing is ever bought or not frozen from the supermarket, none of our juices come out of boxes. We hand-press all the fruit and make everything is handmade."
Mike and Nhân currently have "a lot of faith," as they were once uncertain before international tourism opened in Vietnam.
"We weren't sure when we'd be open or when we'd be closed. It was a lot. But we were certain that we wanted to keep this place (The Worst Bar) because it means a lot to us as two people who are not from Dong Hoi city," said Rosa.
They take a lot of pride and joy in The Worst Bar and its uniqueness. "We love service so much so nothing makes us happier than to put a smile on other people's faces and I think the two of us never really want to stop doing that."
Fortunately, they both have good jobs since Mike is a teacher and Nhan works online as a content moderator. Mike shares that they were still able to have other incomes to invest in the business together to pay the rent and "we tried our best to help the staff when we could."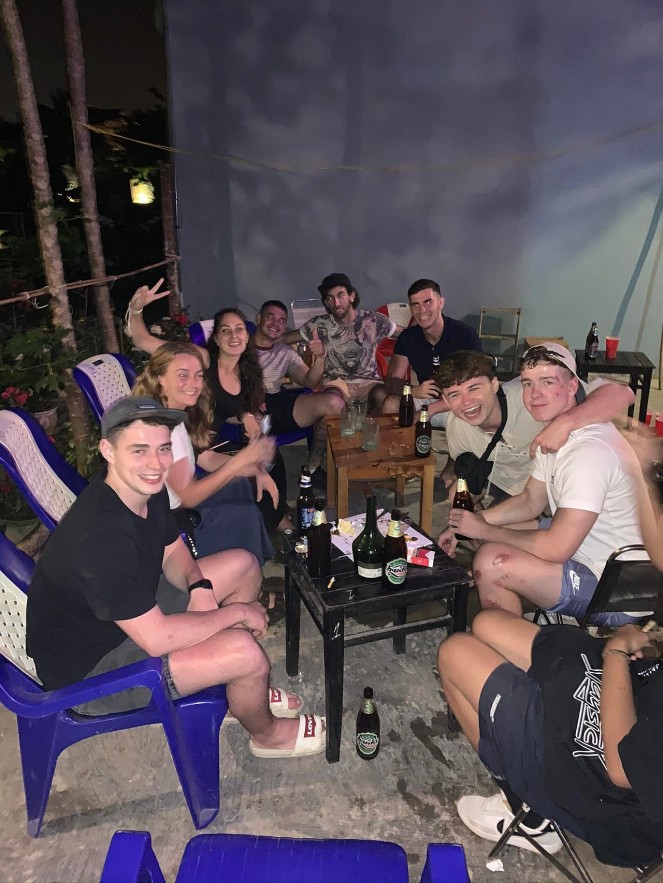 People are having fun at the Worst Bar. Photo: Mike Rosa
Discussing the restaurant situation during Covid-19 times, Mike and Nhan Rosa, the owners of The Worst Bar, decided to stay closed "just in an effort to be safe". Rosa shares that they were able to have other incomes to invest in the business together to pay the rent.
"It's really just faith looking at each other and knowing that we wanted to keep the space and doing whatever we had to do to keep it," said Rosa.
He expected Vietnam is going to be fully open up again and when that happens, the Worst Bar is going to be ready.
The business couple, along with the restaurant's team, are "trying to spruce the place up to make it look cool again. We've got some pretty cool murals and paintings and stuff that we love to share with anybody who wants to see them," said Rosa.
Don't let the name fool you; good times are ahead at Quang Binh's Worst Bar.
The Ultimate Binh Duong Food Tour

Binh Duong is a hidden culinary paradise among Vietnamese locales. Once you come here, you will be satisfied to enjoy unique delicacies.