The Ultimate Binh Duong Food Tour
Binh Duong is a hidden culinary paradise among Vietnamese locales. Once you come here, you will be satisfied to enjoy unique delicacies.
Binh Duong is home to large industrial parks and export processing zones, attracting hundreds of thousands of workers across the country. This feature has contributed to the diversity of the cuisine here.
Let's take a look at 5 typical dishes that everyone should try when coming to Binh Duong.
1. Steamed Rice Cake
You might have heard of the word "Banh Beo" in a different contact, perhaps to describe someone that is very feminine and not easy to please. In Binh Duong, "Banh Beo" is a delicacy that everyone knows.
You can find this delicious steamed rice cake while scrolling through Bung market, An Thanh commune, Thuan An, Binh Duong. There is no special reason to resist stopping at a Banh Beo stool and enjoy white, soft and fluffy pancakes served with sweet and sour fish sauce.
Instead of serving with shrimp and bread crumbs, Binh Duong people prefer a mixture of thinly sliced ​​pork and shredded pork skin mixed with rice, garlic and soup powder. Fish sauce is diluted, mixed with a special boiled sauce called "thang kieu", so it has a very unique flavor. The greasy and fatty taste does not overwhelm but blend with the sauce. the owner will add green sprouts to your serving, making it the ultimate Vietnamese dish.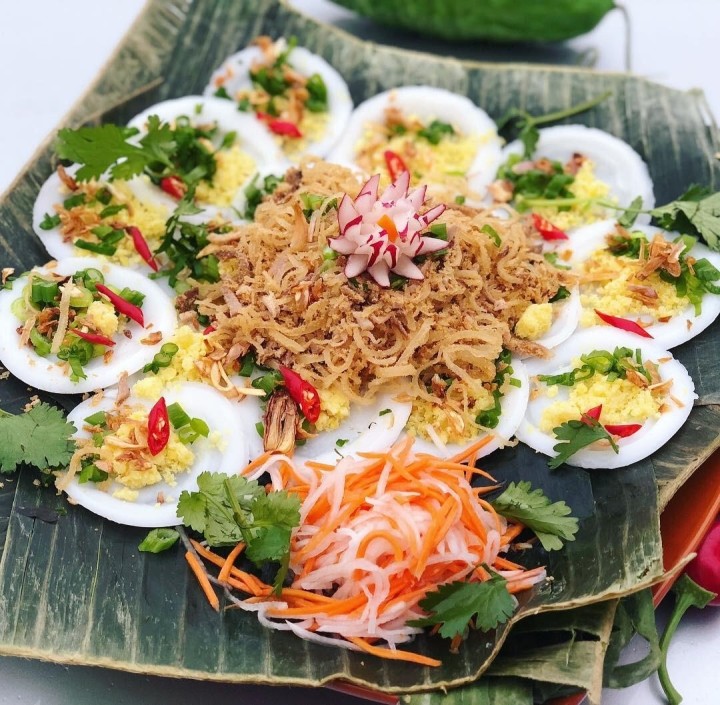 Photo: @restaurantviendong
2. Shrimp vermicelli
Binh Duong shrimp vermicelli is special in that when there are customers, the seller presses the dough and makes it into vermicelli. Thanks to that, the vermicelli is always soft, fragrant with rice, not dry like many other places. Each baby is very firm, sweet and not fishy. The broth is greasy, adding pepper and chili to make it richer and more flavorful.
You can find the best shrimp vermicelli in Chau Truc village in Phu My district, Binh Duong province. Noodles are only made fresh from scratch gives a clean and healthy taste while the Shrimps are selected fresh, peeled, dipped in boiling water and then placed in a bowl of vermicelli. The broth then poured down to the bowl, ready for you for enjoy. The mixture of clear, sweet, rich in the fresh taste of seafood will make your day.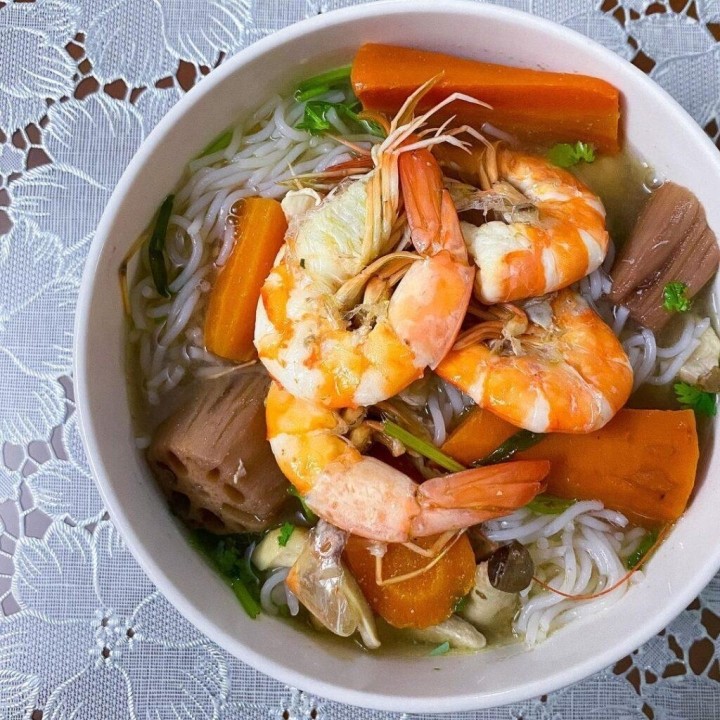 Photo: @bluewebkq
3. Water hyacinth salad
A salad made of water hyacinth? Don't be shaking you head, thinking this aquatic species cannot be processed into food just yet. In Binh Duong, water hyacinth is a specialty, used to make delicious salads.
In addition to the main ingredient of water hyacinth, this salad also has peeled tiger shrimp, sliced ​​pork belly, laksa leaves and peanuts. Mix the ingredients well and then sprinkle on the mixture of fish sauce, sugar, garlic, chili, lemon, ... the scent fills your nose stimulates the taste buds immensely. This dish is something you cannot resist on a hot summer day.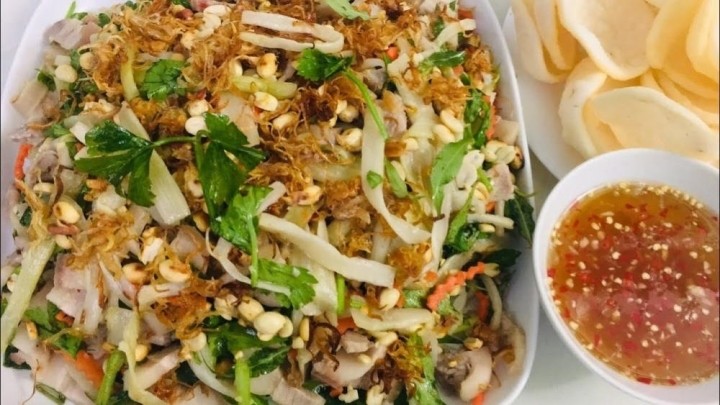 Photo: VTC
4. Beef hot pot dipped in fish sauce
The broth of the hot pot is very important, so important that it could make or break the dish. In Binh Duong, you must try the b eef hot pot dipped in fish sauce for the broth.
It comes with characteristic aroma of fish sauce combined with lemongrass and onions. The tender beef, after dipping has a rich flavor, served with the fatty patties, fatty pork belly and raw vegetables.
This dish will not let you down, especially on cold rainy days. Instead, it pushes your metabolism up, like a medicine for your tummy and your soul.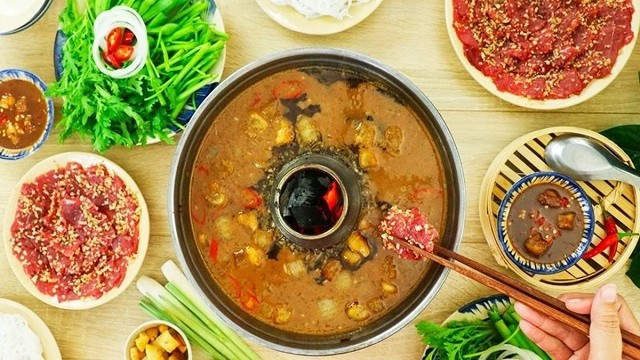 Photo: Tinh Hoa Que Nha
5. Mangosteen chicken salad
The last one on the list is Mangosteen chicken salad, in which the local people of Binh Duong use its signature tropical fruit to create an appetizer.
Mangosteen season falls in April and lasts only 2-3 months. Therefore, if you want to have this salad fresh, use the mangosteen when it is still young, has a mild sour taste, mix it with bamboo chicken and sweet and sour fish sauce.
sour and tender mangosteen, sweet and firm chicken, served with crispy shrimp crackers, could make you addicted after the very first try.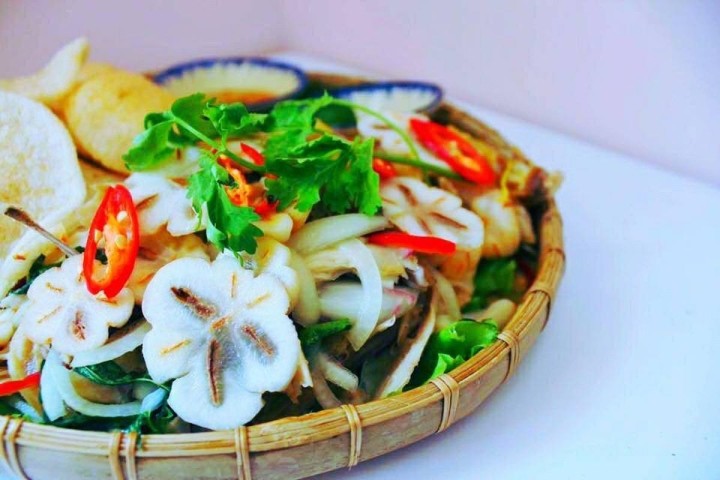 Late April to early July is the golden time to enjoy mangosteen salad. Photo: VTC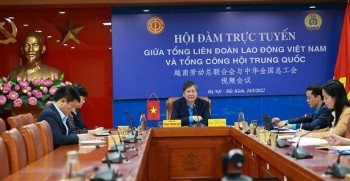 Friendship
The Vietnam General Confederation of Labour (VGCL) and the All-China Federation of Trade Unions (ACFTU) on May 24 shared their operational experience and agreed to step up their exchanges.