(Video: Vietnam Net)
Worrell has married a Vietnamese wife and been working in Vietnam as an English teacher for almost 10 years. His first thought of the campaign came as he saw some Vietnamese people walking on the street without any face mask. On that day, Hanoi had already reported several resurgent COVID-19 cases.
"That day, I thought I'd got to do something to promote face masks wearing and encourage people to take initiative regarding protecting themselves from the coronavirus", the teacher said.
He then founded a volunteer team, including both Vietnamese and expats. They first designed a poster collage from dozens of photos picturing themselves with masks properly put on their face.
"Through the poster, we want to emphasize the importance of face masks during this pandemic time. Plus, it's crucial to note that solidarity and unanimity are keys to win over the pandemic", Worrell said.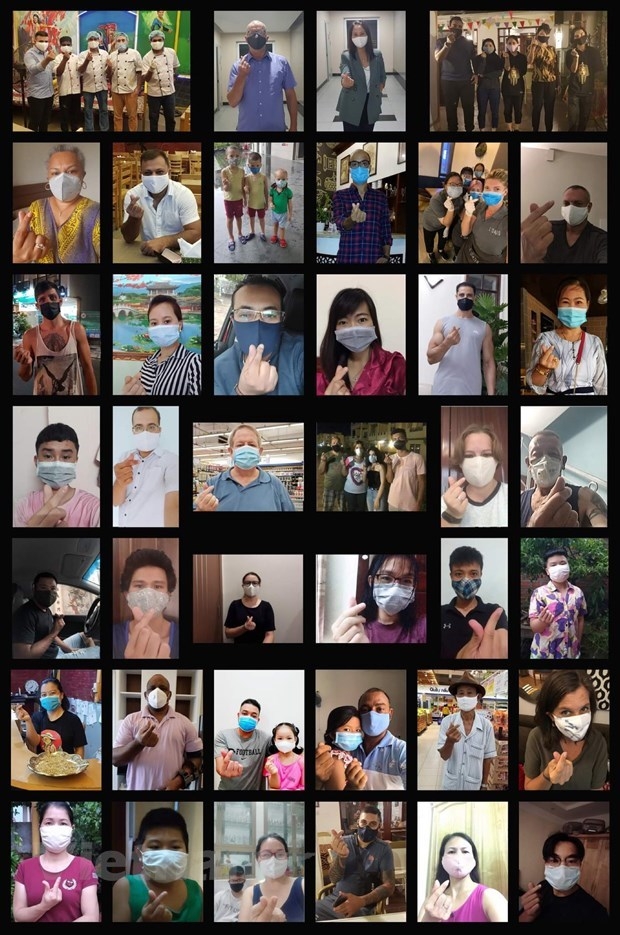 Worrell's poster is made from dozens of photos picturing themselves with masks properly put on their face (Photo courtesy of Wayne Worrell)
Worrell's idea to distribute free face masks on the streets got sponsors from medical equipment facilities. P&U Vietnam JSC has donated the campaign thousands of medical face masks.
"These expats have the goodwill to help Vietnam in the fight against COVID-19, I too, want to join hands to contribute to the country's anti-epidemic efforts", Hoang Thi Nhu Phuong, a representative from P&U Vietnam JSC said.
According to ATV, Worrell and his teammates had handed out some 300 face masks as they walked along Hanoi streets on the campaign's first day. All recipients were reminded to put on face masks outside. To date, thousands of face masks have been given out.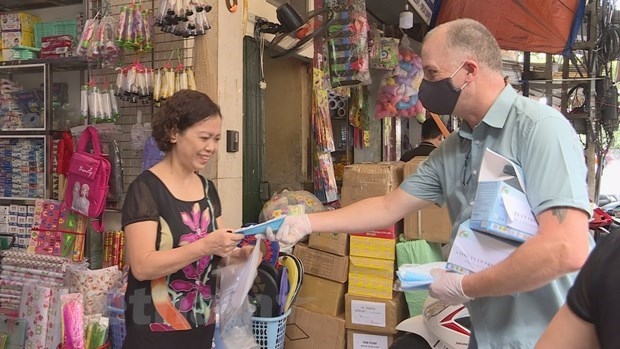 Wayne Worrell presents face mask to a woman (Photo: VNA)
"Along with the COVID-19 combating spirit, the campaign means a lot in connecting foreigners in Vietnam with Vietnamese people. It's the love for the S-shaped country and local people that prompted them to run the campaign", Le Trung Dung, a member of Worrell's team said.
"It doesn't matter who you are, where you from. As long as we join hands, even small efforts would make a big difference", Daina Raiskuma, a Latvian coffee owner in Hanoi, another member of the campaign was quoted as saying.
Jasmine Le