Expats to Enjoy Two Extra Days Off Compared to Vietnamese
Workers are expected to enjoy 22 days off as national holidays next year, while foreign staff can have 24 days off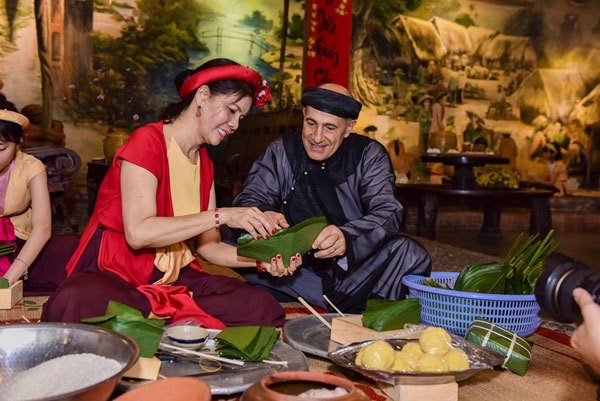 Foreigners enjoy wrapping Banh chung, traditional cake of Vietnamesee people during Tet holiday. Photo: Vietnam Plus
The Ministry of Labor, Invalids and Social Affairs has proposed 22 days off for various holidays in 2022, VNE reported.
Expat workers, apart from the 22 days off, would get two days more: one for their countries' New Year holidays and the other for their National Days.
The ministry has proposed that the holiday to mark the Year of the Tiger runs from Jan. 29 to Feb. 6, 2022. If approved, civil servants and public employees will have a nine-day Tet holiday.
Meanwhile, the ministry has proposed two options for the next National Day (Sept. 2) celebrations.
Starting this year, the National Day holiday has been expanded to two days, the choice of the additional day being on either side of Sept. 2, depending on the calendar.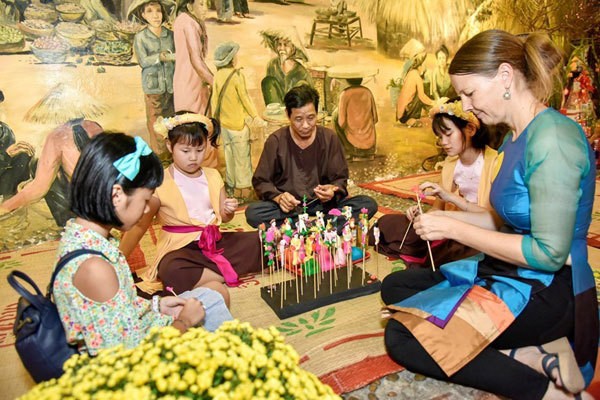 Foreigners making "to he" figurines with artisans. Photo: Vietnam Plus
If the extra day off is Sept. 1 next year, civil servants and public employees would be entitled to four days off, Thursday to Sunday. This would allow employees to enjoy a long holiday weekend and not extend it to a normal working day, the ministry has noted.
In the second option, if the employer chooses to give the additional day off on Sept. 3, the holiday would run from Friday to Monday.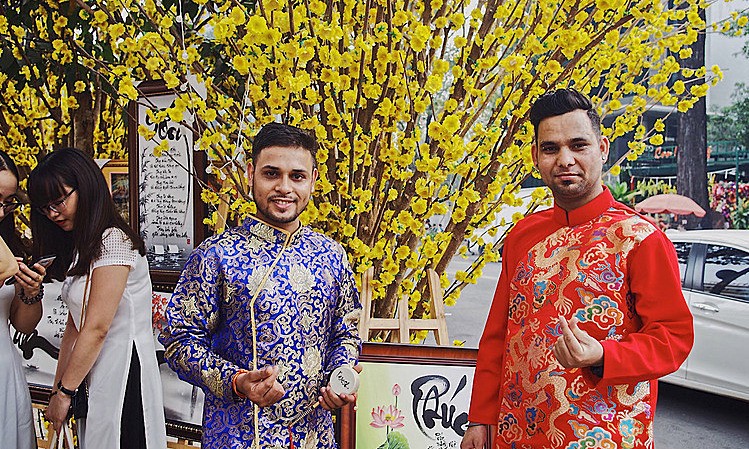 Foreigners celebrate Lunar New Year in HCMC. Photo: VNE
Agencies and units that do not have a fixed break for the two days can arrange another suitable holiday schedule for their employees.
For the incoming New Year's Day holiday, workers would get three days off from Jan. 1 to 3. The Reunification Day (April 30) and Labor Day (May 1) holiday would last from April 30 to May 3.
The holiday proposals will be reviewed by the Ministry of Labor, War Invalids and Social Affairs and submitted to the government for its final decision.
Staff who do overtime or work night shifts during holidays would get at least 300 percent of their normal wage.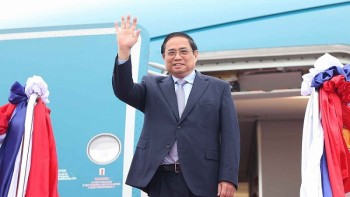 National
Vietnam News Today (Feb. 6): PM Chinh to pay official visits to Singapore, Brunei; Vietnam attends ASEAN+3 Tourism Ministers Meeting; Exports in 2023 and high demands from new generation FTAs; Digital technology to spearhead Vietnam's drive for Industry 4.0.