Experts advocate Quang Nam's proposal to welcome int'l Covid-19 vaccine passport holders
Leading experts believe if Vietnam won't take initiative in implementing vaccine passport mechanism, it would fall behind in the world's market-opening race.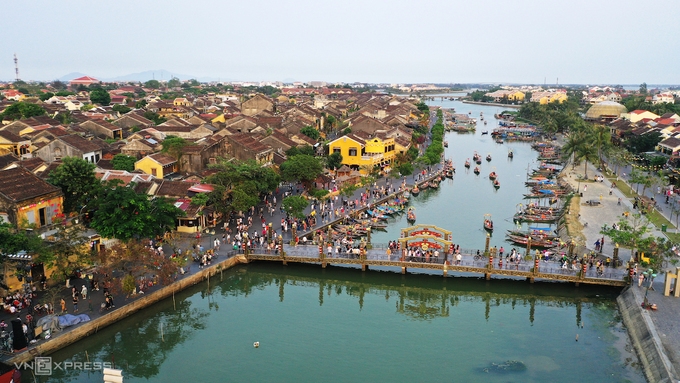 Quang Nam is a touristy attraction (Photo: VNE)
According to Mr. Dinh Hai, former Director of Quang Nam Department of Culture, Sports and Tourism, Chu Lai airport directly delivers passengers in and out of the province is one of Quang Nam's edge. In addition, the touristy province is home to spacious and self-contained resorts, which can both accommodate tourists and ensure social distancing and other anti-pandemic measures.
"We must take it as a national mission. All relevant ministries and localities must join hands to help Quang Nam develop a safe environment for visitors", Hai was quoted by VNE as saying.
The former director warned that only the two self-contained resorts were greenlighted to receive international holidaymakers with Covid-19 vaccine passports. Meanwhile, local authorities must strictly regulate tourism activities so that no tourists or service staff could go to residential areas.
"This is a competition, if we do not take the initiative, Vietnam will lag behind other countries, Mr. Phan Xuan Thanh, chairman of Quang Nam Tourism Association said. He added that by piloting such a proposal, Vietnam would make a name for itself as not solely a country with great pandemic containment results but also one of the world's first countries to open international tourism market, a safe travel destination.
"Tourists will just stay in a separate area, play golf and use interior service. They will be given health monitoring to make sure their presence won't affect the community", Thanh stressed.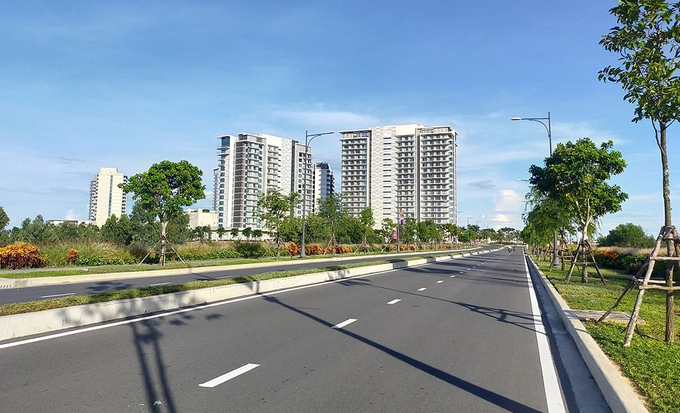 Hoiana resort is isolated and quite far from residential areas (Photo: VNE)
In the meantime, Associate Professor Pham Trung Luong, former Director of Tourism Development Research, has a more conservative perspective. He admitted Quang Nam's pilot plan was part of the general policy to realize the country's dual goal. However, regulators must ensure needed conditions are carefully implemented, including discussing with other countries to have a unified procedure for the recognition of vaccine passports and Covid-19 tests. Besides, he added, Vietnamese authorities must be able to detect counterfeit vaccine passports, which are being reported in some countries.
Earlier on April 18, Quang Nam province sent a draft plan to the Ministry of Culture, Sports and Tourism on welcoming international tourists.
If approved, Quang Nam will become the first province in the country to accept visitors with the so-called Covid-19 vaccine passports.
The plan will have visitors entering Vietnam on tours organized by international travel agencies. Each visitor should have a vaccine passport (documented proof of vaccination) and a certificate from medical agencies showing negative Covid-19 test results.
"We plan to welcome South Korean visitors in the first phase. We will learn from the experience, and in the second phase, we can open to more markets," Thanh said.
The group of tourists will go on a charter flight to the Chu Lai Airport and be taken straight to resorts in Duy Xuyen District or Nui Thanh District for 5-10 days, not to quarantine facilities.
Chu Lai is slated to become an international airport and be eligible to add necessary equipment to receive charter flights.
Nguyen Van, deputy director of the provincial health department, said the plan to welcome international visitors has been carefully prepared.
"Throughout the transportation process, the visitors will be required to stay in the car with no stops on the way. The pandemic prevention measures at the accommodations will be applied just like a quarantine center."
On April 15, Minister of Culture, Sports and Tourism Nguyen Van Hung had said that the ministry plans to reopen international tourism under a roadmap in which the pilot phase from July 2021 to September 2021 will focus on beach tourism and golf tourism in Quang Nam for visitors from the South Korean market.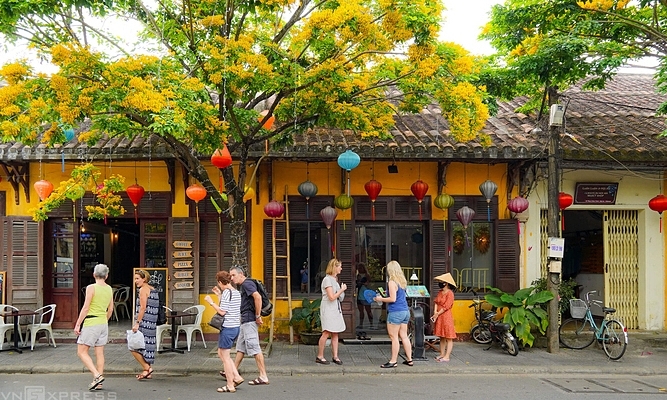 Foreign visitors in Hoi An Ancient Town of Quang Nam Province on March 14, 2021. Photo by VnExpress/Do Anh Vu.
The ministry's studies have found that the south of Hoi An area and Chu Lai Airport in Quang Nam Province meet the requirements of safety, transport infrastructure and tourism services as an area for the pilot phase.
The ministry has said that in order to forward the proposal to the prime minister, the Quang Nam administration must review facilities, equipment, human resources and safety requirements; and prepare an official document confirming the province's readiness to coordinate with the ministry in implementing the plan.
Due to the closure of the borders as a pandemic safety measure, the number of international visitors to Vietnam was just 3.7 million in 2020, down 80 over 2019.
Vietnam stopped all international commercial flights in March 2020. International visitors coming into the country since are mainly experts, high-tech workers, investors and foreigners working on projects in Vietnam, VNE reported.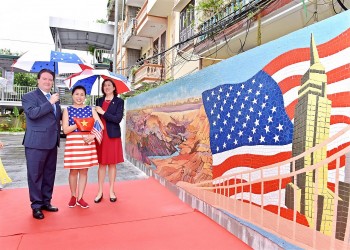 Multimedia
A ceramic mosaic mural named "Vietnam - US friendship" depicting the natural and cultural heritages of the two countries, was just revealed in Hanoi