Experts: South China Sea situation would be tenser this year
Experts believe that China already has a significant presence in the South China Sea (Bien Dong Sea), going ahead of the US, and will use this advantage to force small countries to follow them.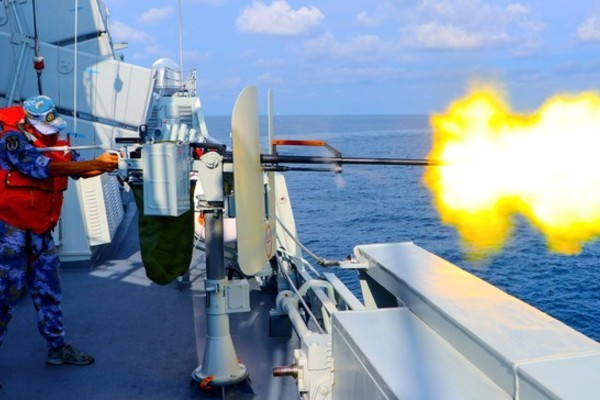 Chinese warships exercise in the East Sea. Photo: Chinamil
China's move
Domestic and foreign scholars and experts all agree that in 2020, China became more and more aggressive, shown on all fronts. Strategically, China was determined to complete the construction of the People's Liberation Army (PLA) into a "world-class" force by 2037, with a range of operation over two siege chains of islands established by the US and its allies after World War 2 in 2021, according to Vietnamnet.
China's marine science and technology has made a breakthrough. It is expected that in January 2021, the deepest and largest self-propelled exploration rig in the world, built by China, will be launched at Lingshui 17-2 oil field, 150km south of Hainan. Here, China will also arrange an oil and gas storage rig of 53,000 tons.
China has also planned to build a fleet of 10 aircraft carriers with the majority of operations in the South China Sea. China will continue projects to build rescue centers, sea cities, and floating nuclear power plants in Truong Sa Archipelago (Spratly Islands), to launch submarines and large underwater research equipment.
The year 2020 marked the completion of China's plan to replace its ocean research fleet. In 1958, the country had only 50 marine survey ships of all kinds. Now, 42 years later, it has a fleet of 60 marine research ships with 9 ocean research ships like the White Dragon 2, which completed its first voyage to Antarctica.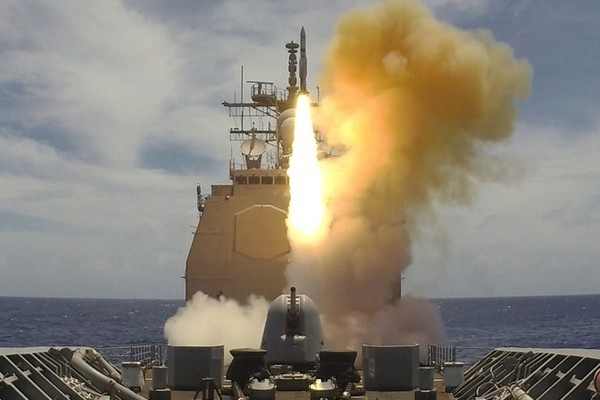 The US cruiser USS Shiloh launches a missile during an exercise in the waters of the Philippines. Photo: Reuters
Notably, these ships were present in the South China Sea in 2020, including the Dongfang Hong 3 - the largest marine research vessel in the world, with Petrel-X diving equipment that set a world record at a depth of 10,619m, collecting information on salinity, temperature and elements of deep sea water.
China also announced the start of a project to build 50 aquaculture farm ships with a total area of 100,000m3, capable of catching and raising 200,000 tons of high-value seafood.
These activities are the largest in terms of scope, scale and time so far, and if they are successful, China will officially manage and "master" all maritime activities in the South China Sea.
Experts believe that China has had a significant presence in the South China Sea, going ahead of the US and will use this advantage to force small countries to follow them.
2021 trends
In 2021, China will continue to combine the presence of coast guard and militia maritime vessels.
They are intended to:
Affirm the 9-dash claim and Four Sha in order to reject the PCA's 2016 ruling; put pressure on relevant countries to abandon the legal path to settle the South China Sea disputes;
Put pressure on foreign investors to leave projects with countries around the South China Sea to implement the policy that no foreign country can participate in oil and gas exploration and exploitation in the South China Sea; promote "setting aside dispute and pursue joint development"; respond to freedom of navigation activities of the US and other countries;
Promote negotiation of the Code of conducts in the South China Sea (COC) in favor of China; create a position for the "One Belt, One Road" initiative before the US changes its administration and the Indo-Pacific strategy; set up bargain cards in strategic competition among powers; deploy marine science research strategy for the next decade, and finally modernize the army and its attached forces.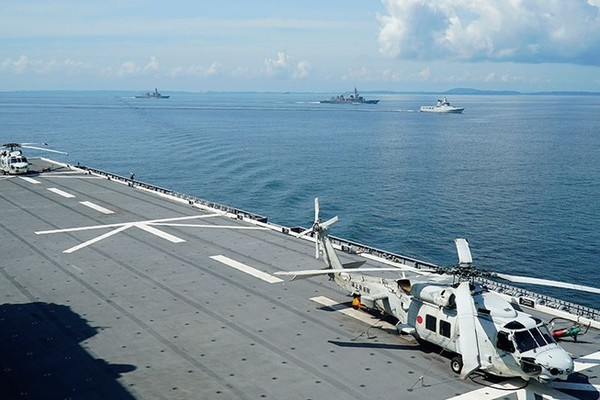 US and Japanese naval warships in joint exercises in the East Sea. Photo: AP
International experts have also talked about the possibility of establishing an air defense identification area (ADIZ) in the South China Sea. But this possibility also has an opposite effect on China when the majority of international commercial air routes pass through the South China Sea.
In 2021, based on the US attitude and response, China will have enough military activities to intimidate surrounding countries, while proving to the world its presence and security of the South China Sea is under control, and that instability is caused by external factors.
The year 2021 has no convergence of factors to make the situation better. At the 12th South China Sea conference held in November 2020, international experts made recommendations.
Scholars said that ASEAN does not have enough military power against China, so it can only rely on legal and diplomatic struggle, enlist international support for establishing and adhere to an order based on rules. Regional order should be based on interests and values, rules and norms that are common with the institutions that govern the behavior of nations and international relations.
Dialogue mechanisms can help countries resolve uncertainties and promote cooperation through the expression of intentions and interests. Transparency, dialogue, respect and mutual understanding are all elements of trust-based relationships.
Australian expert Carl Thayer proposed developing a Code of Conduct against incidents at sea, expanding regulations on the prevention of unintended sea collisions between military forces for both civilian, commercial and fishing boats.
Scholars are all inclined to develop multilateralism, calling for cooperation in building order based on rules, calling on China to negotiate. Countries need to fight for an effective surveillance and compulsory dispute resolution mechanism to stabilize the South China Sea situation.
US likely to interact more with Vietnam on South China Sea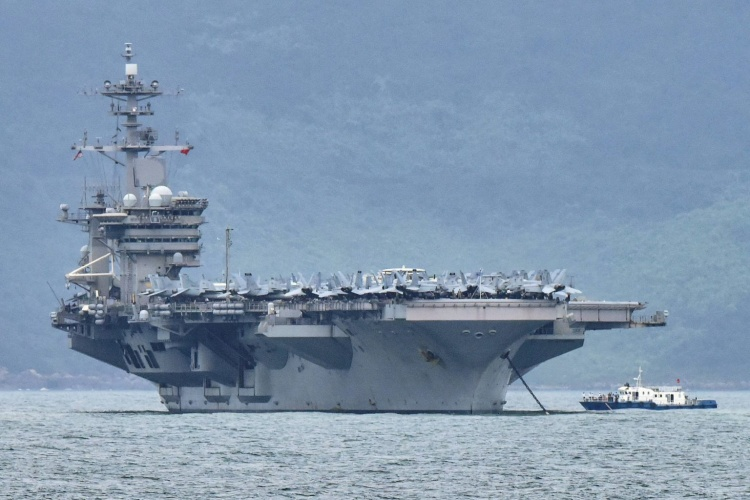 The USS Theodore Roosevelt docks in Da Nang, Vietnam, March 5, 2020. Photo: Reuters.
U.S. President Joe Biden is likely to interact more often with Vietnamese officials as the South China Sea issue becomes increasingly complex, experts say.
"The situation in the South China Sea this year will be tenser because the Biden administration indicated that the U.S. will continue the strategic competition against China," Professor Renato Cruz De Castro of the international studies department at De La Salle University in the Philippines told VnExpress International.
On February 5 Biden, calling China America's most serious competitor, said Beijing poses challenges to the U.S.'s "prosperity, security and democratic values."
Secretary of state Antony Blinken had said earlier there was a very strong foundation to build a consensus in the U.S. to stand up to Beijing.
According to Castro, Biden is looking at the South China Sea as an important arena with strategic competition with China that is similar to former president Donald Trump's stand.
Agreeing with Castro that China might have more aggressive actions, Carl Schuster, a visiting professor at Hawaii Pacific University, the U.S., said Beijing is likely to simulate more anti-ship ballistic missile launches and conduct at least one other large scale naval exercise.
The goal would be to see how the opponent reacts to certain situations and how committed the U.S. is to continuing its presence in the South China Sea.
Derek Grossman, a senior defense analyst at U.S. think tank RAND, said China's seasonal frictions over fishing and natural resource extraction ramp up starting around May are again likely.
Professor Zachary Abuza of the National War College, the U.S., expected the Chinese to increase their "provocations" in the South China Sea this summer.
Castro said Vietnam would continue to play a "sophisticated balancing game," managing the U.S. and China. He doubted there would be strong consensus among ASEAN members on the South China Sea issue in 2021 since Brunei, the bloc's chair, is economically dependent on China.
In that scenario, he said, Vietnam has to keep the momentum of maintaining ASEAN's consensus on the South China Sea issue in 2020./.