F1 Grand Fix officially cancelled in Vietnam due to Covid-19
On the morning of October 16, the organizers of Formula One (F1) Grand Prix Vietnam has announced the event is officially cancelled due to the effect of COVID-19 pandemic.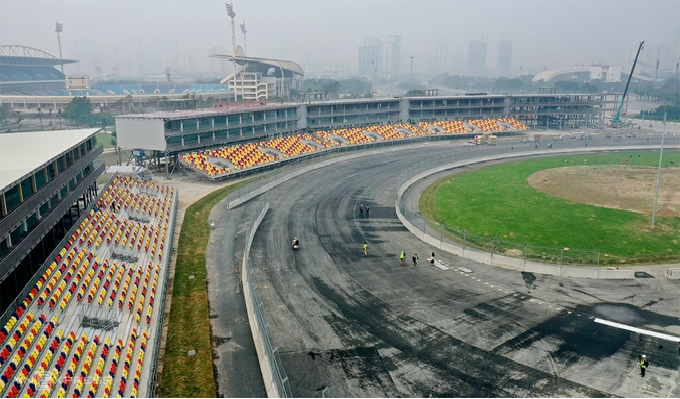 Ha Long, the longest stand at the My Dinh racing track during construction, February 2020.
Photo: Ngoc Thanh/ VNExpress.
The decision of cancellation was made following discussions of Viet Nam Motorsports Association (VMA) and the Vietnam Grand Prix Limited Liability Company (VGPC) with the International Automobile Federation (FIA) and the Formula One Group, VNExpress reported.
"This is a difficult but necessary decision after the thorough consideration of safety criteria as well as the effectiveness of the race," said Le Ngoc Chi, General Director of VGPC.
VGPC will refund all customers who purchased tickets for the Vietnamese Grand Prix through online channels and distribution agents.
Due to the complicated development of the COVID-19 pandemic, a total of 13 F1 races worldwide have been canceled including Australia, China, the Netherlands, Monaco, Azerbaijan, Canada, France, Singapore, Japan, the United States, Mexico, Brazil, and Vietnam.
The 2020 Formula 1 season features 17 races, but most of which take place in the tracks without audiences. The next race is slated to take place on October 25, in Portugal, followed by GP Emilia Romagna (November 1), Turkish GP (November 15), Bahrain GP (November 29), GP Sakhir (December 6) and GP Abu Dhabi (December 13).